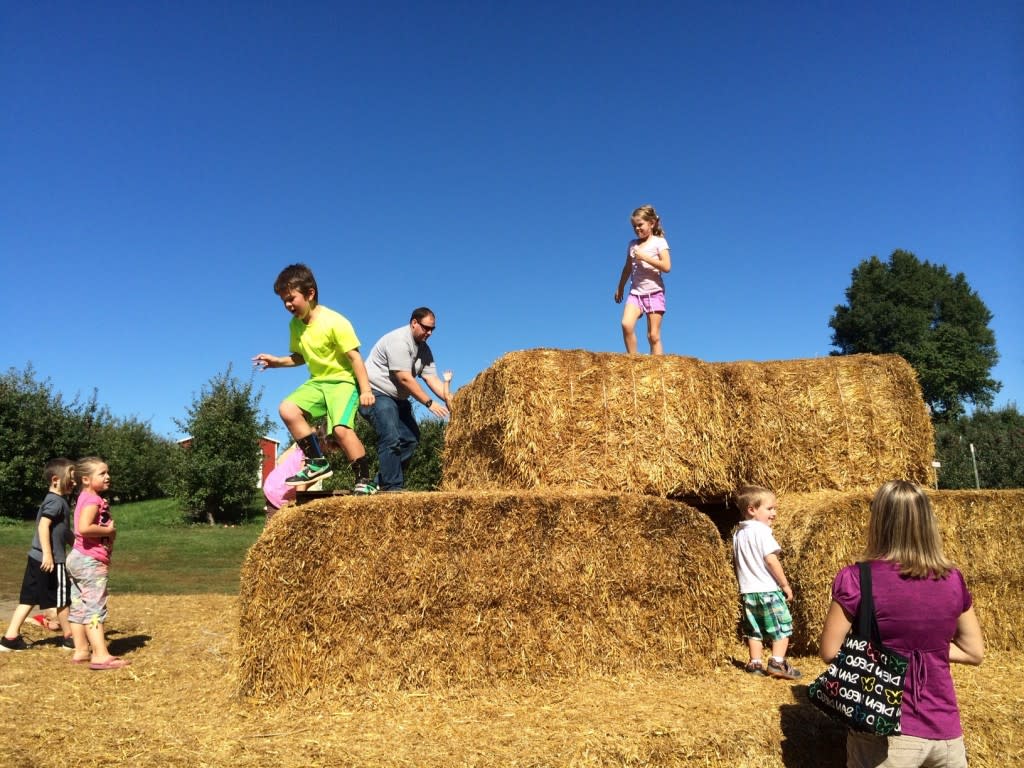 With fall colors comes crisp air and the urge to get outside. Now is the time to dig out boots and sweaters and enjoy all that a West Michigan autumn has to offer. The only trouble you'll have is deciding where to go first!
Here are seven must-do fall family events!
HAYRIDES - Head on out to Post Family Farm (5081 Bauer Rd, Hudsonville) or Sietsema Orchards (2 Mile Rd, Ada) to claim your spot on the hay. Some places charge for hayrides, others offer them for free. Most places offering hayrides also have other fall fun in store- be sure to check out their websites before heading out.
CORN MAZES - If you're looking to get lost, find yourself a corn maze. Corn mazes range from easy to difficult and most operate during the daytime and after dusk. Most local mazes have themes and many have objectives. For example, at Heidi's Farmstand (11999 Cascade Rd, Lowell) visitors collect punches to win a prize. Schwallier's Country Basket (1185 9 Mile Rd, Sparta) offers a themed maze this year, pitting MSU against U of M. Mazes do charge admission fees, so call ahead for current rates and ask if they offer child discounts. Hint: You can bring a jogging stroller or baby carrier through most mazes.
PUMPKIN PATCHES - Sure you can buy a pumpkin at your local grocery but it is a lot more fun to pick your own from a pumpkin patch! At Bethke Farms (12124 136th Ave, Grand Haven) you get to take a 20-minute hayride past the U-pick pumpkin farm, the Spooky Woods, and the corn maze and then return to pick out your pumpkin. Or visit Cranes Orchard (6054 124th Ave, Fennville) to find your carving squash of choice!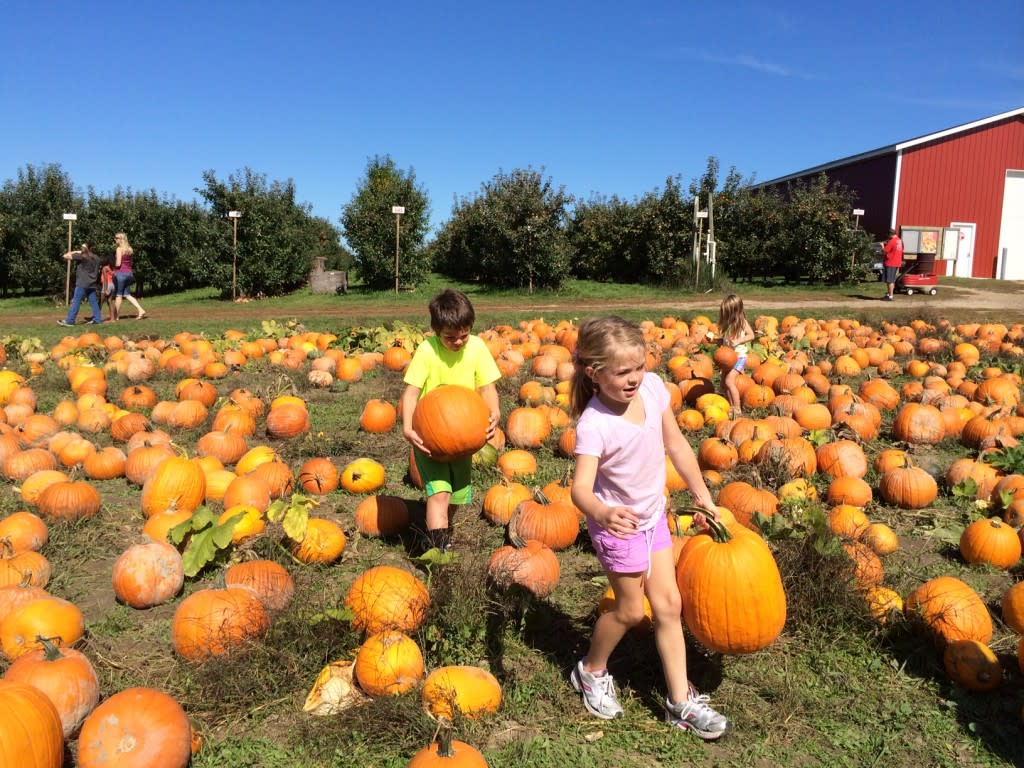 DONUTS AND CIDER - If sweet treats are what you're after you are in luck! West Michigan farm stands are dripping with donuts and cider this time of year. While it's hard to say which donut is best, it's safe to say that you'll be happy when eating a fresh-baked treat from Robinette's Apple Haus (3142 4 Mile Rd NE, Grand Rapids) or Sietsema Orchards (2 Mile Rd, Ada).
APPLE PICKING - Honey Crisp apples are a hot commodity across West Michigan these days. Thankfully, this year was a good year for apples and you can pick your own or pick up a bushel at a local farmer's market or farmstand. Other apple varieties for baking and eating are also available. Schwallier's Country Basket (1185 9 Mile Rd, Sparta) has a good selection of apples this year as does Robinette's Apple Haus (3142 4 Mile Rd NE, Grand Rapids).
COLOR TOUR AND COLOR HIKES - Fall wouldn't be complete without a color tour. Choose to drive to 195 Mile Pure Michigan Color Tour or take it slower with a hike around Fallasburg Park's Covered Bridge (1124 Fallasburg Road) or Rosy Mound Natural Area (13925 Lakeshore Drive, Grand Haven). Take your camera and catch beautiful glimpses of fall foliage against deep blue waters of Lake Michigan!
KIDS ACTIVITIES AND ANIMAL PETTING ZOOS - Round out your autumn activities with a stop at a petting zoo. Many orchards have added kids' activities over the past few years. Robinette's Apple Haus (3142 4 Mile Rd NE, Grand Rapids) has an inflated jumping pillow, Klackle Orchards (11466. Cason City Rd, Greenville) is famous for it's smorgasbord of kids' activities, and Koetsier's Greenhouse (1601 Spaulding Ave SE, Grand Rapids) is THE place to go if it's raining outside (almost all of their fall fun is indoors!)
With this many options, your family is bound to find something fun to do this fall in Grand Rapids!