To celebrate national poetry month and Grand Rapids' growing poetry scene, Experience Grand Rapids partnered with the city's new poet laureate, Marcel "Fable" Price. Price, known as Fable the Poet, will serve a three-year-term as poet laureate, starting in April.
In a city growing as quickly as ours, it is important that we keep an ear to the ground. You can do so by attending local poetry events. These shows are rooms full of people sharing stories, lifting each other up, sharing experiences, and networking. 
If you haven't been to a poetry show or open mic night, expect to yell, sing, scream, clap, and be surrounded with by a community that's unique to each place.
Now, let's see if we can find the perfect community for you!
Sundays
Creston Vibes
Creston Brewery, second Sunday of the month, ages 21+, hosted by Bri Ross
Creston Brewery is a beautiful, locally-owned establishment with an ambiance that matches the blanket of acceptance you feel when walking in the door. The host of this poetry open mic is a poet herself, which is a MUST, in my opinion, for shows welcoming writers to their stage.
If you are looking for a relaxing vibe, with great, locally-brewed beers, and an awesome, historic location this show is for you!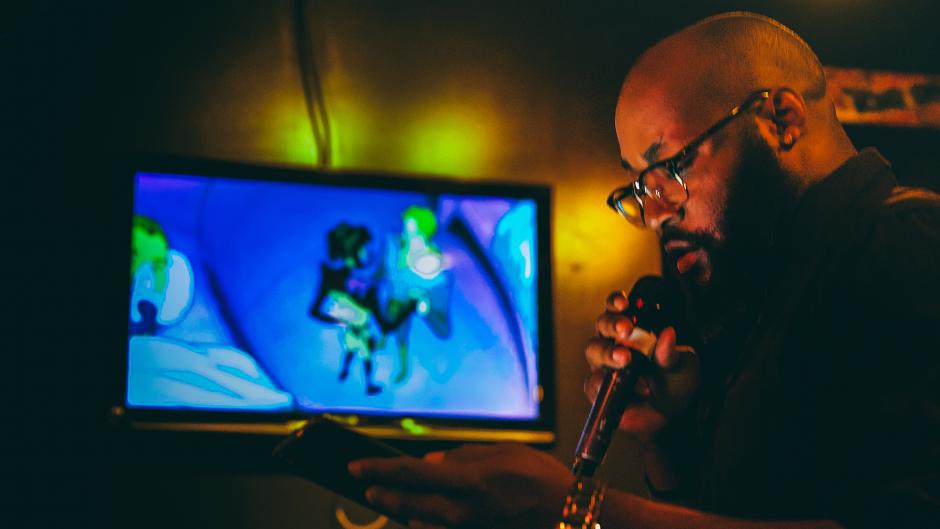 The Drunken Retort at Stella's Lounge.
Photo Credit: Experience Grand Rapids
---
Mondays
The Drunken Retort
Stella's Lounge, every Monday, ages 21+, hosted by Rachel Gleason, G Foster II, and Fable the Poet (yours truly)
The Retort is a big city poetry showcase that just happens to take place in the midwest and features bi-monthly appearances by some of the country's premier poets. This show has "boo bells" that work like a gong show, empowering the audience to be in control.
This is NOT your grandfather's poetry show!

Tuesdays
Kava Kasa Open Mic
Kasa Kava, every other Tuesday, all ages welcome, hosted by: G.R.A.S.S. (Grand Rapids Autonomous Support System)
If I were to use one word to describe this show it would be: community. This show starts with open dialogue and conversation, and ends with an uplifting open mic featuring area poets and singer/songwriters.
This show is hosted by a network of individuals who truly care about improving the world around them.
Every Tuesday at 10:15PM, appropriate for all ages, hosted by KT Herr
Electric Poetry is one of the longest running outlets for poetry in Grand Rapids. Hosted by people with an incredibly diverse taste for poetry, you will hear some of the areas brightest stars as well as traveling poets. 
This show is broadcasted on one of West Michigan's most popular community radio station, 88.1 WYCE. You can attend this show from the comfort of your own couch or car! 
Just tune in, and enjoy the ride.
Wednesdays
Smokin' Spoken Word
Eastown Hookah Lounge, every Wednesday night, ages 18+, hosted by Tone
Smokin' Spoken Word is the longest running poetry show in West Michigan. This show has influenced much of the local poetry scene here in Grand Rapids and has a laid back, energetic environment.
Thursdays
All Access Open Mic
Mayan Buzz Café, every Thursday, all ages, hosted by Wayne Bowerman
All Access open mic is one of the few all-ages shows in Grand Rapids. One of the reasons this show is even more unique is because of the demand for area events that do not feature alcohol. The host of this show is incredibly inclusive and inviting and when attending, you will be blown away by how talented the youth are in our city.
Some of the best coffee in the city, and the only thing better than the bagels is the art you will hear on a Thursday Night.
Fridays
First Fridays at LINC
LINC UP, first Friday of every month, all ages, hosted by Lakiya
First Fridays at LINC is a platform for business professionals and artists to network, learn, and get involved in their community.
LINC is a hub of community activity, making it the perfect spot to hear about upcoming events, get valuable resources, and do your part to make your community the best place it can be.
This show features poets, live music, and visual art.
If you want to see what's brewing in our city besides the hops, go see a show. Who knows – you might end up on the mic! For more check out the video below of Grand Rapids' poetry and open mic nights.
Never miss a post!
Subscribe to the Insider Experience blog.