When it comes to summer, there is nothing like camp.
Camp offers kids the chance to get outdoors, learn something new, and test their limits. Happily, the Grand Rapids area is home to some of the best kid-camps around. Here are some places that will help your kids make sweet memories come June, July, and August:TEASER BREAK
Camp Manitou-lin
This YMCA camp has it all. Whether you want an overnight camp or day camp, traditional camp or water sports camp, you'll find it at Camp Manitou-lin. Gluten-free? No problem... they have a camp option for you, too!  This camp even comes with busing from the city for day campers and is located on inland Barlow Lake in Middleville, Michigan.
Overnight Camp at Manitou-lin
Kids ages 6-8 can try Mini Camp, where campers spend just two nights at camp. This is a great way to ease on into camp! Older kids, ages 8-14, can check out the traditional overnight camp experience complete with s'mores, boating, arts and crafts, and swimming. Teens are welcome to sign up for leadership camp, where ages 15-17 learn counselor skills and get to see what it's like to be on the adult side of the camp experience.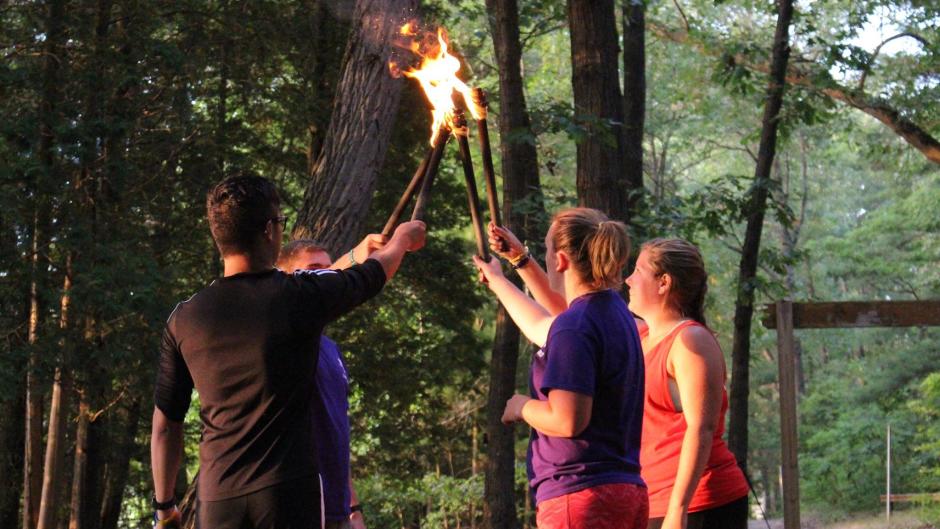 Camp Manitou-lin torch game
Photo Credit: Camp Manitou-lin
---
Day Camps at Manitou-lin
If you're looking for a daytime adventure for your child, kids ages 4-13 can sign up for themed weeks at camp. Special needs day camps are also available! Day camp activities include swimming, canoeing, rock climbing, archery and more!
Bonus: Kids that live in greater Grand Rapids can catch a ride on the camp bus to day camp for an additional $40 per week.
Details: Overnight camps start at $587/week and Day camps start at $221/week. More information available on the camp website.
(888) 909-2267 | 1095 N. Briggs Road
 Middleville, MI 49333
John Ball Zoo Summer Camp
Let your camper have a roarin' good time at a John Ball Zoo summer camp this year. Each class is age appropriate and follows a theme. Kids get to interact with animals and spend time in the zoo. Overnights offered as well! Camps fill quickly, so sign up today!
Details: Camps for Ages 3 - 9th grade available. Rates vary.
(616) 336-4301  | 1300 W. Fulton, Grand Rapids, MI
Own-A-Horse-Camp
Is your child in love with horses? Here's your chance to let them "own" their very own horse or pony for a week! At Own-A-Horse-Camp, kids experience all aspects of horse care including feeding, grooming, and stable management. BONUS: they do get to ride the horses every day!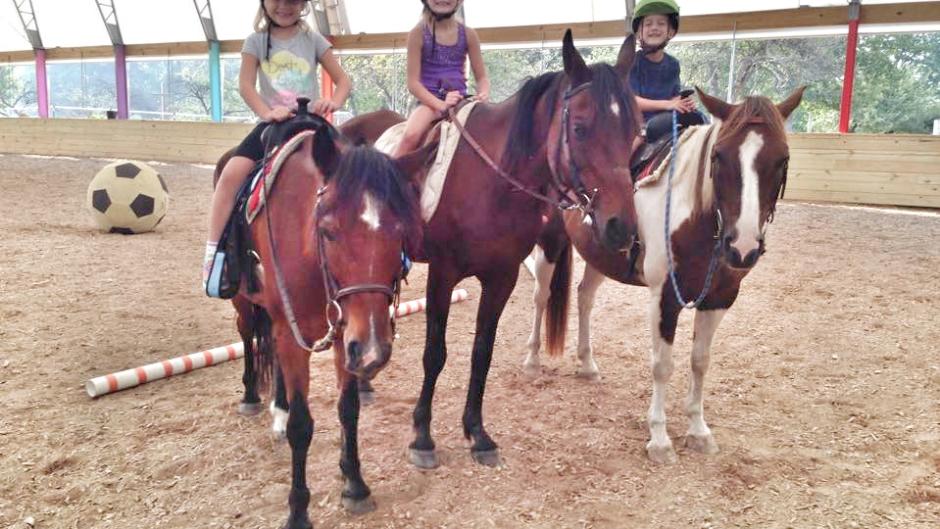 Own-A-Horse Camp
Photo Credit: Legacy Stables at Karin's Horses
---
Details: To attend, kids must be ages 6 and older. The camp is $250/week for a morning or afternoon session. Sessions run June 13 - August 26
(616) 570-1106  | 8001 Patterson Ave SE. Caledonia, MI
Humane Society of West Michigan Summer Camps
If you're looking for a hands-on summer camp for your animal lover, this day camp from the Humane Society of West Michigan has you covered.
Each day, campers will participate in crafts and games, hear guest speakers and work on animal service projects like making beds, blankets, toys, or treats for shelter animals. That's in addition to time spent each day interacting with shelter animals!
Details: Minicamps for ages 4-6 start at $50. Camps for kids up to age 17 starts at $89 per session. Early bird pricing until 5/01/16.
(616) 453-8900 | 3077 Wilson NW, Grand Rapids, MI 49534
Grand Rapids Public Museum's Camp Curious
The GRPM offers single and multi-day day camps for kids this summer with a huge variety of themes to choose from! Whether your child is interested in robotic animals, legos, young wizards academy, space or the animals in the Grand River, there is a camp for your kid here.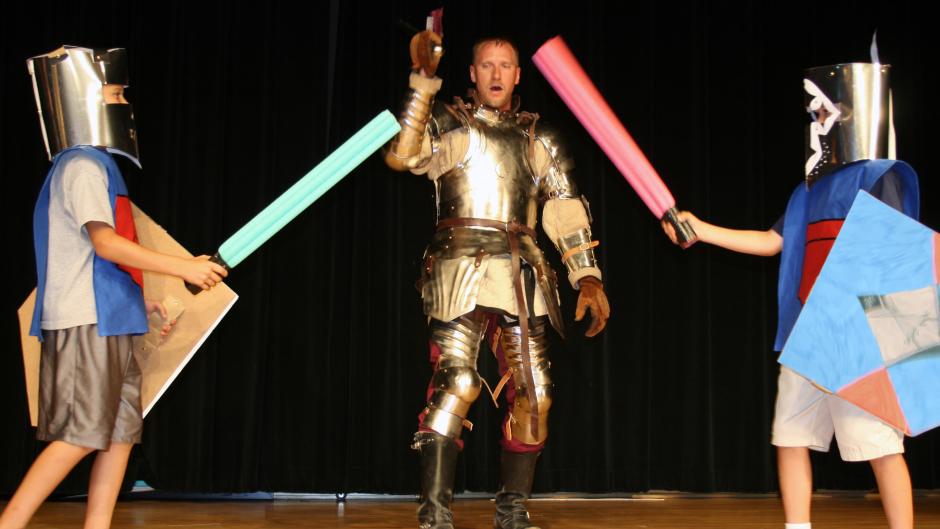 Grand Rapids Public Museum Camp Curious
Photo Credit: Grand Rapids Public Museum
---
Details: Ages 4 - 14 are invited to Camp Curious. Single session camps start at $25, with a discount when you sign up for more than one camp.
(616) 929-1700  | 272 Pearl Street NW Grand Rapids, MI 49504
Youth Arts Day Camps at KCAD
Looking for S.T.E.A.M. camps this summer? Then Kendall College of Arts and Design is your destination! A wide variety of camp classes will please your child , with everything from digital photography, Egyptian art, Pokemonville, and young architects day camps, your budding artist or scientist is bound to find something fun to investigate.
Details: Ages 6 - 17 enroll in week-long day camps that start at $150. Morning, afternoon, and full day sessions available, depending on the course.
(800) 676-2787 | 17 Fountain St. NW, Grand Rapids, MI 49503
Camp Henry
This overnight camp just north of Grand Rapids in Newaygo sits on over 200 acres of forests, fields and wetlands is located on Kimball Lake.
Campers ages 5-17 enjoy week-long camp experiences complete with boating, archery, arts & crafts and other water activities. Day and Mini-camp at Camp Henry is offered for younger campers, with transportation from Grand Rapids offered for an additional fee.
Details: Ages 5 -17. Camp rates start at $225.
(616) 459-2267 | 5575 Gordon Ave, Newaygo, MI 49337
Grand Rapids Gymnastics Summer Camp
Gymnastic Plus! is what this camp is all about. Every day, from 9am-noon, kids are kept moving with a combination of gymnastics, swimming, and other active endeavors. Running from June 13 - August 26, there is a themed week that is probably just right for your child at Grand Rapids Gymnastics.
Details: Ages 4+. Camps start at $99/week, with a multi-week discount.
(616) 975-2992 | 1601 Galbraith Ave. Suite 301 Grand Rapids, MI 49546
Never miss a post!
Sign-up for the Insider Experience blog.