As a thirty-something mom I don't usually make a big deal out of my birthday (in fact, over the last few years I have started regularly forgetting how old I am). But last month I turned 35, and I wanted to do something special and out of the ordinary. My husband and I decided to make the easy trip from our home in St. Joseph up to Grand Rapids for a whirlwind 24-hour celebration. Our friends Jeff and Lisa, who live in the Chicago area, came along, and since Jeff is also a photographer I have some awesome visual evidence to share!
When we first got to Grand Rapids, we stopped off at The Green Well for lunch. The adorable hostess complimented my shoes, so my day was already made. But of course, the food made it even better. I ordered the Michigan Harvest salad, which is jam-packed with goodies like candied walnuts and dried cherries, and so carefully tossed that each lettuce leaf is coated with just the perfect amount of incredible dressing. I ooohed and aaahed over it to a sort of ridiculous degree. It's that good, people!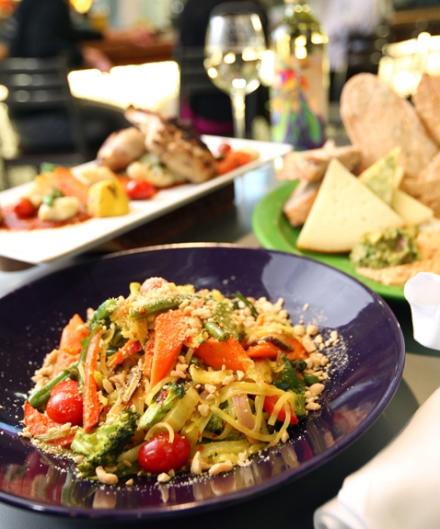 ---
After stuffing ourselves we decided to walk it off in the East Hills shopping district. Our first stop was Lamb, the one store I always have to check out when I come to Grand Rapids. I love the eclectic mix of goods there - the stuff seems totally random, but somehow it all fits together perfectly, and the creative displays just draw me in every time. I immediately fell in love with a very cool purse, which I decided to declare My Birthday Purse. (I am still glad I made the purchase.)
We wandered a little longer, and then climbed back in the car to make the trip to check into our rooms at the Amway Grand Plaza Hotel. As always, the service was super-courteous and the rooms were awesome. Jeff and Lisa had never been to Grand Rapids or the Amway Grand before, so we spent some time hanging out in the Pantlind Lobby, where a very friendly employee gave us a detailed history of the lobby and all its cool architectural features. Did you know the lobby boasts one of the largest gold-leaf ceilings in the world?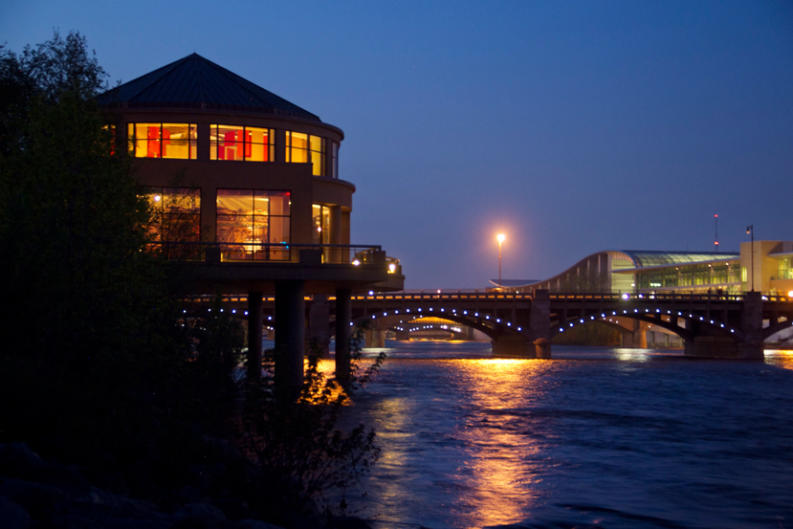 Grand Rapids Public Museum
Photo Credit: Experience Grand Rapids
---
After checking in, we decided to head over to the Grand Rapids Public Museum. Lisa is a big Herman Miller fan, so we spent a lot of time in the "Furniture City" exhibit. The guys were more intrigued by the impressively huge "steampunk" machinery.
Then it was just a quick walk from the Public Museum to the Grand Rapids Art Museum. The Cities in Transition exhibit drew us all in for a long time. We were particularly moved by the beautiful and stark photos in the Detroit Disassembled exhibit. Of course, the Museum's Zen lobby was a perfect place for a photo op.
After taking in the art, it was time to really kick the evening off. We changed for dinner and then headed down to the Lumber Baron Bar inside the Pantlind Lobby for happy hour (or was that a very happy several hours?)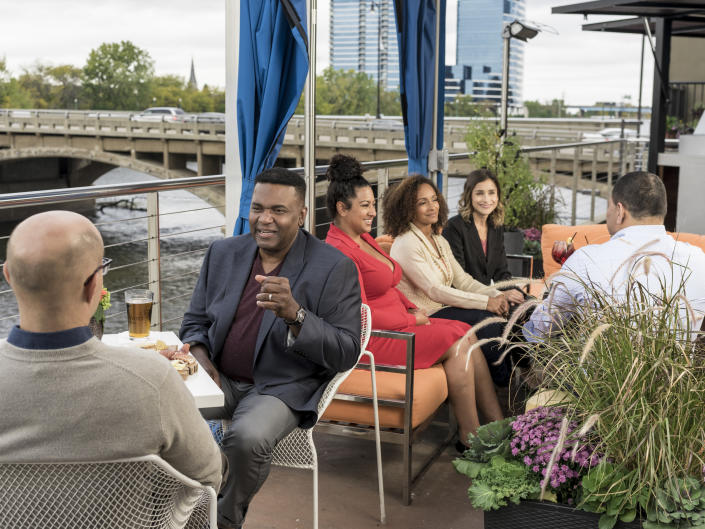 six.one.six
Photo Credit: Brian Kelly Photography
---
Since it's a hotel bar, I'm not sure if locals hang out at the Lumber Baron. But if not, we think they totally should. In fact, Jeff now has plans to remodel his entire basement into a recreation of the Lumber Baron bar, and may even hire a bartender to bring him little rolled-up pieces of salami stuffed with cream cheese and mini dill pickles. It won't be the same, but it might just make the days a little more bearable until he can get back to Grand Rapids.
After living it up like lumber barons for a while, we headed over to the JW for dinner at Six One Six. We sat out on the patio enjoying the river views and the amazing food and atmosphere. We also enjoyed the amazing wine list. And laughed. A lot. I hope the other patrons weren't disturbed! 
Post dinner, we decided to head out for some dancing at the B.O.B.Since we'd been celebrating since the afternoon, we forgot that most people wouldn't be out clubbing yet at 9 PM. But Eve was a very cool place to wait it out.
At some point we headed down to Crush (with stops along the way on other levels), and then decided it was time to roll our aging bones back to the hotel. It had been a very full day and a fabulous birthday!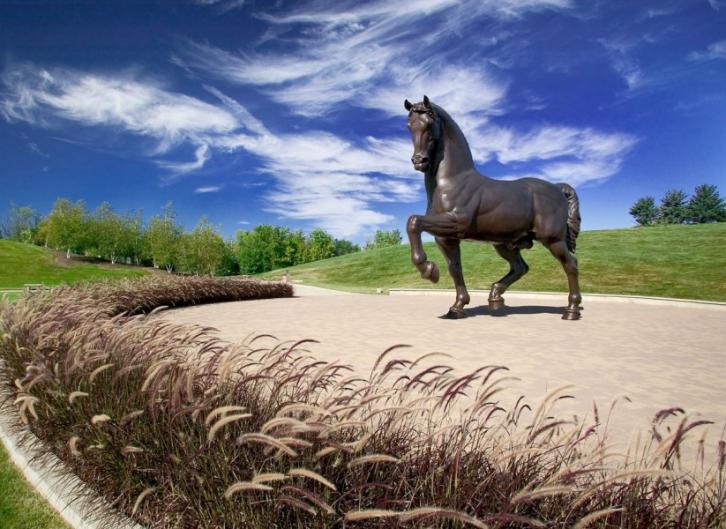 Frederik Meijer Gardens American Horse
Photo Credit: Frederik Meijer Gardens
---
We started the morning with room service (one of my favorite luxuries!): eggs and perfect, perfect bacon. Then we had just enough time to head to Meijer Gardens before we had to get on the road back home.
After enjoying a beautiful morning at Meijer Gardens, it was time for us to head home. What a birthday! In less than 24 hours, we visited three amazing cultural attractions, ate fantastic food, had great drinks and great laughs, and even lived it up on the dance floor. That's one of the reasons I love Grand Rapids - it's so accessible and easy to get around that you can cram tons of great experiences into a single overnight trip. I'm already planning my next birthday.
Never miss a post!
Sign-up for the Insider Experience blog.