Grand Rapids is filled with delicious foodie finds: chewy boiled bagels, spicy salsa, thai basil-lemon marshmallows, and hand cranked sausages. But you have to know where to look, and where it all started. Read on, I've got your answers.
Uptown Kitchen in GR's Eastown neighborhood, is a shared-use incubator kitchen that food businesses can rent on an hourly basis to test and produce their product. Uptown Kitchen, owned by Kelly LeCoy, offers a well-equipped commercial kitchen and knowledgable answers to all the questions a food entrepreneur might ask. It's a perfect recipe for launching dynamic food businesses that add flavor and variety to the culinary landscape.
West Michigan features year-round farmers markets where the wooden tables are piled high with a diverse assortment of produce, reflecting the season: asparagus, then strawberries, then sweet corn, then crisp apples. We're lucky to have such a variety of crops grown in this state, plus we have cheese, popcorn, meats, breads and specialty food products rounding out the epicurean experience.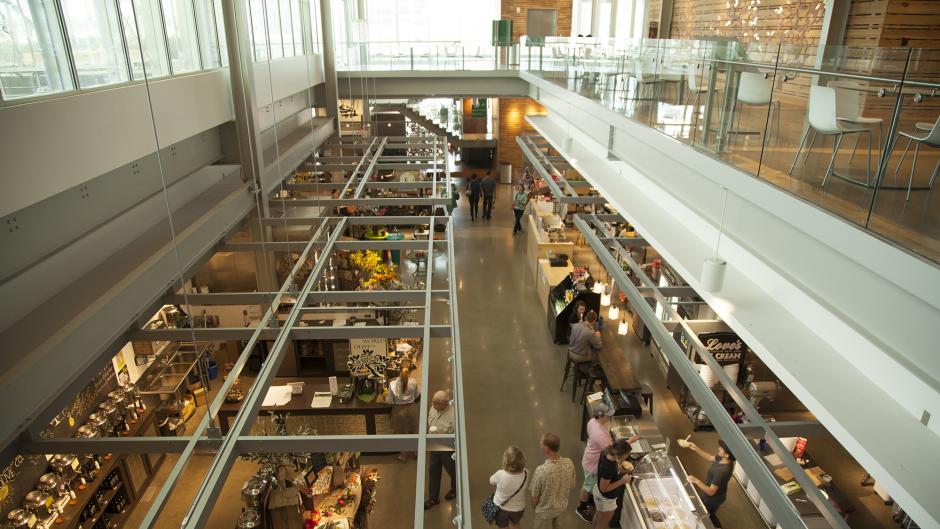 Downtown Market Grand Rapids
---
Alongside the farmers and producers, you'll find dozens of food artisans selling their handcrafted products. Many of Uptown Kitchen's hardworking food entrepreneurs sell their goods at the Fulton Street Farmers Market or Downtown Market Grand Rapids. Uptown Kitchen is home to over twenty small food businesses. Allow me to introduce you to a handful of my favorites.
Jeremy Kuhn of Deliciosity creates raw, gluten free, vegan desserts that are sold at Bartertown Diner (6 Jefferson Ave. SE) and Harvest Health Cascade (6807 Cascade Rd. SE). The raw cheesecake, brownies, truffles, and more taste better than their non-dietary restriction approved counterparts.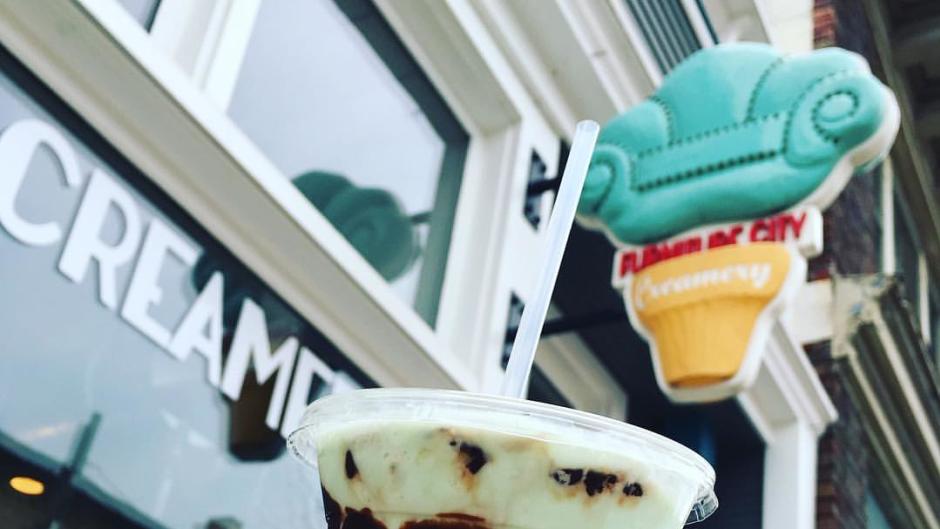 Furniture City Creamery ice cream
Photo Credit: Furniture City Creamery
---
Rachel Franko got her start at Uptown Kitchen, testing her creative, homemade ice creams (like Peanuts and Cracker Jack Porter and Vegan Lime Coconut) last summer that were sold at Mitten Brewing Co. She's now launching Furniture City Creamery at 958 Cherry SE in the East Hills neighborhood. This is a success for Uptown Kitchen: incubating a creative food business that is now opening their own brick and mortar space (walking distance from my house, thankfully.)
Scoville Farms produces a shelf stable habanero sauce product - available in hot, medium, and mild. Dominik Sorenson, the entrepreneur behind this innovative condiment has landed substantial funding from Start Garden and shelf space in dozens of grocery stores around Michigan. You can find Everidae sauce at large grocery chains (Meijer, Kroger, D&W) and dozens of specialty food shops like Grand Central Market (57 Monroe Center St. NW) and Martha's Vineyard (200 Union Ave. NE).
Key Lime Pie marshmallow, yes please! Even gourmet marshmallows have found their start at Uptown Kitchen. Jason Porter, owner of Marshmallogy, graduated from GRCC with a culinary degree and worked in the restaurant scene for years before starting his handcrafted marshmallow business. You can buy his marshmallows online, at farmers markets and shops around town like Global Infusion(143 Diamond Ave. NE), or even have a marshmallow bar catered at your next event.
Rowster Coffee is local roaster in Grand Rapids making delicious coffee.
Photo Credit: Kaitlynn Broadbooks
---
GR Bagel inhabits Uptown Kitchen each morning, rolling bagels bright and early for the Grand Rapidians who have now been trained to crave a stellar, boiled bagel with their coffee. As they say, it's not a bagel if it's not boiled. Rene and Lisa sell their bagels at farmers markets and shops around town like Rowster Coffee(632 Wealthy St. SE), Lantern Coffee Bar(100 Commerce Ave. SW)and the Cakabakery (1436 Wealthy St. SE).
Woking Taco can be found during warmer weather downtown at the corner of Monroe Center and Ottawa Ave. near Rosa Parks Circle. It's a twist on the classic walking taco, with a bunch of addictive ingredients (fritos, anyone?) layered in a Chinese takeout container. This new addition to the mobile food scene uses Uptown Kitchen as their commissary to stock the cart.
To learn more about the small food businesses getting their delicious start at Uptown Kitchen, check out Uptown's website.Then go on an urban foraging adventure to discover these special foods all over the city. You won't be disappointed.
Don't ever miss a post!
Sign-up for the Insider Experience Blog