After a long winter filled with snow storms and snow days, my three kids (ages 2, 5 and 8) are clamoring for summer. While the calendar wont cooperate with their request anytime soon, we did have a chance to escape the cold weather - and we didn't even have to leave Grand Rapids!
The cure for our cabin fever? A trip to Frederik Meijer Gardens Butterflies are Blooming exhibit.
At home, the kids were bouncing with anticipation. "Will a butterfly land on me?" wondered my middle child. We decided to wear bright-colored clothing in hopes of attracting a butterfly. I also encouraged the kids to wear light-weight clothes in anticipation of the warm, humid air in the tropical conservatory.
During our drive to the Gardens we talked about how we could keep the butterflies safe by not trying to catch them and not running. I wasn't sure if the two year old would be scared by the butterflies or not, so I started talking to her about butterflies and how they are nice and pretty.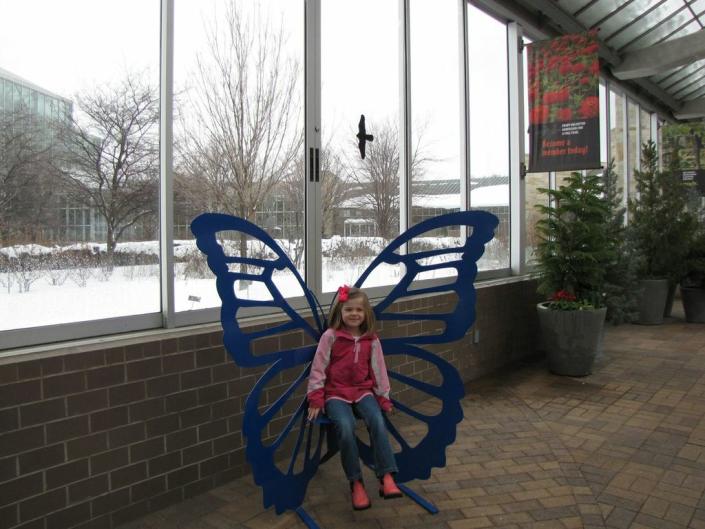 Butterfly Chair at Meijer Gardens
---
As soon as we hit the parking lot, the kids were antsy to get inside. But we slowed down long enough to take photos on the blue butterfly in the entryway.
Our first order of business once inside was to hang up our coats in the coat room (this is tucked off to the right when you enter.) Next, potty break in the family restroom, and then we got our tickets.
Our visit was on a weekday, late in the afternoon when the exhibit was not very busy. Weekends and other peak times, however, draw bigger crowds. For that reason, visitors are directed through the desert garden and then into the Caterpillar Room.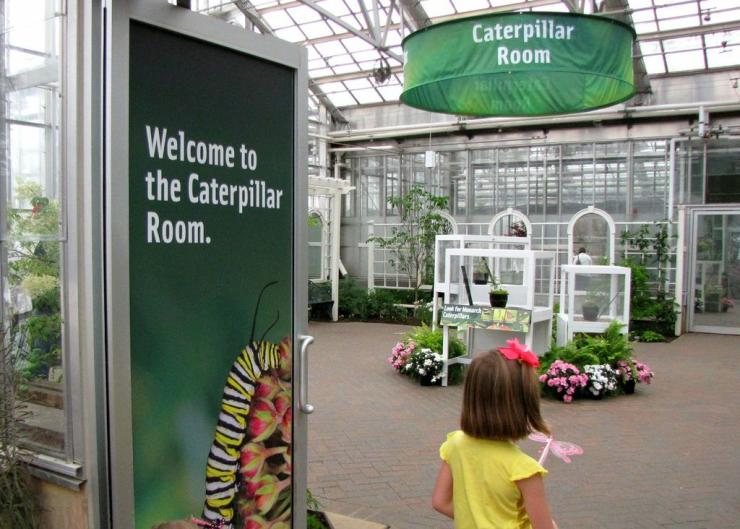 Butterflies are Blooming Exhibit
---
Oh yeah, oh yeah! That's what I heard when my daughter spotted a caterpillar for the first time. We spent 20 minutes it that room peering into the glass cages and searching for milkweed caterpillars on plants out in the open.
"I'm a great caterpillar-spotting girl!" she told me. "I found ten or five of them!"
I was also really impressed by the helpful volunteer who took time to explain that butterflies don't make cocoons like moths do and instead make a chrysalis.
I, on the other hand, was practically giddy with the sight of daffodils.
We were having so much fun, and we hadn't even seen a butterfly yet!
The butterfly exhibit is regulated by the USDA. To ensure that the butterflies stay contained, visitors pass through a room with strips of screening. There are workers in the room, checking to see that there are no hitch-hiking butterflies. On your way out you get to do the butterfly twirl, as we called it, so they can check you from all angles.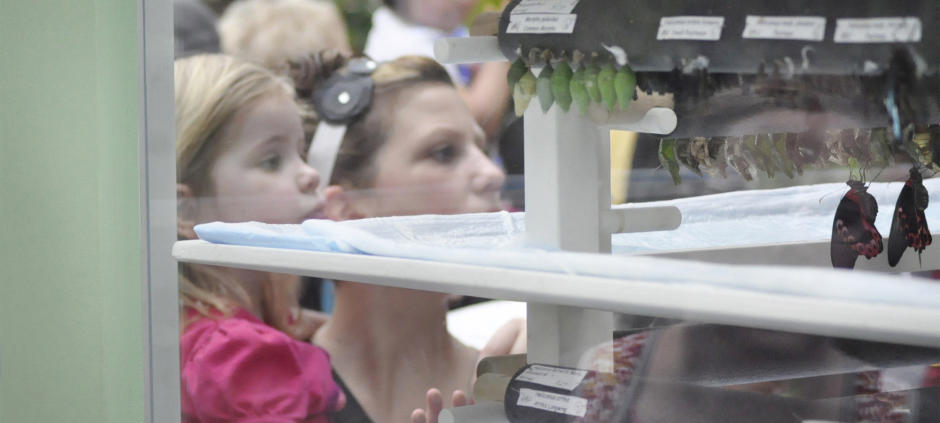 Butterflies are Blooming at the Frederik Meijer Gardens & Sculpture Park.
Photo Credit: Frederik Meijer Gardens & Sculpture Park
---
I chose to leave my stroller in the hall- and you'll be encouraged to do the same- because space is tight inside the exhibit and its hard to maneuver during busy times. My two year-old had no problem handling the short walk through the conservatory. I also saw many parents wearing baby carriers, a smart way to go.
Butterflies swooped down to greet us as we entered the conservatory. At first it was shocking, but then it was fun. "I see one! There they are!" was all I could hear for minutes on end.
It was also great fun to spot a butterfly and match it up to the brochure we were given. The volunteer staff went above and beyond again with their friendly helpfulness.
Luck was on our side during our visit. One of the volunteers had been collecting butterflies off of the conservatory windows and was ready to re-release them into the middle of the room. He picked them up and set them free- but not before letting a few hang out on our hands for a minute!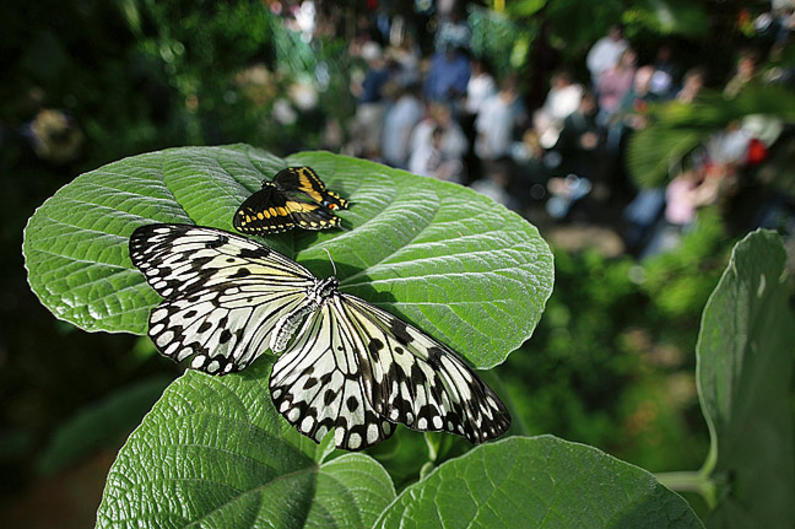 Frederik Meijer Gardens & Sculpture Park's Butterflies are Blooming exhibit
Photo Credit: Experience Grand Rapids
---
The Butterfly Bungalow was also a big hit with the kids. The butterflies were emerging right before our eyes. Once again, lots of questions asked and answered by the knowledgeable volunteers.
To make it more interesting for the kids, I had also brought their cameras along so they could take pictures like Mommy. And we periodically played statue to see if we could get butterflies to land on us. I offered $10 to any child who had one land on their nose. Luckily I didn't have to pay up...
We spent a good hour in the conservatory. We eventually did leave, we found our way to the back room with a toy replica of the sculpture park. We played for twenty minutes or so. If it had been nicer outside we would have ventured out to discover the butterfly-themed activities in the Children's Garden.
Our last stop of the day was the gift shop, which is filled with many educational kid-friendly items and other toys. My daughter bought a butterfly wand as a souvenir, a great trinket to remember our magical times at Frederik Meijer Gardens, where the Butterflies are Blooming.
Melody VanderWeide is the creator of Grand Rapids' premier parent resource, grkids.com.
Never Miss a Post!
Subscribe to the Insider Experience blog.