Chefs around town are busy today preparing for the 12-day-dining-marathon that is upon us: Restaurant Week 2014. And I hope you're grabbing the phone to make reservations, because it's going to be good. Last night my husband and I embarked on a progressive-style dining experience to sample Restaurant Week menu items at three of our favorite spots. Read on for the delicious roundup:
First Course: Reserve
Beet and Cucumber Gazpacho with St. Vincent Riesling Pâté and St. with L. Mawby Blanc de Blanc
When dining at Reserve I always forget for a moment that I'm in Grand Rapids. The restaurant's big-city feel and polish can be disorienting. It's a treat to dine at Reserve - the ambiance, the food, the service. the wine!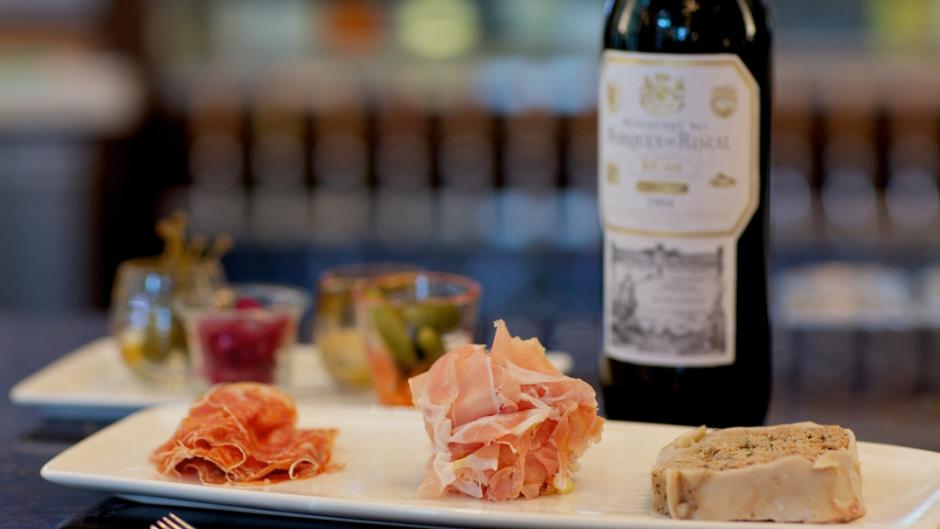 Reserve
Photo Credit: Experience Grand Rapids
---
I like the freshness of chilled soups and how they capture the season, but I'm generally satisfied by just a few spoonfuls and ready to chew. However, the Chilled Beet and Cucumber Soup was refreshing, summery, and surprisingly rich and satisfying. It wasn't an interlude between courses, as chilled soups often are, but rather a highlight of our dinner. We loved the sweet, lemony St. Julian Riesling paired with the rich and vegetal chilled soup.
We also enjoyed the Pâté Maison, a perfectly sized portion with delicious accompaniments. The best part of the pâté was pairing it with L. Mawbys Blanc de Blanc sparkling wine. The wine is made in the Methode Champenoise process and is, well, extremely bubbly. It was a lovely course, beautifully presented and perfect for a special occasion, like Restaurant Week Grand Rapids.
Second Course: Osteria Rossa
Rigatoni with Lamuri Nero D'Avola Porchetta with Lechthaler Pinot Noir
Next, we walked a few blocks to a new downtown Grand Rapids hotspot: Osteria Rossa. Osteria has a beautiful open kitchen where they prepare traditional from-scratch Italian dishes with a Michigan spirit, or as they say, Heart of the Mitten, Soul of the Boot.
We shared two main courses, both paired with red wines. First, we indulged in the Rigatoni with peas, pine nuts, Italian sausage, and cream - it literally melted in my mouth. Our energetic and attentive server described Osteria's focus on pairing wine and food that originate from the same region. We tucked into the Rigatoni with a Sicilian Ragu while enjoying sips of a Sicilian vino.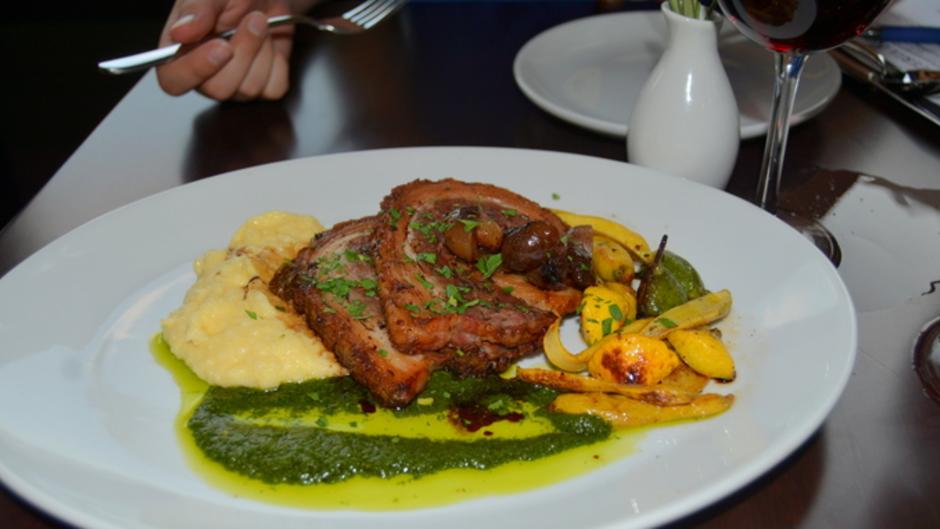 Porchetta at Osteria Rossa
---
Being pork belly fanatics, we were excited to order the Porchetta and it didn't disappoint. The accompanying Salsa Verde tasted as fresh as the Fulton Street Farmers Market and the pork belly was full of flavor, amped up by the sausage and herbs. The tiny summer squash were delicious and my husband and I fought over the cipollini onions. The light-bodied Pinot Noir was the perfect complement to the rich pork belly. According to the server (and we trust her), the Porchetta is Osteria's piece de resistance, so how lucky we are that its on the Restaurant Week menu!
Dessert: Rockwell-Republic
Peach Gallete with White Peach Bellini Grasshopper Cheesecake with Baileys Irish Coffee Beer Float
Rockwell-Republic is open daily until two in the morning and is home to some high-energy nightlife, that at other joints - is often accompanied by mediocre bar food. But at Rockwell-Republic you can have your bar scene and eat it, too. You can also choose your own adventure, with the bar and energy at Rockwell and a more relaxed dining environment (and Monday night jazz) at Republic. Chef Terry Ellison joined the Rockwell-Republic team in January and the menu is dialed in with locally sourced ingredients and an in-house pastry program.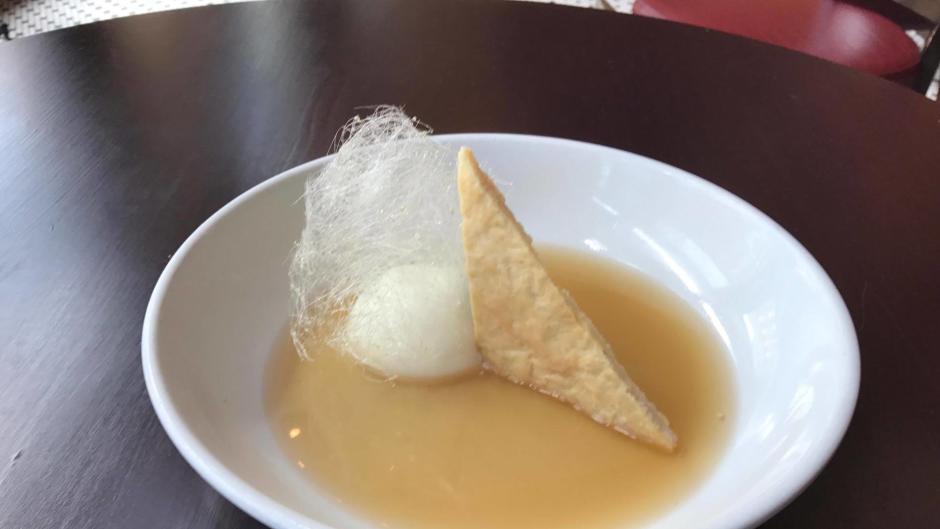 Rockwell Republic dessert Restaurant Week
Photo Credit: Rockwell Republic
---
We couldn't choose just two desserts, so we enjoyed sampling all three Restaurant Week choices...and they were delicious. The Beer Float was the highlight of my husband's evening: Left Hand Brewery Milk Stout Nitro with house made Michigan cherry ice cream. The ice cream was both tart and sweet and it paired beautifully with the creamy beer. The Peach Galette was decadent with figs, pine nuts and whipped mascarpone. I loved pairing it with sips of the martini-style White Beach Bellini. The Grasshopper Cheesecake (perfect for thin-mint fans!) with the Irish Coffee was a winning combo.
All evening we enjoyed top-notch food, gracious service, and the energy of busy downtown restaurants. I highly recommend you take advantage of Restaurant Week's three-course meals - it is fleeting, just like this gorgeous Pure Michigan summer. Visit restaurantweekgr.com to view complete menus and narrow down your dining destinations. And when you dine out this week and next, make sure to take advantage of the beverage pairings to kick it up a notch because they are most definitely Perfect Pairings.
Don't ever miss a post!
Sign-up for the Insider Experience Blog