Grand Rapids is known for a lot of things: Art Prize, the Grand River, and a booming craft-beer economy are among them, but the city is also gaining recognition in the gonzo world of physically challenging events. It's becoming a Midwest adventure and endurance racing center.
"Adventure racing is bigger here than probably anywhere in the U.S. on a per capita basis," notes Mark VanTongeren, founder of Michigan Adventure Racing (MAR), in Ada, which annually produces four adventure races and two trail running races.  
"One reason is we have more races that are accessible to people. They are shorter, have challenges that people love, and are close to urban areas. Other U.S. race directors are focused on longer wilderness  races that are more intimidating where people start and finish in unfamiliar places. We have been able to get from 300 to 600 people at our events."
Adventure racing is a team sport which distinguishes it from other popular endurance race events like The Warrior Dash, mud-runs or trail races where individuals compete against one another. It calls for mixed skills and athleticism, often calling for mixed disciplines like cycling, trekking, paddling and overland navigation with a map and compass. 
One of MAR's pinnacle adventure races is the "Epic Edition, a 10-hour race scheduled for Aug. 8 at the Double RR Ranch, in Belding. VanTongeren calls it "grueling."  
"First, you have to be on the move for 10 hours. It's even more (grueling) for the navigator who has to be head down looking at map while on a bike," VanTongeren said. "That's a challenge you don't face with other races which are more about aerobic endurance."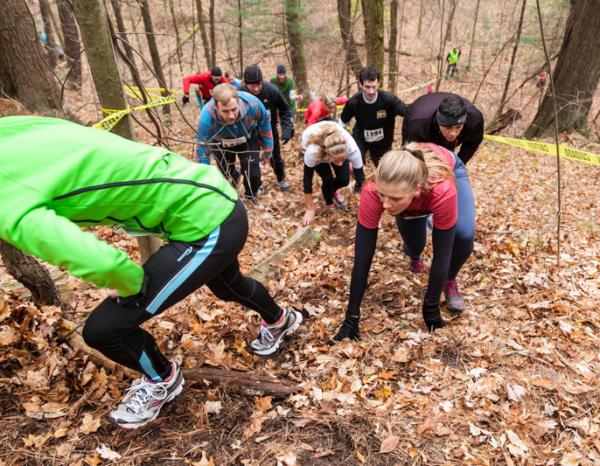 Participants in the Dirty Duel have a choice of courses: short and brutal or long and difficult. Photo credit: Jamie Geysbeek Photography.
But aerobic races also have their twists. The popular Grand Rapids Zombie Dash is good, scary fun, says Raymond Passchier, the race director. The 2015 Zombie Dash takes place Oct. 24 at Ah-Nab-Awen Park where participants will be issued three light-strips at the start. Zombies along the route will do their best to grab them.  
 "If they (runners) finish the race with all three on them, they get time is subtracted from their finish time," Passchier explains. "The zombies really go crazy. They are very creative and it's a really fun event. It's not your typical 5K race.  The course goes along the Grand River and over the 6th Street Bridge, then up Belknap Hill and down the stairs.
"We work with Michigan Blood, a charity partner (and nonprofit blood bank). A portion of the proceeds goes to them to support their bone marrow match program."
 Another fun event takes place in the city during Art Prize. MAR's Art Prize Edition Adventure Race is October 10.  Competitors will have to navigate from one art venue to another, partly on foot and on road and trail bicycles, perhaps solving riddles along the way. It's a four-hour race, good for first-timers, according to VanTongeren, and has drawn an average of 500 competitors annually.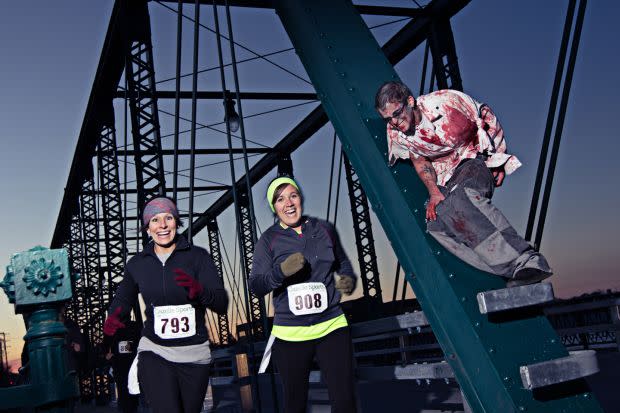 Zombies can appear from the most unlikely places during the Zombie Dash. Photo credit: Terry Johnston Photography
In all there are six adventure, trail, obstacle or mud races between now and mid-November. Here's a look at what's coming.
Aug. 8:  Michigan Adventure Racing Epic Edition: A 10-hour race at the Double RR Ranch, in Belding, that requires navigating, running, river paddling and mountain biking.  
Aug. 29:  Eat Dirt Mud Run: A benefit for Never the Same, a faith-based youth ministry at Kentwood Community Church, 1200 60th St. Kentwood. 
Sept. 19:  Warrior Dash: A tough 3.23 mile obstacle course race at Millennium Park, 1400 Maynard Avenue Southwest, Walker. The event raises funds for St. Jude Children's Research Hospital. 
Oct. 10:  Michigan Adventure Racing Art Prize Edition: A 4-hour urban race good for beginners that requires running, navigation and road and trail cycling. 
Oct. 24:  The Zombie Dash: A playful 5K urban run beginning at Ah-Nab-Awen Park where mere mortals should fear what comes out of the darkness. 
Nov. 14: Michigan Adventure Racing Dirty Duel: Named by Trail Runner Magazine as one of the top 15 fall races under 15 miles. Competitors have a choice of two courses: short and brutal (5K), or long and difficult (5.5-6K). Held on trails along Robinette's Apple Haus & Winery, Provin Trails Park and Kuyper College.