Before women had the right to vote you could decipher their political positions by the patterns in their quilts. If they sewed the Tippecanoe and Tyler Too pattern, for example, you could be sure they supported William Henry Harrison and John Tyler during the 1840 presidential campaign. Women continued their activism during the abolitionist movement by sewing anti-slavery sentiments into their quilts. They even sold them to raise money for the cause.
"Quilts have always been a way for women to express their opinions," says Sue Cortese, a member of the West Michigan Quilters Guild and quilting judge. She says today's quilters continue to express themselves through their craft. Cortese, for example, created a quilt in memory of her mother, and when her children graduated from high school she gave both of them quilts made from their old soccer and swim team t-shirts. (Related note: T-shirt quilts have seen resurgence in popularity since the appearance of one in the Twilight Saga: Eclipse.)
Cortese also makes traditional quilts, but her specialty is creating quilts from her own hand-dyed fabric. When she began quilting 17 years ago, her family lived in the state of Wyoming. We only had a small quilt shop in town, she recalls. Wed all go to the same store and everyone would make quilts from the same fabric. I wanted mine to be different. Cortese and a friend researched how to hand-dye fabric and a business was born.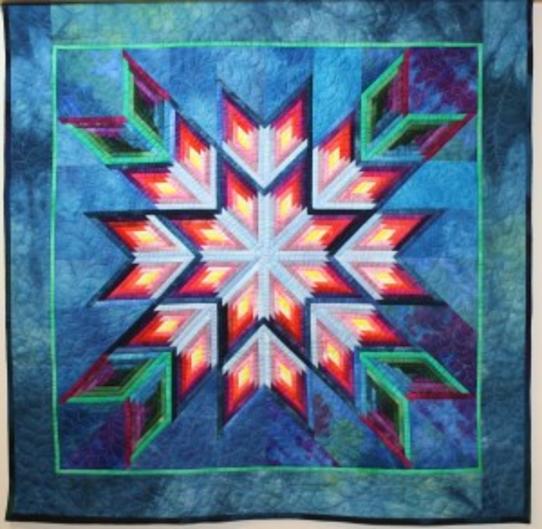 ---
As people saw Cortese's unique fabric, interest grew in learning how to hand-dye. Cortese taught her friends in Wyoming and, after she moved to Michigan, she began a business teaching classes on how to hand-dye fabric. She also sells her own hand-dyed fabrics through her website SELC Fabrics, LLC.
For Cortese, though, quilting is more than a business. It's a passion. "I jumped from one hobby to another before I quilted," she explains. "But as soon as I started quilting there seemed to be this connection. I got to play with colors and patterns, and there's a textural thing to quilting. I just really connected with it."
Cortese draws inspiration for her quilts from architecture and landscape. She's also learning new techniques, taught by Nancy Crow at The Barn in central Ohio, that have her thinking about line, color, shape, and movement. "It's freeing to work that way," says Cortese. "For me, it fills more of that creative desire."
You can see the work of plenty of creative artists at the American Quilt Society Show and Contest in Grand Rapids, August 22 25, 2012, at DeVos Place. Hundreds of quilts will be on display for the weekend. Cortese is looking forward to the show and excited about the classes. "They bring in national high-level teachers," she says, "people I haven't had the opportunity to take classes from before."
She's also excited about the juried contest, in which she's hoping to have a quilt. She describes the quilting community as a close-knit, supportive group, who enjoys friendly competition. "At judged shows," she says, "we all sit on pins and needles waiting to see who will win."
Never miss a post!
Sign-up for the Insider Experience blog.