Beer lovers, relax! Now there's a super-pampering way to enjoy local craft brews using all five senses with beer-infused Brew and Renew services at The Spa at the JW Marriott.
Spa-goers can choose a brew pedicure that includes a beer foot bath, invigorating scrub, soothing hot towel application, foot massage, cuticle and nail care - and, of course, a beer to enjoy during the service. Or, for even more indulgence, try a Brew Polish and Massage, featuring a beer-inspired body scrub, an aromatherapy massage, and a gift card to enjoy a beer of your choice at Founders or Brewery Vivant, whose brews inspired - and are included in - the treatments.
Kelly McGrail of Experience Grand Rapids recently had a chance to experience both Brew and Renew treatments, and reported back that it was like no other spa experience she's ever had. During the massage, the fresh-ground hops and barley in the scrub followed by a citrus scented lotion provided its own special kind of aromatherapy. For the pedicure, Solitude beer from Brewery Vivant is followed by a massage with chocolate-scented lotion. "It smells amazing, and pairs really well with the caramel in the Solitude," said McGrail.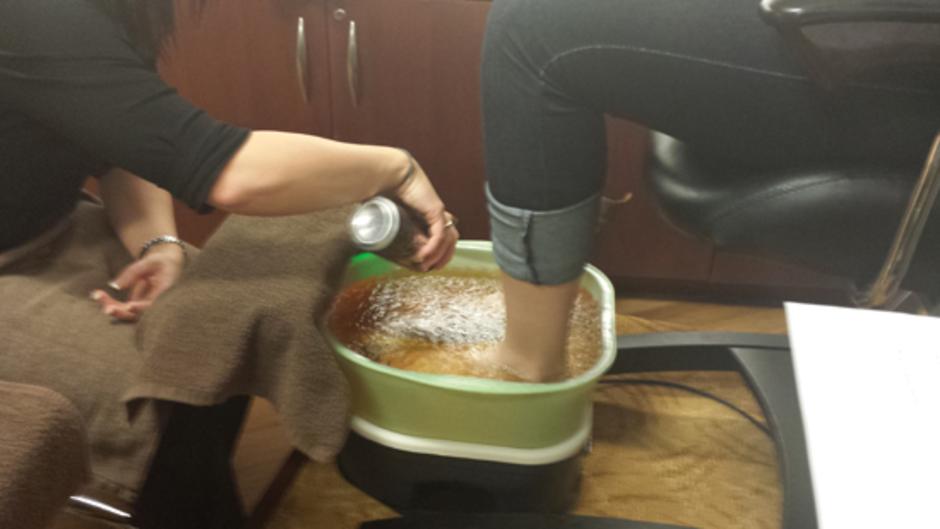 Brew & Renew package at JW Marriott
---
The idea for the Brew and Renew packages came from one of the JW's concierges, who felt that the packages would be a great tie in with Grand Rapids' Beer City, USA designation. While beer-inspired spa treatments have become more popular on the West coast, in the Midwest, The Spa at the JW is still a pioneer.
While Brew and Renew is a relaxing and pampering treatment for anyone, it's especially well suited for men who may have been hesitant to sign on for spa treatments in the past. The promise of a cold brew is enough to get any beer-loving man in the pedicurist's chair!
Of course, Brew and Renew isn't just about the taste and scent of beer! As it turns out, your favorite craft brew has several benefits for the skin, too:
Hops help exfoliate the skin, getting rid of dead skin cells
Active yeasts contain B vitamins and saccharides, which rejuvenate and hydrate skin
Inactive yeasts help balance the skins pH levels and can be beneficial for individuals with acne
Yeast from a food soak beer bath, can help promote a purifying and cleansing effect on the feet (including mild fungal issues)
Makes feet smooth and fresh by removing excess skin buildup
Can remove toxins from the body, and firm/tone skin
Some beers may contain ingredients that soothe and act as an anti-inflammatory or anti-bacterial agent.
And when it's used topically, there's no worry about a beer belly!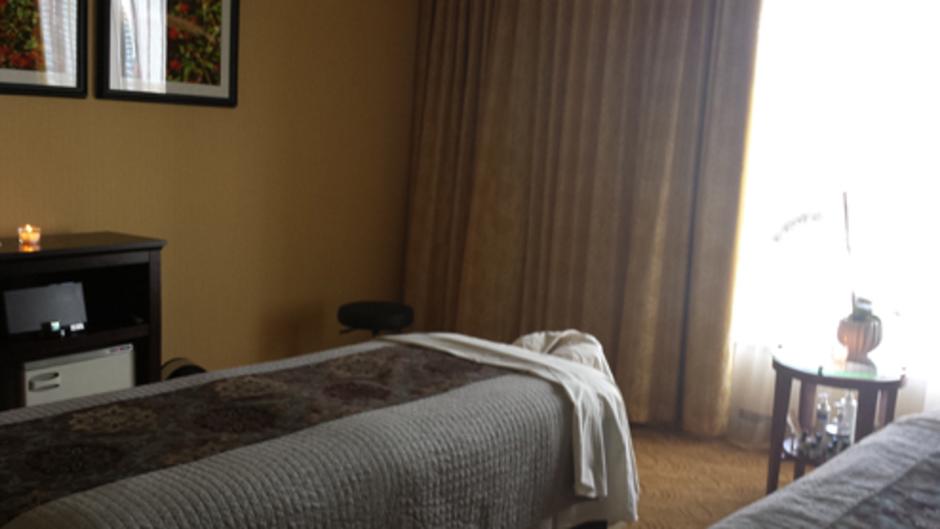 Massage Room at The Spa at JW
---
Brew and Renew treatments run $89 for a 50-minute luxury pedicure, or $169 for an 80-minute Brew Polish & Massage.
And true to the JW's reputation for luxury and attention to detail, any spa experience you choose from their extensive menu will be done right. "The staff was so friendly and extremely knowledgeable about all of the treatments," said McGrail. "The room where the massage took place was and actual hotel suite converted into a massage room so it was nice and roomy, views overlooking the river, and a full bathroom."
Guests of The Spa at the JW do not need to be staying at the hotel, and will receive complimentary parking and access to the relaxation room, pool, steam room, and hot tub on the day of their treatment. Their spa menu offers several rejuvenating packages and options - call 616.242.1475 to book a treatment, or schedule online.
Don't miss a post!
Sign-up for the Insider Experience blog