Whether you love the thrill of the hunt or find beauty in treasures passed down through generations, the Grand Rapids area is chock-full of antique stores and markets you can search to find that perfect something.
"Three weeks ago I went looking for old scrabble pieces, so I could make place cards for the table," says Kyle VandenBosch, who frequents Grand Rapids area antique shops with her daughter, Lori Essex. Essex has unearthed treasures like a large, galvanized bucket she uses at the base of her Christmas tree and old apple bushel baskets that house flowering mums in the fall. Although Essex's home decor style doesn't favor antique furnishings, she likes interspersing the gems she finds at antique stores with her other things. "It's fun to look on Pinterest and get ideas for how to mix antiques in," she says.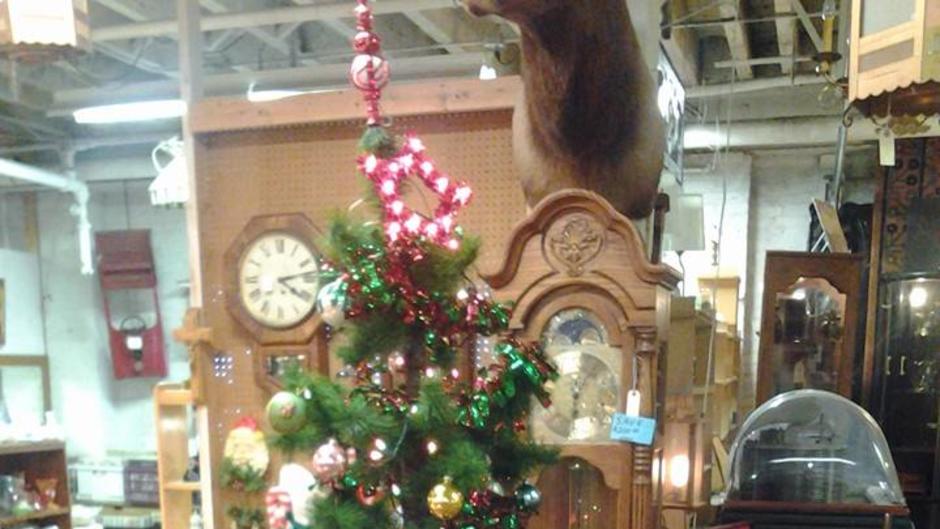 Christmas tree with vintage ornaments
Photo Credit: Century Antiques
---
At this time of year, local antique stores and markets are brimming with unique pieces you can mix in with your own decor or give as gifts. "I have 18 different dealers in my store and we have a large variety of items," says Jim Murray, owner of Century Antiques, which carries furniture, jewelry, books glassware, holiday ornaments, and more.
"Sitting here at my desk," says Murray, "I'm looking at an old jukebox, an old slot machine, some old photographs, luggage bags, an old sled, old books, and old sand pails. As far as toys are concerned, you could find anything from a matchbox car from the 1950s or 60s to an old pull-toy from the 1930s or 40s. We carry it all. You never know what you'll find!" Murray greets everyone who comes into his store, creating a friendly environment for shoppers. "We're here to help the customer," he says. "I offer them a hand whenever they need it."
There are several antique stores near Century Antiques (some in the same building), including the popular Warehouse One Antiques. They feature 100 dealers selling everything from furniture to old books and magazines. It's tons of fun to stroll through all 25,000 square feet in search of that just right item.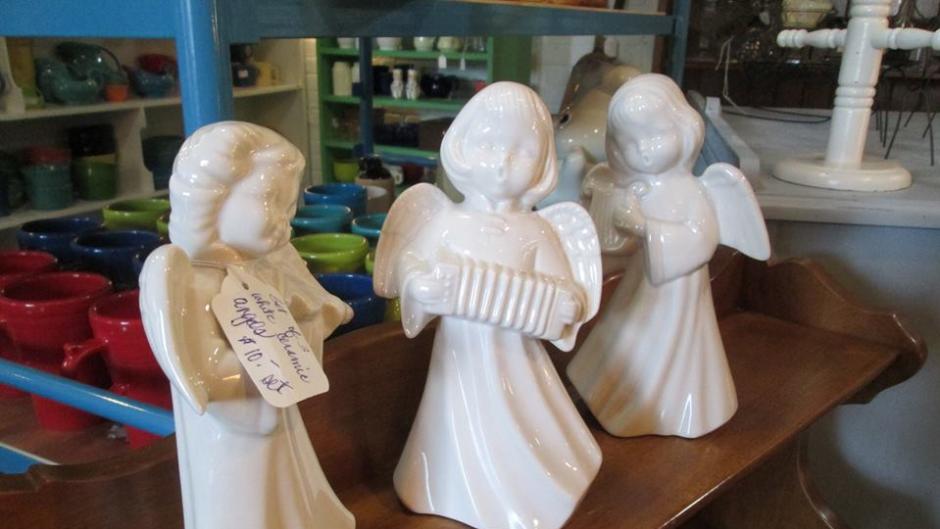 Eastown Antiques
Photo Credit: Eastown Antiques
---
Across town at Mike Dykhouse's Eastown Antiques, which won the Townie Award for the Best Antique Store in Grand Rapids for 4 consecutive years, you'll also find a little bit of everything. "We sell a lot of furniture," says Dykhouse, "but we also have cases full of glassware, pottery, jewelry, linens, records, you name it. At this time of year, people come looking for unique Christmas gifts, so we also have a lot of smaller holiday vintage Christmas things."
On December 4, Eastown Antiques and other Uptown stores will kick off their annual Holiday Shop Hop. Join the fun and take advantage of in-store specials, live entertainment, and special gifts. Free shuttles are available for shoppers (and browsers!)
Dykhouse says Grand Rapids is a great place for antiquing because there are so many stores and markets within a relatively close area and they offer plenty of variety. "Certain shops specialize in painted furniture, some do mid-century modern, some do industrial, and we're all centrally located," he says.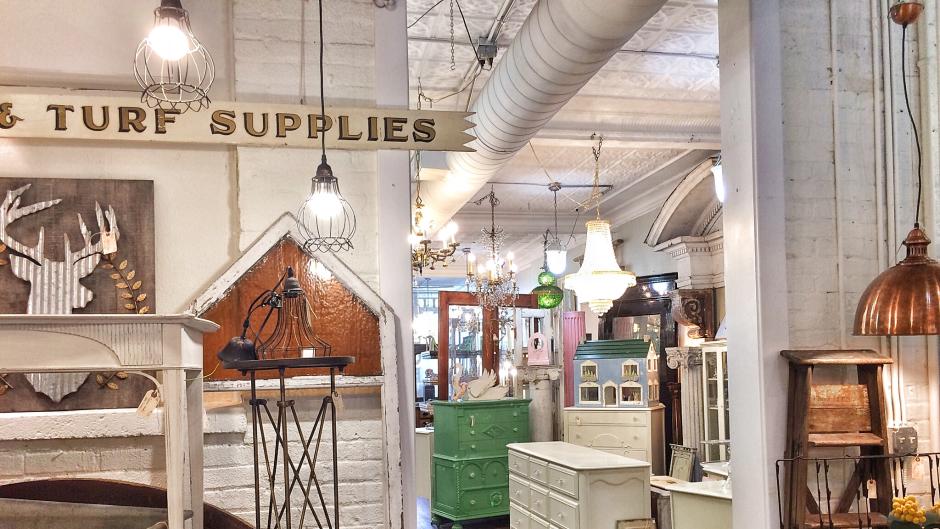 Blue Door Antiques
Photo Credit: Melody VanderWeide
---
One area antique market that doesn't participate in the Holiday Shop Hop is the Allegan Antique Market, both because it's not in the Uptown area and because it only takes place during the summer. But come warm weather (typically the last Sunday of the month, April September), you'll find over 400 exhibitors at the Allegan Antique Market, rated One of the Ten Best Shows in America by Antiques Magazine. Its one of Essex's and VandenBosch's favorite stops for antiques, and they try to make the trek annually. "The way it's set up is so quaint," says Essex. "Most of its paved, they have nice, big shade trees, and the vendors displays are all eye-grabbing."
Allegan isn't the only big market around. The Grand Rapids Antiques Market, one of the largest indoor antique shows in Michigan, takes place January 3-4 at DeVos Place. Nearly 150 antique dealers will be there with their wares. Summertime also brings back the once-a-month (May-Sept) Vintage Street Market at the Grand Rapids Downtown Market, where you can find curated vintage goods of all kinds.
One of my favorite Grand Rapids antique shops is the Blue Door. We've found so many useful pieces there, from a beautiful bathroom cabinet to an old galvanized watering can for our garden.
VandenBosch also recommends stopping into Everlasting Blooms, a small, family-run shop that features a greenhouse and antiques, as well as some newer home decor. Check them out during their annual holiday open house on November 29.
Regardless of where your vintage search takes you, VandenBosch has two recommendations for antiquing newbies:
If you see something you really want, you'd better buy it. Chances are if you don't, and then you go back for it, it will be gone.
Ask, "Is this the best price?" They'll almost always bargain. But use your manners!
Click here for a link to more antique shops and markets in the Grand Rapids area. Time to go antiquing!
Don't miss a post!
Sign-up for the Insider's Experience blog