There are two kinds of people who emerge after Labor Day weekend: Those who dread the unofficial end of summer, and those who are ready to embrace the new fall season.
For those of you who welcome fall with arms wide open, make sure to check out these locally-recommended cider locations within a 60 minute drive of Grand Rapids.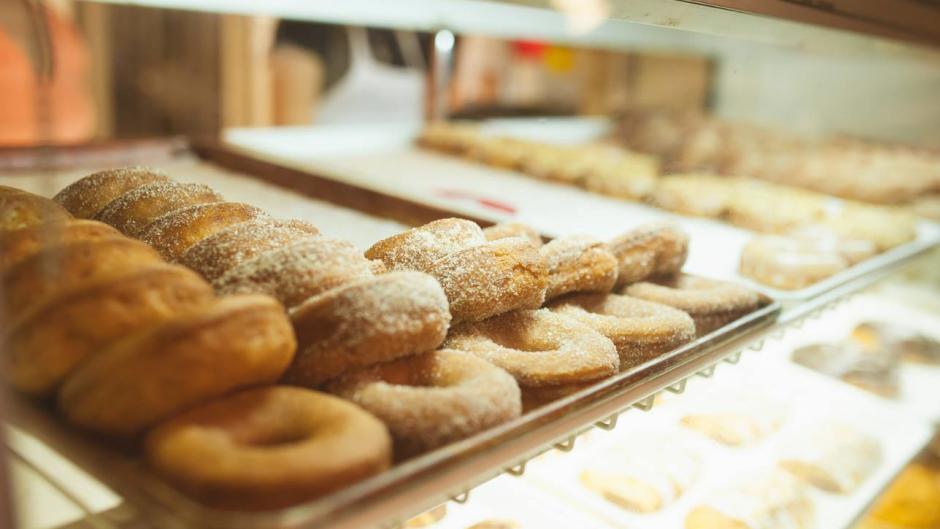 Make sure to grab a delicious apple cider donut when you visit Robinette's Apple Haus & Winery!
Photo Credit: Robinette's Apple Haus & Winery
---
Robinette's Apple Haus and Winery
Address: 3142 4 Mile Road NE, Grand Rapids, MI 49525
Hours: Open year round from Monday to Saturday: 8 AM - 5:30 PM; Closed Sunday
When we asked Experience Grand Rapids' followers on social media what their favorite location was for apple cider, Robinette's Apple Haus and Winery was hands-down the fan-favorite location.
Robinette's is not only close to downtown Grand Rapids, but it's a longstanding community staple that's been in business for more than a century. This family-friendly orchard is definitely a crowd pleaser with its outdoor trail, hay rides, apple picking, and more. A major highlight though is the variety of beverages they make from the apples grown in their orchard.
Robinette's makes fresh cider at their own, on-site cider mill. Depending on what apples are available at the time (pink ladies, galas, honeycrisp, and more), the blend of the cider being served changes constantly. Regardless of what's in season, you'll want to stop in their bakery for a donut and a cup, quart, or gallon of cider.  
For those of you over the age of 21, Robinette's does have a few adult beverages on hand. The winery, which is right next to the bakery, uses their cider as a base to craft and produce hard cider and wine. At any given time there are over 20 different alcoholic drinks to both sample and buy.  
Schwallier's Country Basket
Address: 1185 9 Mile Rd NW, Sparta, MI 49345
Hours: Open August to November, Monday through Sunday
Another popular apple cider destination is Schwallier's Country Basket, which is a 20-minute drive from Grand Rapids. This family-owned farm has been around since 1989 and has a variety of fresh produce to pick from and activities to enjoy. Depending on the time of year, Schwallier's Country Basket offers u-pick apples, raspberries, and pumpkins. As for activities, you can find your way through the corn maze, pet a few animals in the barn, or take a wagon ride.
Since much of Schwallier's Country Basket is an apple orchard, they excel in making delicious cider. Their fresh mulled cider, served hot and cold, is best paired with a homemade donut. Enjoy the cider and donut pairing at Schwallier's or get your order to-go and bring them home!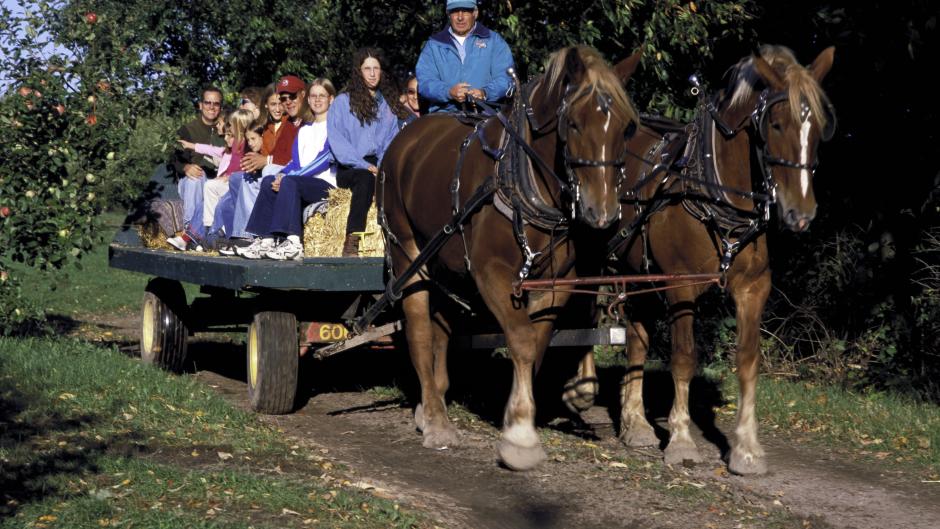 Enjoy a family-fun hayride at one of the many cideries in West Michigan, including Robinette's pictured here.
Photo Credit: Experience Grand Rapids
---
Post Family Farm
Address: 5081 Bauer Rd, Hudsonville, MI 49426
Hours: Hours vary. Check website for more information.
Another favorite cidery is the Post Family Farm in Hudsonville. The farm is just a mere 20 minutes west of Grand Rapids. Not only does Post Family Farm have cider and fresh pumpkin donuts, but they also serve an apple Cider slushie!
With more than 80 acres of farmland, there is no shortage of activities to check out at Post Family Farm. In addition to regular farm fun such as corn mazes and hayrides, the Post Family Farm also has a zipline, giant tube slide, and friendly animals to feed and pet.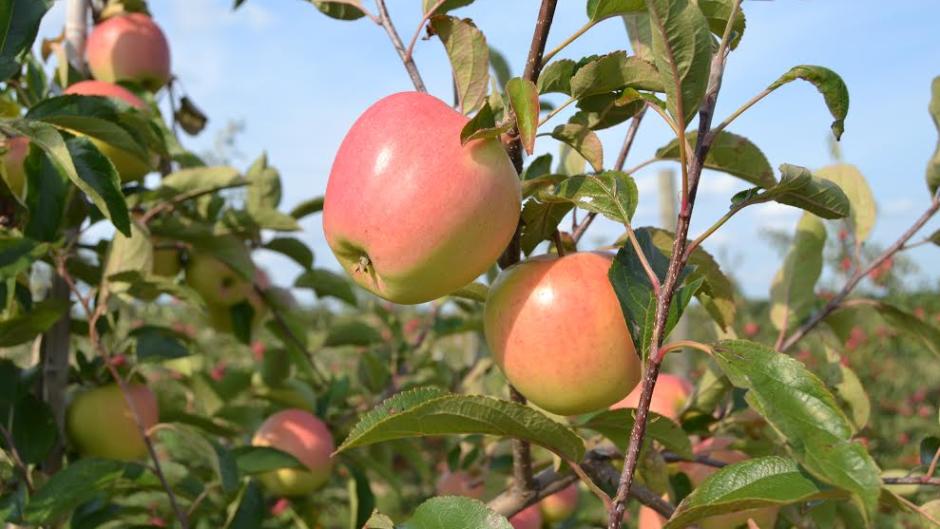 Fact: Fruit Ridge Hayrides is located in one of the state's largest fruit growing regions.
Photo Credit: Experience Grand Rapids
---
Fruit Ridge Hayrides
Address: 11966 Fruit Ridge Ave., Kent City, MI 49330
Hours: Open May to October. October hours include: Friday 5 - 9 PM; Saturday 10 AM - 9 PM; Sunday 10 AM - 5 PM
To the north of Grand Rapids, good cider and donuts can be found at Fruit Ridge Hayrides. The farm is located in what's considered one of Michigan's big fruit growing regions, also known as the "fruit ridge". As the name indicates, Fruit Ridge Hayrides offers a traditional hayride, in addition to a petting zoo, pumpkin patch, pony rides, farm art, and a picnic and campfire area.
Another feature of Fruit Ridge Hayrides is their Little Barn Bakery where you can purchase award-winning ciders and donuts.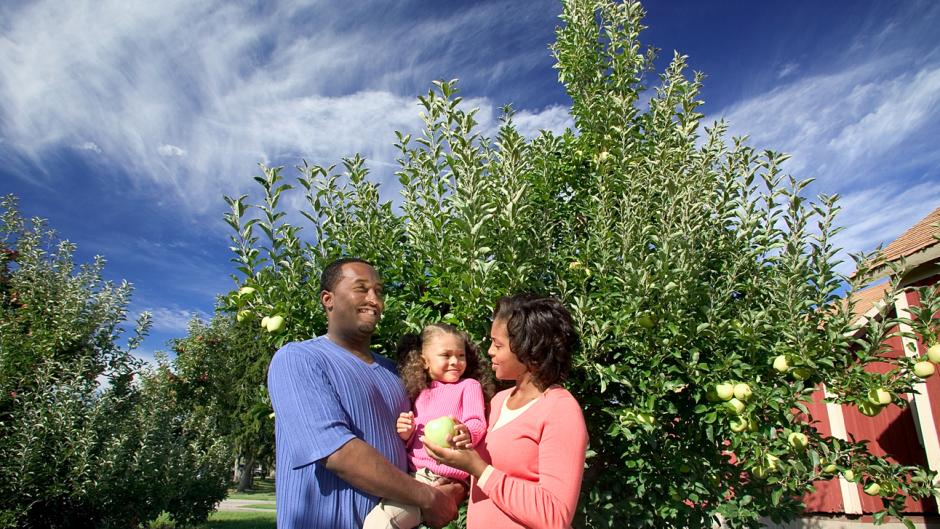 Make sure to plan a family outing to a local apple orchard and/or cidery this fall season.
Photo Credit: Experience Grand Rapids
---
Ed Dunneback & Girls Farm Market
Address: 3025 6 Mile Road NW, Grand Rapids, MI 49544
Hours: Open year round from Thursday and Friday: 9 AM - 6 PM; Saturday: 9 AM - 1 PM
Don't forget to check out Ed Dunneback & Girls Farm Market, located within the city limits of Grand Rapids and only 10 minutes from downtown. The farm started in 1925 and is still owned and operated by the third and fourth generation female family members of the original owner, Edward Dunneback.
With apples grown right on the farm, the women of Dunneback have perfected the art of using the fruit for many dishes. In addition to homemade apple pies and donuts, they boast delicious and unique cider creations, like Apple Cider Slushies and Caramel Apple Shakes.
Another unique aspect of Ed Dunneback and Girls Farm Market is their corn maze that tests your trivia knowledge throughout. At various checkpoints throughout the corn maze, you have the opportunity to test your knowledge in pop culture, sports, agriculture, and more. Answer right and you get nudged in the right direction. Answer wrong, and you might be in the maze for a bit longer than expected.
If you're in search of even more apple cider locations, the Fruit Ridges Markets may be of help. What's your favorite apple cider spot to visit with your family? Let us know in the comments!
Never miss a post!
Subscribe to the Insider Experience blog.