It doesn't get much more beautiful than autumn in Grand Rapids. The air is cool and crisp, the city is blanketed in orange, red and yellow foliage, and great cider is never far away.
Don't miss out on the chance to enjoy some of that cider or our local apples, pumpkins, farm-made baked goods, and corn-mazes. The wonderful fall flavors of Michigan abound in Kent County.
If you're not sure where to start, try one of these local farms: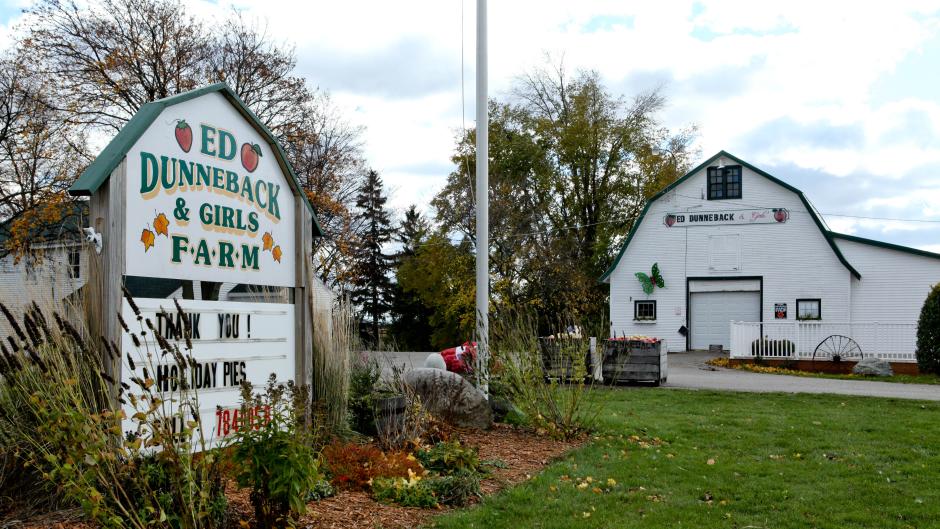 ---
Ed Dunneback & Girls
My husband and I took our three boys to the Dunneback's farm, on the northwest side of Grand Rapids, last fall and it didn't disappoint. Although the kids wanted to head straight for the doughnuts, we opted to try our luck at the corn maze first. We found that there's nothing like a convoluted path through higher-than-an-elephant's-eye corn stalks to encourage teamwork among siblings, especially if they're trying to beat mom and dad out of the maze! This is the Dunneback's fifth year hosting a corn maze: its 5 acres of fun that will test your navigation skills. You'll make it out no matter what, but answering the trivia correctly will get you (or your kids) to the end sooner.
This third-generation farm also has a pick-your-own pumpkin field and a fantastic bakery/market in their historic barn. After we made it through the maze and chose our pumpkins, we had a hard time choosing our favorites from the array of goodies in the barn. Of course, hot cider and caramel apples are always delicious and a fall-weather specialty, so we all enjoyed those there, then bought some doughnuts to go. Win-win.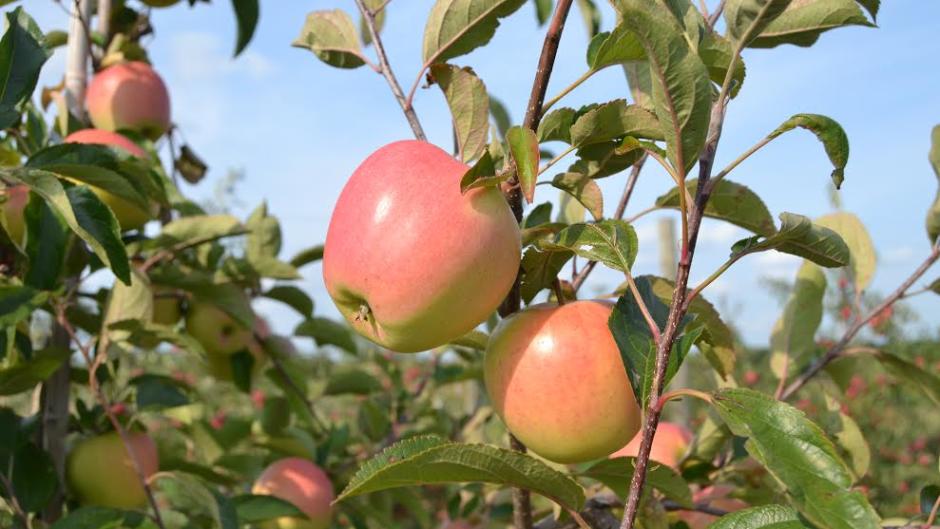 Fruit Ridge Hayrides apples
Photo Credit: Experience Grand Rapids
---
Fruit Ridge Hayrides
If you're looking for a more challenging maze, Fruit Ridge Hayrides is a little farther north in Kent City and its Pirate Treasure corn maze was designed by Dave Phillips, author of several maze books. You can conquer the 10-acre maze or, if you have little ones, you can navigate the smaller family maze. (But without really little ones, come on, you guys can do the big one! Just plan on spending a little extra time finding your way out.)
As the name indicates, this 130-year old fruit farm also offers hayrides, with wagons pulled by huge draft horses. As you ride through the pumpkin patch and orchard, you can hop off to pick a bag of apples or choose the perfect pumpkin for your jack-o-lantern. Fruit Ridge Hayrides also offers a petting zoo, picnic area, play area and its Little Barn Bakery is filled with tempting treats like homemade doughnuts and hot spiced cider.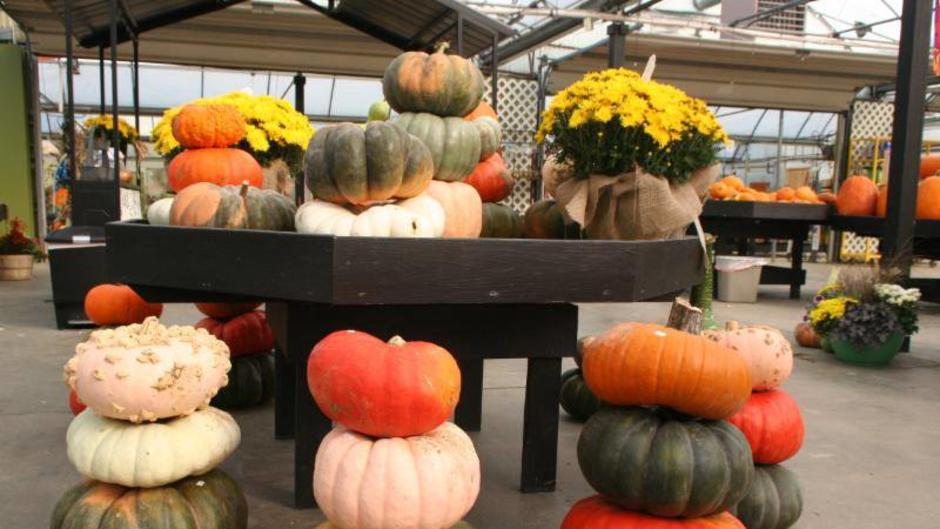 Koetsier's Greenhouse
Photo Credit: Koetsier's Greenhouse
---
Koetsier's Greenhouse
Koetsier's in Cascade is the place to go if you're looking for mums, perennials, or fall decor, like gourds, cornstalks, and Indian corn. After you've browsed the greenhouse for your favorite fall plants, reward your kids with a trip to the indoor play area, where they can paint a pumpkin or bounce themselves silly in the inflatables (including the new Prince's Palace).
After you've had all you can take of the indoor fun, grab some cider and doughnuts and head outside for a hayride, which includes an apple to eat along the way and a stop at the pick-your-own pumpkin patch.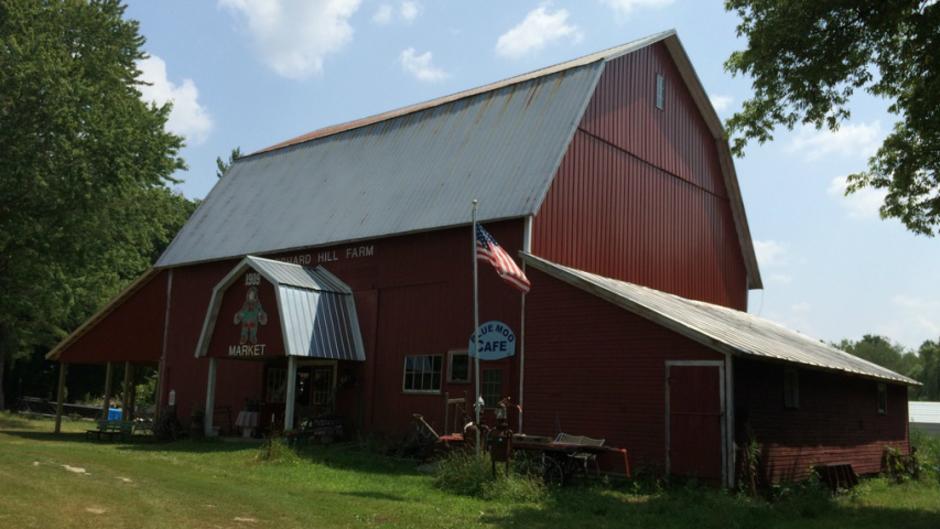 Orchard Hill Farm
Photo Credit: Orchard Hill Farm
---
Orchard Hill Farm
If you're up for a beautiful country drive, head out to Orchard Hill Farm in Caledonia. Pam and Randy run this farm, which has been owned by Pam's family for over 100 years.
At the farm, you can take a hayride, pet the animals, wind your way through the corn maze, and build a scarecrow. If it's one of the many beautiful fall days in Michigan, your family can spend a little outdoor time together while you hike their 5-acre nature trails. Afterwards, don't miss the cider and doughnuts in their 100-year old barn. Of course, they also lots of apples and a pumpkin patch, but surprise! There's also a farm-themed miniature golf course.
All of these farms, and many others, are a part of Kent Harvest Trails, which promotes all-things farm and fall in Grand Rapids. Check their website for a guide to farm locations and keys to which farms offer which amenities (like where to find fresh fall doughnuts!)
Also be sure to check individual farm hours and prices for activities at the farms websites (links above and on Kent Harvest Trails website).
Never miss a post!
Subscribe to the Insider Experience blog.