"Where should I eat?" "What's fun to do in Grand Rapids?" "Where do I park?"
These questions don't need to weigh you down when you're adventuring around Grand Rapids. Each question can be quickly and easily answered through numerous mobile apps that aim to make your time in Grand Rapids as enjoyable as possible by alleviating the stresses of the unknown.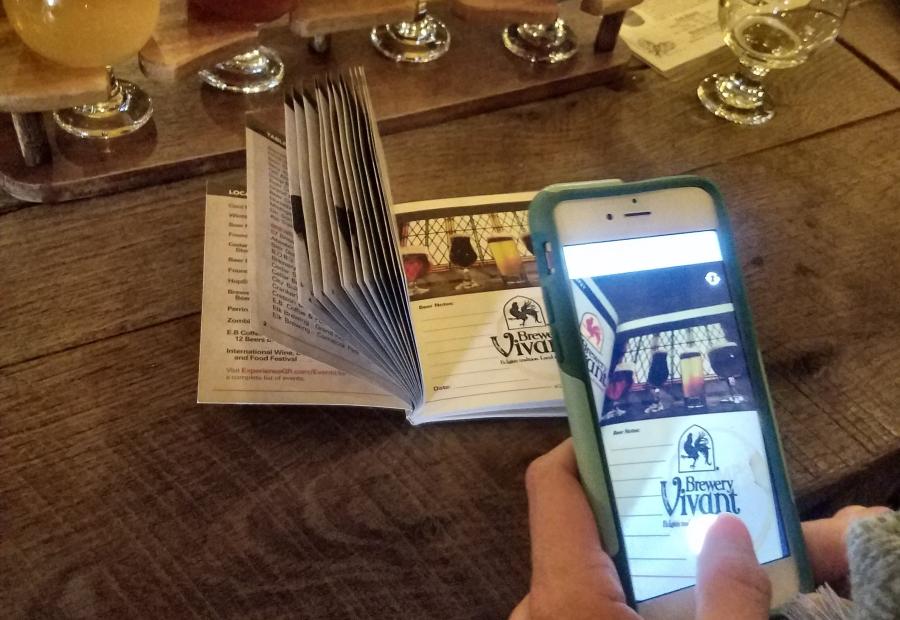 Converting paper Brewsader stamps with the Beer City Brewsader app.
Photo by Experience Grand Rapids
Food & Drink Apps
Voted Beer City USA in national polls and named Best Beer Town and Best Beer Scene by USA TODAY readers (along with other recognitions), Grand Rapids is the perfect place for your next beercation.
Beer City Brewsader
If you're already visiting and exploring Beer City USA, why not become an official Beer City Brewsader® in the process?
Becoming a Beer City Brewsader is simple: Download the Beer City Brewsader app, visit one of the 40+ participating local breweries, try one of the many thirst-quenching craft beers, and get your Beer City Brewsader Passport (digitally) stamped via the mobile app.
After collecting eight stamps–or visiting eight Beer City Brewsader breweries–participants receive an exclusive Brewsader T-shirt. The app even makes it easy to find transportation, whether that's a beer tour guide or a designated driver.
Untappd
Don't forget to download the Untappd app when visiting local breweries and tasting locally-made craft beers. Once users "check in" five locally-made beers, users will gain their Beer City Brewsader badge!
OpenTable, Yelp, & NoWait
There are a plethora of dining options in Grand Rapids, in fact, a lot of breweries also offer great dining options! We recommend referencing the comprehensive list of dining options, and then using apps such as OpenTable to make a reservation, Yelp for more information and restaurant reviews, and NoWait to help you avoid long wait times.
UberEats, GrubHub, & JoyRun
Alternatively, a cozy night indoors with food delivered to your doorstep or hotel lobby is a great option as well. Download UberEats, GrubHub, or JoyRun if you'd like to sample some of the finest cuisine in Grand Rapids from the comfort of your couch or hotel room.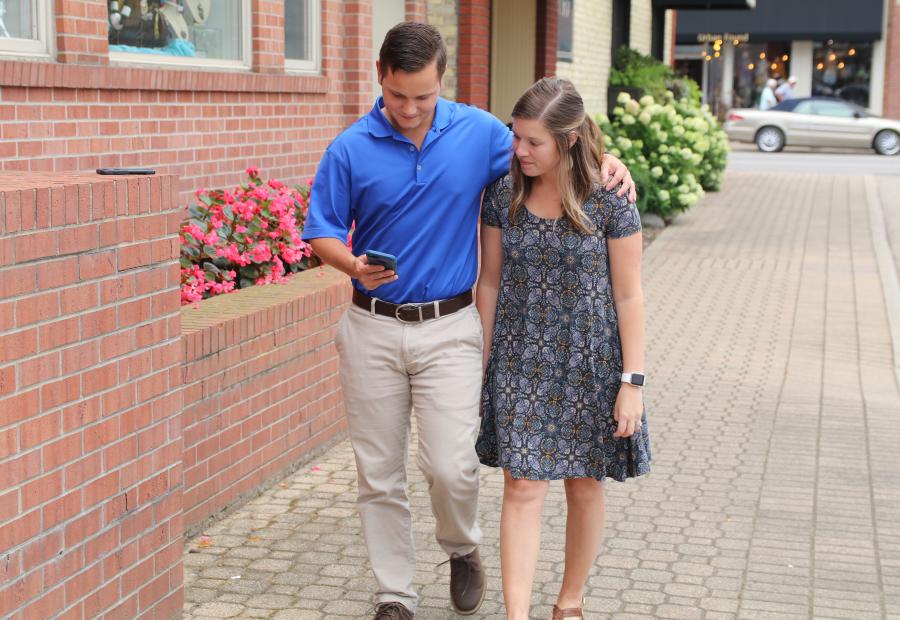 What's your favorite app to use when exploring Grand Rapids?
Photo by Experience Grand Rapids
Experiential Apps
Looking to experience all that Grand Rapids has to offer? Download these mobile apps to get the city's full experience:
Vamonde
To dive into the various fun and cultural experiences in Grand Rapids, the Vamonde app is here to help lead the way. Vamonde's interactive, themed adventures let you follow in the footsteps of local experts, artists, and cultural institutions who have all curated insider secrets to guide you through neighborhoods, parks, city landmarks, and more while share authentic stories through words, photos, audio, and videos. Whether you're interested in architecture, art, food, design, history, nature or music, Vamonde is a stellar way to fully immerse yourself in Grand Rapids.
Culture Pass GR
Another great way to witness some of Grand Rapids' largest cultural attractions is by purchasing a Culture Pass GR. The pass encourages visitors to "see and save" by allowing access to a collection of the best of Grand Rapids' cultural attractions and activities over a span of three days.
With the pass, you'll receive free admission to some of Grand Rapids most sought-after attractions like John Ball Zoo, Grand Rapids Art Museum, Urban Institute of Contemporary Art, and Grand Rapids Public Museum. Plus, you'll receive exclusive discounts around the city. While technically not an app, the three-day pass can be downloaded and easily accessed from your mobile device.
Miscellaneous Apps
There are also various seasonal or limited-run experiences throughout the year in Grand Rapids that have apps that are beneficial to download to take your visit to the next level. With apps for Van Andel Arena, DeVos Performance Hall, DeVos Place, and the Grand Rapids Griffins, you can easily view upcoming events and purchase your tickets in the palm of your hand. Also helpful during the fall season is the ArtPrize app, which helps you navigate around the city to enjoy thousands of pieces of art by artists from around the world during the biennial international art competition.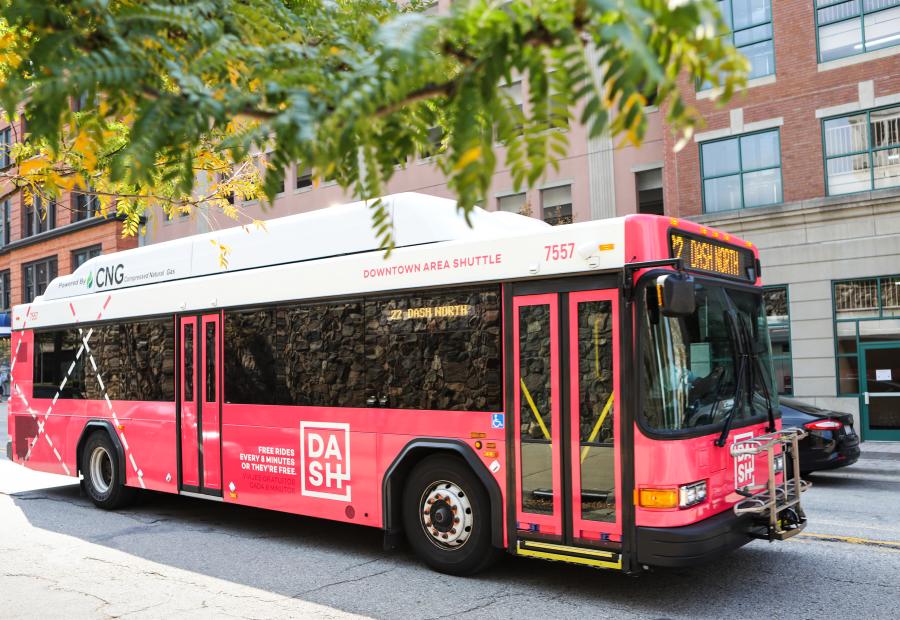 The Transit and myStop Mobile apps help make navigating the city on the DASH even easier.
Photo by Experience Grand Rapids
Transportation & Parking Apps
There are useful transportation apps that are perfect for those who prefer alternative methods of transportation to cruise around Grand Rapids. If you are driving, there are apps to help cover your parking, so you won't get a ticket.
Motu
As of 2018, Motu is the official parking app for the City of Grand Rapids. Motu is a free app that's available for Android and Apple devices through the respective app stores by searching "Motu Grand Rapids."
It can be used at all city parking meters and with the app, drivers can pay for on-street and off-street parking where signage is present. Users can also extend time left on their meter, receive notifications when their meter is nearing expiration, view payment history, and receive email receipts.
Motu's predecessor, ParkMobile, is still available for use with certain privately operated, off-street parking facilities in Grand Rapids.
myStop Mobile, Transit, GR Walks
myStop Mobile and Transit can help you navigate The Rapid bus system with real-time bus information and trip planning.
And if you're looking to meet your daily step count, GR Walks is a fun and interactive app that combines the history of Grand Rapids with physical locations around the city. GR Walks provides maps of eight unique walking tours paired with 121 historical locations and 345 historical photos. There are even audio recordings to add a personal touch to your tour.
Uber & Lyft
And, of course, both Uber and Lyft have a presence in Grand Rapids if you'd like to have someone else handle navigating the city to get you from point A to point B.
Gerald R. Ford International Airport
To further help making flying easier, the Gerald R. Ford International Airport now offers an app that will give you real-time flight departure and arrival information, updates on parking availability, and even security wait times. The app is named after the airport and app users can also connect with the ground transportation options that are available at the airport.
What are some of your favorite apps to use when experiencing Grand Rapids? Let us know in the comments below!