Imagine strolling through displays of beautifully designed juried contest quilts, hanging like something from a royal palace. Then move in your imagination to the next room and take in the visually stunning Stitch Like an Egyptian exhibit. Next, gape at Canadian artist Esther Bryan's celebrated Quilt of Belonging. Imagine no more: you can see all of these amazing quilts and lots of others on display at DeVos Place from during AQS Quilt Week in Grand Rapids (August 20 23, 2104).
This year, attendees can also vote for the winner of the inaugural Young Textile Art Challenge. Textile artists between the ages of 18 - 30 were invited to submit work for this event, which offers more than $3,000 in prize money. In addition to the top 3 entries, which are selected by contest jurors, one entrant will receive a $1,000 award based on public votes.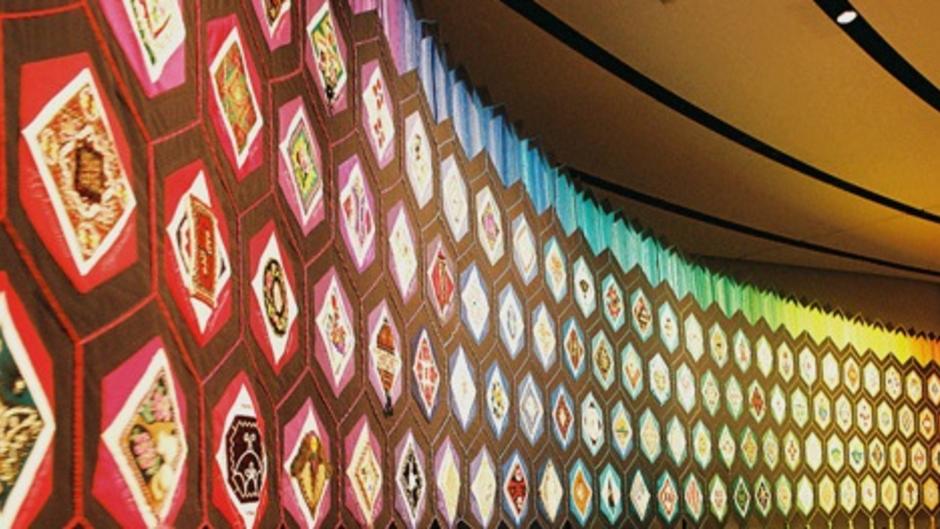 Quilt of Belonging
Photo Credit: Photo courtesy of AQS
---
"This is the town where the public gets to decide things," explains Janet Korn, Senior Vice President of Experience Grand Rapids. Sitting a myriad of opportunities the public in Grand Rapids has to choose, from part of the ArtPrize winners, to the color of the blue bridge, to the Grandwich winner and the best cocktail during Restaurant Week, Korn says that Grand Rapids is a community that likes to be involved. The Young Textile Art Challenge is one more way to make that happen. "We wanted to be sure that we invited the audience at the convention to really interact with the art on display."
The idea for the Young Textile Art Challenge germinated during a discussion Korn had with students at Kendall College. The students were excited that a quilt won ArtPrize last year, which got Korn thinking about the creativity and talent of young textile artists both locally and around the country and what a good fit Grand Rapids is for them. "There's a lot of young energy in Grand Rapids," she says. "Young people like our farm-to-fork restaurants, craft beers scene, live music, and vibrant neighborhoods. They also want to make a difference and in Grand Rapids you can get involved with all kinds of things fairly quickly."
Offering the Young Textile Art Challenge is one way to invite younger textile artists to engage in the quilting and art scene thats thriving here while giving non-locals the opportunity to explore all our city offers.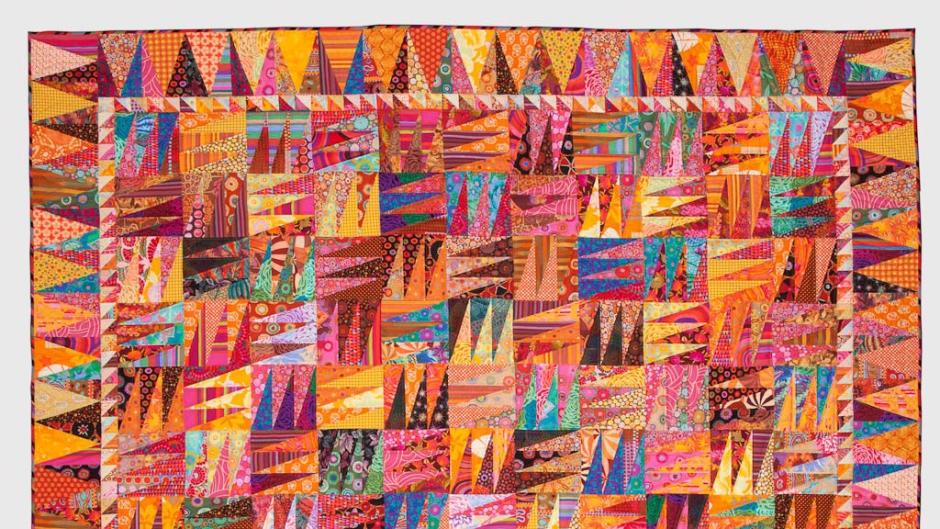 ---
When AQS Quilt Week attendees purchase a ticket, they'll receive a card with instructions explaining how to vote. Korn says the process will be easy: they didn't want to overcomplicate it. Instead, they wanted this year's spectators to be inspired by these creative young minds, have a chance to participate in choosing a winner, and encourage others to enter the contest during AQS Quilt Week in GR during the next three years.
Of course, seeing the entrants of the Young Textile Art Challenge is only one reason to head downtown during AQS Quilt Week. There will be an incredible range of quilts on display, both in the exhibits and in the contest itself. Quilting is about so much more than fabric: it's about color, depth, texture, history, art, and creativity. That it's also a different experience for each quilter is apparent as you stroll through the striking colors and varied patterns of quilts hanging on display.
Terri Watson, a Grand Rapids quilter, member of the West Michigan Quilters Guild, and owner of Quiltworks, had a quilt she made with fellow quilter Joan Brink accepted into AQS Quilt Week GR this year. Both women have had quilts accepted into the AQS Quilt Week shows in the past.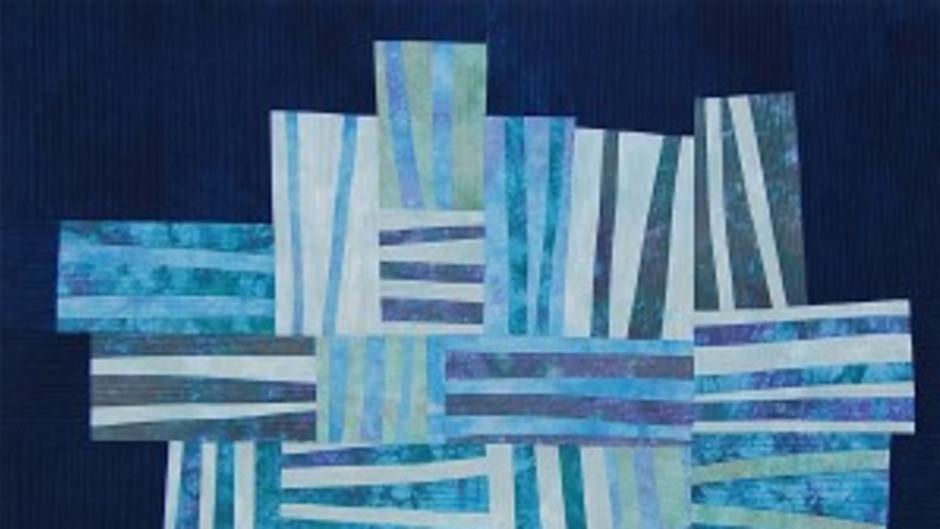 Quilt on display at the American Quilters Society Show (AQS).
Photo Credit: Experience Grand Rapids
---
For this contest, Brink made a Baltimore Album style quilt front and Watson quilted the back. "I love applique and love the complicated patterns that make up the Baltimore Album quilts," explains Brink. Watson is excited to see a quilt she contributed to hang in the show. "Getting in is fabulous," she explains, "but going into the show and seeing your quilt hanging there - that's pretty special!"
Jan Lewis, another Grand Rapids quilter and West Michigan Quilters Guild member, has two quilts accepted to the contest this year - one she made as part of a quilting bee project, and another modern quilt that features a more contemporary design. Lewis, who has had quilts accepted to previous AQS shows in Paducah, KY and Nashville, TN, as well as Grand Rapids, encourages any interested quilter to enter.
"If you don't enter, there's no chance you're going to show your work," she says. "All they can say is 'no' and you haven't lost anything." What's more important, she says, is to give yourself the chance to have your quilt displayed there among the others. "It's so exciting to have a show of this caliber in our backyard," says Lewis. "We see wonderful quilts that we wouldn't be able to see otherwise, without traveling, and have access to wonderful vendors that we might not see otherwise. Whats not to like?"
Never miss a post!
Sign-up for the Insider Experience blog.