For months, we've been talking about the upcoming American Quilting Society Show and Contest in Grand Rapids. It's finally here and the quilts don't disappoint. They're breathtaking!
As you peruse the many exhibits at the AQS Show, don't miss the unique quilts from Egypt and Japan. The intricate pieces in the Stitch Like an Egyptian exhibit are on display for the first time in the United States.
Over 350 quilts were competing for $44,250 in prize money at the AQS Show in Grand Rapids and the winners were announced Wednesday. As someone who's never attempted a quilt, I'm amazed at the artistry and depth of detail in these pieces. Check out this YouTube video for a glimpse at the winners (it's well worth the 5 minutes!) Look for a few of my personal favorites: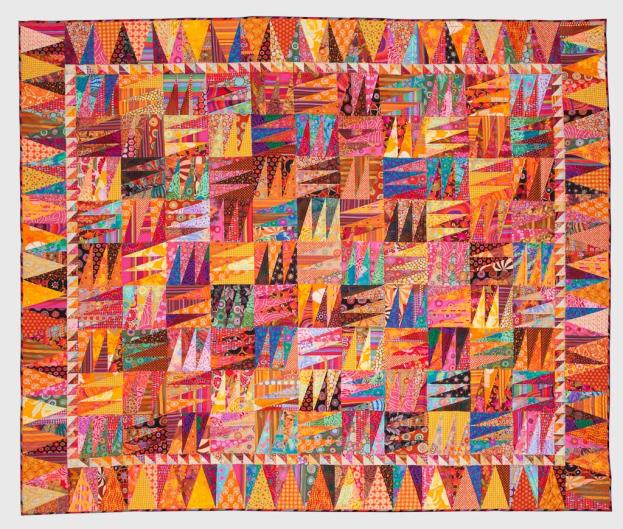 ---
http://www.youtube.com/watch?v=i4LyqGpZ1IM&feature=youtu.be
What's Brewing by Cathy Wiggins of Macon, N.C. (1st Place, Quilters Choice Awards)
Circle of Curiosity by Anne B.G. Armour of Spring Lake, MI (2nd place, Made by Machine Quilts)
A North Dakota Night by Carol Watt of Bay City, OR (Honorable Mention, Made By Machine Quilts)
And Our Flag Was Still There by Meldina Bula, El Dorado Hills, CA (1st place, Wall Quilts, Machine Quilted)
Last of the Blueberries by JoAnn Hoffman, Hill City, SD (Honorable Mention Wall Quilts, Machine Quilted)
Tomorrow morning (Saturday), from 9:00 10:30 a.m., you can enjoy the Brunch and Trunk Show with Cathy Wiggins (Ballroom D), the quilter behind one of my favorite quilts, What's Brewing.
Also, don't miss these two special exhibits, both of which originated in Michigan:
Alzheimers Illustrated: From Heartbreak to Hope
Spontaneity in Medallion Quilts
The AQS Show in Grand Rapids is a quilt show, yes, but it's also an art show. These pieces are complex, meticulous, and remarkable. If you've never been sure that a quilt can be a piece of art, get yourself to the AQS Show before it ends on Saturday evening. You'll almost surely leave with a changed perspective.
Never miss a post!
Sign-up for the Insider Experience blog.