Ah, Belmont. This town just north of Grand Rapids doesn't get a ton of attention. For those who stop, there is a honeypot of delicious food and drink waiting for you in this unique corner of Kent County. 
Even if you haven't been up that way, I'm sure you've heard of The Score, one of the biggest craft beer bars in the city with 60 taps, a killer patio and sand volleyball courts. Or you've likely heard the name Blue Water Grill come up in conversation, with one of the most beautiful patios Grand Rapids has to offer. Or perhaps the great and long-standing Vestal Inn? Optimally, you've already made your way north to Bier Distillery to engage in their absolutely fantastic Absinthe Experience - one of my favorite things to do in the whole city. 
Today, I'm focusing on a brewery that opened since the pandemic, Archival Brewing.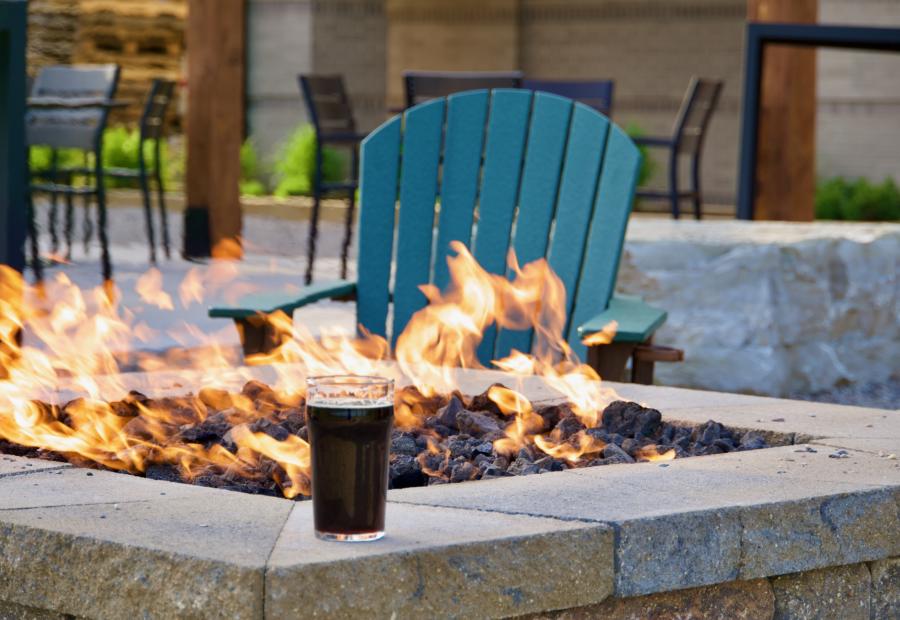 Owners Callee and Levi Knoll opened Archival Brewing in 2021.
Photo by Experience Grand Rapids
Where it Began
Husband and wife team Callee and Levi Knoll opened Archival in June 2021, to a post pandemic world - but I'm getting ahead of myself. 
Levi and Callee met at the GRCC Secchia Culinary Institute, fueled by a love for travel, beer and food. While originally intending to open a restaurant together, Levi's love of homebrewing soon collided with the concept, and the idea for Archival was born. 
"I took the plunge and started working towards it," Levi said. "Was homebrewing quite a bit, doing research and development for this. A few things fell together and [we] started pursuing it heavily." 
Archival Brewing was once the Grand Isle Golf Club and now sits on seven acres of land.
Photo by Experience Grand Rapids
Establishing the Location
One of the particularly cool aspects of Archival is the building and location itself. As soon as you pull into the parking lot, you know it's going to be a special experience. A wide expanse of green, trees and water, with the beautiful Archival taproom right in front. It feels special and different.  
"It was the old Grand Isle Golf Club," he told me. "We own the seven acres that was cut out for the club. It butts up on the Grand Isle Park on the Grand River." 
So, that means while your relaxing on the main floor patio with beer and food, you get to take in that view. And let me tell you -- it's beautiful. 
Though acquiring the space wasn't so easy. "Looking for a property was a major pain," Levi told me. "[The golf club] came up on the market and we were the second offer. The person who was selling it liked our business plan better and accepted our offer." 
As you can imagine, renovating a long-closed golf club is no easy task. The first phase, updating and renovating the main facility, which was the clubhouse, took over 14 months of constant work. 
"We turned the pro shop into our dining room and bar. We turned the basement - which was the locker room and banquet room - into our kitchen, and where the golf carts were stored and charged, we turned that into our brewery," Levi said. 
If you happen to go down the main stairwell to the outdoor space, there are pictures on the wall by the kitchen of how the space used to look. Check them out, it's a trip!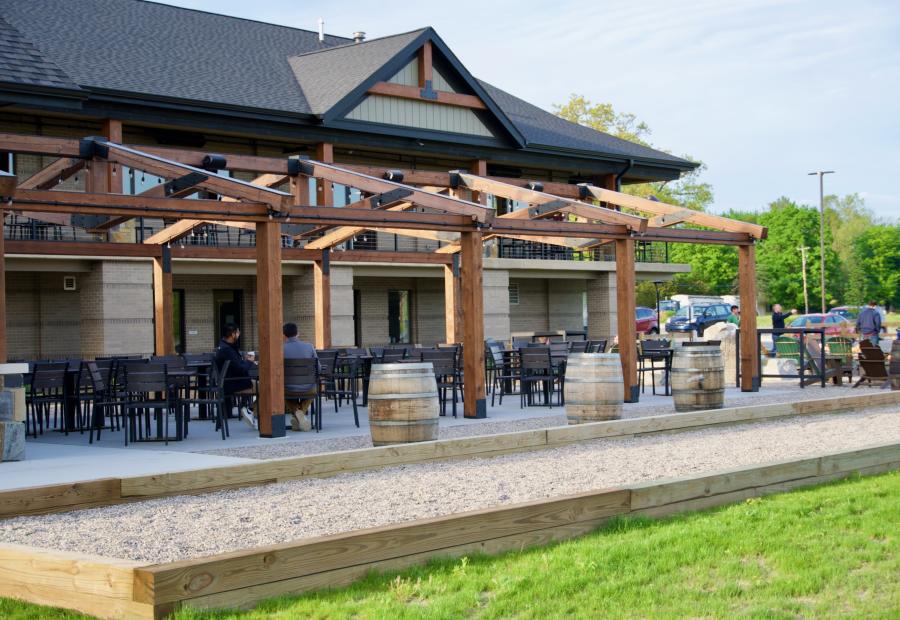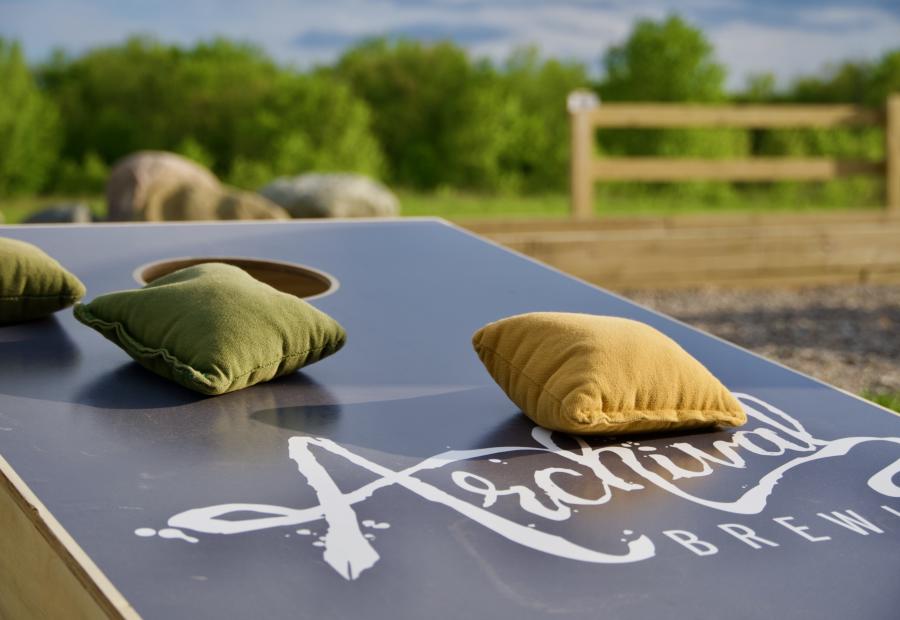 Archival Brewing's outdoor space has a second bar, fire pits, a pergola, corn hole, and two botchi ball courts.
Photo by Brian Craig for Experience GR
Outdoor Space
"Opening day was July 8th, 2021," Levi told me. "We did a ribbon cutting ceremony and all that. Then, it was a nonstop onslaught of people who wanted to try our beer and food." 
Once the main facility was up and running, focus shifted to the second phase, which was the outdoor space. With seven acres, they had plenty, and I mean plenty, of space to work with.  
"We have two outdoor areas," Levi said. "The wraparound deck, which was there when we purchased it, overlooks the park. Then we have the biergarten, which we had to build out during the second wave of Covid. We realized, if there were to be another shutdown, we wouldn't be able to sustain ourselves without a solid outdoor area. So we decided to take the plunge and build it out. This space has an entire second bar, seating under a pergola, fire pits, corn hole, and two botchi ball courts. All of our outdoor seating is very kid friendly and very dog friendly!" 
Owner Levi Knoll aims to create beers that have been forgotten about.
Photo by Experience Grand Rapids
Historic-Style Brews
I've known Levi personally for quite a few years, as he's worked around various breweries in Grand Rapids, and he's always been an avid homebrewer, but he had a particular emphasis that was very interesting: he liked brewing historical styles. Kinds of beers that are forgotten, lost, fallen away by the side of the road, or vaguely referenced in a text that must be dug into to figure out what it is. 
"We focus on historical styles," Knoll said. "Styles that some people may know. We've done the research to make the beers to style, historically, to the best of our abilities. Styles from rural parts of the world, beers, meads and ciders. We have a little more fun with the beers and ciders, but for the most part we're pretty true to the originals." 
Being a beer guy, I'm particularly excited to see some of these styles on a beer menu. You're lucky to see one, maybe at a specialty draft house, but an accumulation like this is very special. 
Examples of what you mind find on their beer menu includes a Belgian tripel, a foeder-aged pilsner (think of a foeder as a gigantic barrel, that can hold massive amounts of beer, usually 10+ brewers barrels at a time), a Belgian grand cru, a kotbusser (a traditional German beer), an Irish red, a helles bock, an English dark mild, a festbier, a sahti (traditional Finnish bier), a kolsch, and an altbier! 
That's not even the entire list, folks. You'll find some "modern" offerings sprinkled in there, too. Like a pale ale, a west coast IPA, and a porter. There's plenty to dive into! They also offer some traditional ciders and some very interesting meads, including some sparkling table meads, which are low ABV and bright and bubbly.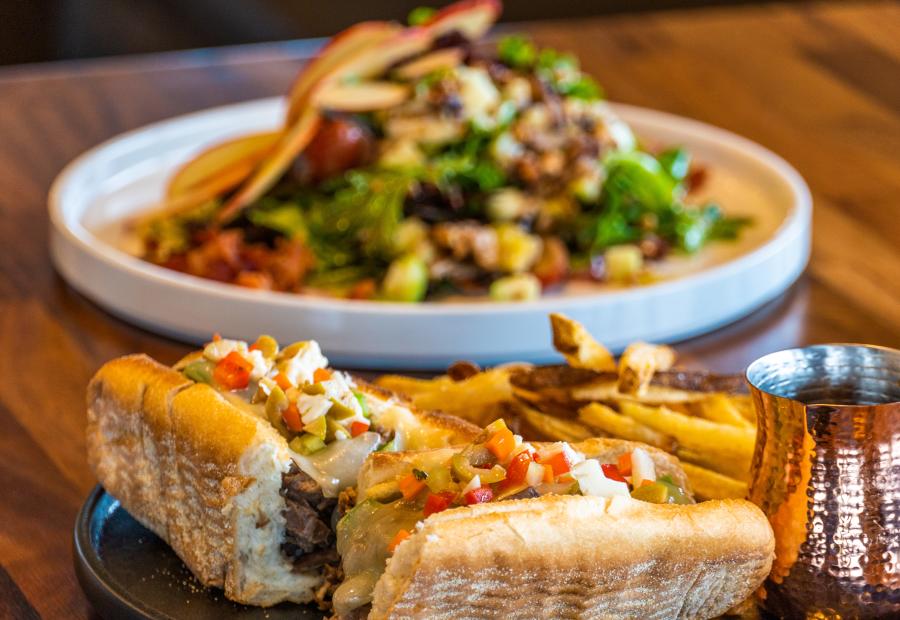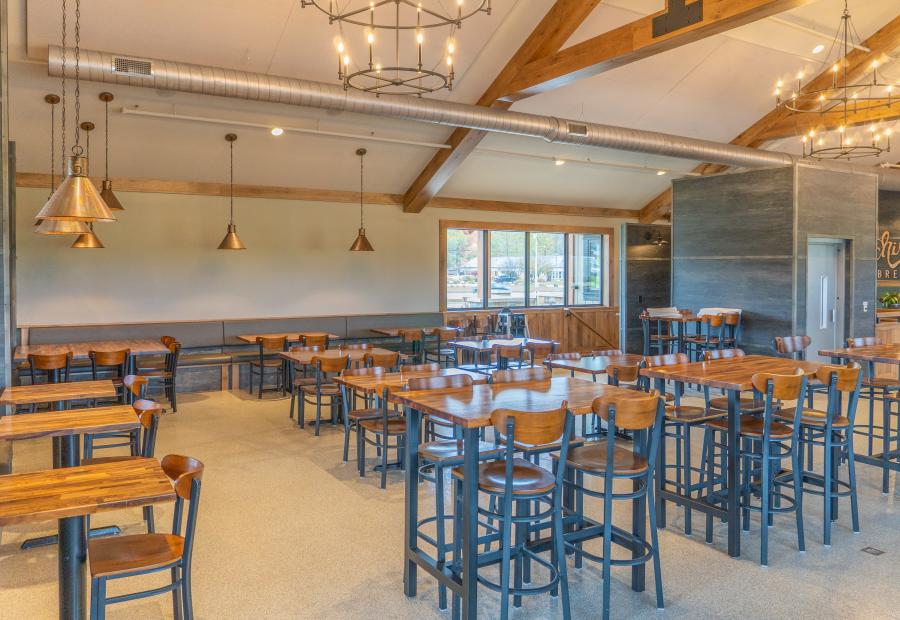 Both owners have a background in culinary arts and designed a unique menu that is allergen conscious.
Photo by Experience Grand Rapids
Seasonally-Crafted Eats
"We wanted to utilize my wife Callee and I's background in culinary," Levi said. "We wanted to offer food that you can't get at most places[...] everything is made from scratch, every time. We're very allergen conscious, and we do our best for customers with specific needs." 
With rotating specials, the menu is always changing and responsive to seasonality. I'll never turn down a good poutine, a smash burger or a schnitzel sandwich. Yes, please. Entrees are varied and drool worthy, including pork stroganoff, gumbo, chicken risotto, and fish and chips. There's a full kids menu and enough options to keep the kids full and happy, including a house root beer float. 
The Future
For Archival, the future is looking bright.
"We just started canning our beers," Knoll said. "We have four styles in cans, with more coming out over the next coming months. We're going to continue packaging, expand distribution, [...] and we're looking at expanding the brewhouse for another 50bbls of production. Other than that, we're working on being an event space, if anyone wants to rent inside or outside, for private or public events." 
There's plenty of reasons to head north to Belmont, and Archival is certainly right there in the heart of the pack. Don't let the cold weather discourage you, the taproom is warm, inviting and truly unique. Once the weather warms again, it's simply a must stop in the Grand Rapids beer scene.