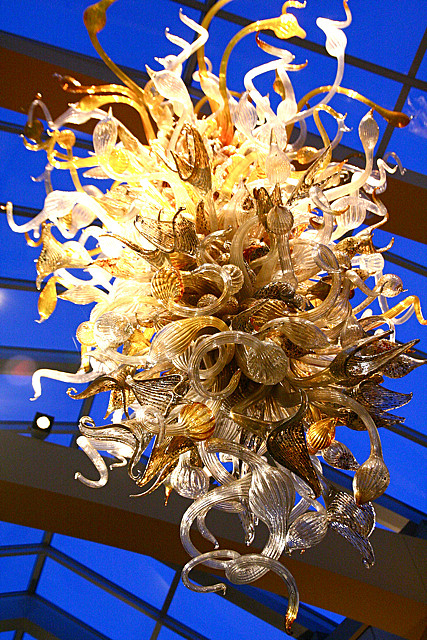 Its not very often you can judge (and vote on) artwork and dine beneath glorious Chihuly glass sculptures. But now;s your chance: Meijer Gardens is host to 26 ArtPrize entries, including Diana Al-Hadids Untitled Blind Bust. (Vote Code: 53209.) After you finish exploring the entries, kick back in the Taste of Gardens Caf, under the breathtaking ceiling full of Chihuly-designed florals.
ArtPrize, the worlds largest art competition, kicks off in Grand Rapids this Wednesday, September 19, and there are dozens of restaurants among the 161 venues. So grab a map, plan your route, and when your stomach begins to rumble, re-fuel at one of my favorite venue-restaurants:
Food scoop: Come for the sandwiches but stay for the beer. Try the hoppy Double Trouble if its still on tap.
ArtPrize info: 9 entries, including Mike Kapteyn's Achieve, a finely detailed handmade kayak that's so beautiful it's truly a work of art. Vote Code: 53001
Food scoop: Craft beer, juicy burgers, and crack fries worthy of their name. I love this place.
ArtPrize info: 6 entries, including Martin Thomas Smyczek IIsICARUS, a unique mosaic created on aluminum canvas with approximately 8,000 beer caps. Vote Code: 53189
Grand Rapids Pizza and Delivery (GRPD)
Food scoop: Good people and great pizza (and I hear the sandwiches are worth the trip).
ArtPrize info: 3 entries, including Angela Josephs Together, canvas art that was originally drawn on her smart phone. Vote Code: 52835
One Trick Pony Grill & Taproom
Food scoop: All kinds of deliciousness, from Jerk Chicken Chili Pasta to Tuscany Pizza (with pesto, capicola, and prosciutto). Yum.
ArtPrize info: 8 entries, including Bunny Terwee's watercolor, Paradise Island Aquarium. Vote Code: 52756
Food scoop: My go-to place for great seafood in a relaxed but elegant atmosphere. Can't miss.
ArtPrize info: 6 entries including Dr. Wendy Patton Leino's photo, I think I Can, which captures a gosling running down the beach in Mackinaw City. Vote Code: 52850
Mojos Dueling Piano Bar & Restaurant
Food scoop: Burgers, sandwiches, and dueling pianos. Enough said.
ArtPrize info: 3 entries, including Steven Vaught's sheet metal Butterfly on Flower (In-A-Gadda-Da-Vida). Vote Code: 52834