Art is an integral part of Grand Rapids' history. Today, our thriving art scene includes intimate galleries like LaFontsee Galleries, as well as bigger venues like the Grand Rapids Art Museum. We're also home to the biennial ArtPrize® event (next up: fall 2020) as well as myriad art festivals and an art school. 
As part of inviting the community into the art experience, a number of venues throughout the Grand Rapids area offer art classes to the public. Participating in one of these classes, whether it's in painting, crafting, sculpting, or another medium, provides a fun opportunity to connect with the greater art world, even if for a few brief hours. 
These classes can spark your imagination and fuel your creativity. The shared learning experience may even make you feel a stronger connection both to the others in the class and the art world at large.
What's It Like?
Curious about what it's like to attend a class? We joined a class at Frederik Meijer Gardens & Sculpture Park, home to one of the world's 100 most visited art museums, so we could pick up a few insider tips and share our experience with you.
This class at Frederik Meijer Gardens was a hands-on endeavor in creating ornaments or decorations from dried gourds. The classes are held in generously sized classrooms in their lower level, perfect for creating art. The long tables allow for plenty of room for projects and provide space for collaboration and conversation with other class members.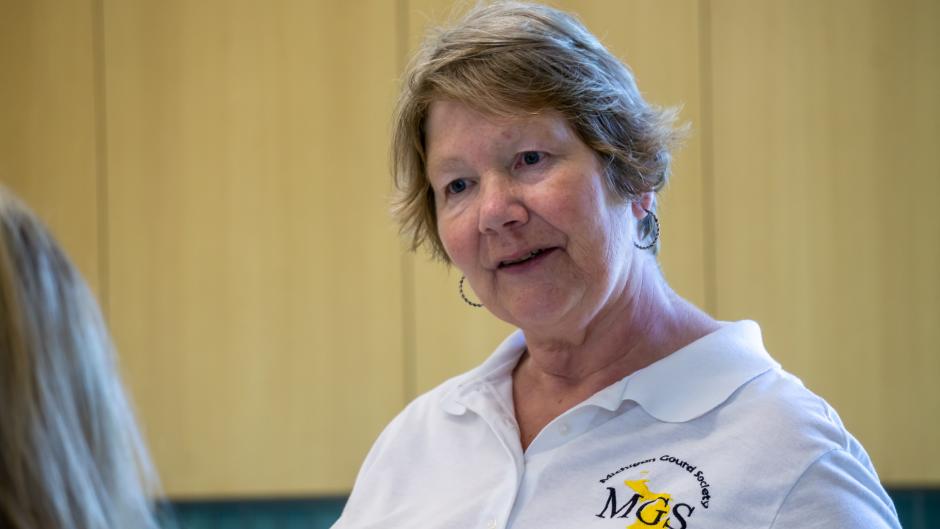 President of the Michigan Gourd Society, Julie Glover, taught this gourd decorating class.
Photo Credit: Brian Craig for Experience Grand Rapids
---
Getting Started
When our class began, the class leader, Julie Glover, President of the Michigan Gourd Society, described how she began decorating gourds. In 2006, before she knew much about them, Glover saw some birdhouses made from gourds and decided to try her hand at making them.
When she subsequently read an article in the local paper about a group that was meeting to do crafts with gourds, her interest was piqued. "I had no idea there were so many other things you could do with gourds," she said. Glover learned about making gourd bowls, cups, instruments, and much more. Today, she continues to create as well as teach classes around the state.
Frederik Meijer Gardens aims to promote the understanding and combination of the natural environment and the arts, so Glover's expertise on the two topics is often what you'll find when taking an art class here.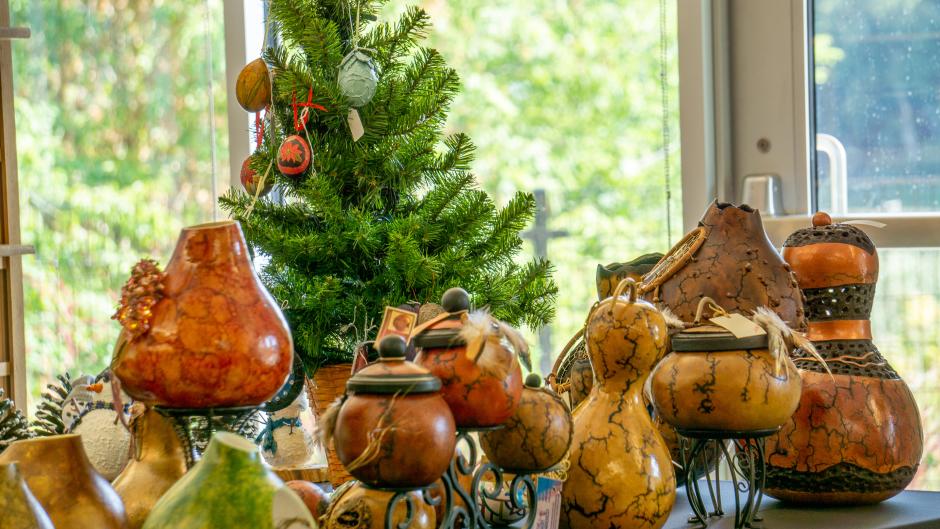 Glover brought pre-dried gourds to decorate, as well as her own decorated pieces for inspiration.
Photo Credit: Experience Grand Rapids
---
Art & Science Combine
Since Meijer Gardens encourages the understanding of gardens, nature, and the arts, it made sense that Glover began the class by giving us a bit of a science lesson on gourds, talking about the different varieties, growing conditions, and the process of drying and selecting gourds to decorate and use for arts and crafts.
The gourds we used for the class were a type of hard-shell ornamental gourd. Glover noted that once the gourds have dried, you can still plant any seeds you might find inside.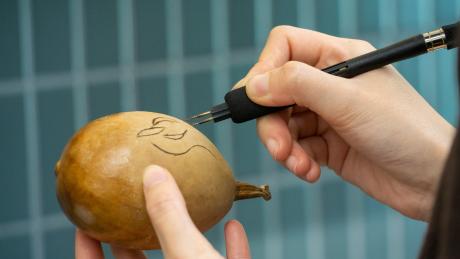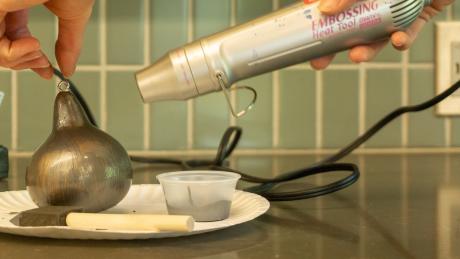 There were lots of options for decorating the gourds, from wood burning tools and heat guns to feathers and flowers.
Photo Credit: Brian Craig for Experience Grand Rapids
---
Supplies and Techniques
While we learned about gourds, we were also sneaking peeks at the plentiful supplies that filled the tables lining one entire side of the room. Goodies like paints, felt, pinecones, pressed flowers, fake moss, feathers, sponges, paint brushes, foam brushes, stickers, and much more called to the budding artists in the room. We were ready to create.
Before we began, Glover demonstrated one more thing: wood burning, which is popular with many mediums. One of the class participants braved trying the wood-burning technique and created some gorgeous drawings on her gourds, allowing everyone else to see this unique art process.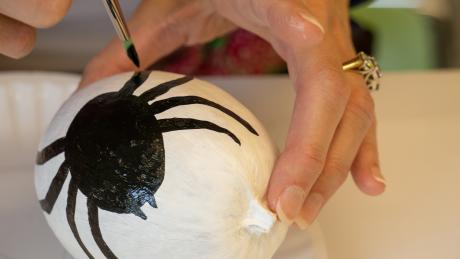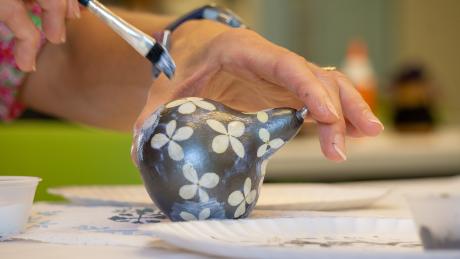 I created a Halloween gourd and a decorative, wintery gourd.
Photo Credit: Brian Craig for Experience Grand Rapids
---
Time to Get Creative
After her demonstration, Glover instructed us to choose two gourds from her display table. Contrary to the image you might have in your head of colorful orange, green, and yellow gourds, these dried gourds were a shade of brown, almost like cardboard. She'd pre-drilled holes in the top, where she helped those of us creating ornaments to hot glue eye hooks.
The classmates talked about ideas, then took turns gathering supplies and visiting the different stations that Glover had set up: the supplies tables, a hot glue station at the front, an area for using the heat gun to dry paint, the woodburning station, and a station for using Mod Podge, which is like Elmer's glue in that it goes on white but dries clear.
For my first gourd, I decided to create a Halloween decoration and began by painting it white. While the paint began to dry, I chose several pressed hydrangeas that I planned to Mod Podge onto my second gourd. I painted the second gourd a gunmetal gray, then set it aside and used the heat gun to finish drying my white gourd.
Once it was dry, I used a pencil to carefully sketch the outline of a spider onto my painted white gourd. Then I chose a thin paintbrush and filled in the outline with black paint. Using the heat gun, I dried the spider image, then picked up my gunmetal gray gourd and finished drying it too.
After the gray paint dried, I carefully placed the pressed hydrangea leaves onto the gourd and adhered them to the gourd by painting over them with Mod Podge. In the end, I had a beautiful decorative gourd, with the white hydrangea leaves popping against the gunmetal gray background.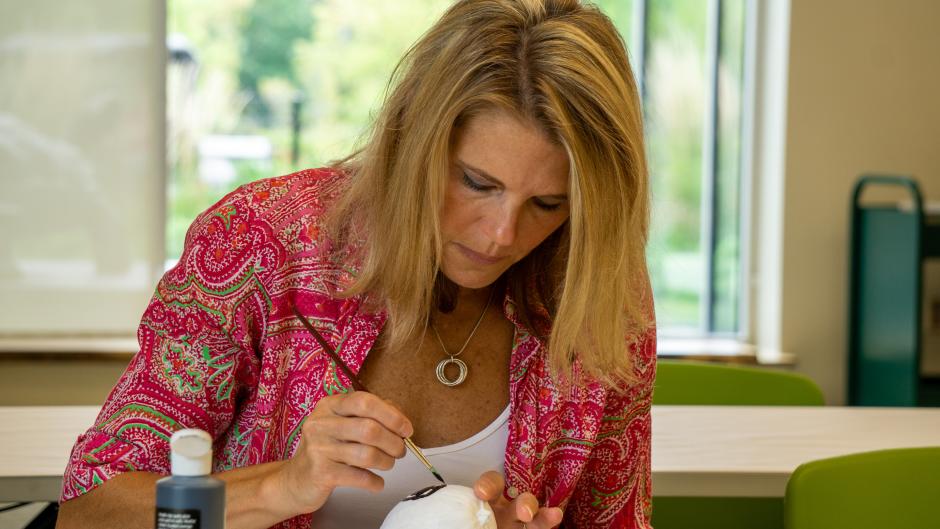 As we decorated our gourds, Glover offered tips and tricks to help us out.
Photo Credit: Brian Craig for Experience Grand Rapids
---
Tips & Tricks
As we worked, Glover helped in a variety of ways. She attached eye hooks and gave advice on a wide range of decorative techniques, including how to attach felt and apply pressed ferns and flowers. She also shared a few more tips and tricks that we could use on future projects, whether at home or in another class: canning lids make great seed scrapers, an emery board or sandpaper can help smooth cut edges, just to name a couple. 
Glover's experience and teaching gave us a rounded, interesting class about creating art from something unexpected. 
Join the fun
Part of the fun of the class was collaborating with the other participants and seeing everyone's vastly different decorating ideas. Some created spooky Halloween scenes, while others used berries and pine needles to create Christmas décor. Everyone walked away with gourds they'd designed to decorate their homes or use as gifts.
If you're ready to try your own hand at an art class, there's no shortage of places offering them in Grand Rapids. Many offer different mediums, so it's worth checking around to find the one that speaks to you. 
Here are a few places to consider: 
Grand Rapids Art Museum also offers regular classes, like the upcoming ones on Fall Crepe Paper Flowers and Woodblock Holiday Cards. And, of course, the class we took isn't the only one at Frederik Meijer Gardens & Sculpture Park. There is a wide variety of classes, ranging from working with acrylics to making a fused glass bar set. Check their website for upcoming classes. 
Regardless of the venue and medium you choose, some classes fill quickly, so be sure to register early. 
Experiencing art can open our minds, challenge our thought processes, and spark new insights. Whether you choose a class in painting, crafting, sculpting, or another medium, we invite you to find one that interests you and participate in the vibrant Grand Rapids' art scene. 
Be sure to come back and let us know what you love about the class you take!
Never miss a post!
Subscribe to the Insider Experience blog.