In June, five pieces of locally-inspired art were selected as winners from more than 20 submissions in this year's Art Outdoor Project, held in partnership with the UICA. The Art Outdoor Project encourages artists with local ties to submit work that's representative of Grand Rapids and this year's talent pool produced some amazing pieces. You can see all five selected pieces of artwork on billboards around the state from August-September. Don't miss them!
The artists behind these beautiful works of art are just as interesting as their submissions. We're profiling each of the five winners to help you get to know them a little better.
John Van Houten artist Art Outdoor Project 2016
Photo Credit: John Van Houten, artist
---
As a child, John VanHouten read comic books and watched cartoons and other TV shows that inspired him to draw. "It was pure childhood imagination," he says. He had weekly art classes in grade school and continued to take art throughout high school. He learned graphic design and game design at Kent Technical Center before enrolling at the Kendall College of Art and Design, where he finally learned to paint. "Before college I had just drawn with pencil and pen and ink."
Throughout his education at KCAD, VanHouten was careful to choose classes where he learned about many different aspects and types of art. "Under the tutelage of my instructors, I experimented with different techniques and took a lot of different types of classes," he said. "Each medium kind of informs the other mediums in ways that you might not think about initially," he explains. "I took classes like animation and sculpture because the things I learned in those classes might provide inspiration for other types of ideas."
Today, VanHouten's preferred medium is oil painting, but he says he has a special place in his heart for graphite (pencil and paper) because that's what he learned first. But when he began learning about oil painting in college, seeing examples of past and contemporary artists, and learning about how the colors blend and color theory, he was hooked. "I learned how to make the brush do what I want it to do and it resonated with me," he says.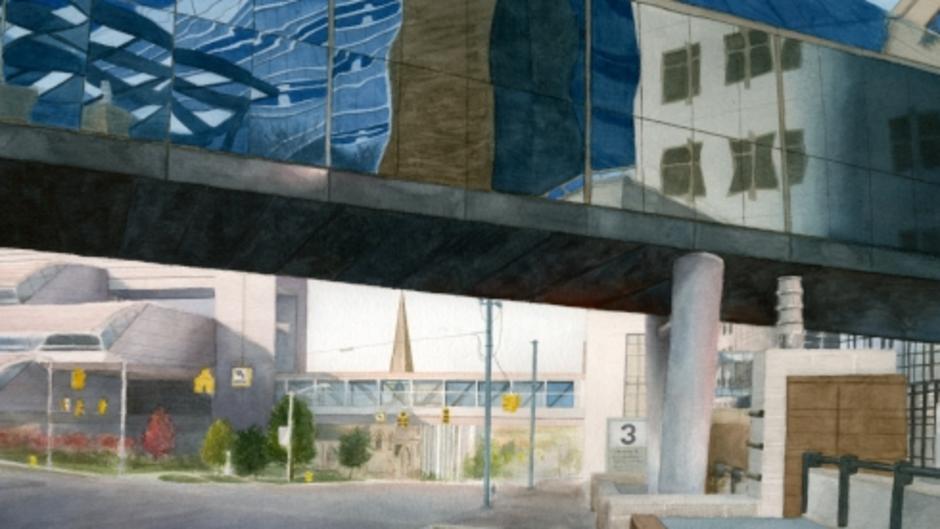 ---
The piece he submitted to the Art Outdoor Project, called Medical Mile, isn't an oil painting. It's a beautiful watercolor. "I had a watercolor class with Jon McDonald at Kendall and we were going to paint a landscape or architecture. I enjoy architecture and when I saw the sky bridge it kind of clicked, so I painted that. I really liked the repeating shapes in the windows and the reflection of the sky."
It's things like that – the reflection of the sky in the windows – that grab VanHouten's attention and inspire him. "It's clouds at 8PM on a summer night, or the way the light falls on someone's hair, or a stranger's nose -- just completely unrelated things -- that give me ideas," explains VanHouten. "But we don't create in a vacuum, so I'm also inspired by past artists like J. C. Leyendecker and Howard Pyle and contemporary artists like Steve Prescott and Dorian Vallejo.
The best part about being an artist is creating from nothing.
Working part-time as a graphic designer and in customer service means that VanHouten can't always paint when inspiration strikes. "One of the hardest parts about being an artist is that I might not be at my drafting table ready to draw or paint at the moment I have an idea. So I have to get those ideas down quickly and then find the motivation to make them a reality later. It's a lot of hard work bringing something straight from your imagination onto paper," he says. "Then, when it comes down to it on the final painting, where you place one brushstroke can make or break the painting. The hardest part then is knowing when to stop."
As someone who has always known he wanted to be an artist, he's happy doing what he's doing. "The best part about being an artist is creating from nothing, really," he explains. "It's having things in my head come to the reality that I can share with other people. It's being a world builder."
You can see more of John VanHouten's art, and purchase it or commission him for a painting, on his website, www.vanhoutenillustration.com. Look for his Art Outdoor Project piece, Medical Mile, on a billboard on US-131 just north of M6.
Posters featuring all of the Art Outdoor Project 2016 winners' artwork are available for purchase at GrandRapidsStore.com
Save
Never miss a post!
Subscribe to the Insider Experience blog.