Self-taught artist Karin Nelson has been painting for about seven years. One of her pieces, Edge of Light, was recently selected as one of five winners, from more than 20 entries, in this year's Art Outdoor Project.  Held in conjunctions with UICA, the Art Outdoor Project encourages artists with ties to Grand Rapids to submit artwork that represents the area. The works of the 5 selected artists are displayed on billboards throughout the state in August and September.
We're profiling each of the 5 artists so you can get to know a little more about the artist behind the captivating billboards you see.
Although Nelson's artwork has been carried in a high-end art store, won a Tulip Time award, and accepted in a juried exhibition, her successful art career almost didn't happen.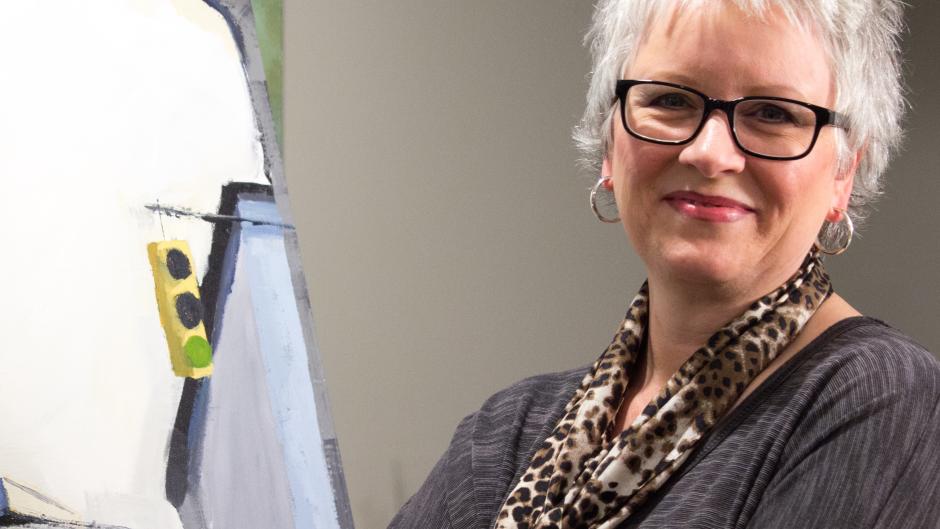 Karin Nelson
Photo Credit: photo by Judy Fitzpatrick
---
Until seven years ago, she worked full-time as an administrative assistant. She wanted to decorate the office walls, so she painted a few pictures and hung them. An elegant, eloquent co-worker with artistic leanings was impressed and encouraged her to continue to paint. "She gave me a stack of photographs she'd taken and asked me to paint them," recalls Nelson. When she painted a photo of pears, she was hooked. "That was 2009 and in 2010 I quit my job to pursue painting. I didn't have any idea where I was going with it, but I love it, and I wouldn't trade it for anything."
Nelson hasn't taken workshops or had formal instructions. "The difficulty and challenge of teaching myself have stuck with me," she says, "and I continue to look for that challenge." While many artists do a thumbnail sketch or a light drawing on the canvas before painting it, Nelson doesn't do either. "If I do, I get too rote," she explains. "Instead, I go in with an idea and I really psych myself up before I start a painting. Then, when the inspiration is flowing, I go to my studio and I fly with it."
---
Colors speak to her, which you can feel in her vibrant paintings. "When a certain combination of colors hits me like a ton of bricks, I'm compelled to paint those colors," Nelson says. "Sometimes I'll take a completely different subject, but paint it in the colors I've seen in another piece of work. For example, I used the colors in Vincent van Gogh's Two Women in a Peat Field with a Wheelbarrow, and painted them in a birch forest." Lighting is also important to Nelson and she tries to paint realistic colors based on the atmospheric condition expressed in the painting. "I don't generally create a fabricated palette."
Along with color and lighting, Nelson is attracted to a strong vertical line, like those you'll find in her birch tree paintings or paintings of buildings. "I love downtown Grand Rapids and Monroe Center is my favorite place of anywhere to paint. I've painted dozens of shots from that area." She especially likes painting buildings. "That line where the sun and shaded sides meet is delicious to me. It's the verticality of it that I love," Nelson explains.
You can see more of Karin Nelson's artwork on her website, www.knelsonart.com. Be sure to look for the billboard featuring her Art Outdoor Project piece, The Edge of Light, which is located along I-96 near Portland, MI.
Never miss a post!
Subscribe to the Insider Experience blog.