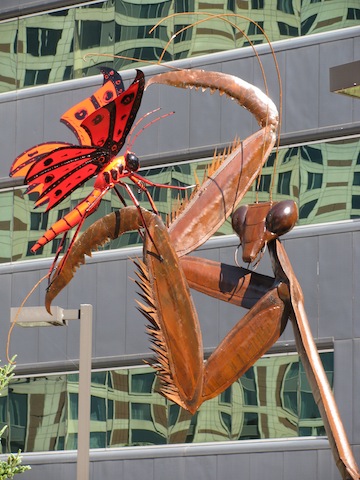 ArtPrize 2011 entrant, Mantis Dreaming, by Bill Secunda
The ArtPrize 2012 website asks, 1617 entries, 161 venues, 3 sq. miles. Are you ready?
I am. I definitely am.
When ArtPrize began in Grand Rapids 3 years ago, I was among the skeptics. I didn't understand the vision, couldn't imagine what it would become.
We went anyway. There were 1,262 artists and 159 venues and we strolled (and sometime drove) from venue to venue astounded by the variety and depth of what we saw. The art touched me and made me think; the unique vibe emanating from each venue somehow made me feel happy; the energy downtown was different than anything I'd experience there before. It was absolutely electric. ArtPrize won me over.
And in just 9 days, it begins again.
Grand Rapids' ArtPrize has grown into a not-to-miss event for people near and far, young and old. My kids have already asked me when it starts this year. My parents, who live in Virginia, want to know if ArtPrize will be happening during their upcoming fall visit. And as the big event approaches, my husband and I will sync our calendars, looking for every possible evening and weekend afternoon we can spare to squeeze in the maximum number of venues.
ArtPrize has changed our fall.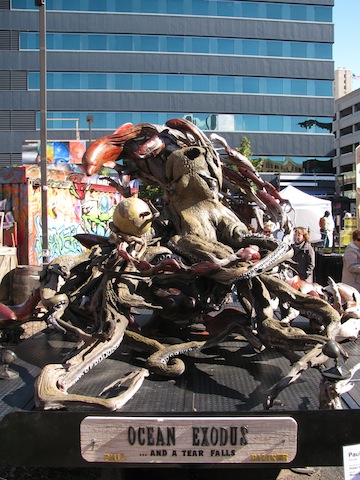 ArtPrize 2011 entrant, Ocean Exodus, by Paul Baliker
Earlier this summer, I had the pleasure of interviewing one of the ArtPrize artists, Colleen Kole, whose abstract quilt Rooflines will be on display at Cathedral Square. Naturally, Ill be heading there first.
But where to go next? In the past, we've determined our route by venue. This year, however, ArtPrize visitors (and voters) can get a sneak peak at the art online, which might be another way to plan our route. Other than Kole's quilt, here are a few others I noticed online that I don't want to miss:
ArtPrize runs from September 19 October 7, 2012. The artists competing in this years contest come from 56 countries and 45 states, and they're hoping to take home some of the $560,000 in prize money that will be awarded (some by public vote, others by juried awards). For details on voting at ArtPrize, click here.
In addition to art, there will be ArtPrize events by artists, venues and sponsors, as well as a new ArtPrize Speaker Series for those who want to learn more from filmmakers, artists, and curators.
Mark your calendars, folks. ArtPrize is THE Grand Rapids event you don't want to miss.