Art Van Sports Complex photo courtesy of West Michigan Sports Commission
West Michigan is home to many unique and inviting attractions for locals and visitors alike, and one more is being added to the already impressive list. The Art Van Sports Complex (AVSC), a flagship project of the West Michigan Sports Commission, opens August 2 and 3 in Rockford and features eight baseball and softball fields, a 385-foot fenced in championship field and the only Miracle Field in West Michigan for players with special needs.
"We are excited to host nearly 300 athletes for the All-Star Weekend presented by DeMarini featuring baseball and fast-pitch softball," Bryan Baar, complex manager for AVSC, said. "Players of all ages from Illinois, Wisconsin, Ohio and Michigan will travel to Grand Rapids and experience our facility first-hand."
The campaign to build a premier travel baseball/softball complex began in 2010 by the West Michigan Sports Commission. While there are ball fields in Grand Rapids and along the lakeshore, there weren't any locations that could host weekend and even weeklong events. Art Van Furniture learned of the project and through various meetings and discussions with the sports commission, decided to become the naming rights sponsor and lead the fundraising effort through their donation. This sponsorship enabled the sports commission to begin construction and help bring the complex to life.
The AVSC was designed with the player/parent in mind with concessions and bathrooms in both quads of the facility and parking for over 400 cars. Twenty-three out of twenty-seven weekends are booked for 2015, with expectations to be filled soon.
"We are looking forward to showing off Phase 1 at the all-star game," Mike Guswiler, President of the West Michigan Sports Commission, said. "When phase 2 is complete, we will have a total of 12 flexible use fields to accommodate baseball and softball tournaments for various age groups."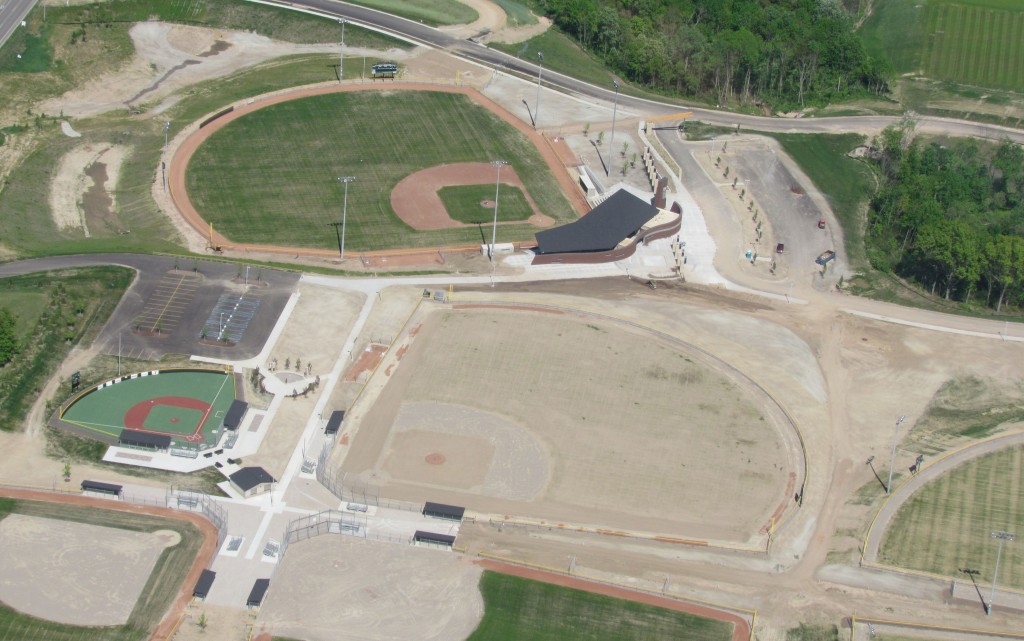 Art Van Sports Complex photo courtesy of West Michigan Sports Commission
Two highlights of the complex are the championship field and the Miracle Field. The collegiate ready championship field seats 1,000 people and boasts a press box with covered grandstand and sound system.
The Nate Hurwitz Miracle Field, housed in the center of the facility, is one of only five in Michigan. The custom baseball field has rubberized turf to prevent injuries, a wheelchair-accessible dugout and a completely flat surface to eliminate barriers to wheelchair-bound or visually-impaired children. It is named after Nate Hurwitz, a student at Forest Hills Eastern High School, who had Duchenne Muscular Dystrophy, and had to use a wheelchair for much of his childhood. He died unexpectedly in September 2012, which sparked an outpouring of support to see the Miracle Field built.
"The Miracle Field gives everyone a chance to play ball," Baar said. "Since opening last September it has given many children with special needs the opportunity to play in a safe, fun environment."
Clear your calendars and check out some great ball games in the Art Van Sports Complex August 2 and 3. You won't be disappointed!
Art Van Sports Complex | 3300 10 Mile Road, Rockford MI