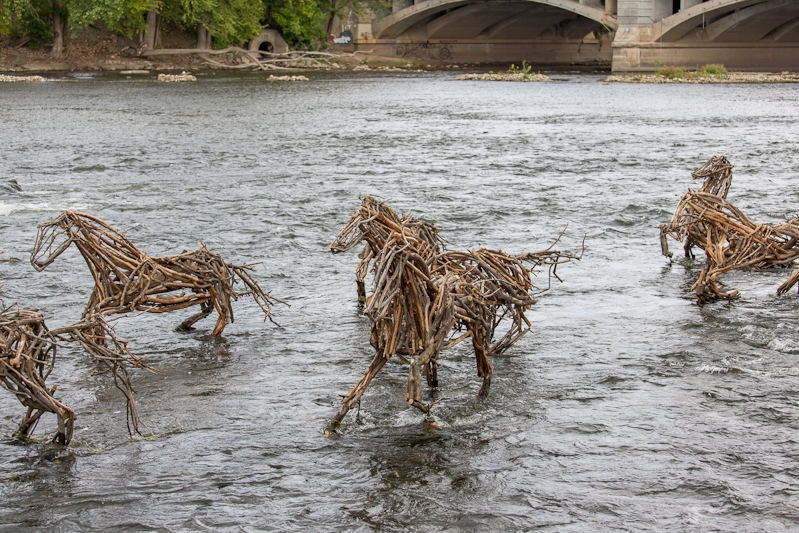 With 161 venues and 1511 entries, deciding where to go for ArtPrize is a challenge. It's fun to see the ArtPrize Top 10, of course, but there's so much more. This year I decided to try a couple of different tactics to see as much as I could. First, I narrowed my path by following ArtPrize's 3-mile route, which gave me a fantastic overview.
This week, I decided to focus on the art displayed by one of our city's natural beauties, the Grand River. This route--or even a small part of it--is great to do with (or without) kids. Since this art is displayed outside, museum voices aren't necessary!
Lace up your walking shoes and begin your ArtPrize-by-the-river adventure at the Gerald R. Ford Presidential Museum and Ah-Nab-Awen Park. You can see 33 ArtPrize entries at these two venues, including two of my favorites:
and
After getting your fill here, head south towards the Grand Rapids Public Museum. You can use the walking path along the water or take the crosswalk over Pearl Street.
The Public Museum has 16 entries and this stunning mosaic, Return to Eden, by Sandra Bryant, hangs on the brick wall on the far side. Be sure to check it out.
Down by the river, gaze upon Richard Morses amazing Stick-to-it-ive-ness: Unwavering pertinacity, perseverance galloping in the river. Fan-tas-tic! (For an even better view of this top ten finisher, walk out on the Blue Bridge and peer down at the powerful herd.)
Continue across the Blue Bridge, which hosts 6 entries. At the end of the bridge, cut through the Riverfront Plaza Building and take a peek at Ernest Grofs Vista La Grand, a cool mosaic created from natural stone and glass gems. (There are 13 more entries here to view when you're visiting indoor venues.)
For now, use the riverside walking path to veer behind the JW Marriott and over to the back of the Amway Grand Plaza. There, you'll see Life Streaming by Dan Davis and another cool entry, Disposable Game by Terry Brennan.
Note: If you or your kids need a break, this is a good opportunity to pop into the Amway Grand Plaza for a quick Starbucks fix.
Next, take a leisurely stroll over the Gillett Bridge, which showcases Bridging Humanity by Edward Casagrande, and leads you right back to the Ford Museum.
You did it!
Remember, there's no wrong way to see ArtPrize. If you start out along this river route and feel an indoor venue calling your name, do it. There's so much to see, you cant miss wherever you go.