ArtPrize10 will fill the streets of Grand Rapids from September 19 to October 7, 2018, but there are other incredible festivals that take place during the same time! From music, beer, and poetry festivals, consider exploring these other events with family and friends in between visiting ArtPrize venues!
But first, a little more about ArtPrize itself:
ArtPrize 10
When: September 19 - October 7
Where: ArtPrize encompasses a three-square mile district within Downtown Grand Rapids, in addition to Frederik Meijer Gardens & Sculpture Park, SiTE:LAB and other satellite locations.
Admission: Free
ArtPrize is a radically open, bi-annual art competition that welcomes entries from any artist working in any medium. ArtPrize 10 will offer over $500,000 in prizes to artists who whose works were chosen either by popular vote or juried selection. Wear comfortable shoes, bring the family, and book your hotel accommodations now –  over 500,000 visitors to West Michigan last year as a result of ArtPrize (luckily the ArtPrize Shuttle makes it super easy to get downtown for guests staying in suburban hotels).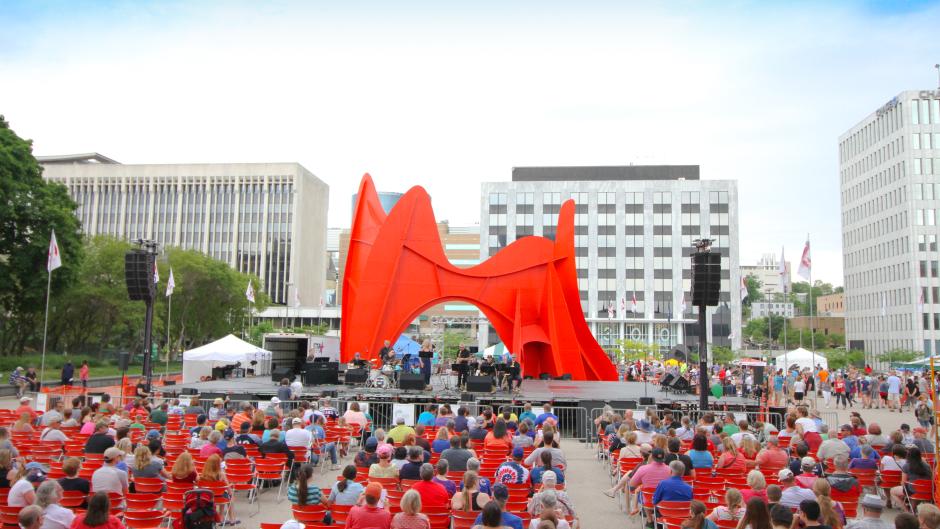 Calder Plaza is home to many festivals and community events throughout the year, including the African American Art & Musical Festival. Here the plaza is part of the Festival of the Arts.
Photo Credit: Experience Grand Rapids
---
African American Art & Music Festival
When: Friday, September 21 from 5:30 PM - 10 PM and Saturday, September 22 from 10 AM - 10 PM
Where: Calder Plaza located at 300 Monroe Ave NW, Grand Rapids, MI 49503
Admission: Free
The third annual African American Art & Music Festival celebrates the contributions of African-American artists through the visual, performing, and culinary arts. Visitors can walk through Calder Plaza to shop for handmade goods and food while enjoying live musical performances from local and regional acts.
Michigan Apple Fest
When: Saturday, September 22 from 10 AM - 10 PM
Where: Downtown Sparta, located at 156 E. Division St., Sparta, MI 49345
Admission: Free
The free to attend, annual Michigan Apple Festival happening in nearby Sparta will feature Michigan-grown apple products in various food and beverage recipes. This family-friendly event will also include a donut tasting competition, a history lesson on the local apple scene, hands-on games and activities, packing production tours and more.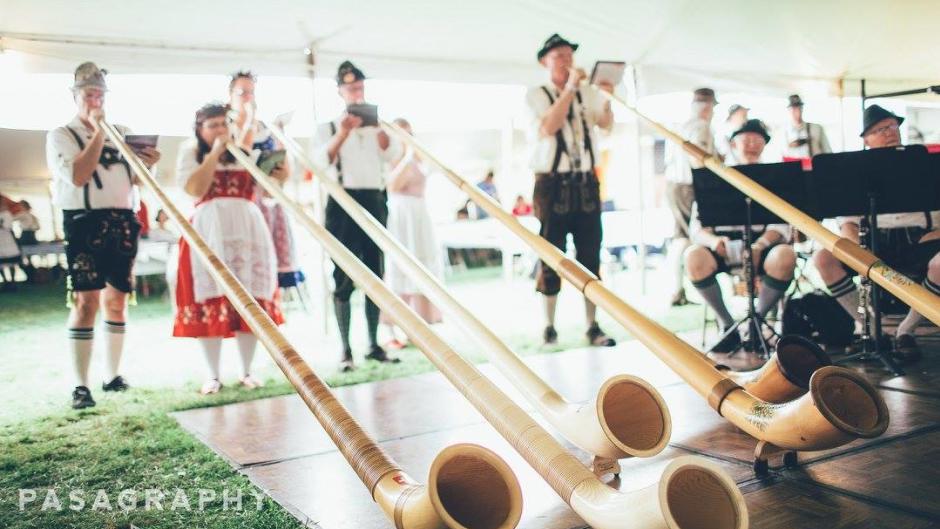 The annual Oktoberfest Grand Rapids takes place at John Ball Park.
Photo Credit: Pasagraphy, courtesy of Oktoberfest Grand Rapids
---
Oktoberfest West Michigan
When: Friday, September 28 at 5 PM and Saturday, September 29 at Noon
Where: John Ball Park, located at 1300 W. Fulton St., Grand Rapids, MI 49504
Admission: Free
Celebrate German heritage and culture by attending Oktoberfest West Michigan. This annual event will take place at John Ball Park, and will feature a large beer tent with German beer and wine, as well as German dishes for adults and children. Entertainment and family-friendly games will be available.
Don't forget to visit the John Ball Zoo while you're visiting!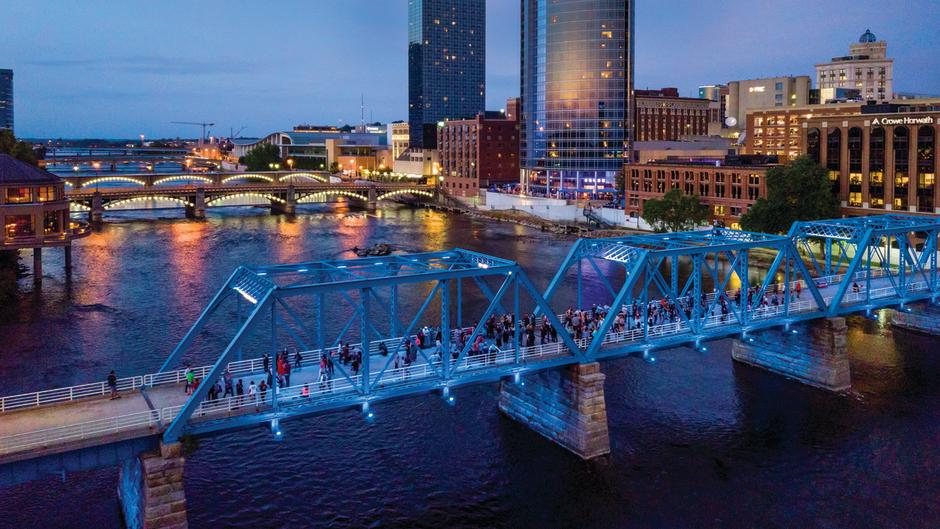 Located on the Blue Bridge which stretches between Grand Valley State University's Eberhard Center and the Grand Rapids river walk near Plaza Towers, the Hopcat WYCE Blue Bridge Music Festival is located next to the ArtPrize 10 action!
Photo Credit: Experience Grand Rapids
---
Hopcat WYCE Blue Bridge Music Festival
When: Friday, September 28 from 4 PM - 10 PM and Saturday, September 29 from Noon to 10 PM
Where: Blue Bridge; can be accessed by 100 Front Street NW and 55 Campau Avenue NW
​Admission: Free
Music-lovers can experience free musical performances overlooking the city on the Blue Bridge in downtown Grand Rapids during the Hopcat WYCE Blue Bridge Music Festival. This event, produced by local radio station, WYCE 88.1 FM, will feature a variety of genres through live performances, including Bluegrass, Rock, Folk, Soul R&B, Hip Hop, Blues, and more. Food from HopCat and beer from Founders Brewing Company will also be for sale at this event.
The Grand Showcase
When: Saturday, October 6 from 11:30 AM - 4 PM
Where: Fountain Street Church located at 24 Fountain St. NE, Grand Rapids, MI 49503
​Admission: Tickets start at $20
The Grand Showcase is Grand Rapids' first and biggest poetry festival of its kind. This event will feature national headliners such as Andrea Gibson, known most famous for her poem, "A Letter To a Playground Bully from Andrea, Age 8," as well as regional, local, and youth poets.
This high-energy festival will feature diverse acts that will bring important social issues like gentrification, body image, addiction, to light. Proceeds from the festival will fund programming for The Diatribe, a local non-profit organization that partners with area schools to empower youth to unpack their experiences through poetry.
Vander Fest 2018
When: Saturday, October 6 from 1 PM - 9 PM
Where: Vander Mill Spring Lake, located at 14921 Cleveland St., Spring Lake, MI 49456
Admission: General Admission tickets: $35, attendees receive 8 drink tokens and a complimentary event glass; Designated Driver tickets: $10, which includes admission into the event
Cider aficionados can partake in unique ciders at Michigan Cider Association's Vander Fest 2018, which will take place at Vander Mill's Spring Lake location. Live entertainment, Michigan cideries and craft beer, and local food trucks will be on-site.
Grand Rapids Vegfest
When: Sunday, October 7 from 10:30 AM - 5 PM
Where: DeltaPlex Arena located at 2500 Turner Ave. NW, Grand Rapids, MI 49544
Admission: $9
Check out Grand Rapids Vegfest, the annual vegetarian food festival that promotes veganism and vegetarianism, healthy lifestyles, compassion for animals, and conservation of the environment.
You don't need to be vegan or vegetarian to attend, in fact this is a fun event for those who want to learn more about a plant-based diet! This event will feature local and national vendors, cooking demonstrations, nationally-recognized speakers and of course, there will be food samples galore.
What festival are you most excited to attend during ArtPrize happenings? Let us know in the comments!
Never miss a post!
Subscribe to the Insider Experience blog.