Two large ArtPrize venues are working to bring the stories and talents of artists with disabilities to the forefront this year.
ArtPrize itself has a history of providing access to all individuals, from offering sign language interpreters, having free wheelchair rentals, creating a map of barrier-free ways to explore the event, and making sure transportation shuttles are accessible to guests staying in nearby hotels.
This year, two venues aren't just making sure people with disabilities can visit their venue, they're making sure people with disabilities are making the art that will be on display.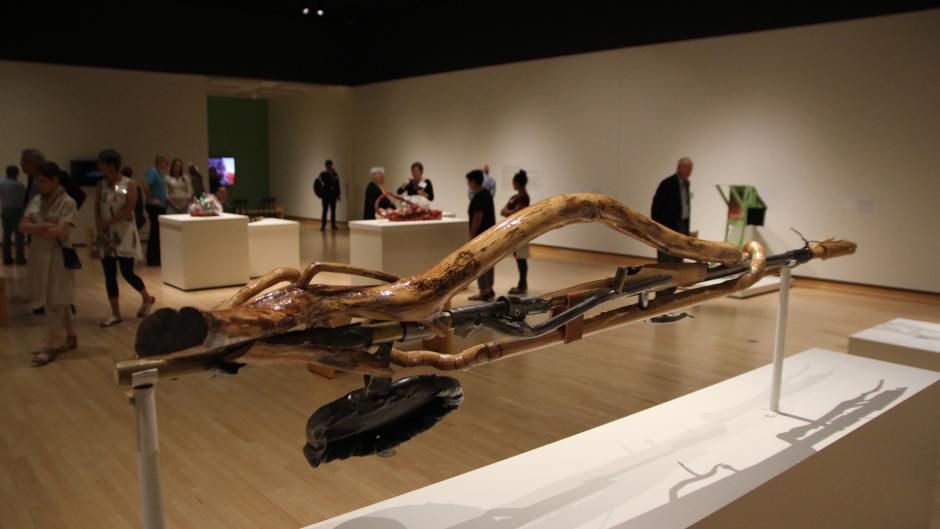 "Blind Crook" (2017) by Brian Catling on view as part of the Process and Presence exhibit at Frederik Meijer Gardens & Sculpture Park.
Photo Credit: Frederik Meijer Gardens & Sculpture Park
---
Venue #1: Frederik Meijer Gardens & Sculpture Park's "Process and Presence" exhibit
In collaboration with DisArt, an organization dedicated to, "increasing the participation of Disabled people in our communities through art," Frederik Meijer Gardens & Sculpture Park is developing an exhibition titled, Process and Presence: Contemporary Disability Sculpture.
The exhibition will focus on sculpture, including ceramics, multimedia, video, and installations. The 16 international artists that will be featured are from the United States, Japan, United Kingdom, and Australia.
Chris Smit, co-founder and co-executive director of DisArt, explains that the sculptures go beyond what is regularly seen or assumed in disability art-focused exhibitions.
"Disability art is often representation, deeply biographical, or points to universal themes of pain or joy," says Smit. "Process art is very different. It's abstract. It's all about the process, and part of what we're saying is that disability art can actually speak in very complex ways into that field of art. The art gives us a glimpse into the disabled imagination in a way that representational art can't."
In addition to process, the other theme of the exhibit located at Frederik Meijer Gardens & Sculpture Park is presence.
"The presence of the body: what type of particular body has made this particular art?" explains Smit. "In all the art, there's this repetitive quality, so even within that process, the presence of the artist is felt and known in new ways. And that is what DisArt has been trying to do: to give different impressions of disability, and tell different stories of disability through disabled voices."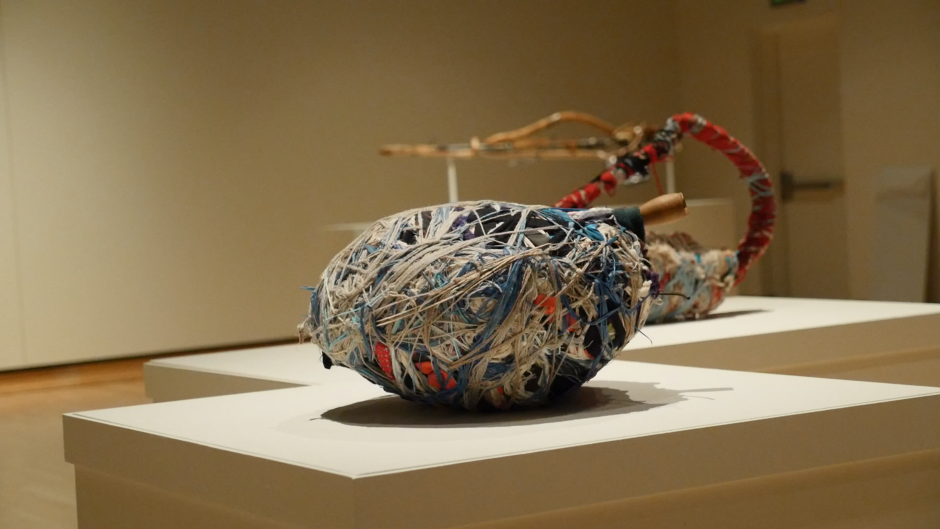 The Process and Presence exhibition runs through January 6, 2019. The exhibit includes Judith Scott's sculpture, "Untitled" (2004).
Photo Credit: Experience Grand Rapids
---
Frederik Meijer Gardens & Sculpture Park and DisArt are considering a variety of accessibility concerns in order to make the exhibit accessible to all, which is something they hope other venues will exemplify when hosting exhibits.
"More than anything else, exhibitions and projects like this show are central to the human condition," says Joseph Becherer, vice president and chief curator at Frederik Meijer Gardens & Sculpture Park. "Emphasizing the relationship between disability and the fundamental human experiences of change and embodiment are profound and can elevate the whole discussion around art, and our overarching individual and shared experience of being human."
That emphasis on fundamental, shared human experiences is an important tool in helping viewers expand their understandings about one another.
"We live with these dichotomies: disability/non-disability, black/white, gay/straight, and so on. We have these 'comfortable' dichotomies that keep us moving," says Smit.
But Smit sees the value in getting uncomfortable, by going beyond these dichotomies.
"We want to make sure that people understand that this show is not a showcase or spectacle of disability expression so that able-bodied people can finally 'get it.' That's not what this is. This is a collection of objects made by human beings who live a life just like everybody else, but they live it differently perhaps. And in that, there are universal and human themes in every piece of art."
The exhibition during ArtPrize is just one part of a season of events for DisArt that will take place at Frederik Meijer Gardens & Sculpture Park. Other events include the DisArt Fashion Show on September 22, and the Process & Press International Conference 2018 from October 26-28.
"Just as those with disabilities may need access in physical ways, we all need help accessing an understanding of each others' experiences," says Jill Vyn, co-founder and co-executive director of DisArt, when referring to "adding lenses."
"Any time you're connecting with a different cultural group, you're going to build another lens," says Vyn. "We can't leave who we are at the door. But we can add a new lens. Wherever I fall on the spectrum of non-disabled to disabled, I'm bringing that with me. So with this exhibition, what we're hoping, whether you're disabled or non-disabled or anywhere in-between, that you will find some clarity or understanding of the complexity of the disability culture."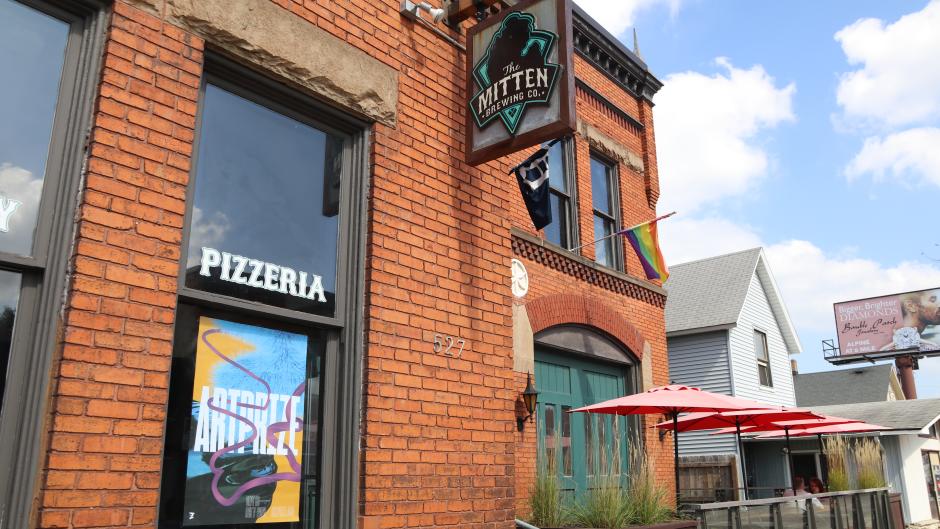 Mitten Brewing Co is home to Hearts for the Arts' exhibition during ArtPrize 10. Photo Credit: Experience Grand Rapids
Photo Credit: Experience Grand Rapids
---
Venue #2: Mitten Brewing Co's Exhibit with Hearts for the Arts
Like Frederik Meijer Gardens & Sculpture Park, Mitten Brewing Company is drawing attention to artwork made by people with disabilities.
The brewery and its advocacy arm, Mitten Foundation, have always been interested in expanding inclusivity and creating a space that feels welcoming for all. Showcasing high quality artists with disabilities, along with financial assistance from the Mitten Foundation, has allowed the establishment to reach their goal of hosting the exhibit with Hearts for the Arts during ArtPrize.
"Our intention is to highlight artists who are passionate about the work they do, and create a caliber of art on par with their competitors," says Dana Mate Dones, operations manager of Mitten Brewing Co. and board president of Mitten Foundation.
Working with Shannon Andrus, Instructor/Artist/Founder of Hearts for the Arts, in selecting the artwork to be featured, Mate Dones echoes Smit's sentiments about growing beyond dichotomies.
"It's so easy to assign people to a category. While this is a common practice it's still imperative to remember that no person is just one thing," Mate Dones says. "The Mitten Brewing Co., Mitten Foundation, and our staff firmly understand and support the belief that visibility and accessibility are privileges meant to benefit the whole of the community."
Rather than giving restrictions to artists with disabilities, spending time with their work helps us find common connections and similarities.
What exhibits are you most excited to see during ArtPrize? Let us know in the comments below.
Never miss a post!
Subscribe to the Insider Experience blog.