The saying "When one door closes, another opens" can definitely be applied to the end of summer and the beginning of ArtPrize Seven throughout downtown Grand Rapids September 23-October 11.
The radically open, independently organized international art competition decided by public vote and expert jury will feature 1,551 entries showing at 162 venues around the 3-square mile ArtPrize district.
And while it's hard to improve upon near perfection, leave it to ArtPrize to try.
"Visitors looking for things to do after Venues close always asked 'What's happening at ArtPrize tonight?'" said Jaenell Woods, public relations manager for ArtPrize. "So this year we are launching ArtPrize Tonight - a comprehensive "database" or list of events happening every night of the 19 days around the ArtPrize district."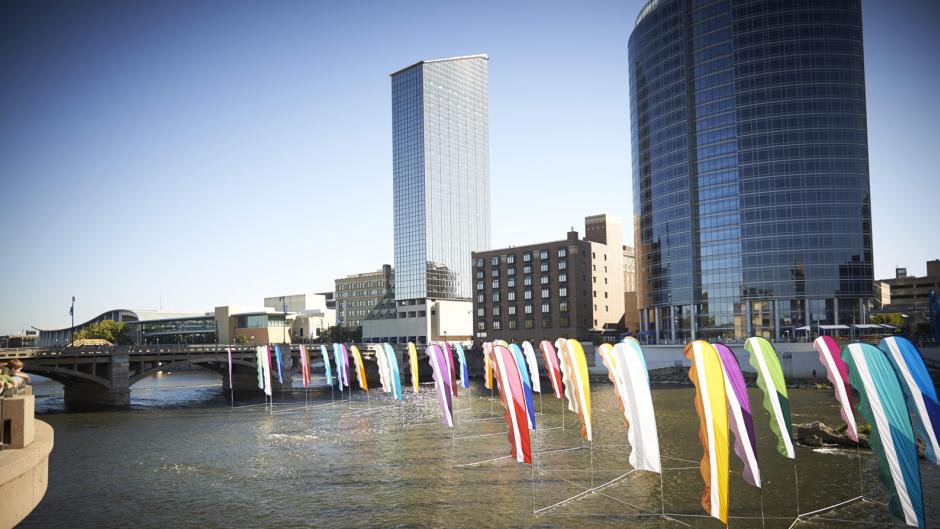 ArtPrize installation in Grand River
Photo Credit: Experience Grand Rapids
---
The ArtPrize Tonight events will be categorized into On Stage listing live performances including musicals, comedy and theater, On Screen showcasing works largely curated by partner Waterfront Film Festival, and Critical Discourse featuring panel discussion and art critiques. Look for a full announcement with ArtPrize Tonight programming details at the end of this month.
Woods said other new features include an updated and streamlined mobile app for iPhone and Android  and website platforms, hospitality spaces around the ArtPrize district, and education programming to name a few. These announcements will roll out in the next few weeks to get you even better prepared to enjoy ArtPrize Seven.
Whether you're planning your first or seventh trip to ArtPrize, there are many ways to make it enjoyable for your group demographic.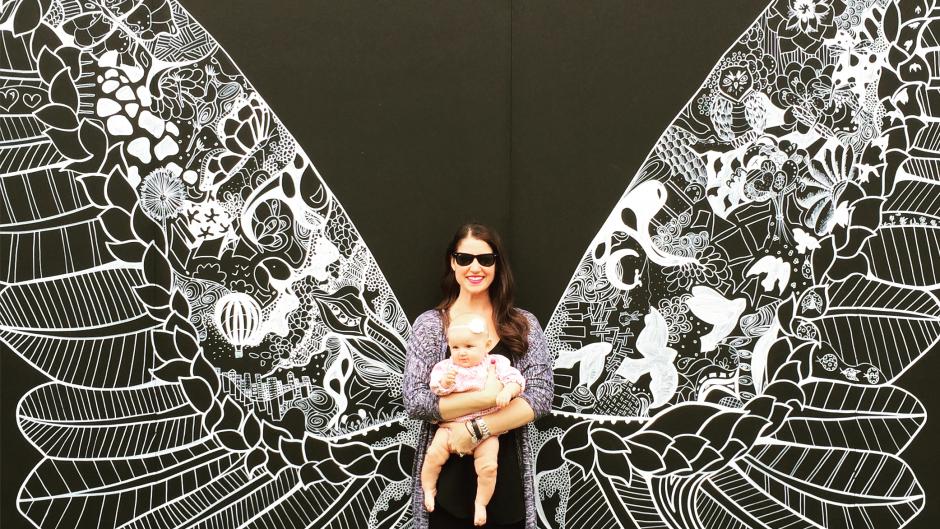 Don't forget to take advantage of the beautiful photo backdrops!
Photo Credit: Nichole Kladder
---
If you are "ArtPrizing" with children it's the little things that will lead to a fun day for all. Things such as making the travel from venue to venue a little more exciting by using the skywalks, and eating at "off" times will help you avoid some of the restaurant crowds. French fries are good any time of day right?
We've also compiled some steps to get the most out of ArtPrize along with inside tips and tricks from veteran ArtPrize attendees.  And don't forget to take advantage of the Certified Tourism Ambassadors you'll see around town. These friendly volunteers and tourism staff are trained experts on Grand Rapids history, attractions, and hidden gems. If you are looking for a restaurant recommendation or a suggestion of where to park, simply look for these volunteers bearing a CTA Gold Star.
Check the Experience Grand Rapids website for more ArtPrize Seven updates. It's going to be another great event!
Never miss a post!
Subscribe to the Insider Experience blog.