The world's largest art competition is mixing things up again with an incredible shift in how the public votes and an expansion of its "Pitch Night" program, bringing in large-scale work to six must-see venues.
Call it egalitarian. Call it art for the masses. Call it the best way to get people excited about art since toast art (no really, that's a thing). Whatever you call it, ArtPrize is now known throughout the world and drawing some incredible artists to participate.
One of the recently-expanded additions to the programming is the competition's Pitch Nights. The idea of the Pitch Night is simple: ArtPrize comes to your hometown, several artists are selected to present a five-minute pitch of their art idea, and the winner receives a $5,000 grant and a guaranteed prominent venue match.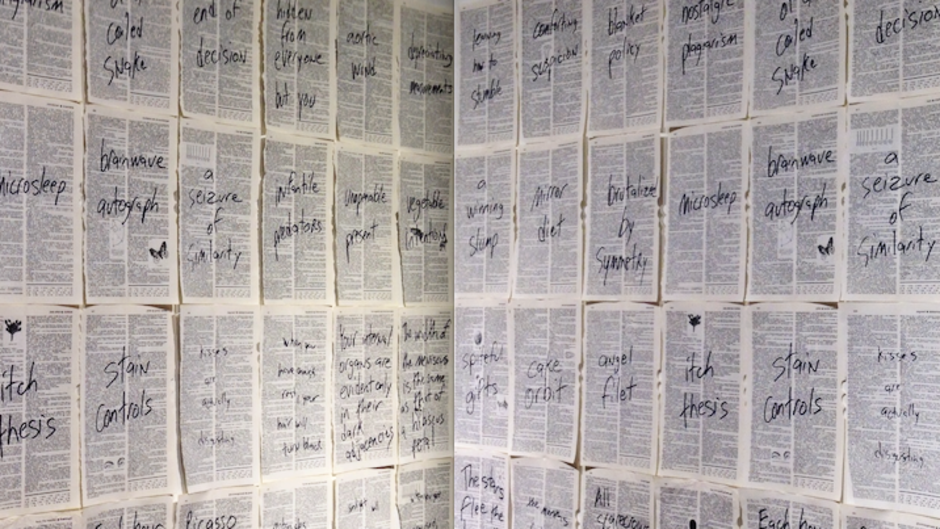 ArtPrize Pitch Night - The Language Is Asleep
Photo Credit: ArtPrize
---
If history is any indicator, Pitch Night brings stellar art that resonates with both jurors and the public. Last year's Grand Prize Juried Award went to Stacey Kirby's "Bureau of Personal Belonging," a Pitch Night winner in Durham, North Carolina. The year before, two Pitch Night winners made it to the final rounds. Emily Kennerk won Pitch Night Indianapolis in 2015 for "Whisper" and went on to win the time-based public vote category award. Carolina Borja and Amy Toscani won Pitch Night Minneapolis in 2015 for "Constructing on Deconstructing," which was shortlisted by the installation juror.
Pitch Night Winners
This year, ArtPrize brought Pitch Night to six different cities, each with designated high-profile venues committing to host them this fall: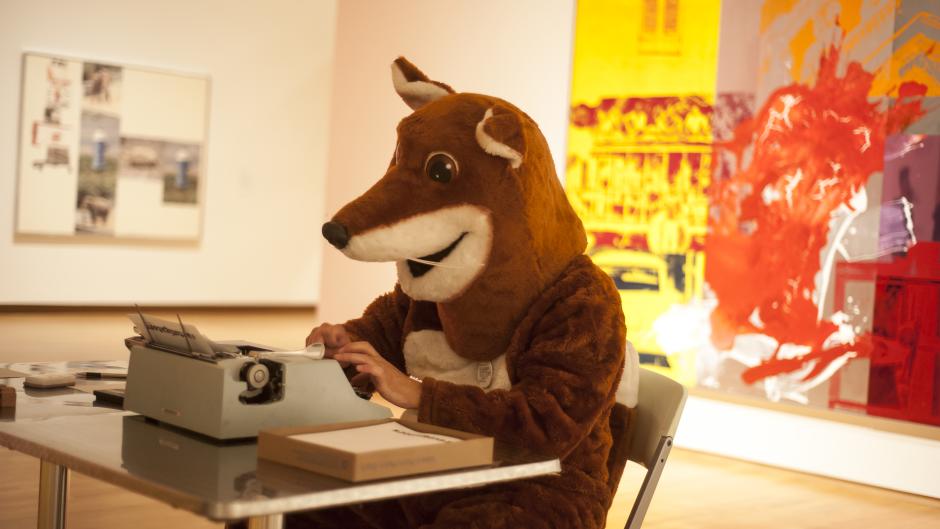 ArtPrize Pitch Night - The Language Is Asleep
Photo Credit: ArtPrize
---
This year's Pitch Night Durham winner, Chris Vitiello, will enter an installation and performance piece with his creation titled "The Language is Asleep." He'll create one-line poems on dictionary pages for visitors, at times while dressed as (what else?) a fox.
"Visitors will come into a surreal space that's been completely filled with obsessive writing on torn-out dictionary pages. I'll be in the space the whole time, getting words from visitors and immediately writing a one-line poem off that word and giving them their poem," he says. "But if the gallery is busy, visitors are welcome to pick up a poem off the floor and take it with them. I don't want anyone walking out of my installation empty-handed."
It's that kind of participatory performance work from Durham that won over the jurors' and the public's interest last year, and we'll be watching to see if it has the same effect this year.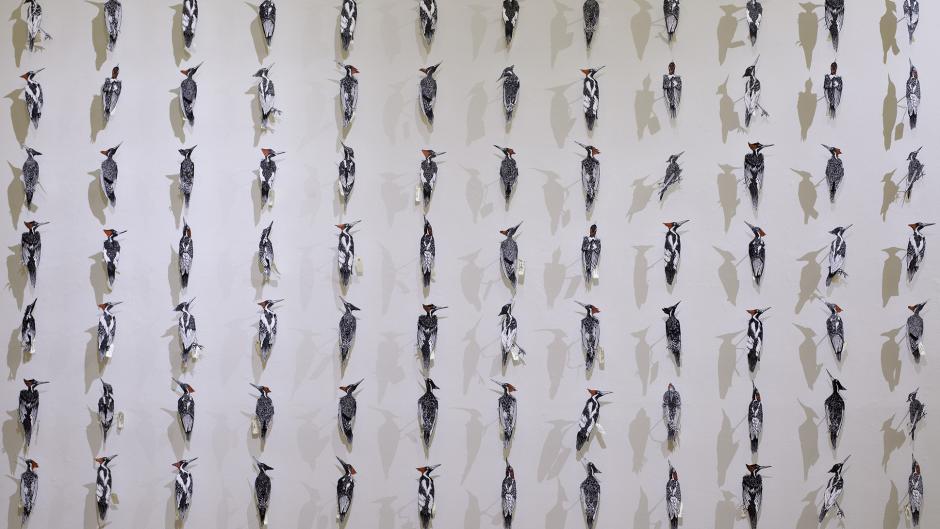 ArtPrize Pitch Night - Extinction
Photo Credit: ArtPrize
---
New Orleans winner, Pippin Frisbie-Calder, created 400 Ivory Billed Woodpeckers for her piece on extinction. Image courtesy of ArtPrize.
Pitch Night New Orleans winner, Pippin Frisbie-Calder, will present a participatory work that is a  visually arresting representation of animal extinction. She will accomplish this with approximately 400 hand-carved, hand-painted woodcut prints of the ivory billed woodpecker, now believed to be extinct. As visitors take one off the wall, a visual "extinction" will take place on the walls of UICA.
Winners from Louisville, Detroit, and Indianapolis are also filling outdoor spaces with more participatory works and invite visitors to experience their large-scale creations, whether it's looking through a mirrored wall at another visitor's eyes, talking through twisted pipes to a stranger, or encouraging the replacement of hate with love with social media posts.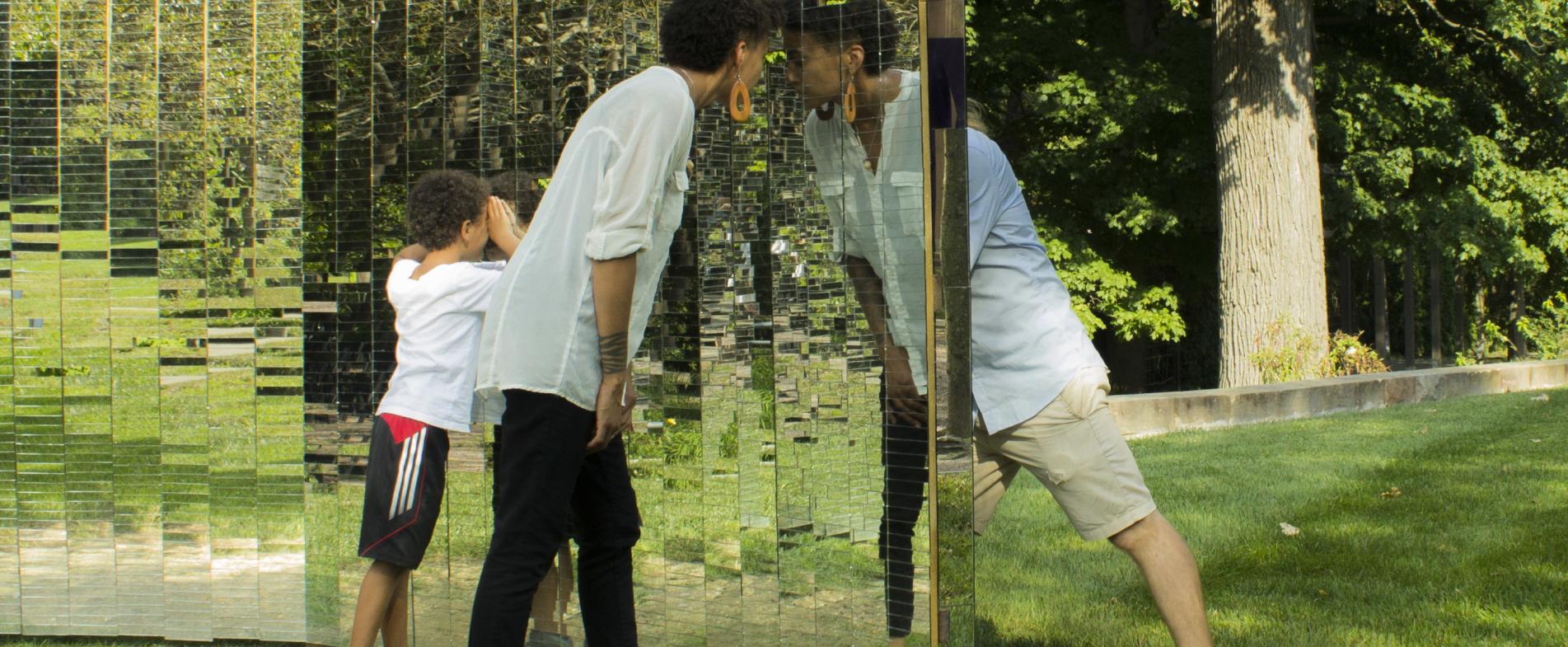 ArtPrize Pitch Night - Mirrored Wall
Photo Credit: ArtPrize
Pitch Night Detroit winners, Nina Caruso and Christopher Schneider, created "Anonymous," a piece with twisted pipes for communicating with strangers. The team says the work was actually inspired by what they saw and experienced when visiting ArtPrize last year. "We wanted to find a way to communicate with people so that you could be somewhat anonymous but also present," said Schneider. "Ultimately we're looking at what ArtPrize does successfully – making it accessible to the public, inviting everyone to come in and participate – and building on that."
Rena Detrixhe, winner of Pitch Night Bentonville, will bring 240 gallons of Oklahoma red dirt to Grand Rapids and create an intricately designed "rug" on the floor of Western Michigan University Grand Rapid's large exhibition space. In fact, if you're visiting during the first week of ArtPrize, you'll be able to see her finishing her work to transform those mounds of dirt into this intricate creation.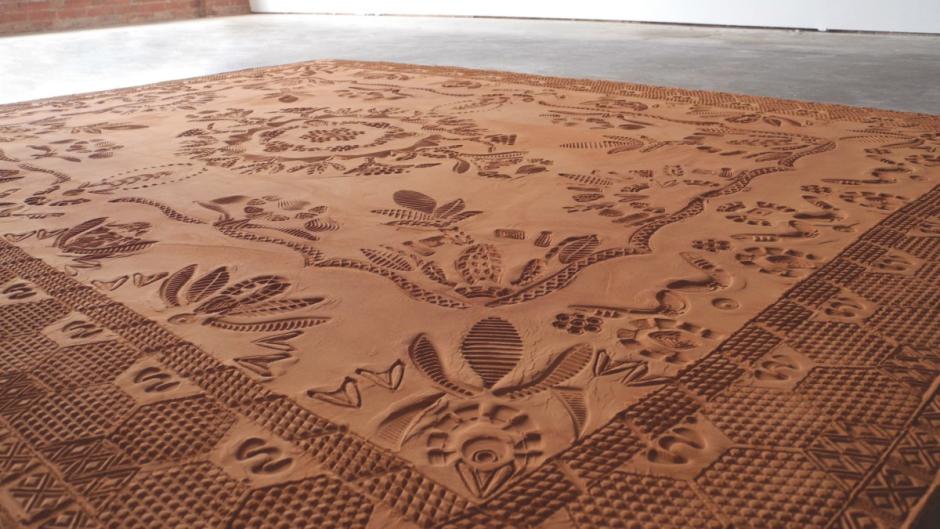 ArtPrize Pitch Night - Red Dirt Rug
Photo Credit: ArtPrize
---
Detrixhe participated in ArtPrize in 2015, exhibiting her work in the Grand Rapid Public Museum, but she says the Pitch Night grant makes this new work possible. "It is impossible to accomplish a project of this scale and complexity without financial support and without a site to accommodate the work," she says.
Other artists agree that the $5,000 financial support, though not covering all expenses, does make the costs involved in creating and transporting artwork and visiting ArtPrize more manageable. "Without the Pitch Night grant, I don't know that I could take advantage of this opportunity," explains Vitiello. "I have a day job that I need to take leave from. I need a lot of time to produce the elements of my installation. I have some substantial travel expenses, too. The grant makes all these obstacles manageable."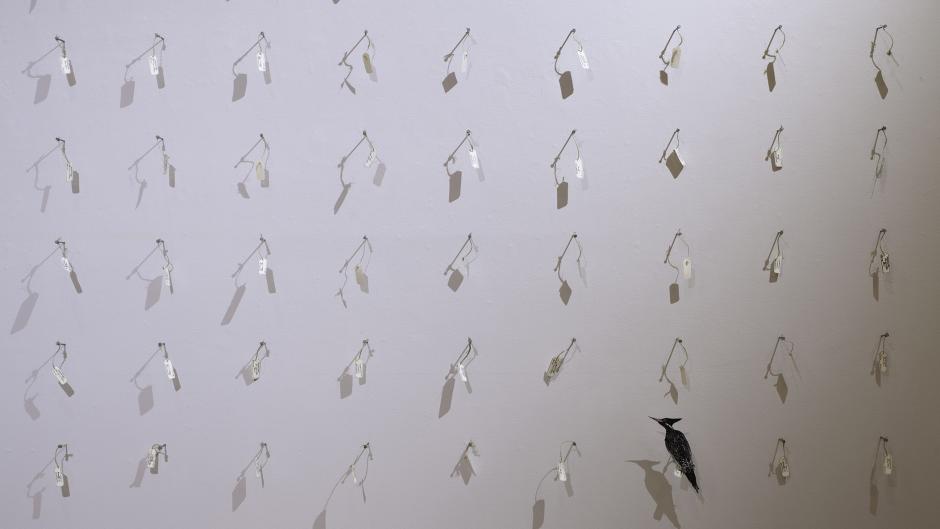 ArtPrize Pitch Night - Extinction
Photo Credit: ArtPrize
---
New Twist on ArtPrize Voting
Now that the Pitch Night winners have been selected, it will soon be your turn to choose the best ArtPrize submission. Once you've seen these winning submissions while taking your own tour of the event, don't forget to pull up the ArtPrize app to vote for your favorites. 
In fact, voting for this year's ArtPrize winners has changed since last year. This year's public vote is getting a little equity treatment: second round voting will have both jurors and the public all voting from the same pool.
What does this mean for you? In the round one voting period, jurors will make their top selections, and the public will do the same, voting for any participating piece that strikes its fancy. This is the same way it's been in years past. But once it comes to round two, everyone — art world professionals and ArtPrize visitors alike — will all vote from the same combined pool of finalists.
So get your voting fingers out, and your discerning mind open: ArtPrize season is just around the corner. If those Pitch Night winners are any indication, there's going to be a lot of worthy options to choose from when casting your votes.
Header image: "Whisper" by Emily Kennerk, 2015 ArtPrize Pitch Night winner. 
Never miss a post!
Subscribe to the Insider Experience blog.