$560,000 in prize money. 1,524 works of art. Artists from 45 U.S. states and 47 countries. 169 venues. 19 days. More than 300,000 visitors. Its time for ArtPrize!
Earlier this year, Time Magazine named this eye-popping, conversation-starting event one of Five Festive Events You Wont Want to Miss in 2013. As the fifth annual ArtPrize kicks off, hundreds of thousands of visitors will heed that advice and join throngs of locals to become judges in the worlds largest open art competition.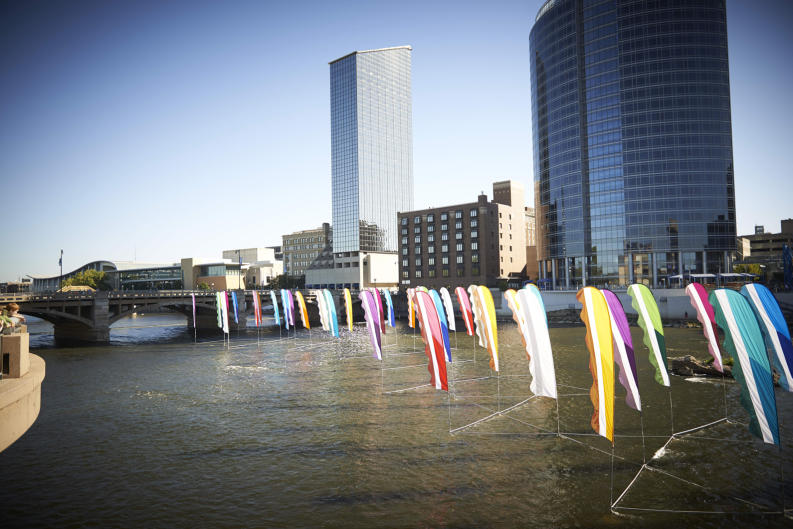 ArtPrize installation in Grand River
Photo Credit: Experience Grand Rapids
---
Grand Rapids is ready.
More than 300 volunteers and tourism staff in Grand Rapids have trained to become Certified Tourism Ambassadors (CTAs). As you walk around downtown, look for people wearing the Grand Rapids Ambassador pin with the star logo. They're here to greet you, help you, and answer your questions.
Grand Rapids has been preparing for the launch of the CTA program for the past six months. We wanted to train as many people as possible before ArtPrize, explains Lisa Verhil, Visitor Services Manager with Experience Grand Rapids. We have a chance to make an impression on somebody who might not otherwise come to Grand Rapids.
The CTA program provides training to volunteers and tourism staff (think: hotel clerks, wait staff, museum guides, and proud citizens of GR) to help them become experts on the city's history, attractions, and hidden gems. We explore the four corners of Grand Rapids and share hidden gems about each one of them, says Verhil.
Our guests are so important to us that we've invested time and money to ensure that when they come here, we're ready to give them the time of their life, both through art and interaction, says Verhil. We want them to be so impressed with our city that they come back.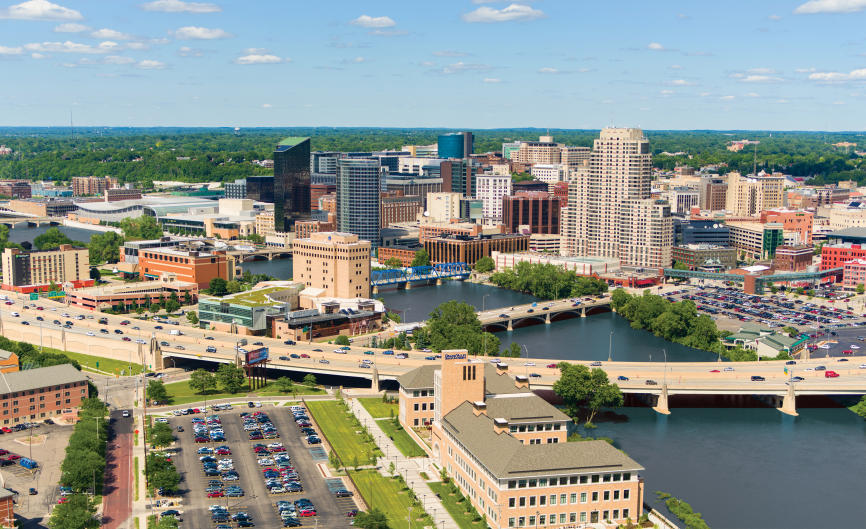 ---
So if you're wondering where to eat downtown or find free parking, they can help. Maybe you want to know the best route to get from Point A to Point B or what Grand Rapids city motto means. Simply look for the CTAs (they'll be wearing the star pin) and ask away. They'll be happy to help! (Our city motto, by the way, is Motu Viget, Latin for "strength in activity")
If you're from Grand Rapids and want to participate in this exciting new program, click here for a CTA program brochure or here for a class schedule. Once you register (cost: $35), you'll receive a workbook to read prior to attending the class, which includes the history of Grand Rapids, information on local attractions, and much more.
In class, be prepared for lots of fun collaboration. You'll participate in breakout sessions, where you'll exchange information about what you've learned with classmates. You'll also get to share your favorite features of the city and tell others where to find the hidden gems you treasure!
Never miss a post!
Subscribe to the Insider Experience blog.