It's officially time to pack away the flip flops, sunscreen, beach towels and swim trunks, but that's not necessarily a bad thing. These summer staples are being traded in for all of the fun that the fall season brings: hayrides, costume parties, haunted houses, apple picking, corn mazes, and more.
This color season, 18 farms in and around Kent County are adding to that fun by opening their barn doors to guests as part of Kent Harvest Trails.
Each of these farms has its own lineup of fall-themed activities, from U-pick apples and hay rides, to "farm art "and challenging corn mazes.
"Kent Harvest Trails offers more than farm stands with fresh fruits and vegetables," says Dave Van Antwerp, Kent Harvest Trails coordinator. "It provides an opportunity for families to get up close and personal with agriculture — the source of their food."
For the family-friendly farms in the Kent Harvest Trails collaborative, the fall season means more than simply making money.
"The farms put way more work into making sure their guests have a memorable experience than the value of the money they bring in," says Van Antwerp. "It's really fun to stand back and watch families who visit these farms. When it's all done, the farmers sleep with smiles on their faces, happy that they've been able to contribute education and activities that will stay with kids for a lifetime."
Admission to most farms is free, but some do have an entry fee or charges for special activities.
Below are descriptions of a handful of the farms participating in Kent Harvest Trails this year. For the full list and information about all 18 Kent Harvest Trails farms, visit kentharvesttrails.org.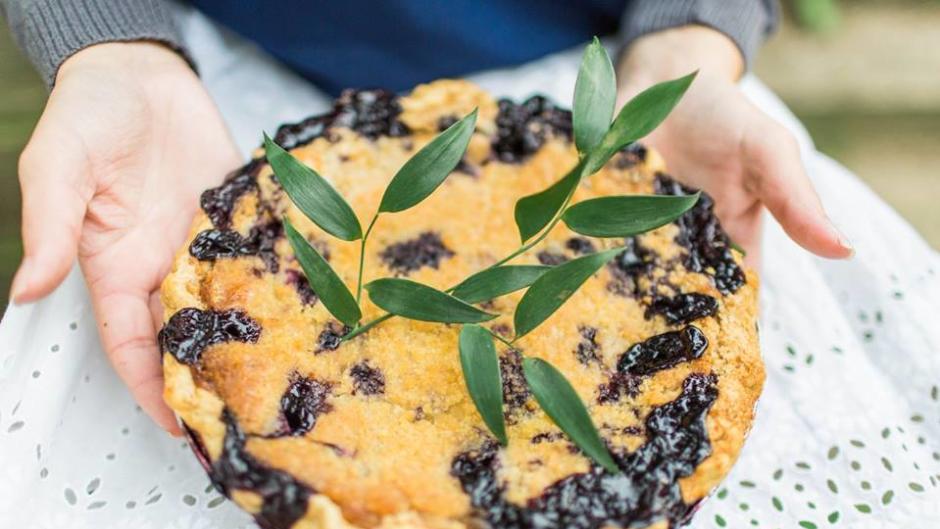 Ed Dunneback & Girls Farm Market
Photo Credit: Ed Dunneback & Girls Farm Market
---
Ed Dunneback & Girls Farm Market
This third-and-fourth generation fruit farm prides itself on growing delicious veggies and fruits, specializing in apples, sweet cherries and strawberries. At Ed Dunneback & Girls, guests are encouraged to not only visit their farm market, but also stop by their bakery for seasonal shakes, like strawberry and caramel apple, or a "take-and-bake" pie. With a plethora of fall activities for kids, Ed Dunneback & Girls boasts a 5-acre corn maze that's unique with trivia to solve in order to complete the adventure. For special outings with groups, Maze Master Trivia allows guests to create their own custom trivia questions that will be placed throughout the maze to personalize the experience.
Location: 3025 6 Mile Rd, Grand Rapids
Fall hours: Monday-Saturday 9 a.m.-6 p.m., Sunday 11 a.m.-6 p.m.; Corn maze hours: Friday 9 a.m.-5 p.m., Saturday 9 a.m.-5 p.m., Sunday 11 a.m.-5p.m.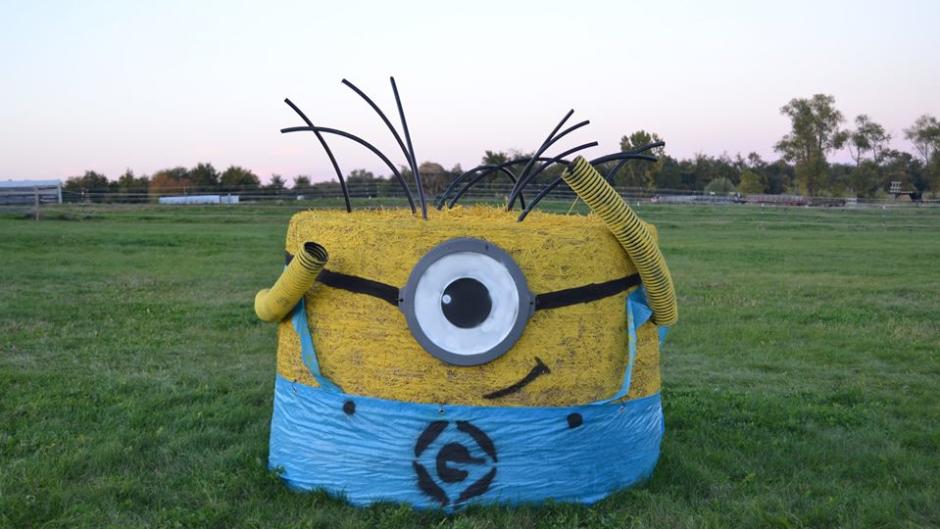 ---
Fruit Ridge Hayrides
Have you ever seen a Minion made out of hay? Well, you can at Fruit Ridge Hayrides. Admiring farm art created by artists from local non-profit groups is just one of the many fall activities families and visitors can enjoy at Fruit Ridge Hayrides. Guests can grab fresh, homemade apple spice donuts from the Little Barn Bakery and eat them on an old fashioned horse-drawn hayride or at the cozy campfire and picnic area. While they can't eat donuts, Tony and Tim the miniature horses, along with the farm's llamas, pigs and goats, will enjoy some TLC in the petting zoo. Finally, try not to get lost in Fruit Ridge's 10-acre corn maze, which is shaped like the Liberty Bell this year and reads "Let Freedom Ring." 
Location: 11966 Fruit Ridge NW, Kent City
Fall hours: Friday 5-9 p.m., Saturday 12-9 p.m., Sunday 12-5 p.m.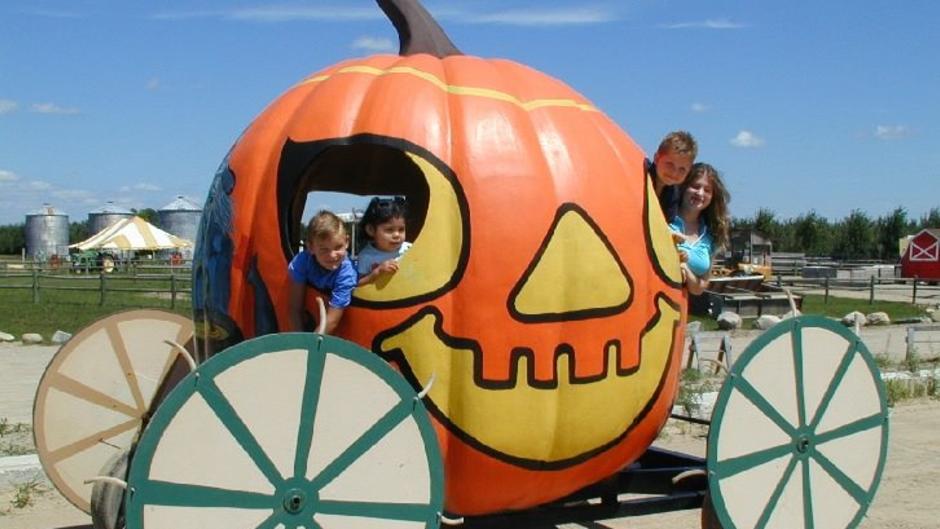 ---
Klackle Orchards
Specializing in family fun, Klackle Orchards offers 250 acres to pick 25 kinds of crispy, juicy Michigan apples and 40 acres of pumpkin picking, as well as kid-friendly rides, such as the enchanted pumpkin coach, fire engines, barrel trains, ponies, pedal tractors, trikes and carts. The fun doesn't stop there, however, as Klackle Orchards is home to a farm animal petting zoo, inflatables, an antique carousel and a corn maze. That's enough fun and adventure to work up quite the appetite, so it's a good thing Klackle Orchards has a full pantry stocked with jams, jellies, butters, syrups, honey and sauces, as well a plethora of concessions, such as caramel apples, homemade fudge, cider slushies and shakes, donuts, pies and kettle corn.
Location: 11466 West Carson City Road, Greenville
Fall hours: Farm market open through Thanksgiving. Orchard activities open through October, Tuesday-Friday 11 a.m.-6 p.m., Saturday 10 a.m.-6 p.m., Sunday 12-5 p.m..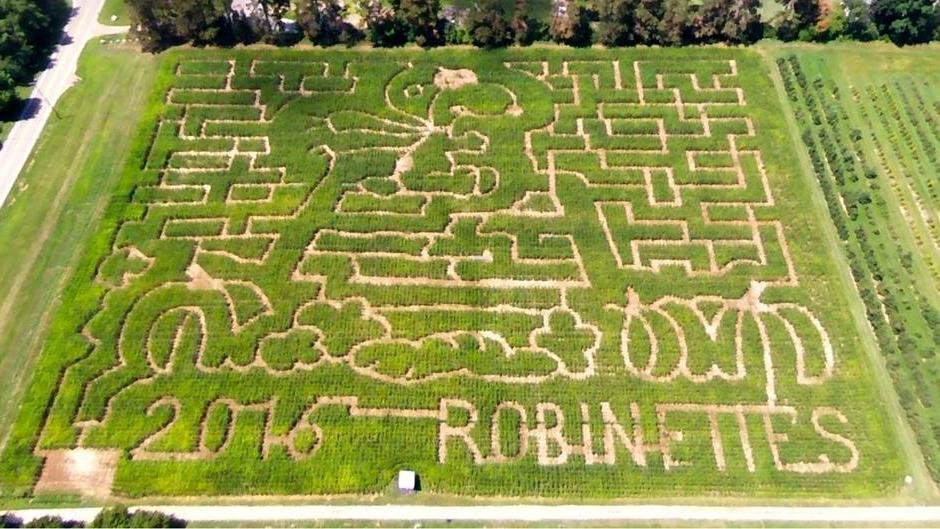 ---
Robinette's Apple Haus & Winery
The animated movie, "It's The Great Pumpkin, Charlie Brown," debuted on prime time TV in 1966. To celebrate the 50th anniversary of the classic fall movie, Robinette's is offering a Charlie Brown-themed corn maze this year. The design features Snoopy as the Red Baron.
Aside from picking pumpkins and apples, kids can fly high in the sky on the jumping pillow. This enormous, 30-foot by 60-foot air-filled pillow is permanently installed in the ground at Robinette's. While the kids are jumping, adults can venture over to Robinette's winery, located in the barn, which was built in 1881. The winery features tastings anytime the bar is open. Guests receive a souvenir wine glass and a taste of six wines for only $3 per person. And, hang on to that souvenir glass because this tasting experience is free to guests who bring it with them to future visits.
Location: 3142 Four Mile Rd NE at the East Beltline, Grand Rapids
Fall hours: September and October Monday-Thursday 8 a.m.-6 p.m., Friday and Saturday 8 a.m.-6:30 p.m., Sunday 12-6:30 p.m.
Schwallier's Country Basket
---
Schwallier's Country Basket
Every year, Schwallier's creates a unique maze inspired by a fun and educational theme. This year's theme is "space." To successfully exit the maze, guests have to answer questions by finding clues in the corn.
If visitors don't feel accomplished enough after navigating the corn maze, there's always Schwallier's straw mountain to climb. For guests looking for a more leisurely day on the farm, Schwallier's also offers cow train rides, scenic guided wagon rides and a farm animal petting zoo filled with friendly and fun-loving goats, chickens and bunnies.
Location: 1185 - 9 Mile Rd, Sparta
Fall hours: Monday-Friday 7 a.m.-6 p.m., Saturday 9 a.m.-6 p.m., Sunday 11 a.m.-6 p.m.
Never miss a post!
Subscribe to the Insider Experience blog.