Next month, during the fourth annual Restaurant Week in Grand Rapids, over 60 area restaurants will feature menus with fresh, local ingredients from West Michigan's summer harvest. The 10-day event kicks off on August 14 and runs through August 24.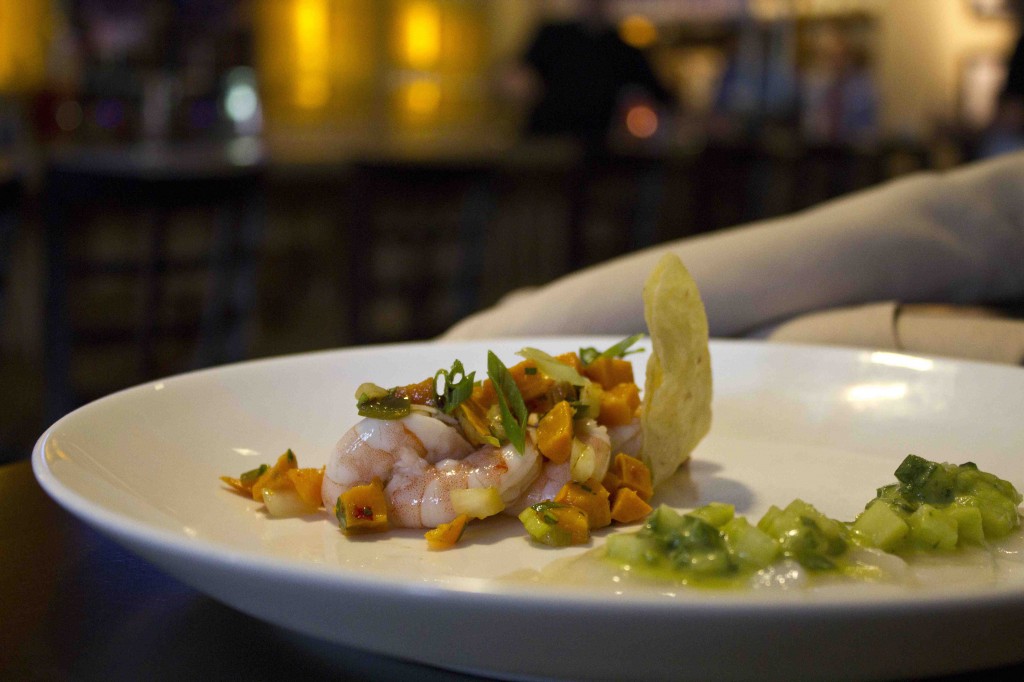 photo courtesy of Grove
Restaurant Week's local focus means diners will enjoy delicious, creative menus that include products grown, produced and raised in West Michigan including ripe fruits and vegetables, as well as grass-fed and organic beef, lamb, pork and chicken. Fourteen new restaurants have joined the annual event, including El Granjero Mexican Grill (named the Best Mexican/Caribbean Restaurant 2012 by Grand Rapids Magazine) and Bombay Cuisine, broadening the culinary diversity of the event.
Grand Rapids' Restaurant Week makes it easy for you to try something new: participating restaurants offer 3-course meals for $25 per person (some offer 2 dinners for $25, 3 courses each) so you can branch out and try a dish you might not typically order.
At Grove, (Grand Rapids Magazines 2012 Restaurant of the Year and Best New Restaurant in 2011), their locally-sourced menu always includes a 3-course tasting menu. But during Restaurant Week, they're dropping the price from $33 (a good value) to $25 per person (a fantastic value). "We'll offer at least 10 first-course and second-course choices, as well as the main course selections," says Executive Chef Patrick Wise, who's also the Executive Chef overseeing Bistro Bella Vita and the Green Well, as well as a partner in the three restaurants' parent company, Essence Restaurant Group. Grove will also focus on Michigan craft brews and they hope to offer a few wine pairings that work well with their Restaurant Week dishes. Wise says they may also have a few wine flights available.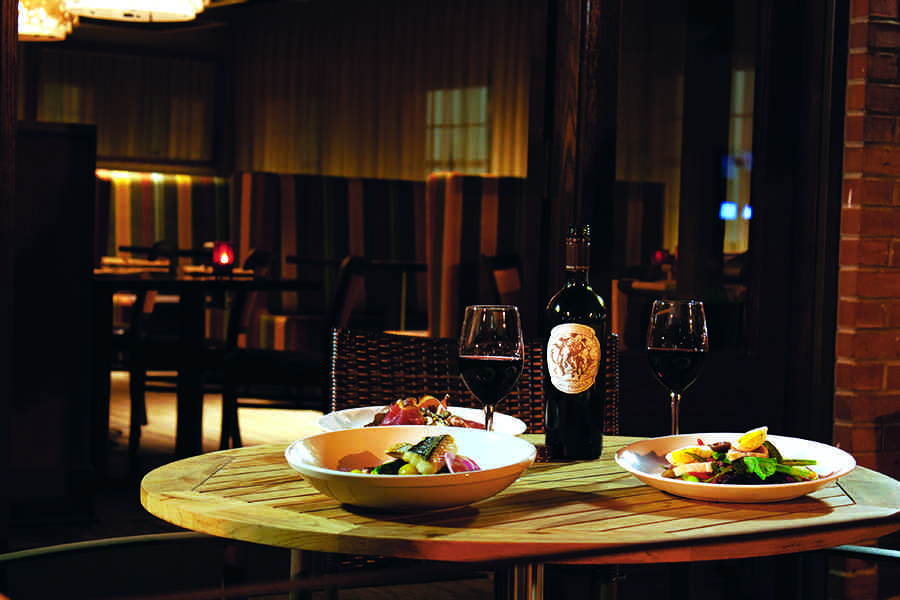 photo courtesy of Grove
Grove specializes in farm-to-table cuisine and consistently delivers fresh, innovative fare. "This is something we strive to do week in and week out," says Wise. "Restaurant Week is during the peak of West Michigan growing season. Guests should be able to recognize everything on their plate." If you love your dinner, he says you should be able to find similar ingredients at the farmers market or at local specialty grocers.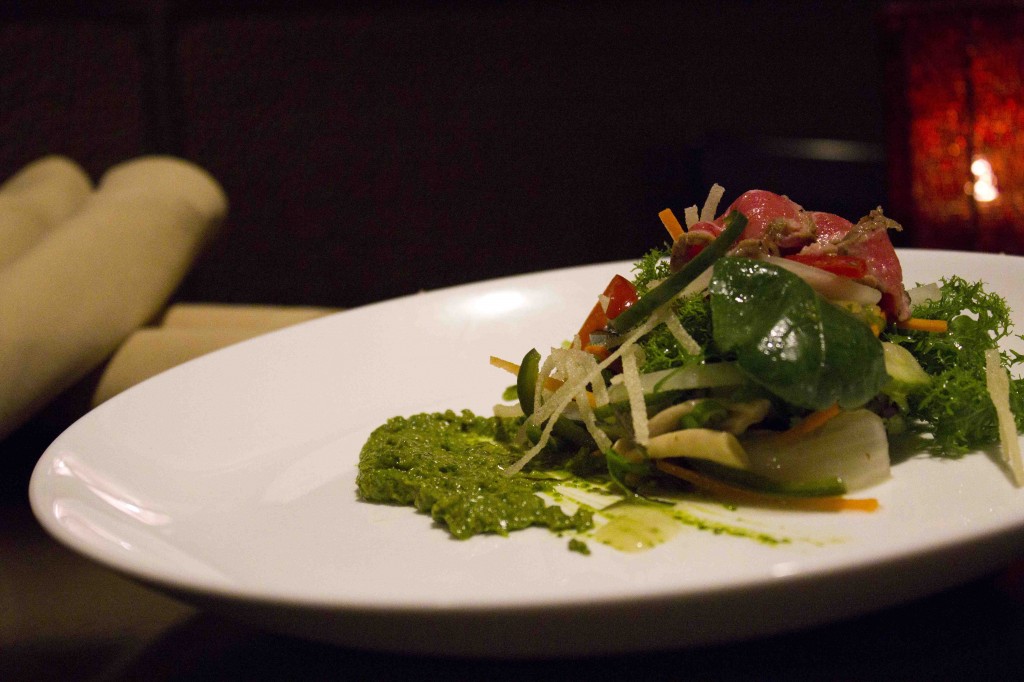 photo courtesy of Grove
You'll also find some more unexpected items on the menu. Grove takes a head-to-tail approach, which means they try to use as much of the animal as possible. "It's responsible animal management," explains Wise. "It's important for us to support our local farmers in what they do, so we'll utilize the whole chicken or the whole duck. We don't just buy the pork loin." Taking this approach helps the farmers work through their animals, he says, and allows Grove to expose people more different types of meat. "Some might take all day to braise or slow roast," he says. "Taking an ingredient like ox tail and cooking it for 6-7 hours, then preparing a dish around that is a nice challenge for a chef and a kitchen team."
Wise believes the fixed-price 3-course dinner encourages diners to try something new, like ox tail or chicken livers. "You can always have a safe option and an out-of-the-box option," he says. "It gives you more opportunities to be flexible and enjoy new things."
When you eat at Grove, Wise hopes you feel a sense of community and comfort and derive satisfaction from knowing the people who are growing your food. He says you'll also notice the freshness of the dishes. "When something's picked Tuesday morning and it's on your plate Tuesday night, you'll be able to tell the difference. Riper, fresher products translate into a better dining experience," he explains.
During Restaurant Week, Grove will have an abundance of new produce to work with, but especially be on the lookout for anything on their menu with heirloom tomatoes. "It will be the beginning of the season," says Wise, but he hopes they'll have some in. "If we're fortunate enough to be highlighting our farm's heirloom tomatoes, take advantage of it," he says, "because the growing season is short!"
Wise provided the following recipe--one of my personal favorites--for our readers. Enjoy!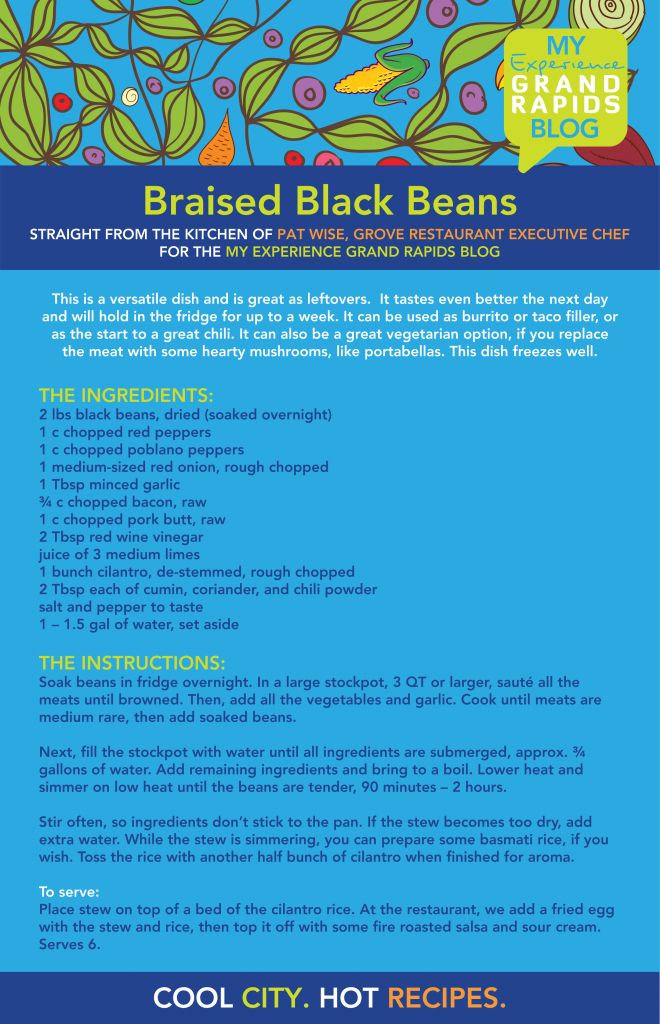 Click here for a list of all of the restaurants participating in Grand Rapids' Restaurant Week. Menus will be up July 15.
Other profiles in our Restaurant Week series:
Mercedez Lopez-Duran, El Granjero
Chef Scotty Petersen, SpeakEZ Lounge