Sometimes you want a laid-back beach vacation. Sometimes, you want the buzz and excitement of a big city.
A win-win? Getting both in the same short trip.
Around this time last year our family of seven (myself, my husband, and five kids ages two to teen) headed up the Lake Michigan shore for a quickie beach-by-day, city-by-night getaway. In less than 24 hours, we enjoyed two completely different vacation experiences. Here's a peek at the "beach" portion of our getaway:
After a quick drive to Grand Haven from our home in St. Joseph, we decided to kick our beach trip off with a stop at Rosy Mound Natural Area, a county park set on a large dune system overlooking Lake Michigan.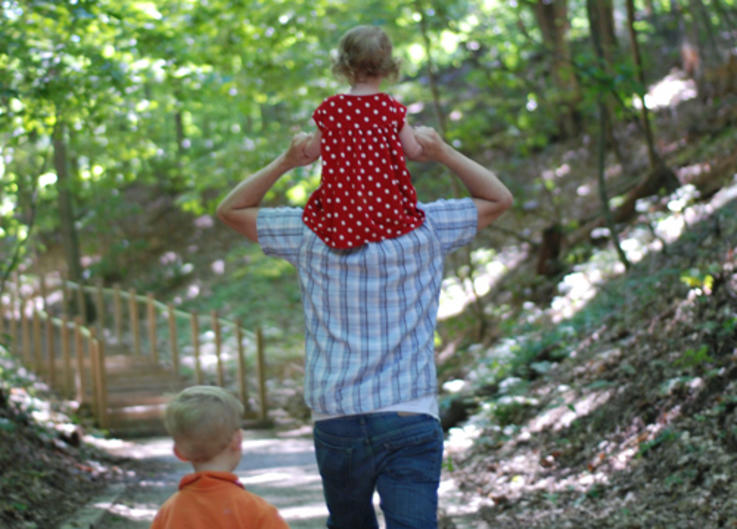 A family walks through the woods at the Rosy mound Natural Area.
Photo Credit: Experience Grand Rapids
---
The hilly mile trail was just challenging enough to slow our kids down a bit without killing the grown-ups. It was a bit of work, but after reaching the highest point (after climbing dozens of stairs) we were rewarded with sweeping views of the shore and surrounding dunes, and an almost-isolated beach. The kids dug in the sand and waded in the water while I listened to the waves crash on the beach.
After we trekked back to the car and shook the sand out of our clothes, we headed to downtown Grand Haven. Of course, we had to take the opportunity to swing on the beach...
But we fell in love with the downtown shopping and dining district, too.
One of my favorite things about west Michigan is how the beach cities all have their own distinct flavor. From the trolley to the huge lighted musical fountain to the boardwalk leading from downtown to the beach, Grand Haven's got a classic yet casual, laid-back feel.
After a long day of beaching and shopping, it was time to head into Grand Rapids for the "city" portion of our beach-city getaway. Stay tuned for part 2 of this post, where I'll tell you all about what we did there!
Never miss a post!
Subscribe to the Insider Experience blog.