Now with almost 20 locations throughout the midwest, HopCat started out in downtown Grand Rapids more than a decade ago and has since helped Grand Rapids become Beer City, USA. When Grand Rapids appeared on a poll to be named Beer City USA in 2012, HopCat used social media to tip the scales in the city's favor.
In the fourth installment exploring some of Grand Rapids' longest-standing breweries, we focus on HopCat- Grand Rapids Downtown.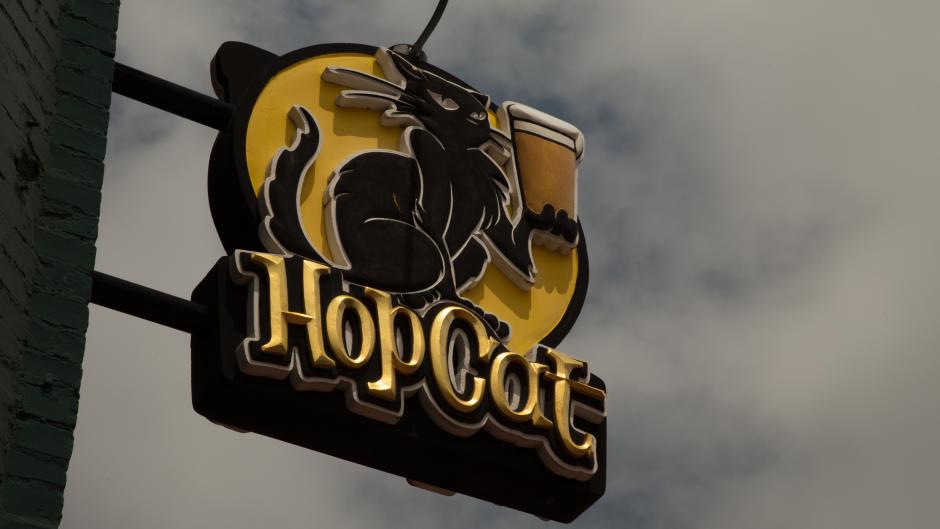 Popular Grand Rapids brewery, HopCat, has a well-curated tap list, house-brewed beers, and an upscale bar food menu.
Photo Credit: Experience Grand Rapids
---
HopCat's History
HopCat first launched in 2008, in a restaurant space on Ionia Avenue, an area that has since exploded into a neighborhood rich in nightlife. The lauded brewery has driven much of the growth in the street's entertainment options and also led the charge to help put Grand Rapids on the beer map. 
Entrepreneur Mark Sellers opened HopCat following an early retirement from an investment career. He had developed a love for beer during his travels and wanted to open a bar in Grand Rapids with a well-curated tap list, house-brewed beers, and an upscale bar food menu.
In 2013, after HopCat's initial success, Sellers began an expansion path with a location in his former college town of East Lansing, Michigan.
Today, HopCat has expanded to nearly 20 locations, with bars across Michigan, multiple locations in Kentucky and Missouri, as well as Indiana, Nebraska, Wisconsin, Minnesota, and Florida. 
HopCat also recently opened a second Grand Rapids location at Knapp's Corner.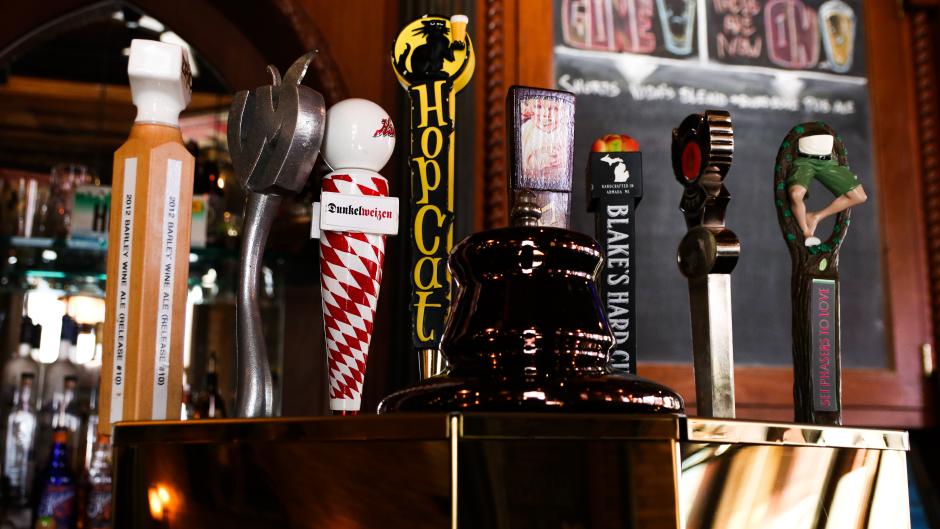 HopCat has an extensive beer menu with 49 taps and even more bottled options.
Photo Credit: Experience Grand Rapids
---
What's on Tap at HopCat
HopCat offers an expansive beer menu, with 49 taps and approximately 250 bottles at any given time. While the tap list focuses on local beers and features HopCat's house brews, like Cat With Two Heads, it still offers a selection of regional and global beers, especially Belgian brews.
HopCat is also well known for its Cosmik Fries. Other popular menu items are Pretzel Nuggz, Buffalo Rolls, Killer Mac & Cheese, The Grand Royale and a generous selection of burger choices.
The beer, food, and full bar can all be consumed in the casual, hip environment near Van Andel Arena, perfect for a date night or a casual get-together with friends.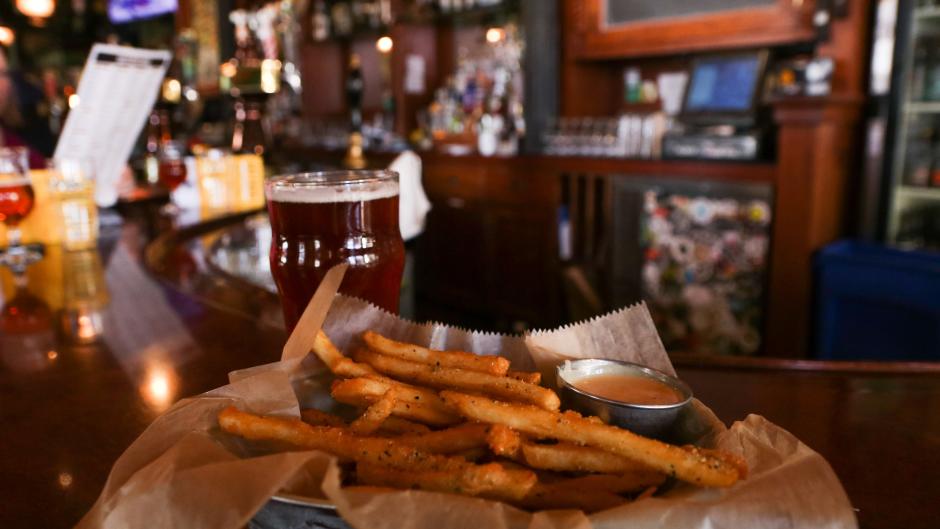 HopCat hosts events like tap takeovers and beer dinners that showcase food and beer pairings.
Photo Credit: Experience Grand Rapids
---
The Full HopCat Experience
The brewery regularly hosts tap takeovers and annual beer release parties, as well as beer dinners to showcase the beauty of food and beer pairings.
The original Grand Rapids HopCat is only one of a few locations with a brewery inside, and it's encased in a glass room so visitors can see the operation.
HopCat fans can join the CatPack, HopCat's three-tiered loyalty program that's offered at all HopCat locations. Just signing up gets you a free order of Cosmik fries, a birthday meal, and AlleyCat status. Upgrade to FatCat or HepCat for more free Cosmik fries, a pint glass, and additional rewards.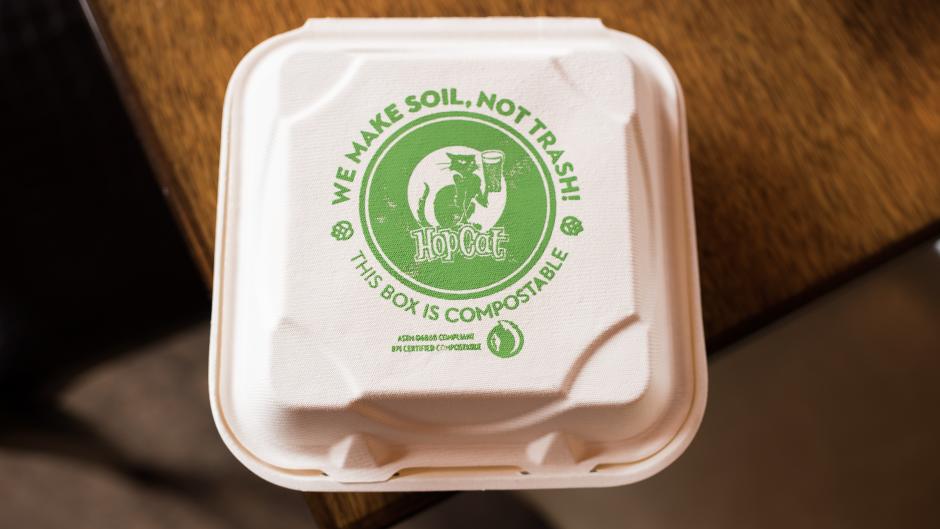 A leader in sustainability: All napkins, to-go products, and straws at HopCat are made from renewable resources and plants.
Photo Credit: Experience Grand Rapids
---
Recognition and Impact
HopCat's original Grand Rapids location has been ranked as one of the best beer bars in the nation and world by publications like RateBeer.com, CraftBeer.com, Draft Magazine, and Beer Advocate.
Along with a great selection of beers and delicious food, HopCat also is a leader in Grand Rapids' restaurant industry in sustainability. HopCat diverts around 90 percent of its waste from landfills by using compostable products and training employees on how to separate compostable and recyclable materials. HopCat is constantly seeking ways to be a better business for the environment and community.
Discover more about HopCat on this episode of Beer City Eats, where host Adrian Butler interviews Beer Program Manager, Rick Martinez.
For more information on local breweries that also offer unique food and craft beer experiences, visit our list of beer events, and be sure to grab a Beer City Brewsader® Passport or download the app. 
Note: HopCat Grand Rapids is no longer a brewery and therefore does not count for a Brewsader pass. 

About the Breweries That Built Beer City series: Grand Rapids first earned the title Beer City USA in 2012, when there were far fewer breweries than the 40+ currently on the Beer City Ale Trail. This blog series focuses on those early pioneers – breweries that built an industry from the ground up starting in 1997 and firmly established the city's reputation for world-class craft beer.
Don't miss a post!
Sign-up for the Insider Experience blog