There are a great number of things that make Grand Rapids a wonderful place to live, work, and play. One of those things is its thriving beer scene and all things related to its craft. Just how dedicated is Grand Rapids to its beer scene? In addition to month-long tributes, festivals, and tours, the hotels even get in on the action. 
Here are a few accommodation options great for any beer lover visiting Grand Rapids: 
Collect stamps from eight of more than 40 participating breweries to become a Beer City Brewsader®.
Photo Credit: Brian Craig for Experience Grand Rapids
---
Enhance Your Stay and Become a Brewsader®
Before looking at hotels, consider earning something cool as you visit the area's many breweries during your stay. Just like collecting passport stamps while traveling abroad, you can earn virtual stamps for visiting breweries with the Beer City Brewsader Passport phone app, available for iOS and Android. 
You can collect these stamps at more than 40 establishments in the area. After checking in to at least eight breweries, you'll earn the coveted Brewsader T-shirt, a fantastic and free souvenir to remember your time in Grand Rapids.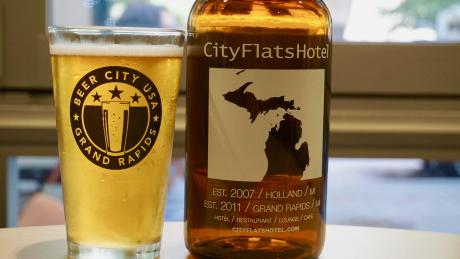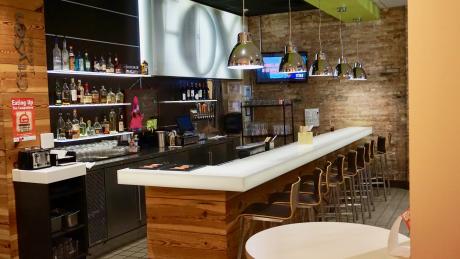 CityFlatsHotel's beer package includes two souvenir pint glasses and a CityFlatsHotel howler filled with beer from the hotel's restaurant, CitySen Lounge.
Photo Credit: Brian Craig for Experience Grand Rapids
---
CityFlatsHotel - Grand Rapids
Located in the heart of downtown, CityFlatsHotel - Grand Rapids offers one of the most affordable hotel beer packages. For an additional $35, you'll receive two souvenir pint glasses and a CityFlatsHotel howler filled with whatever beer is on rotation in the hotel's restaurant, CitySen Lounge. 
"Craft beer is such a staple in West Michigan, and offering a beer package to our guests allows us to help promote our home town breweries while offering our guests a fun and unique experience," says CityFlatsHotel Marketing Manager, Nicole Kelly. 
In addition to the beer included in the package, guests also receive complimentary parking and an extended checkout.
CityFlatsHotel's restaurant isn't the only place to try out some local hops. The hotel is within walking distance of the B.O.B., Grand Rapids Brewing Company, HopCat, and Atwater.
The B.O.B, which is the furthest walk from the hotel, is still less than a quarter-mile walk away. The Big Old Building is five stories tall and is home to five restaurants, all of which serve beer. If you're looking for some craft brew though, you'll especially want to check out B.O.B.'s Brewery or B.O.B.'s beer garden. 
If you want to visit a few more craft breweries, Grand Rapids Beer Tours can help with that. The tour company offers both private and public tours, which include transportation to and from various breweries. 
Not sure how to get to the first tour stop without a car? No problem. With notice a day in advance, Grand Rapids Beer Tours offers free pick up and drop off to and from any downtown hotel, including CityFlatsHotel.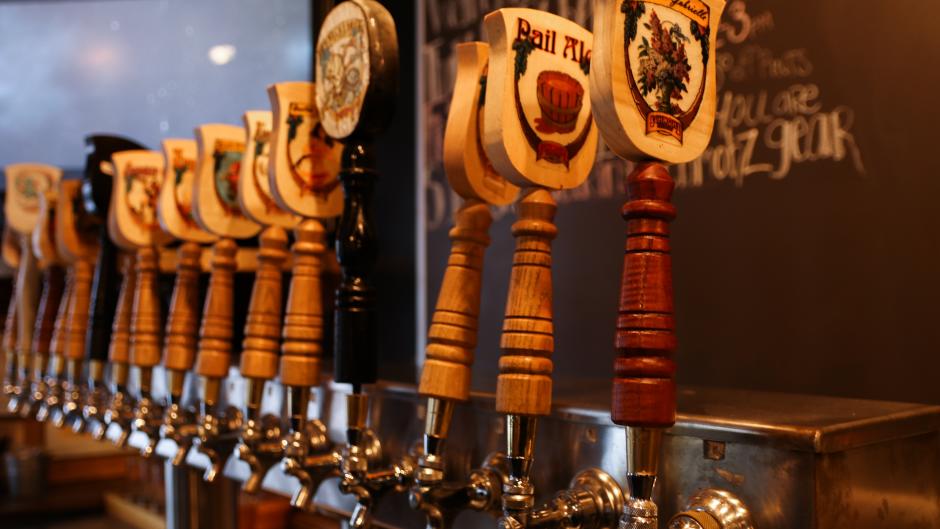 Fill your growler from Comfort Inn Grand Rapids - Airport at one of a couple nearby breweries, like Schmohz Brewery.
Photo Credit: Experience Grand Rapids
---
Comfort Inn Grand Rapids – Airport
You can stay near the Gerald R. Ford International Airport and secure a beer package deal when staying at the Comfort Inn Grand Rapids. The hotel is less than four miles from the airport. Rates for Comfort Inn's Beer City Package start at $130 per night and include a 64-ounce stainless steel "Grand Rapids Beer City USA" growler, a Beer City map, and decal sticker.
There are two breweries just a short drive away where you can fill up your newly acquired growler. The first is Schmohz Brewery. The establishment is one of the oldest breweries in town and offers 16 taps, a pool table, pinball, Ms. Pac-Man, and darts. Keep in mind that Schmohz does not offer food except for certain Fridays.
Of course, you can always take an Uber or a Lyft to get around, but if you prefer to utilize the city's public bus system, The Rapid, to get to the brewery, just take Route 28 to get from the hotel at Stop #7161 to Schmohz at Stop #9272. There is a fee to ride The Rapid. One-way adult fares are currently $1.75.
Another brewery that's nearby and accessible via The Rapid is Thornapple Brewing Company. Not only does Thornapple offer beer, but it has wine, cider, and whiskey available. The brewery is also well known among locals for its pizza, which uses spent grain from brewing in their crust. 
To get to Thornapple via the Rapid, you'll also use Route 28, starting at Stop #7161 and get off at Stop #9281.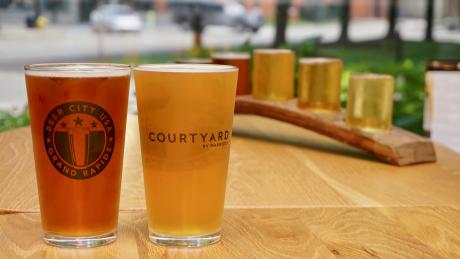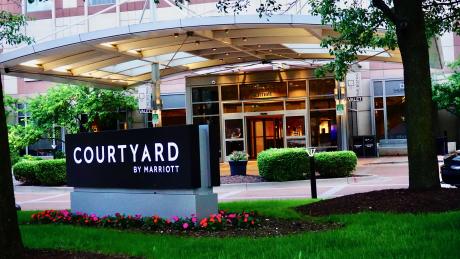 The Courtyard by Marriott beer package includes two pint glasses for two people, as well as breakfast and valet or self parking for one vehicle.
Photo Credit: Brian Craig for Experience Grand Rapids
---
Courtyard by Marriott - Downtown
Another popular downtown Grand Rapids hotel that offers beer lovers a package is the Courtyard by Marriott - Downtown. 
"We offer a Beer City Package as a way to highlight to guests the amazing breweries in Grand Rapids, as well as beers across the state of Michigan," says Sara Jorgensen, General Manager of the hotel. 
Rates for the Beer City Package start at $249 per night, but the price does vary based on the day of the week and time of year. Included with your stay, you'll receive two Beer City pint glasses for you and a guest to use within the hotel's Bistro. In addition, you and your guest get breakfast and self or valet parking for one vehicle.
There are a few spots for a great drink near the Courtyard by Marriott-Downtown, namely the B.O.B., which is directly across the street. Grand Rapids Brewing Co. and HopCat are also very close.
The Courtyard is also the closest hotel to Founders Brewing Co., which is consistently ranked as one of the country's best breweries. Founders is a half-mile walk from the hotel's front steps.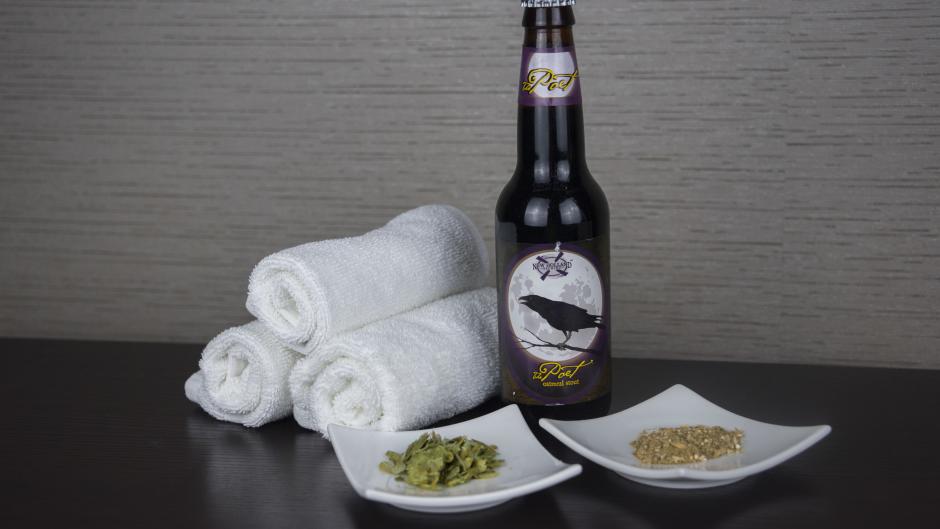 Celebrate your time in Beer City, USA by trying JW Spa's Brew and Renew craft beer-infused massages and pedicures.
Photo Credit: JW Spa
---
Amway Grand Plaza Hotel, Curio Collection by Hilton and JW Marriott Grand Rapids
The Amway Grand Plaza Hotel and the JW Marriott Grand Rapids currently don't have beer-related specials for overnight stays, but they did join efforts to offer two unique beer-inspired spa services. 
The first is the Brew Polish and Massage, which is an 80-minute beer-inspired body scrub and massage that uses actual hops and barley for the exfoliant. For $159, the service also includes a gift certificate redeemable for one craft brew at either hotel's restaurant.
Another spa package offered is the Brew Pedicure for $89. The pedicure is 50 minutes of foot pampering that includes a beer footbath, scrub, hot towels, cooling mask, massage, cuticle care, and nail care.  You'll also receive one craft brew to enjoy during the pedicure.
"We started offering these unique services at both the Amway Grand Plaza and JW Marriott after Grand Rapids was named Beer City USA," says Caitlin McClelland, Spa Manager for the two hotels. "This was our way of developing a spa related special that incorporates the cool things in our city. It's also a great way to invite men into the spa world."
Located across the street from one another, the Amway Grand Plaza and JW Marriott have eight breweries within a one-mile radius, accessible via the DASH, a short Uber ride, or even a long walk. If you're still craving hops after your pampering, you can visit City Built Brewing Company, Atwater Brewing, Harmony Hall, New Holland Brewing-The Knickerbocker, B.O.B's Brewery, Fountain Hill Brewery, Grand Rapids Brewing Company, or Founder's Brewing Company. 
While there are a number of breweries mentioned above, that isn't an exhaustive list of all the establishments in the area. For a more robust list, including a downloadable Ale Trail with a directory of more than 80 West Michigan breweries, head over to the Beer City, USA page. 
Remember, if you do plan on visiting any of the aforementioned breweries, be sure to check out the Beer City Brewsader list to see where you can "stamp" your virtual passport!
Don't miss a post!
Sign-up for the Insider Experience blog