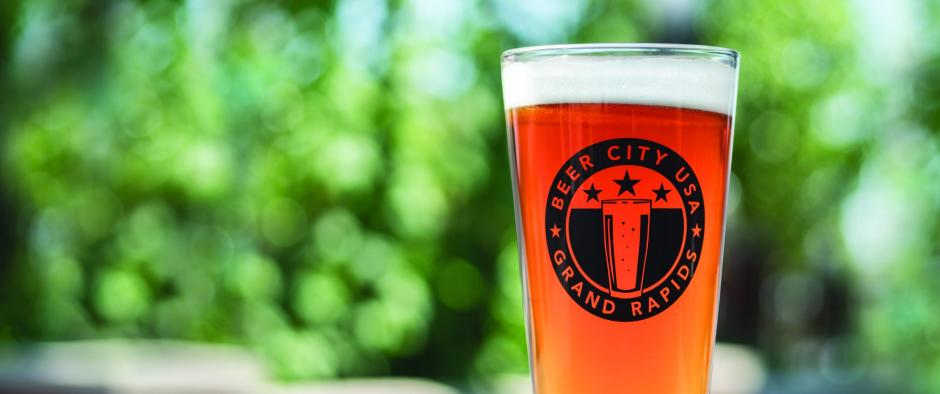 Beer City Pint glass at Founders Brewing Company
Photo Credit: Craig Van Der Lende
---
Locals know what fans far and wide are discovering: Grand Rapids brews great beer. In fact, our breweries are collecting awards worldwide. A sampling of their honors:
Not bad, huh?
But brewing in Grand Rapids isn't just about hops and foam.
Sustainable breweries are a key part of the Grand Rapids beer scene, with Grand Rapids Brewing Company and Brewery Vivant leading the charge.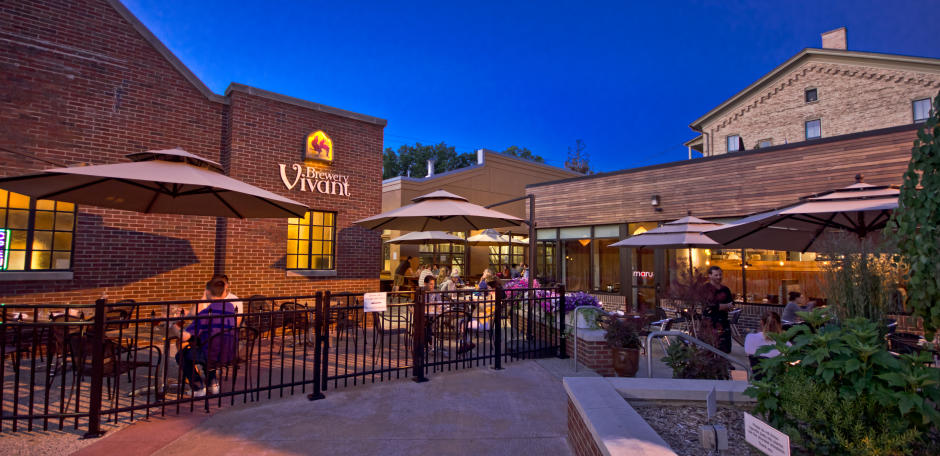 Brewery Vivant Exterior
Photo Credit: Experience Grand Rapids
---
Brewery Vivant
When founders Jason and Kris Spaulding opened Brewery Vivant, for example, they reverse engineered the brewery to fit the footprint, decided only to use aluminum cans (no bottles) because of cans lower impact on the environment, and committed to producing an annual Sustainability Report. "We're trying to create a long term difference and a very regional footprint," says Jason Spaulding.
Brewery Vivant quickly became one of a few LEED certified breweries in the country and in 2012 they were named a Best & Brightest Sustainable Company.This January, Brewery Vivant received the Local Motion Triple Bottom Line Award for Best up and Coming Business for their strong commitment to the Triple Bottom Line (environmental, social and economic measurements--sometimes referred to as people, planet and profit).
In this year's Sustainability Report, cleverly entitled Beer the Change, the brewery shares statistics like these:
63.5% of BVs money was spent at locally owned businesses (up from 48.8%)
11.3% of BVs food ingredients came from within 250 of Grand Rapids (up .5%)
228,000 pounds of grain were purchased from within 250 miles (2.1%)
25.1 cows were consumed (16,040 burgers sold)
25 cows were fed (gave away 228,210 pounds of spent grain to local cattle farmer)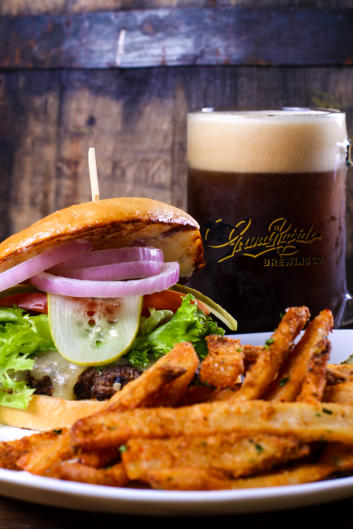 Grand Rapids Brewing Company
Photo Credit: Grand Rapids Brewing Company
---
Grand Rapids Brewing Company
Less than two miles away, you'll find Grand Rapids Brewing Company, another brewery focused on sustainability. When they re-launched downtown in 2012, they pledged to use solely organic grains and became Michigan's only USDA certified organic brewery.
GRBC is owned by BarFly Ventures, which also owns HopCat (one of my favorite watering holes, with crack fries worthy of their name), McFaddens, and Stella's Lounge (Best Burger in America GQ Magazine).
BarFly isn't just thinking about the environment by using organic grains at GRBC. Their other establishments focus on sustainability, too. Barfly establishments recycle fryer oil and spent grains, are lowering their electric usage by switching to LED light bulbs, and last year they implemented a recycling and composting program to reduce their landfill waste by up to 85%.
Apparently, whats good for the environment is good for business. Breweries in Grand Rapids are flourishing. There are newcomers on the horizon (Osgood Brewing plans to open this summer) and Barfly has announced plans to expand to nearby Lansing, MI.
But the best part?
Flourishing bottom lines mean creative brewers can continue to experiment and provide customers with a variety of top-notch brews for every palate in every season. That's a win for every beer drinker who visits Grand Rapids.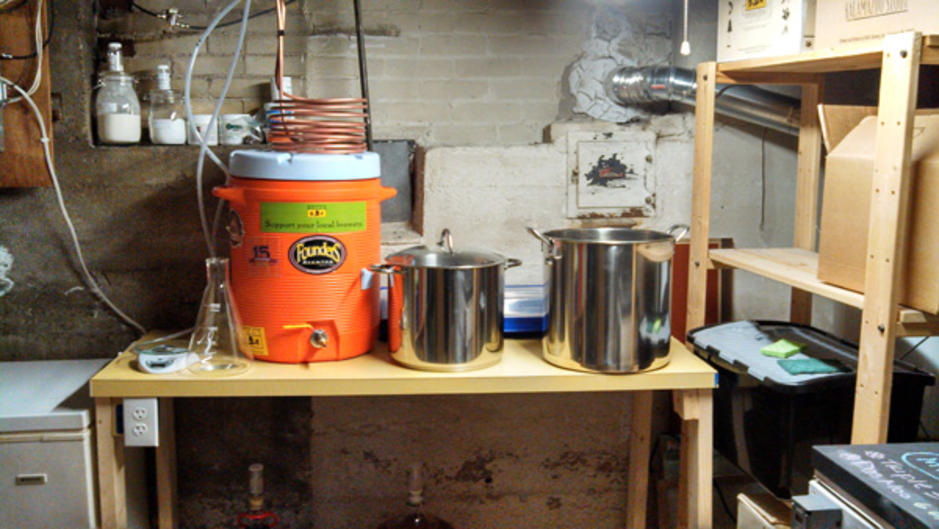 Home brew set up of Rob Qualls, co-founder of the GR Homebrewers Club
---
Home brewers score, too, with more supplies and events targeted at celebrating their craft. May 4, 2013, home brewers can gather at Calder Plaza for the American Homebrewers Associations Big Brew sponsored by Siciliano's Market. Siciliano's is donating ingredients for 48 all-grain batches of Beer City IPA, as well as bottled water, a chilling station, and platform handcarts in celebration of National Homebrew Day. (Check their blog for details on registration.)
With all of these assets, its no surprise that Grand Rapids has already been nominated for Beer City USA 2013. But 18 other cities have been nominated, too, including Asheville, NC, who shared the title with Grand Rapids in 2012.
Will you help Grand Rapids keep the Beer City USA title for 2013?
YOUR vote could be the difference! Rally your friends and family and cast your votes for Grand Rapids as Beer City USA 2013. Voting begins at examiner.com on May 6 and runs through the 10th.Click here to cast your vote!
Don't miss a post!
Sign-up for the Insider Experience blog