Autumn color is always a spectacle in Kent County. The countryside with its hills and valleys becomes a living canvas splashed with color. It's a great time to get out on area roads, rivers and trails and enjoy the view from a bike, kayak, or on foot.
Some of the best fall views are found in Kent County Parks where families can make a day of it, pack a picnic lunch, and enjoy a day out under the trees.
One of the top spots is Fisk Knob Park found at 17533 Algoma Avenue in Cedar Springs. It's the highest point in Kent County. At 1,075 feet above sea level it offers spectacular views of the rolling hills in the region.
Downtown Grand Rapids Fall
---
"It's been very popular for fall color," notes Roger Sabine, director for Kent County Parks. "It's our northern-most park, and if people want to take a drive they wont be disappointed. It's got the elevation and you can see just about forever."
Fisk Knob is one of 34 Kent County parks. Some are better for fall viewing than others, according to Sabine.
Pickerel Lake Park - Fred Meijer Nature Preserve is one that delights in fall. Located at 6001 Ramsdell Road NE in Cannonsburg, the 305-acre nature park is a peaceful expanse of yellows, orange and gold. Visitors can hike the trails through its hilly terrain or just enjoy the colorful vista from the marsh boardwalk that leads from the parking lot. Canada geese stage on the lake in fall and become part of the season spectacle so bring a camera.
"Sunset is a neat time to be there," Sabine said.
Chuck Vannette, president of the of the North Country Trail Association's West Michigan Chapter, suggests getting out on the 4,600 mile national scenic trail where it runs through the Lowell State Game Area near Fallasburg Park. The West Michigan chapter maintains that segment along with other portions of the trail in the region. Download a free map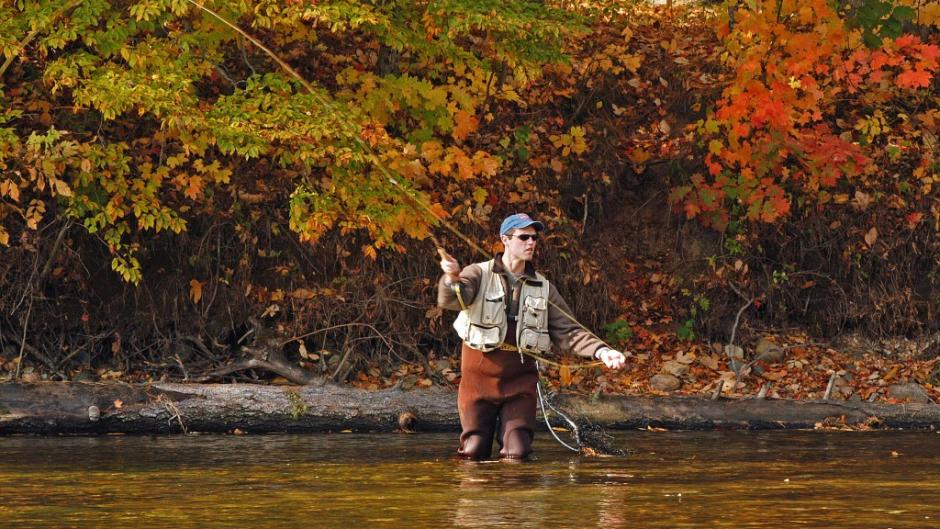 West Michigan rivers offer plenty of opportunity to see fall color.
Photo Credit: Howard Meyerson
---
Its a very pretty area and the trail goes long the backwaters (of the Flat River) there. "It's one of the few places you can get a nice overlook," Vannette said.
Adjacent to the park, in the Fallasburg Historic District, is one of Michigan's oldest covered bridges and an excellent fall photo opportunity. The 143-year-old wooden covered bridge was erected in 1871. The 100-foot bridge spans the Flat River. It is one of only three covered bridges in Michigan still open to vehicle traffic.
The bridge was awarded a Michigan Historical Marker in 1971 and was listed with the National Register in 1972. Catch the light just right and you have a magnificent fall color photo-op with a forest background of intense color.
Another scenic covered bridge spans the Thornapple River at Leonard Field in Ada. The 125-foot long Ada Covered Bridge at 7490 Thornapple River Drive SE was built in 1867 and rebuilt in 1979 after being destroyed by a fire. The bridge has a colorful history, all of which can be learned from the historic marker at the site.
"It doesn't offer a big vista, but Ada Covered Bridge is a neat place," suggests Mark Fitzpatrick, Ada Parks director. "Roselle Park is another place people can go. It has nice deck people can climb up on and has a nice view of the Grand River and hills."
Roselle Park is found at 1010 Grand River Dr. NE, Forest Hills. The 240-acre nature preserve has a paved trail to the river, an overlook and a canoe launch for those who want to enjoy the view from the water.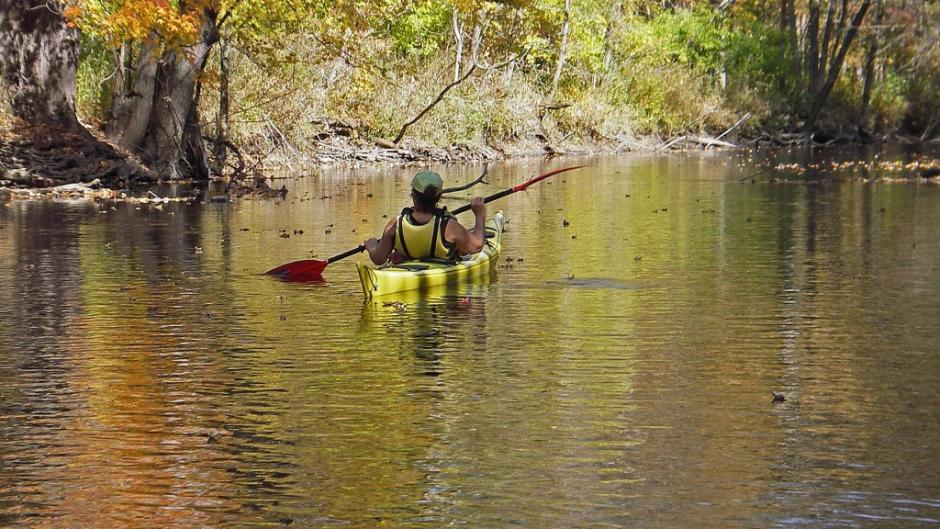 Rogue River Kayak
Photo Credit: Howard Meyerson
---
Paddlers have several choices for fall color in Kent County. The Rogue River, upstream from Rockford, offers plenty of colorful forest scenery and an easy float. So does the Thornapple River from Cascade Dam downstream to the Grand River. And the Grand River itself offers many scenic stretches.
The town of Rockford is also a great destination for a fall color bike tour. The scenic shaded section of the Fred Meijer White Pine Trail between Belmont and Sand Lake offers numerous opportunities to ride and enjoy the trees - along with scenic overlooks along the Rogue River and, forested valleys along the route.
Sabine offered three other Kent County Park suggestions. Each is good for fall color viewing.
Palmer Park: 1275 52nd Street SW, Wyoming: The park has several miles of hiking trail that meander through trees and along creeks and streams. It is a sweet, in-town color destination in fall for those who don't want to travel far.
Lepard Nature Preserve: 6392 76th St SE, Caledonia. One of Kent County's newest parks, this 45 acre preserve offers hikers just under a mile of walking trail in a mature forest. The trail loops back on itself allowing walkers to enjoy the scenery without having to backtrack far.
Seidman Park: 8155 Conservation Rd., in Ada. This is hilly, forested terrain with nearly 5 miles of looped trails. Bring a daypack. Pack a lunch. Walkers can enjoy any number of short or long outings.
-Outdoors writer and photographer Howard Meyerson can be found online at howardmeyerson.com.
Never miss a post!
Subscribe to the Insider Experience blog.