Here's one last Restaurant Week post, with a few restaurants I think you should give a second look. These places maybe don't get as much hype as others, but for those of us who are local, they are some of our faves. So even if you don't make it out before the weekend is done, give them a try sometime. You won't be disappointed.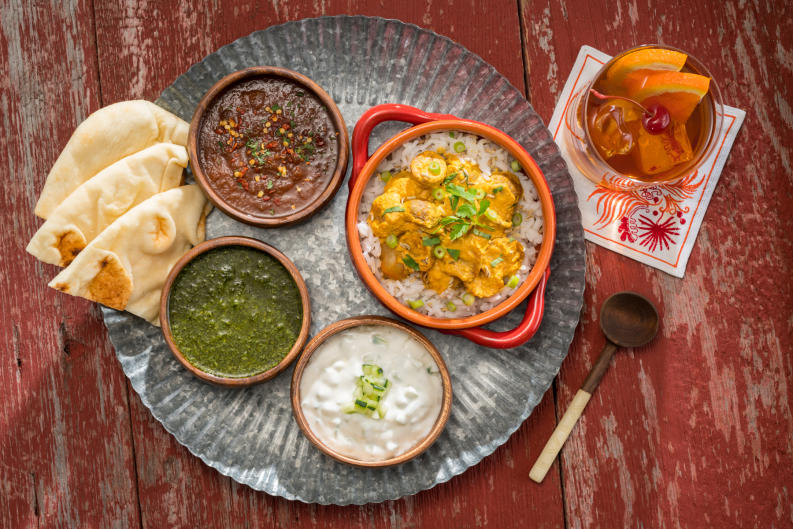 Restaurant Week Indian platter
Photo Credit: Experience Grand Rapids
---
Located off the beaten path near Cannonsburg Ski Resort, Honey Creek in is the perfect place to get bite after a chilly day on the slopes. A homey, historic pub, you feel a bit like you are stepping back in time or overseas when you enter. The food will make you feel like you are stepping into your grandmothers kitchen. Their restaurant week menu is filled with comfort food with an upscale twist. Finish with their Chocolate Raspberry Cheesecake. It is called award winning for a reason.
Tucked away near strip malls and almost hidden, Marco regulars probably don't mind that it is a little hard to find. But then again, it clearly has a word of mouth reputation because it is always full. Their Restaurant Week menu is filled with delicious, homey dishes such as braised duck, rainbow trout and glazed short ribs. Their dessert options sing the praises of two of Michigan's best offerings, apples and cherries. So make sure and save room.
Right on Wealthy Street in the middle of Gaslight Village in East Grand Rapids, Olives is the perfect place to land for a night out. They don't offer many choices for Restaurant Week but what they do offer sounds delicious. Start with a crab cake nestled between two fried green tomatoes followed by a delicious sounding ravioli. Dessert is blueberry cobbler. If that doesn't strike your fancy, their regular menu has never disappointed.
This is another restaurant that is a little hard to find, but don't overlook it. They serve authentic Persian food that is absolutely delicious. Think cucumber-feta salad, kabobs and lamb. Of course Persian food wouldn't be complete without baklava for dessert. If you can't make it here for Restaurant Week make sure you come back another time. Not only is their food yummy but their service is superb.
The signature restaurant of Watermark Country Club, Watermark elevates typical country club food beyond most. For Restaurant Week they are offering three courses with an additional course of alcoholic or non-alcoholic drinks. You have 4-5 choices for each course so there is a lot to choose from. Everyone in your party should be happy!
Now that Restaurant Week is wrapping up, what was your favorite?
Don't ever miss a post!
Sign-up for the Insider Experience Blog