When my oldest child outgrew his training wheels, my husband and I piled kids, helmets, bikes and water-filled sport bottles into our truck and began our first family bicycling adventure at a trailhead of White Pine Trail, just north of downtown Grand Rapids. At 93.5 miles, White Pine Trail is Michigan's longest rail-trail (old railroad lines converted for recreational use) and we didn't plan to cover even a tenth of it. But the initial section is paved--it was perfect for our family's foray into biking.
Over the years, we've discovered that White Pine Trail is just a drop in the bucket in the West Michigan bicycling scene. In fact, Grand Rapids was named a top "Bicycle-Friendly Community" by the League of American Bicyclists in 2009 and the "Best Town for Mountain Biking" by Outside magazine in 2010.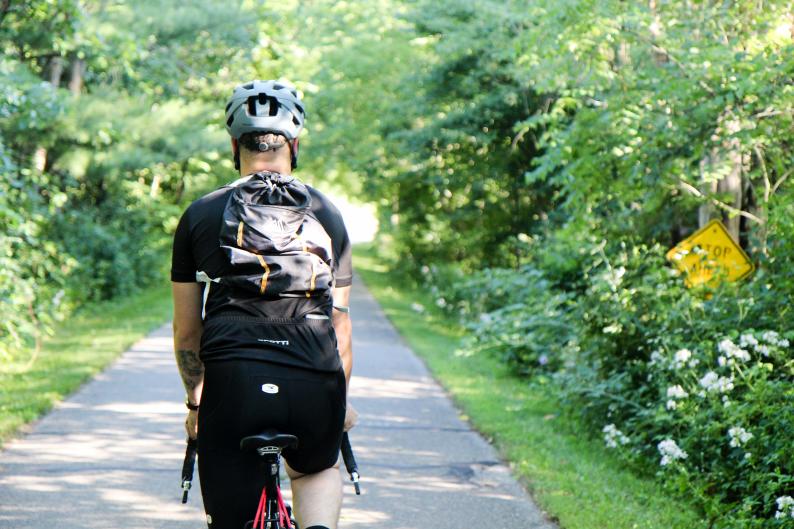 White Pine Trail biking
Photo Credit: Matthew Medendorp
---
For riders who enjoy trail biking there are miles of scenic routes in and around Grand Rapids, from the 20-mile trails in Millennium Park to the slightly hilly 4.2 ride around Reeds Lake Trail to the 93.5 mile White Pine Trail where my family first ventured forth. If you have kids who can endure 4.2 miles on a bike, and you're up for a family ride, I recommend cycling the Reeds Lake Trail, where you can start and end your ride in the quaint downtown area of East Grand Rapids. A cant-miss ending includes treating everyone to dinner on the deck at Roses restaurant. But don't order too much--the kids will want to swing by Jersey Junction afterwards to order a scoop of their favorite ice cream and score some old-fashioned penny candy.
Grand Rapids trails also rise to the challenge for more serious bicycle enthusiasts, who prefer not to end their rides with penny candy.
Mountain bike and crisscross riders can tackle miles of trails, from a short 5-mile ride through Robinette's apple orchard (and the nearby hills) to the steeper topography at Cannonsburg State Game Area or Cannonsburg Ski Area. With both flat and hilly terrain, the nine miles of trail at Luton Park in Rockford suits both advanced and beginning riders. (Its also a multi-use trail, so be sure to yield to hikers and runners).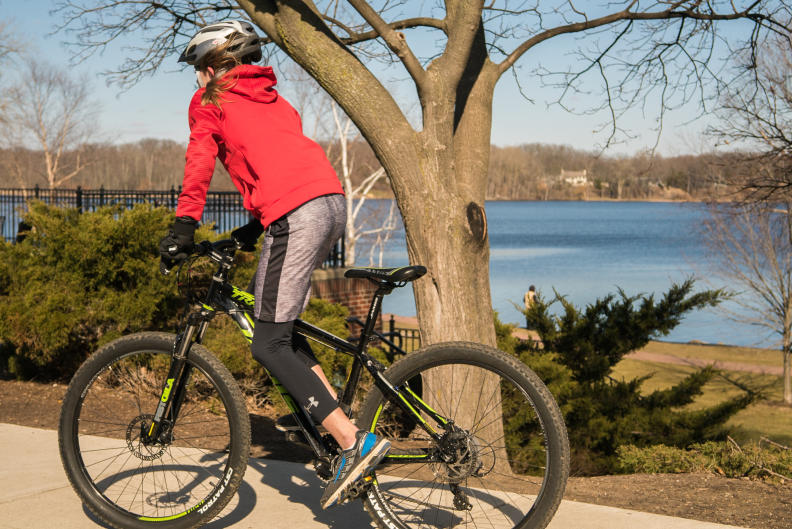 Biking Around Reeds Lake
Photo Credit: Experience Grand Rapids
---
Road riders aren't left in the dust in Grand Rapids--click here for a printable map street bike routes throughout the Grand Rapids area. The city plans to add 100 miles of bike lanes over the next 4 years.
We also have races. Lots of races! The Grand Rapids race season will kick off on March 23, 2013 with the fifth annual Founders Brewing Company Barry-Roubaix race. Open to road bikes, mountain bikes, cyclocross bikes, fatbikes, and tandem bikes, this race challenges riders with lots of gravel, a little pavement, and heaps of natural elements, including mud, sand and, possibly, snow. Riders climb 2200 feet over 35 miles, beginning and ending in Hastings, MI.
The Barry-Roubaix race exemplifies the growing popularity of bicycling in West Michigan. In its first year, 280 riders participated in the Barry-Roubaix race at Long Lake Outdoor Center. Rick Plite, Race Director, and owner of Kisscross Events, which hosts the Barry-Roubaix race as well as others, says they maxed the capacity of that space the first year, and in 2010, he moved the event to the Yankee Springs Recreation Area. This year, increasing registration numbers prompted Plite, with support from staff at Founders Brewing Co., to move to the race to Hastings, MI. Capacity for this years race is capped at 3,000 participants.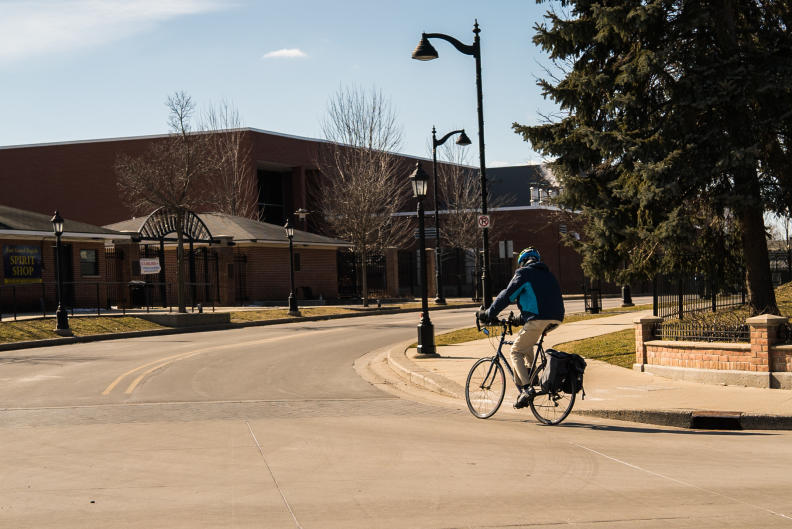 Road riding around Reeds Lake
Photo Credit: Experience Grand Rapids
---
Founders Brewing has been instrumental in supporting the growth of the Barry-Roubaix race. "My first foray into bike racing was the Kisscross Cyclocross series," says Plite. "The motto was--and is--Racing for Beer, and it was a very casual event with between 40 to 80 people. I approached Founders and asked them to sponsor my event by donating two six-packs one for the mens winner and one for the women's winner." Founders agreed to that first donation and has been supportive of Plite's races ever since.
Founders contribution has grown from providing 2 six-packs of beer to a couple of winners to sponsoring Plite's Lumberjack 100, a challenging 100-mile mountain bike race through picturesque Manistee National Forest, as well as the upcoming Barry-Roubaix race and its after-party.
Yes, thats right. Founders Brewing Co. sponsors the Barry-Roubaix after-party.
"Last year, it was pretty simple," says Plite. "But this year its going to explode! They're closing 4 city blocks in downtown Hastings and one entire block will consists of the beer tent." Plite says they'll also have a DJ, a band that starts at 2:00, and plenty of food, with vendors What the Truck, Jets Pizza, Mongolian BBQ, and Sandy Schondelmayer pulled pork sandwiches providing appetizing sustenance for all. The Founders party begins at 11:00 a.m., is open to the public, and is expected to end around 6:00 p.m.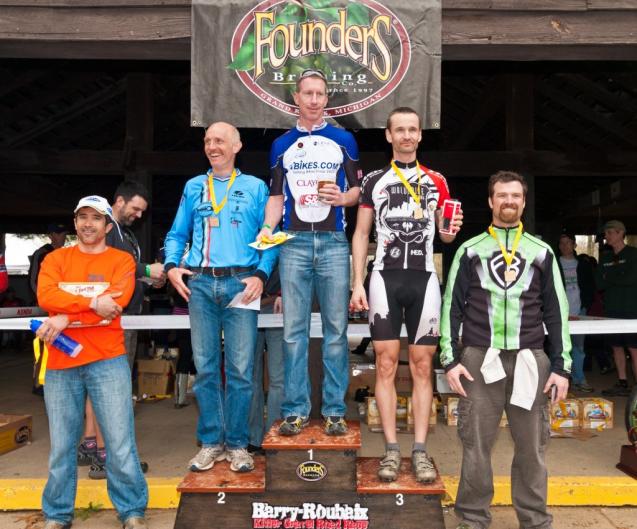 Barry-Roubaix Race
Photo Credit: Jack Kunnen Photography
---
If the idea of racing through difficult terrain appeals to you, the Grand Rapids area has several other races including the West Michigan Stage Race (May 17-19, 2013), the Herman Miller Brickyard Criterium (June 29, 2013), the Gaslight Criterium (August 18, 2013) and the Battle at the Burg (September 13 & 14, 2013).
Grand Rapids races aren't limited to just bikes. If you want to add an adventure component to your bicycling--think canoeing, orienteering, and cross-country running--check out the Grand Rapids Urban Adventure Race (June 29, 2013). For cyclists inclined to add swimming and running to your arsenal, the Grand Rapids Triathlon or the iron-length Michigan Titanium fit the bill.
Whether you're registering for a race, taking the kids out for a spin, on vacation and want to experience the beautiful West Michigan landscape on your bike, or looking for a serious ride--which will still offer some serious scenery--Grand Rapids has the bike trail for you.
Never Miss a Post!
Subscribe to the Insider Experience blog.