Reeds Lake is a classic Grand Rapids cycling route. In all sorts of weather you'll encounter a variety of people, bikes, and dog walkers taking advantage of the paved pathways and quiet neighborhoods around Reeds. It's the perfect place for a lazy weekend spin or a hard-charging, weekday ride.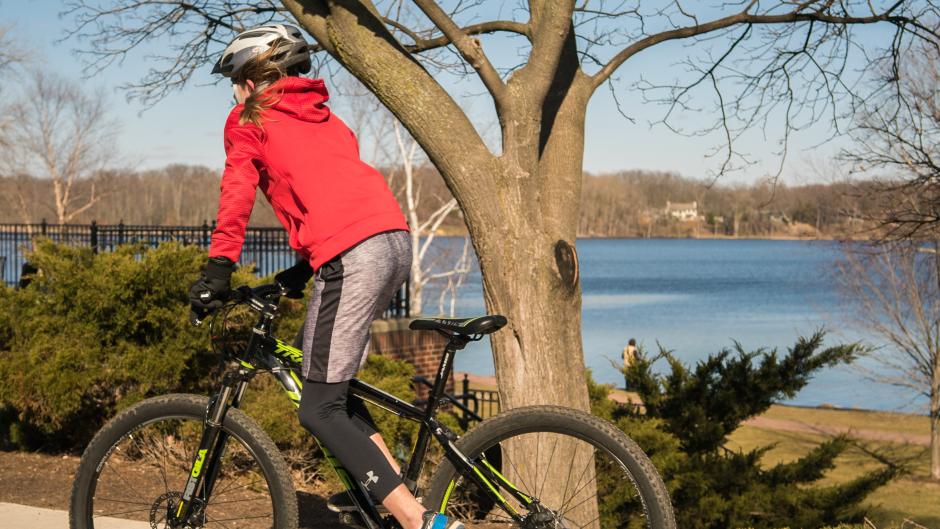 Take GR Driving Change's road relationship quiz to put your road skills to the test.
Photo Credit: Experience Grand Rapids
---
Bike Etiquette:
Bike safety and etiquette are paramount, no matter what level of biking experience you may have. Take GR Driving Change's road relationship quiz to put your road skills to the test. For a refresher on bike safety and etiquette, head to GR Driving Change to go over the rules of the road for both cyclists and drivers. Also, download the My City Bikes app for maps of local trails, bike retailers, and overall biking tips. (Click here to download My City Bikes for Andriod users. Click here to download My City Bikes for Apple users.)
Parking:
Start your bike route at John Collins Park. There's parking along the street and if you can't find any there, check out the Gaslight Village Parking Garage located at the corner of Wealthy Street and Shopping Center Road (on the other side of Lakeside Drive, near Athleta and Starbucks).
Direction:
Bike clockwise around Reeds Lake if you'd like to follow the route mile markers. You'll notice that the majority of bikers choose to bike this way, but feel free to bike whichever direction you prefer.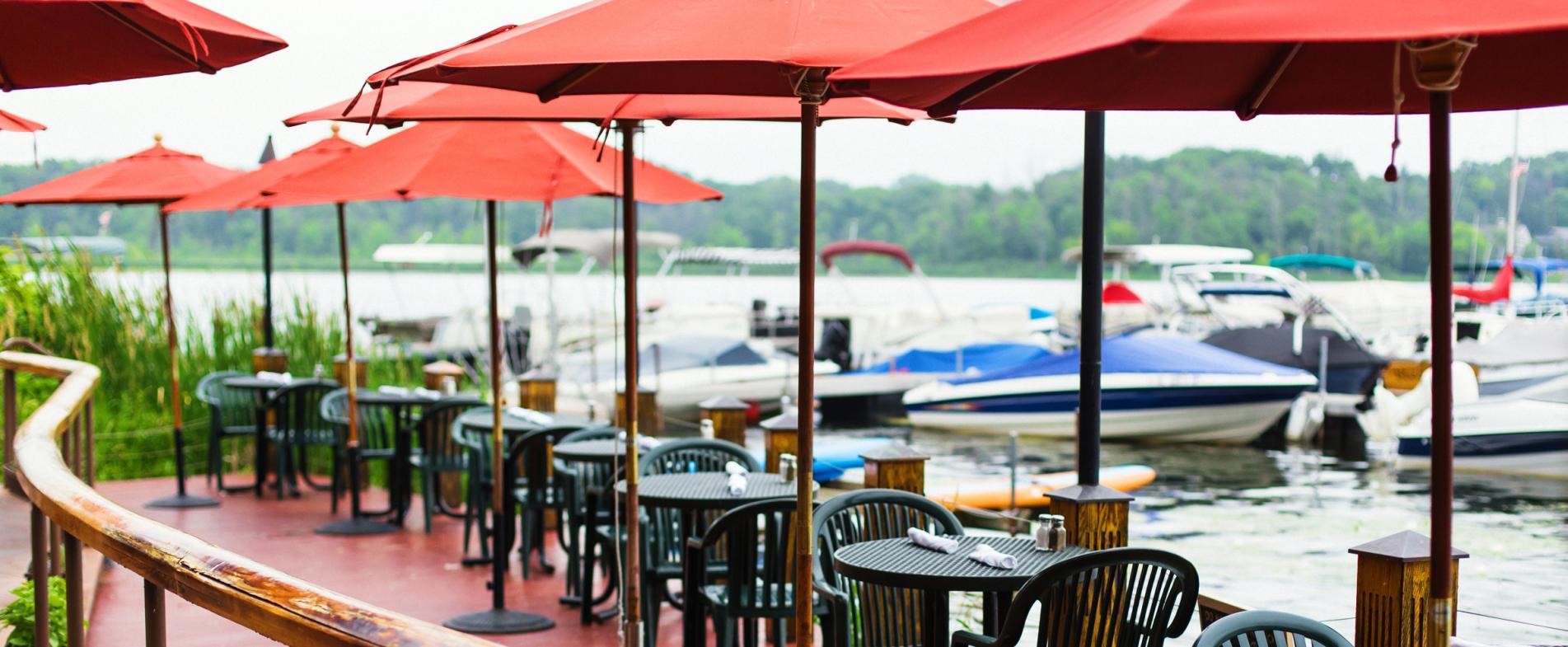 Make sure to sit on Rose's waterfront patio, enjoy their complementary caramel corn, and admire the menus for a local history lesson!
Photo Credit: Gilmore Collection
Pre-route:
Looking to dine-in before your ride? Try Rose's, located right next to John Collins Park. Rose's has plenty of bike racks and an outdoor deck overlooking Reeds Lake and the nearby yacht club.
If you happen to be looking to enjoy John Collins Park's excellent outdoor area, try Rose's Express for a gourmet picnic. The park boasts an abundance of benches, tables, and open grassy areas to lay down a blanket or toss a frisbee.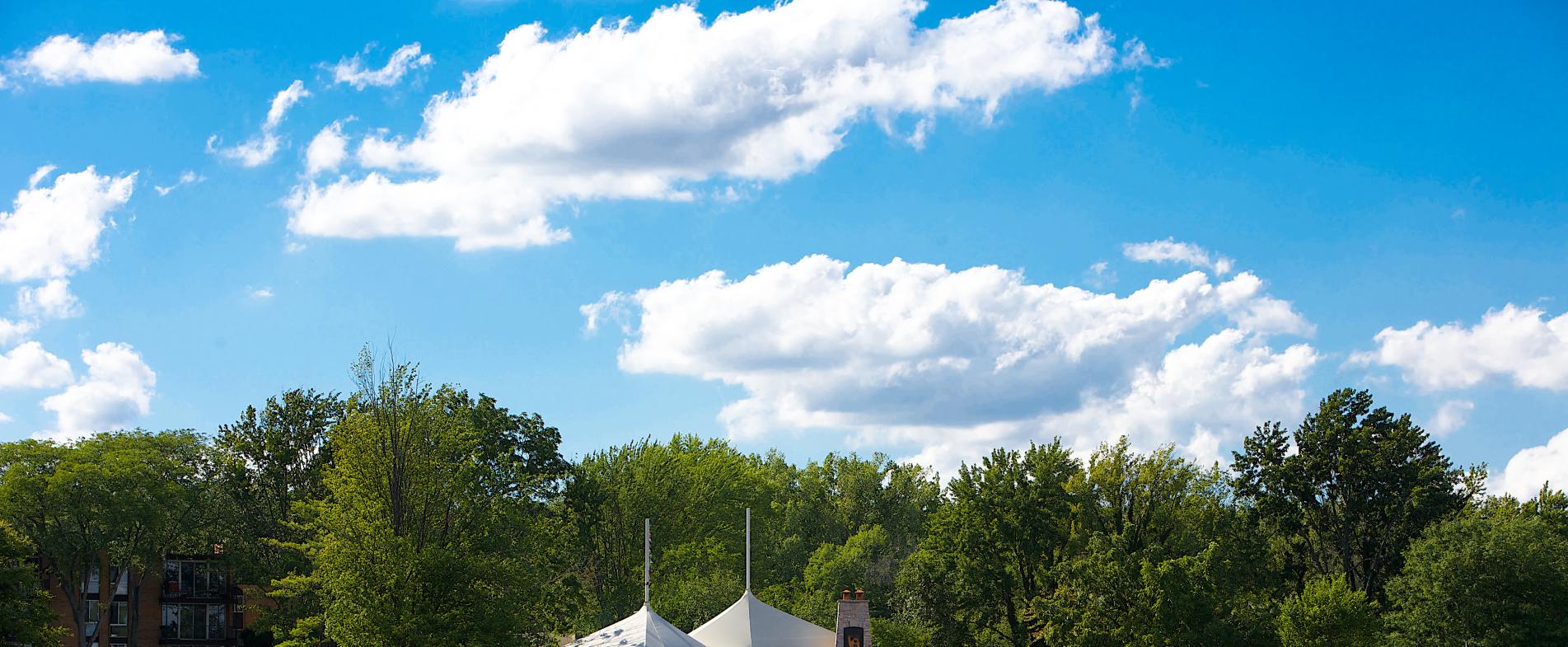 Fact: Reeds Lake is 283 acres and approximately 52 feet deep at its lowest point!
Photo Credit: Experience Grand Rapids
Reeds Lake bike route:
Embrace the beautiful scene of lake views, dog-walkers, and picnickers as you officially take off at mile marker zero. Before you take off, make sure to use the water station and restrooms located at John Collins Park (this is the only official stop for water and bathroom breaks along the route).
As you takeoff on the Reeds Lake bike route, you'll experience the flattest and widest paved sections of the trail with a scenic overlook. The overlook presents an opportunity for riders to take a picture of the gorgeous scenery, re-adjust their bike equipment, and prepare for the four-mile route ahead.
Prior to reaching the first mile marker, you'll approach the Hodenpyl Woods. which also has a mile-long scenic Wildflower Trail. If you choose to view the scenic Hodenpyl Woods, make sure to check out the wood's map, and plant identification map.
Mile 1
Travel through adjacent parks filled with wooded trails and slight hills. Follow the trail along Reeds Lake Boulevard to view welcoming East Grand Rapids neighborhoods and admire the beautiful architecture.
Mile 2
You can tell by the upcoming hum of cars in the distance that you're approaching the section of the trail that runs parallel to East Beltline. This is a good time to take a brief rest, prior to crossing the stop sign and biking down the busy road.
Mile 2.75
Once Reeds Lake Boulevard meets Hall Street, you'll experience the steepest incline of the trail. It's a pretty daunting hill, and there's no shame in walking. Once you're at the top, catch your breath and rehydrate before heading straight up Hall Street.
Mile 3.4
Once you reach the intersection of Hall Street and Lake Drive, take a right (onto Lake Drive). This where the Canepa Tennis Center is located. It's also the busiest stretch of the trail and the paved path transitions into a regular suburban sidewalk. Drivers are used to seeing a steady stream of bikers along this route, but make sure to exercise good judgement.
Mile 4.0
Follow Lake Drive until it reaches Lakeside Drive, and then take a right at East Grand Rapids where you'll pass the Middle School tennis courts and the local fire station. Shortly after, you'll return to John Collins Park.
Post-route:
After getting a good workout in, head to East Grand Rapids' Gaslight Village neighborhood for a coffee at the local Starbucks, ice cream at Jersey Junction, or snack at one of the many nearby restaurants.
Or, if you're interested in shopping, check out Gaslight Village's storefronts and boutiques, such as Rosa's Closet for expertly curated resale or Duffield Lane for a range of women's apparel.
Curious about more bike routes throughout Grand Rapids? Check out our site for other biking trails, or My City Bikes to learn more about cycling throughout Grand Rapids.