Once spring arrives and northerly bird migrations begin, Jan Lewis will grab her camera and head out to Reeds Lake. With its marshes, boardwalks and tree-lined shores, the East Grand Rapids resident finds it is one of city's best birdwatching destinations. And she's not alone.
Birders have observed more than 200 species there, according to eBird, the online observation site launched in 2002 by Cornell Laboratory of Ornithology and National Audubon Society. The website draws birders from across the U.S. who record their sightings and learn what else is being seen. Reed's Lake is the No.1 Kent County Hotspot and 84 species have been reported there so far this year.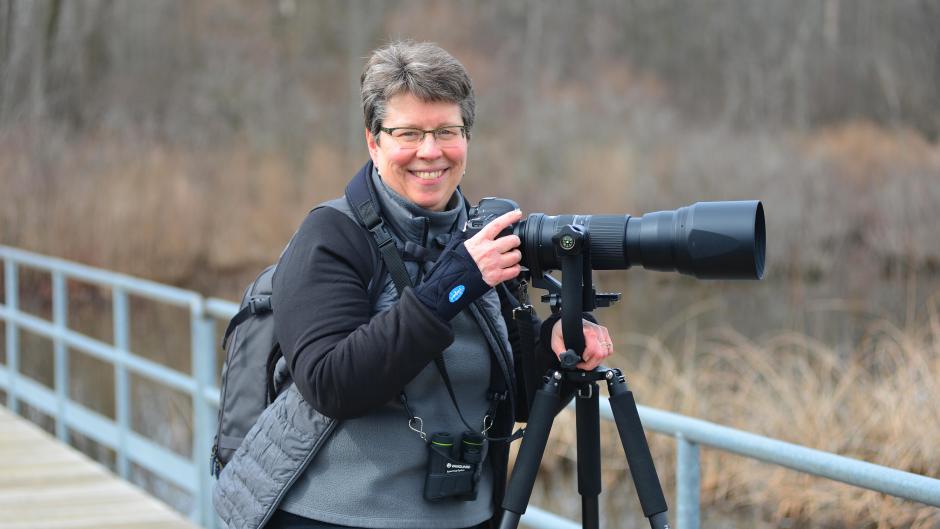 Bird photographer Jan Lewis at Reed's Lake
Photo Credit: Howard Meyerson
---
"I spend an average of a couple hours a week at Reed's Lake," says Lewis, an East Grand Rapids bird photographer, janlewisphoto.com, whose image of a backyard House Finch won grand prize in a  photography contest sponsored by Cornell Laboratory of Ornithology, in Ithaca New York. "It's one of my favorite places because it is very close and I've seen eagles, warblers, Red-winged Blackbirds, and a variety of waterfowl."
Common Loons, Great Horned Owls, Pileated Woodpeckers, Killdeer and Cooper's Hawks are just some of the birds that have been observed at Reed's Lake this spring. Watching birds is relatively easy. It helps to have binoculars or spotting scope and birdwatcher's field guide, but Waterfront Park, 2205 Reeds Lake Blvd., East Grand Rapids, where accessible boardwalks extend into the lake, makes birdwatching something that anyone can enjoy.  
Birdwatching is popular
Approximately 2 million people, residents and non-residents, enjoyed birdwatching in Michigan during 2011, according to the U.S. Fish & Wildlife Service which tracks those numbers and last reported them that year. Most (1.6 million) watched birds in their backyards. Another 818,000 traveled to enjoy the pursuit. "Wildlife Watching," the broad category that includes birdwatching, along with feeding, photographing, and traveling to see other wildlife, accounted for $1.2 billion spent annually in Michigan.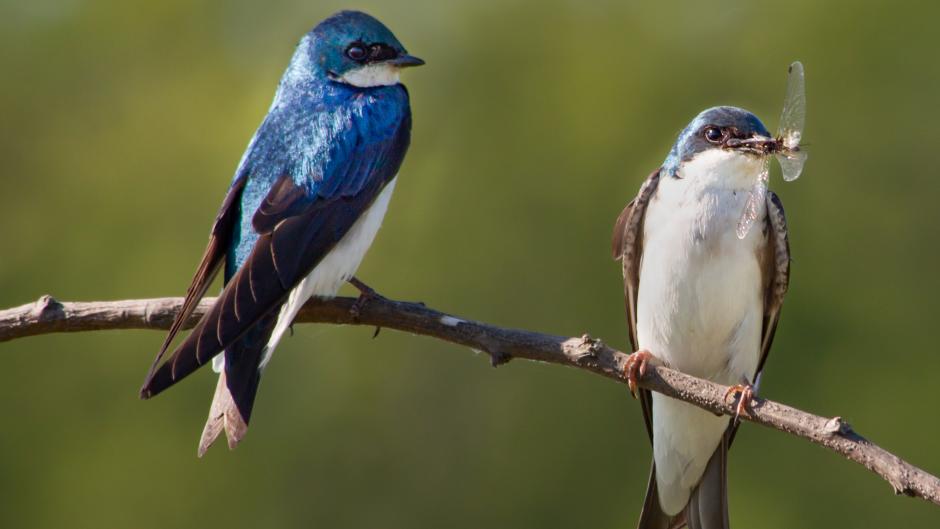 Tree Swallows perching on a branch at Millennium Park.
Photo Credit: Jan Lewis
---
"Reed's Lake is always a good spot," notes Steve Minard, the field-trip chairperson for Grand Rapids Audubon Club. Minard has been birdwatching for nearly 40 years. He leads approximately 10 local field trips annually, seeking out the best destinations in every season.
"My standard route is along the south side of the lake," Minard said. "But Waterfront Park is sometimes better. You get a better view of the waterfowl. It's also been one of my better places for finding warblers in recent years. I find as many, or more, Baltimore Orioles there than other places. Orioles, Eastern Kingbirds, Kingfishers and swans nest there.
Best times of day
Experienced birdwatchers know that early morning is the best time to see birds, along with late afternoon and early evening. Many veterans identify bird species by their songs. Most sing in the morning before seeming to disappear once the sun climbs high.
"The birds are most active early," Minard explains. "And a second peak comes in late afternoon and early evening, until dusk. Weather is a big factor. If it's cloudy and overcast they will be active all day long, but if it's a sunny they go off and are harder to find."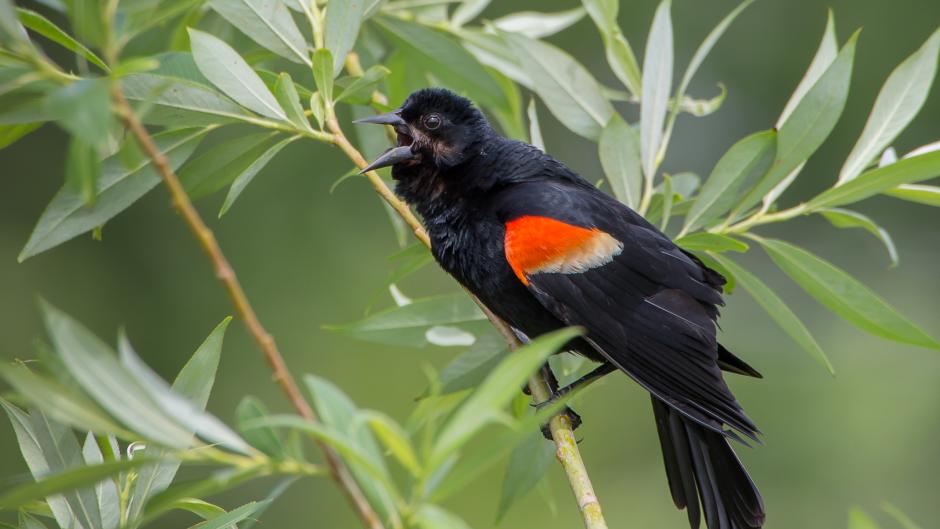 Red-winged Blackbird singing at Waterfront Park at Reeds Lake.
Photo Credit: Jan Lewis
---
Kent County's Millennium Park is another great spot for birdwatching.  The 1,400 acre park, at 1415 Maynard Ave SW, Walker, is listed on eBird as the Number 2 Hotspot for Kent County with 194 species having been seen there over time. The park includes 6 miles of Grand River frontage and open fields and forests.
"Millennium is really good," Minard said. "If you hike out to the river and the floodplain, you can see interesting birds like the Prothonotary Warbler and Yellow-throated Warbler.  Birding is always at its best in May during the spring migration, but more and more it is good at the end of April. On a poor day you can see 20 to 30 species, but as we get further into spring, you might see 50 or 60 species in a day if you work at it."
Other good spots
eBird lists a variety of areas in Kent County, but two other nearby sites include:
Roselle Park: The 240-acre nature preserve in Ada, 1010 Grand River Drive NE, has wetland observation deck which is always a good place to start. Birders have reported 182 species there, making it Number 4 in the Hotspot listings. The park trails wind through the property where Cedar Waxwings are seen and American Goldfinches. eBird observers have also reported a Bald Eagle, American Kestrel and Sandhill Crane this spring. 
Huff Park: This Grand Rapids neighborhood park, 2399 Ball Ave. NE., has a three ball diamonds and playground but don't let the urban amenities fool you. Its 30-acre wetland boardwalk trail and natural area is a magnet for birds. The park is 6th in Kent County eBird listing and 158 bird species have been observed there over the years.
For a complete list of birdwatching hotspots in Kent County, check out the latest list on eBird. 
Never miss a post!
Sign-up for the Insider Experience blog.