Amidst the chaos of 2020, Black Calder Brewing Company found itself in a supremely unusual position: trying to open a Grand Rapids brewery in the middle of a pandemic.
I got to speak with Terry Rostic, one of the two owners of Black Calder, Michigan's first Black-owned brewery, about the journey to opening and their unconventional approach to becoming a reality.
A Chance Meeting
"I was thinking about opening a brewery for a long time," Rostic shared with me. "I'd go to breweries and see people that didn't look like me. It would be great if there were something that spoke to my culture, and brewing is about making beer that speaks to you."
Pursuing his dream of opening a brewery, he attended a minority-focused business creation workshop and met Jamaal Ewing, who specializes in creating business plans for proposed businesses.
"I went up to him and asked him if he wanted to start a brewery," Rostic said. "He looked at me and said, 'why are you asking me that? Because I do.'"
Turns out these two share a lot of the same interests, hip hop, culture, and togetherness. "For us to get together just made sense," Rostic said.
He also shared an interesting life story that landed him in the same room as Jamaal that day, including multiple graduations from Cornerstone University and Grand Rapids Community College. A rejection from Grand Valley State spurned him towards Davenport University to further his studies, which is how he ended up at this one particular workshop that would change both of their lives.
"Everything happens for a reason," Rostic said. "Because of that path, I ended up meeting Jamaal. I don't know why I [walked up to him that day], it's a weird thing to do, and here we are."
Once a business plan was drawn up, easily the most daunting part of opening a new brewery (and the most common failure point of any brewery-owner-to-be) loomed: finding the money.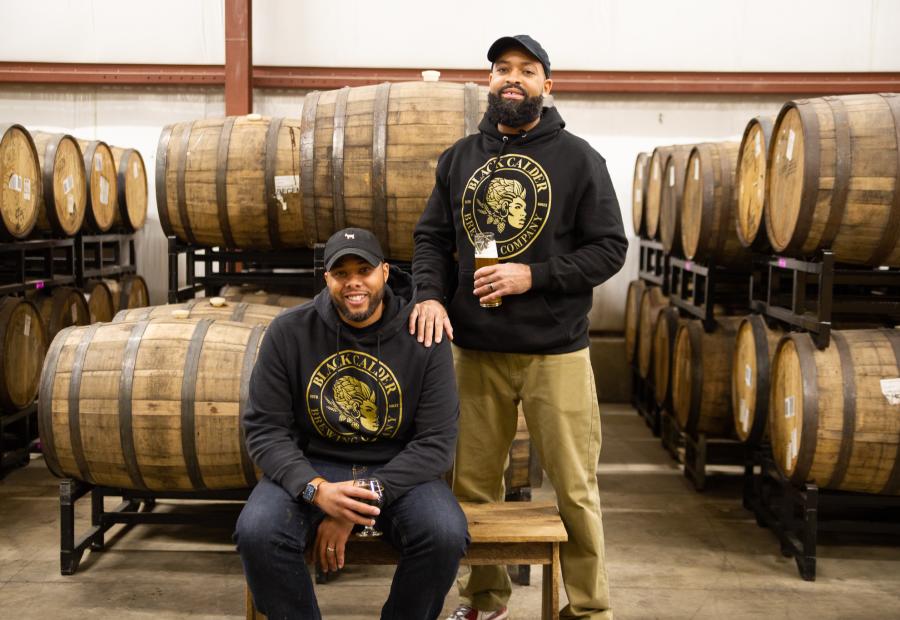 Terry Rostic (left) and Jamaal Ewing (right) happened to meet at a minority-focused business creation workshop. As fate would have it, they both wanted to start a brewery.
Photo by Fearless Brother LLC
800 Applicants, One Winner
"Jamaal and I funded this ourselves," Rostic shared. "We started off with a dream and a couple dollars. Some breweries start in a garage, you know?"
Another significant impact point for Black Calder was introduced soon: Start Garden 100, which is a presentation-based funding grant for new entrepreneurs, where the winner takes home $20,000. With their business plan established, Jamaal and Terry applied.
"We were one of 800 entries," Rostic said. "All the things that come with starting a business, the things you don't know, that 20k really helped. If we didn't win Start Garden, we wouldn't be here today."
With some funding secured, it was time to start looking for a brick-and-mortar location for their new brewery. Staying true to their cultural roots and their desire to contribute to their community, they eyed the southeast side of Grand Rapids.
"We struggled finding a place where we wanted to be," Rostic told me. "People have a stake in the southeast side. We were pursuing buildings and opportunities but just couldn't find traction. That kept pushing our production back and pushing our ideas back, and it just wasn't there to work out. We'd start to think it was going to happen, and then Covid hit."
"Are We Going to Find a Way to Make This Work?"
March 2020. A stay-at-home order with an undetermined end, dine-in shut down, no customers in the building, takeout only, and a fledgling Black Calder who just wanted to exist.
"Now we have no idea what the brewing industry is going to look like. Our idea was to get people to come together, congregate, all backgrounds coming together to enjoy culture and togetherness," Rostic said. "We realized early on, with brick and mortar – would we even make it through Covid? That was March. Even today (nearly a year later), things aren't that much better as far as what the industry is looking like. Out of that, we had to figure out a way to get our beer out there. Do we keep delaying our dream, delaying our vision? Or are we going to find a way to make this work?"
There was another major connection made at the Start Garden 100: Before their presentation, they met Kris Spaulding, co-owner of Brewery Vivant, and expressed their desire to open a brewery. After winning, they kept in touch and ended up receiving a great amount of support from Kris and her husband, Brewery Vivant's other co-owner Jason Spaulding.
"Any questions I had, equipment, plans – they've been so supportive," Rostic shared. "They haven't been the only brewery that's reached out, City Built, Mitten and Founders – they've all been so welcoming. That willingness to help, to be there for you, or tell you don't make this or that mistake, is incredible."
With some funding secured and community support present, the only thing that was left to do was to answer the question, "are we going to find a way to make this work?"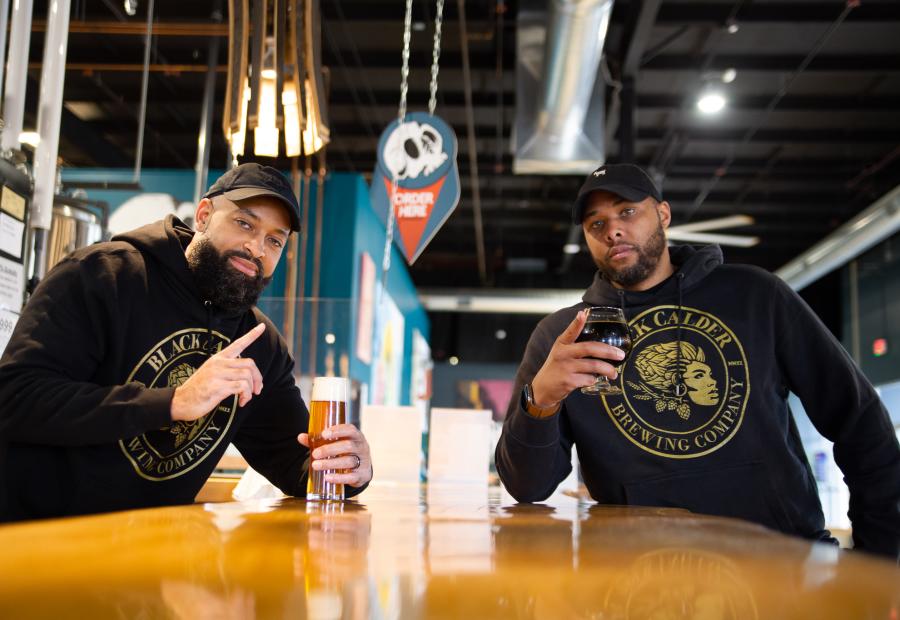 Ewing and Rostic at Broad Leaf Local Beer, where their beer is currently being distributed.
Photo by Fearless Brother LLC
Community Support & Creative Solutions
I spoke with Jason Spaulding of Brewery Vivant:
"[Kris and I] were able to mentor him through Start Garden," Spaulding told me. "We did that for a little bit and listened to his plans to see if there were ways we could help him get to the next stage. […] Got to know him through this process of ups and downs, looking for places only to lose them, all these things pushing back his timeline, and we finally just said hey, let's get some beer going for you guys."
Contract brewing? A unique solution for a truly unique situation presented itself, and even the means of how to get it done.
"Contracting was never really something we wanted to do in the beginning," Rostic said. "As I started to think about contracting and how to make it work, they were on board right away."
"We've been able to get some beer into the market while they're getting their infrastructure in place," Spaulding said. "It's also trying to make something good happen in a time when it's so easy to focus on the negative."
"Dope Beer for Dope People"
With the assistance from Brewery Vivant and their sister brewery, Broad Leaf, Black Calder came to life with their first beer release ever, Jamaal and Terry's first beer they made together, a killer Black IPA.
"We had made plenty of beers, but the Black IPA was a really great recipe. So we're like this has to be our first beer," Rostic said. "Scaling up was an adjustment, learning that was a huge process, but it was so fun. Here's our beer. Seeing it coming down the canning line, thinking about the labels and artwork!"
They had a big party planned for the release, but Covid had other plans.
"We had this big plan, 'the blackest Friday', have this event at Broad Leaf, feature the food we're eventually going to have at our brick and mortar. Cajun! Jambalaya, alligator, this huge celebration type of event. Come join us – then we had the ultimate shutdown," Rostic said. "There's nothing. No indoor dining, we had to cancel it. We went from doing kegs to canning it all. Canning more cases than we thought we were ever going to can, then we're thinking, are people going to buy all this?"
The preorder went live and Terry and Jamaal were at a computer watching the orders come in. Beer. Tshirts. Beer. Beer. More beer. More shirts. Then -
"We sold out!" Rostic laughed. The nerves, fret and stress had paid off. Terry and Jamaal headed to Broad Leaf for pickup day on Black Friday, although sans cajun extravaganza.
"We're there, we're greeting people, coming from Detroit – from everywhere – we were like, you're really going to drive five hours round trip to get our beer?" Rostic enthused. "Fist bumping and welcoming people, it was magical. To see people coming out for our beer. I'm that person. I had people coming out for mine. It was so humbling, and we haven't really looked back since."
Their next release, Bishop Juicy IPA, sold out in a matter of hours. That particular beer "may be coming back around", to the community's delight.
Their following release, the first beer in their BOUGIE Stout Series, sold out in four minutes.
"I remember calling Jason [Spaulding] and asking if the system was down," Rostic recalled. "He said 'no! You sold out!' It was crazy. Jeremy and Diamond (Headbrewer and Lead R&D Brewer at Founders Brewing) were there, cheering for us, we were like this is awesome! [Jeremy and Diamond] go, 'this is what beer is all about!'"
Black Calder's February 2021 release, another entry in the BOUGIE Stout Series, is a sweet potato pie version. "We also have a collab coming up with Eastern Market Brewing Co. in Detroit coming out around the end of February 2021, a mango vanilla imperial sour," Rostic shared. "Detroit brewery, Detroit artist, so that's been really cool."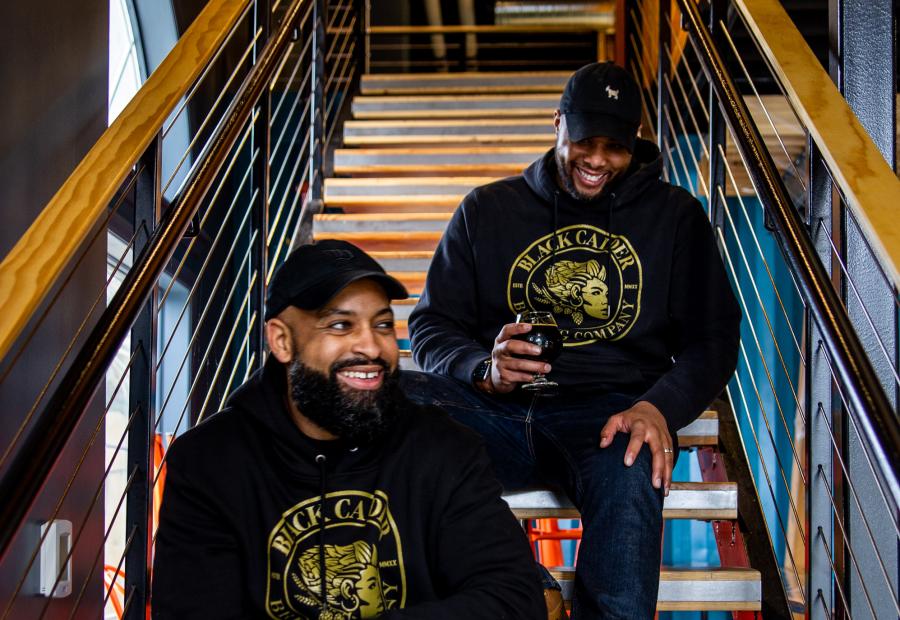 The search continues for Black Calder Brewing's permanent home, but where ever that may be, one thing is for sure: it will be a celebration of Black culture.
Photo by Fearless Brother LLC
Celebrating Black Culture, Beer, and Community
The future is looking bright for Black Calder. They're hoping for their own facility and taproom by the end of 2021, wherever that may be. They're hoping for Grand Rapids, but the possibility exists they may land elsewhere. Bringing culture and community wherever they go.
"I'm a Grand Rapids native," Rostic said. "I'd love to stay here, but we're open to the right location and the best impact. Beer goes beyond liquid, it's community impact."
A core aspect of Black Calder is their celebration of black culture, and it's very apparent not only in their product, but within themselves. I'm sure it will shine brightly in their future taproom, as it does through their words, actions and people they choose to work with, artists for label work, etc.
There's no denying that the beer industry has a major diversity problem. Not only in ownership, but also in followers and enthusiasts. This isn't to say there's no diversity at all; Black Calder is the result of two craft beer enthusiasts. Rather, there are major demographics that are not fully represented in craft beer.
In other words: it's very, very white. The most important thing to take from this acknowledgment is this: it's changing. Slowly, but it is, indeed, changing.
"The crazy thing about sharing black culture or what we love about our culture is that it's embraced. Black culture is American culture. From blues to rock and roll, it's all from black culture. I tell people it's everybody's culture to respect, cherish and like," Rostic told me.
"They're connecting with a customer that may not pay attention to craft, normally," Spaulding shared. "We've seen a lot of people come out to support these guys that may not be 'traditional' craft customers, it's positive all the way around."
That's what Rostic meant when he said he'd go to breweries and "not see people who looked like him". As a black man in the beer industry myself, I echo his sentiment intensely. It's important to note that the beer scene is not unwelcoming or exclusive, which Rostic pointed out in our interview (and I agree). We could spend twelve articles exploring this subject, it's massive and, understandably, very complicated. Maybe our first black-owned Michigan brewery is a great step in the right direction to a more diverse, evolving beer scene.
"We're providing education and culture and insights," Rostic shared. "It's not all fun and games. There's a social justice kind of learning aspect to what we're trying to do, and it's been well received. That's good, because we're going to keep doing it. We can't focus on beer and not tell you what we're about."
Cheers to that.
Personally, I'm immensely proud of our brewing community here in Grand Rapids. We've done some crazy stuff together, and the story of Black Calder is a story of endurance, community support, and some creative problem-solving. In short, it's the story of Grand Rapids.
Their story speaks to the strength of Grand Rapids' brewing community, which Black Calder Brewing is now, officially, a member of.
How to Find Black Calder Beer
Currently, the best way to score some of Black Calder's beer is to place an order through their website. Delivery is available within certain zip codes, which are also listed on the site, or an order can be picked up at Broad Leaf.