Blandford Nature Center is located just a half-mile north of Grand Rapids' thriving West Side Neighborhood, but it's just far enough to make you feel like you've entered a totally different place, a place where you can slow down and forget your to-do lists. 
Blandford Nature Center is located on 264 acres of preserved land, maintained by naturalists and volunteers. Meet West Michigan animals, explore trails, try out Blandford's sensory learning lab, and observe historical buildings in person during your visit.
You can visit Blandford any day and any time, from dawn to dusk, for trail-walking, but for any indoor exploration, be sure to visit Monday–Saturday, 9 AM–5 PM. Admission is $3 per person (ages 3 and up) and free for members. 
You'll know you've arrived when you see the parking lot ringed with buildings that make up Heritage Village: a log cabin, the Pioneer Barn, the Wege Environmental Education Center, the Learning Lab Schoolhouse, and the Mary Jane Dockeray Visitor Center. Whether you have one hour or five to dedicate to your visit, the visitor center is your first stop.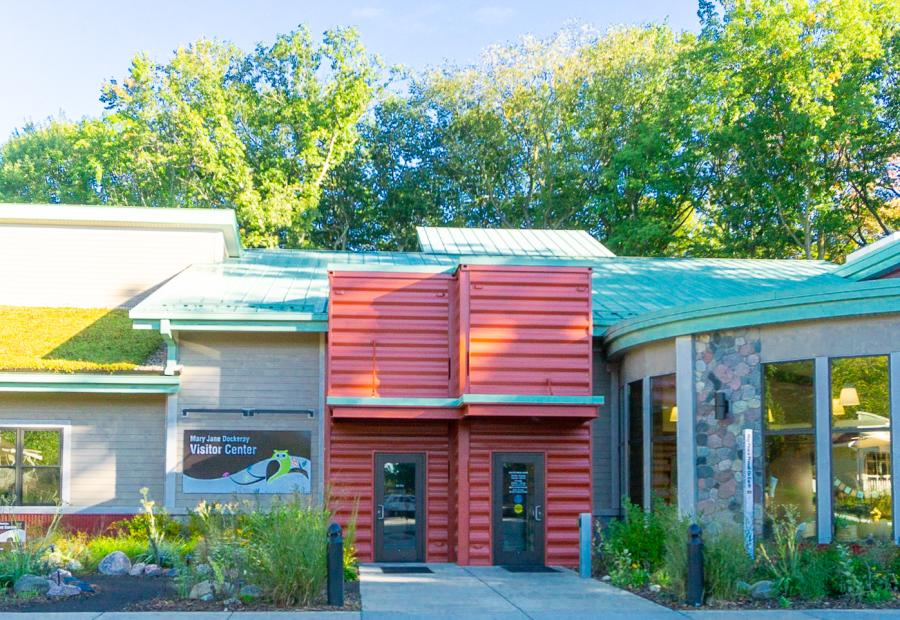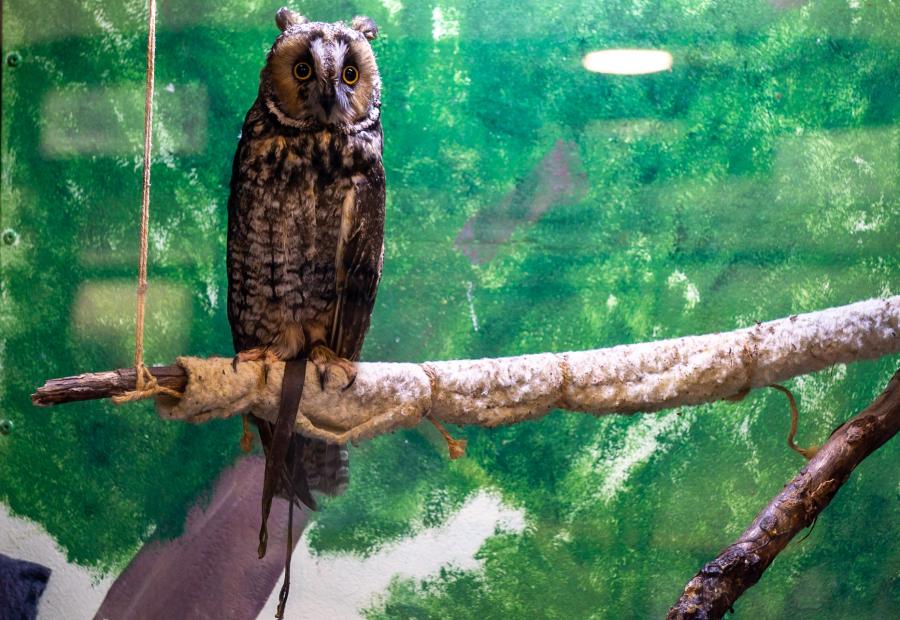 Besides human employees, the center is "overseen" by the half dozen owls who live there.
Photo by Brian Craig for Experience Grand Rapids
Mary Jane Dockeray Visitor Center
The center is named for Blandford founder and current board president, Mary Jane Dockeray. Her passion for Blandford is such that visitors may find her at the visitor center, along with the staff naturalists. In addition to the human employees, the center is "overseen" by the half dozen owls who live at the center as animal ambassadors.
Along with the owls, the center is home to turtles, an opossum, and frogs. All the animals have their names and back-story on a placard next to their area. These animal ambassadors live at the center because they have been injured in the wild and cannot survive without care from Blandford's staff of naturalists.
I happened to visit during feeding time, which was an educational experience that you may want to avoid if you're squeamish. Naturalists place two to four dead rodents within reach of the owls; due to past injuries, many of the owls are unable to hunt for themselves, so this is the best way to get them the nutrients they need.
Aside from the animal ambassadors, the visitor center has a gift shop, restrooms, and benches if you need a break from hiking. There is also an auditorium, where many scheduled community events take place: the 130-person space is rentable during weekday business hours.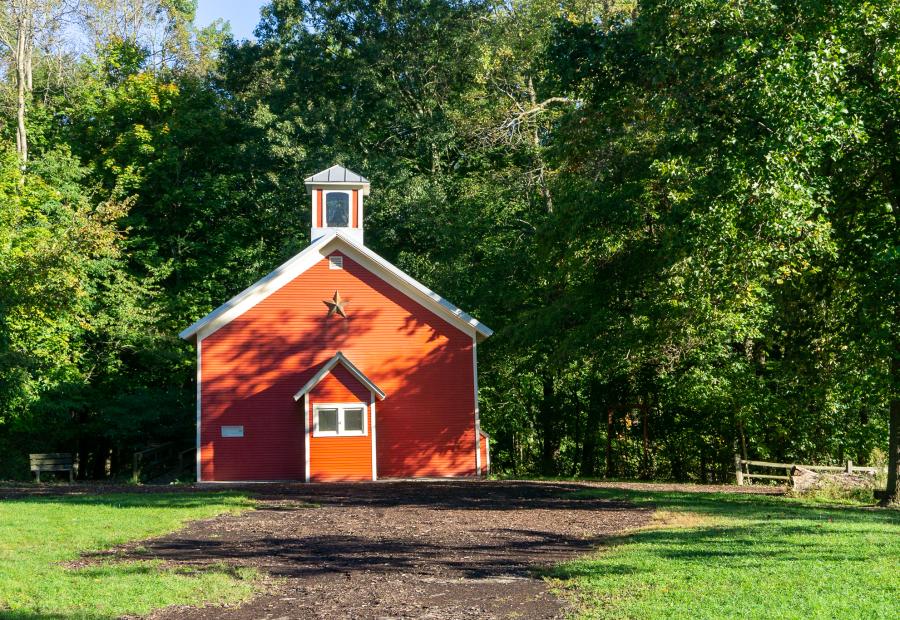 Blandford's Learning Lab is located in a one-room, 19th century schoolhouse.
Photo by Brian Craig for Experience Grand Rapids
The Learning Lab
If the weather on the day of your visit isn't cooperating, or your crew needs a rest after walking the trails, the Learning Lab is the perfect indoor space to take a break. The 19th-century one-room school-house is full of hands-on activities meant to be touched and explored: bird nests, wildlife action figures, different types of wood, and more.
My toddler isn't tall enough to see every activity, but even he recognized that this was a sensory room; a speedy crawl to the bookshelf with no one stopping him from yanking books off the shelf must have felt like an ultimate win.
There's a bathroom inside the lab and an accessible ramp along the side of the building to enter. The Learning Lab is open the same hours as the visitor center: enjoy Monday–Saturday, 9 AM–5 PM.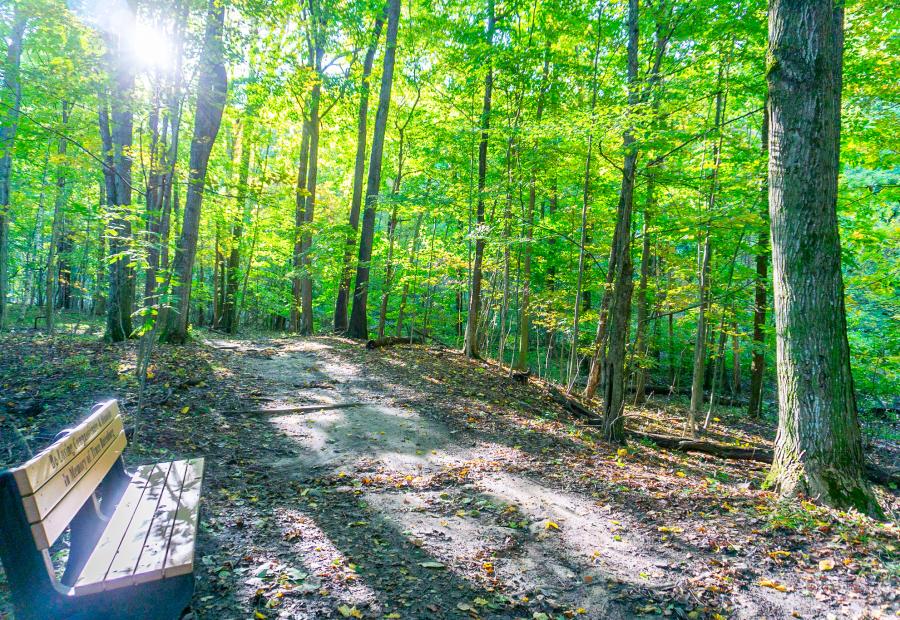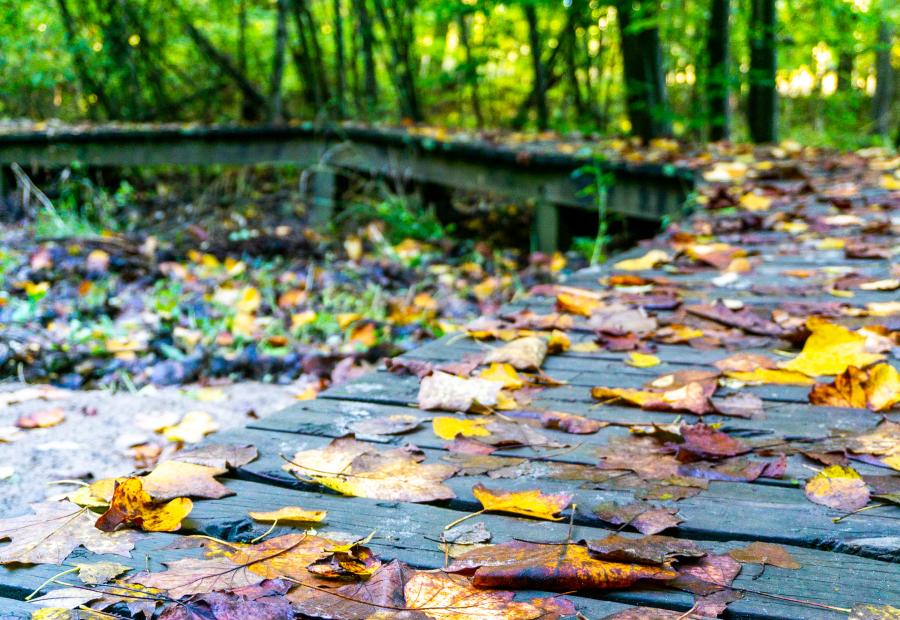 Blandford Nature Center has several miles of trails, including the 100-yard, mostly boardwalk Wildlife Trail.
Photo by Brian Craig for Experience Grand Rapids
The Trails
When you are ready to get outside, the adventure truly begins. Blandford and its surrounding 264 acres are linked by several miles of well-marked trails with plenty of options to fit the time frame you have to explore. 
If you do drive straight to a trailhead and skip the visitor center, you can add your $3 admission to a collection box located at trailheads. The Wildlife Trail was recommended to my kiddo and me because it's directly behind the Visitor Center and is about 100 yards long. You can spend five minutes or 20, depending on the speed and interests of your party. This trail is easy to push a stroller or wheelchair in because it's mostly boardwalk. While on the trail, you might see a hawk, a bobcat, more owls, or a crew of turkey vultures, depending on the time you arrive. 
All trails are open from dawn until dusk, year-round, and are maintained regularly. Dogs are allowed on all trails except the Wildlife Trail, as long as you use a leash and pick up after them. Many trails cross creeks and ravines, which make for great photo spots. A leisurely 15-minute stroll via trail was all it took for my family and me to go from the parking area to the Blandford Farm.
Blandford Farm
You'll know you've reached the farm when you see a red barn and the surrounding out-buildings needed for a working farm. The 2.5-acre plot boasts a community-supported agriculture (CSA) greenhouse that grows more than 200 varieties of fruits and veggies, and everywhere you turn you will either see, hear, or smell the animals.
Pro-tip: this area is difficult to navigate with a stroller, so this might be a good spot to let any kids roam on their own. If the walk to and from the visitor center won't work for your group, you can also drive straight to the farm! 
The Blandford School, a sixth-grade program through Grand Rapids Public Schools, takes care of the chickens at the farm, so if you're lucky enough to overlap with a classroom visit, you can learn a lot about the poultry at the farm.
The Highlands
Additional trails that stem from the Visitor's Center will lead to Blandford's most recent acquisition: The Highlands. Purchased in partnership with the Land Conservancy of West Michigan in 2017, The Highlands nearly doubled the land that Blandford Nature Center stewards. 
The 121 acres was a golf course for several decades, so its return to natural land has been considered a triumph by many. It now has two miles of looping trails that you can walk, cross-country ski, or snowshoe from dawn until dusk every day. I have skied and snowshoed here and would consider the two-mile loop the perfect beginner-level distance for a winter activity. I was sweating but not so drained that I needed to carry a backpack with water or snacks. 
You can use your own snowshoes and cross-country skis on the trails in the winter-time. Snowshoes are free to rent with a membership. Without one, adult snowshoes are $6 and kids are $3 in addition to admission. 
The paths are not groomed aside from the people who have trekked before you, so it's more of a workout than some trails in the area. You can see the backyards of some houses that back up to the park, but most places in the Highlands seem remote in a good way. No traffic noise or city sounds will reach you here.
This is a highly dog-friendly walk, but be aware that there are wetlands and species beginning to move into the area, so leash and pick-up rules apply.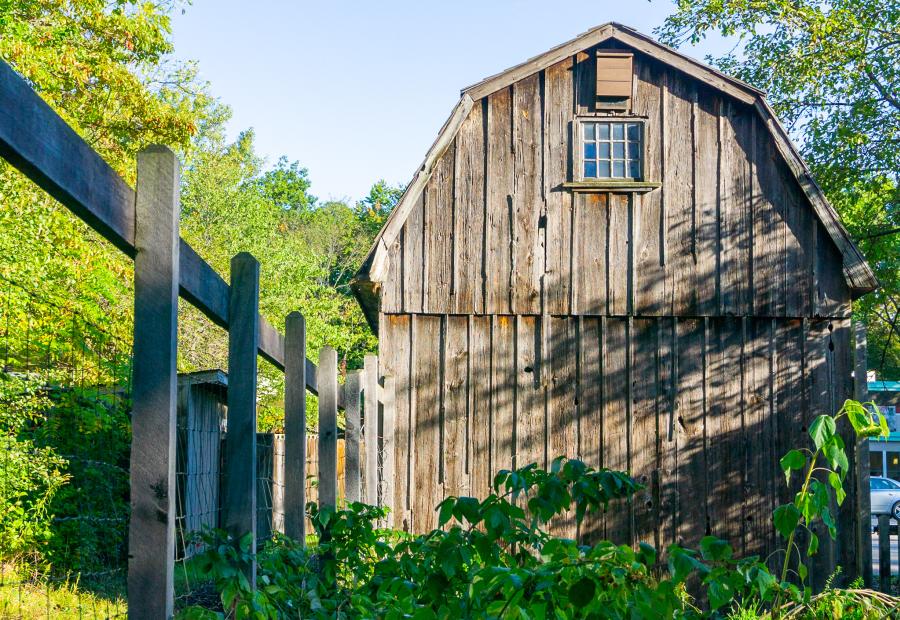 The rustic barn is one of several 19th century buildings you'll find at Blandford Nature Center
Photo by Brian Craig for Experience Grand Rapids
The Sugar Shack, Log Cabin, Rustic Barn, and WigWam
As you walk and explore the area, you'll notice helpful placards identifying buildings around the property. Many are closed year-round, except for major celebrations at the Nature Center. 
During the center's annual festivals and educational day-camp programs, these 19th-century buildings are staffed with volunteers who can immerse you in the history of the building and its purpose. Even if they aren't staffed, families can still explore the surrounding area.
Check the community calendar to see more opportunities for a close-up of these particular buildings.
Rentable Spaces
If you're in the market for a venue in which to meet for work, celebrate, or get closer to nature, Blandford Nature Center has three spaces to choose from. For pricing, availability, and capacity, check out their separate events page.
Blandford Nature Center's goal to educate, engage, and empower this community to safeguard local resources is gradual but ground-shifting work. The expert naturalists on staff, the volunteer task force, and the educational atmosphere of the area make it a valuable resource to West Michiganders and visitors to the area. 
The spaces at Blandford are kid-friendly, dog-friendly, and soul-friendly if you are craving a little more nature in your life. Happy Trails!