On a recent Saturday morning, my family of four embarked on an adventure to Blandford Nature Center. Tucked away off Lenoard Street on Grand Rapids' West Side, Blandford's mission is to provide a place for people in the community to enjoy, explore, and learn in nature.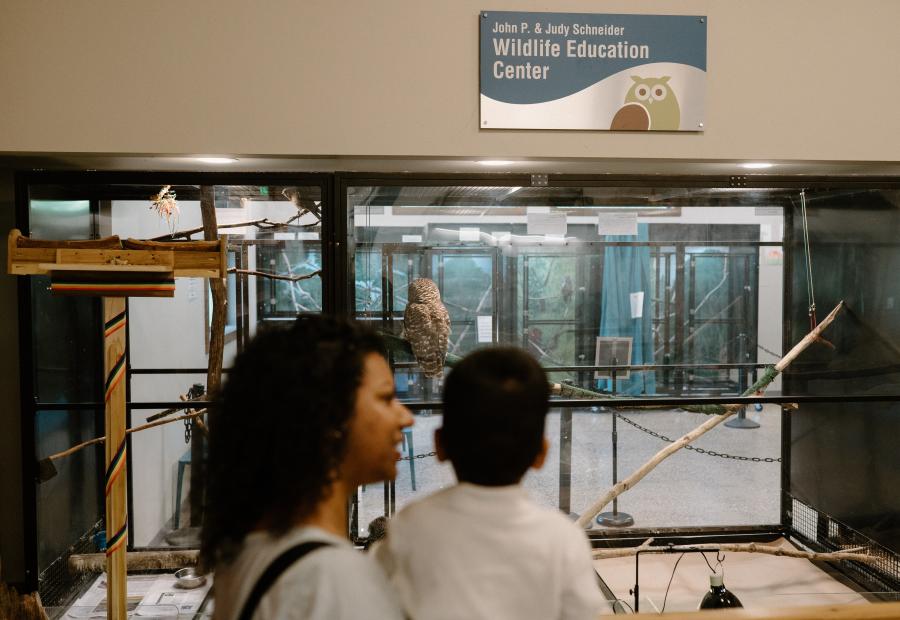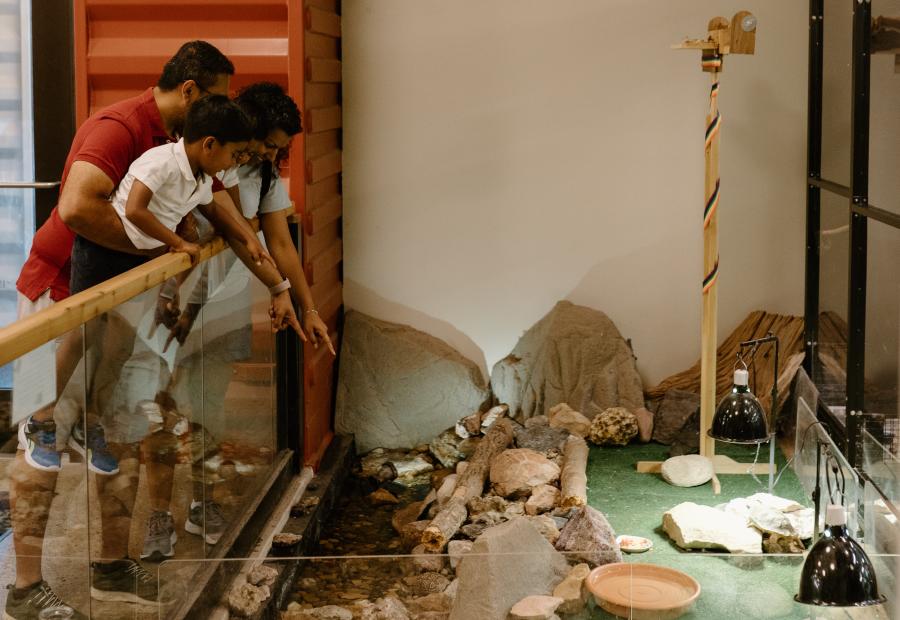 Make the Mary Jane Dockery Visitor Center your first stop to purchase admission and meet some of the animal ambassadors.
The Mary Jane Dockeray Visitor Center
We began our visit at the Mary Jane Dockeray Visitor Center. Dr. Mary Jane Dockeray was the Curator of Natural History at the Grand Rapids Public Museum and the driving force behind the Blandford family's donation of the original 17 acres of land that started the center. 
If you're visiting during the visitor center's open hours (Monday-Saturday, 9 am-5 pm) always start your visit there. Blandford is an independent non-profit, and they use their admission and programming fees to keep the center running.  The visitor center is also where restrooms, the gift shop, and the auditorium are located. 
Tickets in hand, we began to explore the visitor center before our program began. My kids especially loved looking at the owls and little turtles, who also live at the visitor center. These are some of Blandford's wildlife ambassadors. They permanently live at the center because of injuries that make it impossible to survive in on their own. Now, they help educate students and give families a close-up view that would not be available otherwise.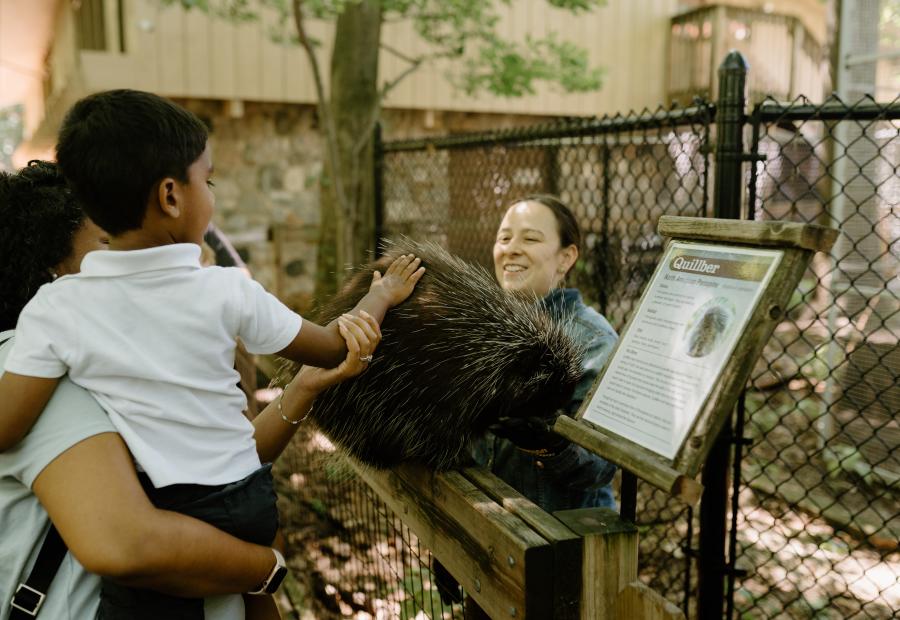 My family loved the interactive programming provided by Blandford's educational team.
Photo by Alina Albin for Experience GR.
Educational Programming
Blandford offers a variety of educational programming. You'll find everything from yoga, herbal tea tastings, birding opportunities, and more. You can find Blandford's programming calendar on their website or Experience Grand Rapids' events calendar.
My four- and two-year-olds love animals, so I signed up for a program titled Marvelous Mammals. Over the course of an hour, a member of Blandford's programs team shared fun facts and details about some of Michigan's native mammal species, including porcupines and flying squirrels. We had a chance to watch two flying squirrels make their way around their enclosure. I loved seeing both children and adults get excited to pet the mammals. 
Marvelous Mammals concluded with a stop outside to meet Quillber the Porcupine. We loved meeting him! We learned Quillber is a North American Porcupine, and they are common in forested areas of central and northern Michigan. Our program instructor showed us the right way to pet him, and we all enjoyed the ability to interact a little with him and the other animals.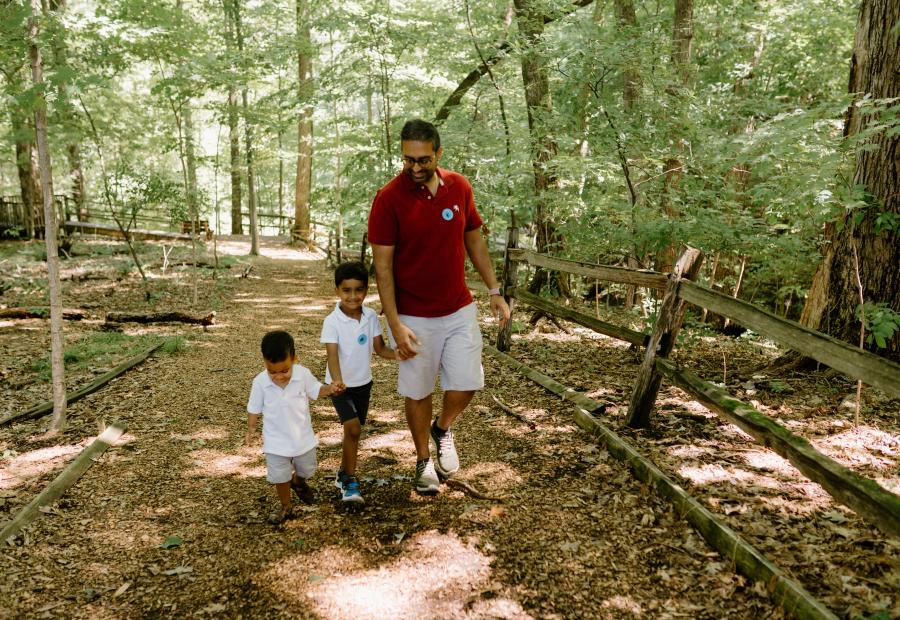 The Wildlife Trail was a good option for my young children, but there are several miles worth of trails at the center.
Photo by Alina Albin for Experience GR.
Trail Options
After the program concluded, we were ready to hit the trails. Blandford is home to several miles of scenic trails where visitors can hike, bird watch, greet wildlife and farm ambassadors, and enjoy nature.
The trails are located throughout the center's 264 acres. A comprehensive trail field guide is available online.  
The Wildlife Trail was perfect for our family with littles because it's just outside the visitor center and 100 yards long. We loved strolling through the woods, watching butterflies land on leaves and birds sing overhead. The highlight was Apollo the Bobcat, another native Michigan mammal. 
Additional Experiences
In addition to its nature programs and scenic trails, Blandford offers other types of experiences, too, including a farm that offers gardening programs, a CSA, and animals to visit. The Farm is located a short walk west of the Visitor Center. There's also a children's garden perfect for exploration, and a farm-themed play area.
Blandford also offers private rentals, wildlife experiences, school field trips, seasonal camps, and more. With peaceful, tree-covered trails, interactive programs for people of all ages, and opportunities for up-close encounters with animals, Blandford Nature Center in Grand Rapids truly has something for the entire family.