There are certain realities about bartenders that the casual beverage consumer understands. They should be good listeners, it's awesome when they memorize your drink of choice, and it's weird to see them out in real life without the bar between you.  But what about that fact that they are artists: creative, socially adept, and chock full of pairings, recommendations, and drink know-how? 
Grand Rapids is lucky to have many local bartenders that fit this description. I spoke with Josh Hallwachs, General Manager at Grand Rapids Brewing Company, to hear about his journey in the beverage business.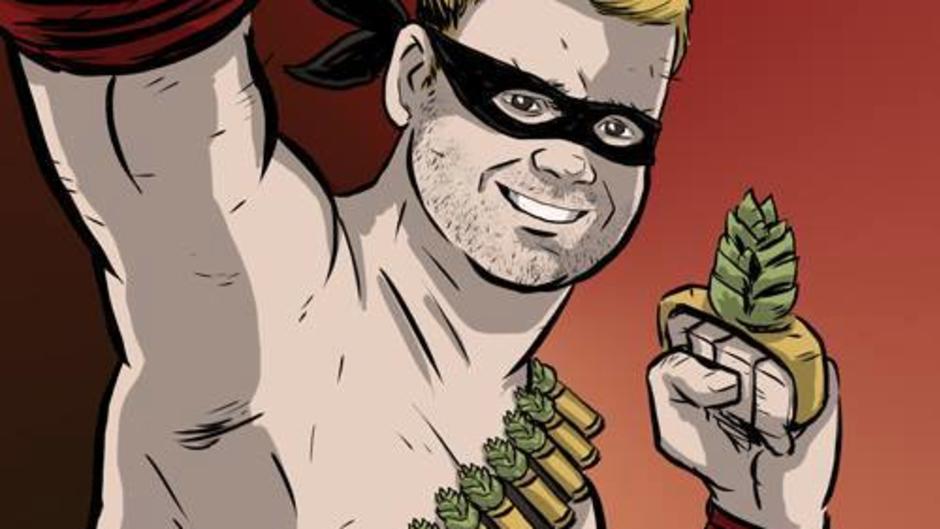 Iron Bartender Josh Hallwachs
---
Hallwachs' history of tending is varied and impressive.  After he started at a West Michigan branch of Famous Dave's, he moved to T.G.I Friday's in downtown GR.  His cocktailing and pairing skills were honed throughout the time he later spent at the neighboring Gilmore Collection staple, The B.O.B.  Here, he began to appreciate finer wines, discovered scotch and bourbon, and dabbled in some of his first cocktail competitions for seasonal specialty drinks.  After improving his speed and proving his prowess, he began training employees in pairings and designed a signature cocktail menu; after its positive reception he was approached to consult with other local restaurants as well!
As Hallwachs primarily moved into management, he needed to find outlets to keep his skills up to snuff.  Enter the Iron Bartender #4- The Mitten of Judgement.  If you have seen Iron Chef, then you understand the cutthroat and surprising nature of this competition.  When I asked about his experience as a competitor, Hallwachs said, "With the title 'The Mitten of Judgment', I could only guess that my secret ingredients would be made in Michigan and I planned accordingly. The 2 ingredients I brought with me were a bottle of Barrel Aged Cherry Bitters that was made in-house at GRBC, and a shrub (vinegar based syrup/mixer) that I made from reducing Faygo Rock n' Rye. The secret ingredients were Michigan Cherries, Faygo Rock n' Rye and Peanut Butter Fudge (the fudge really threw me off)".  Spoiler- it must not have thrown him off too much, because he won! 
As a victor, Hallwachs will be competing in the Iron Bartender Finale at the Grand Rapids Public Museum during Cocktail Week GR.  This is a ticketed event on November 18th, so if you have a heart for competition of all sorts, check it out!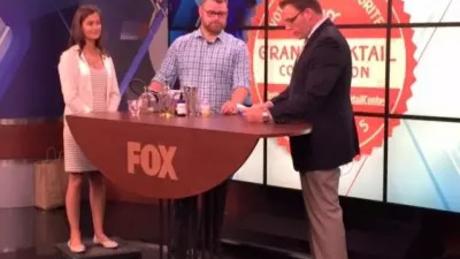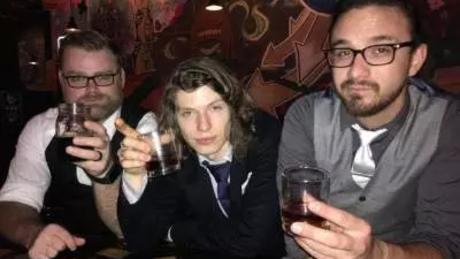 ---
Another way Hallwachs maintains his skills is through a collaboration event with friends and fellow bartenders Harry McMaster Williams and Ruben Hernandez.  The third Wednesday of each month, the trio can be found in Stella's side room, formerly the Viceroy, mixing classic cocktails with a twist.  Sovereign Cocktail Night is a new local opportunity for participants to dress up, get out, and rediscover how tasty the classics can be.
I asked Josh about the growing cocktail culture in Grand Rapids and he happily pointed out the natural progression from Beer City USA to a craft cocktail destination.  "I think we all knew that the overall palate of this city would grow to want more. With events like the Grand Cocktail Competition, GR's first Negroni Week and GR's first Cocktail Week, and with the help of Tori O'Haire, Rob Hanks, Adam Dickerson and Garry Boyd starting and spreading the word of the GR Cocktail Guild (which puts on fun events like Debonair and Iron Bartender), it's getting easier for everyone to get involved". 
If you are wanting to get involved, Cocktail Week GR would be a lovely time to start.  Try new bars, new drinks, new pairings. My favorite advice from the interview- "Don't be afraid to try something new. If you're not sure about it, ask your bartender. If they're not sure, you're drinking in the wrong place. Ask your bartender where they go for drinks and why, and then go try it for yourself. This is an ever-growing industry that depends on the guest experience and involvement".
In addition to his Iron Bartender 4 victory, Josh has won Grand Prize for the Grand Cocktail Competition (2014), a WAVE Award for Best Nightlife (2013), has ranked in the Top 10 of this years Grand Cocktail Competition, and has been featured in an Overcup Book Publication, "Field Guide to Drinking in America".
Never miss a post!
Subscribe to the Insider Experience Blog