If you're looking for a lovely, casual, outdoor, lakeside dinner near Grand Rapids with your family this summer, hop in your car and make the short drive half-hour up to Bostwick Lake Inn in Rockford.
My kids and I, along with my friend Susan and her kids, did just that last week. Since Susan's family has a cottage on Bostwick Lake, we parked at their place and took a 1-minute ride on their boat over to Bostwick Lake Inn. While our 5 boys tied the boat to the dock, Susan and I trudged through the sand (don't wear heels if you plan to arrive this way!) to wait for a table. On beautiful days the outdoor seating at this picturesque location goes fast, so arrive a bit early and plan to relax awhile before your meal.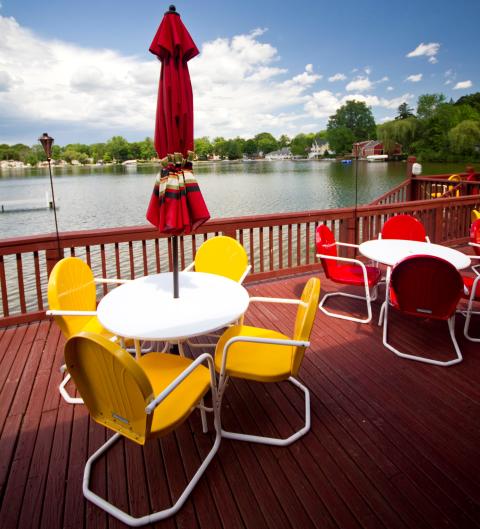 This gorgeous deck at Bostwick Lake Inn received tons of votes in our social media poll!
Photo Credit: Gilmore Collection
---
On this night we were lucky and our wait for a table was less than 10 minutes. It had been a hot day (but not one of those terrible scorchers we've had) and the evening air was warm and pleasant. Bostwick Lake Inn was bustling with hungry families and couples enjoying the summer breeze.
Families have been enjoying the Bostwick Lake Inn since 1910, when it was a beach house and pavilion. Over the years its been a soda fountain and tavern as well as a restaurant. Both the interior and exterior were renovated recently when it became part of the Gilmore Collection. The menu is new, too, and I was pleasantly surprised to find it a departure from the fare served at other Gilmore Collection restaurants like Roses and Blue Water Grill. (I love those places but it was fun to see a new menu.)
At Bostwick Lake Inn, you'll find an eclectic mixture of fresh takes on classic American food. From the tarro root chips appetizer to the gluten-free (rice-battered) yellow perch, the Caprese pizza made with fresh ingredients, and my delicious salmon sandwich, all 7 of our meals were tasty and well prepared. They also offer a nice selection of wine and beer, including the Michigan-brewed Dark Horse Amber Ale I enjoyed. But don't fill up on dinner! The newly added Finns Shore Store, which sells beach supplies, coffee, candy and t-shirts, also sells hand-dipped ice cream cones you'll surely want to try.
There's no shortage of good, locally-owned restaurants in Grand Rapids. One of the things I love about living here is trying them and discovering what changes through the seasons and years. If you haven't tried Bostwick Lake Inn recently, I suggest adding it to your summer To-Do list. And if you like a little music with your meal, Matt Foresman is playing from 8:00 11:00 Friday (8/3/12) and Gabriel James is playing Saturday (8/4/12). Check the Bostwick Lake Inn Calendar for other events.
Never miss a post!
Subscribe to the Insider Experience blog.