For some people, fitness is life. For others, it's something they do from time to time. Regardless of where you fall, Grand Rapids has a number of boutique gyms that are all worthy of a visit. If you're not familiar with the boutique gym trend, boutique gyms are small gyms that offer group exercise classes in upscale studios and tend to specialize in the programming they offer.
Unlike most traditional gyms that require memberships to attend, boutique gyms offer drop-in rates for visitors who aren't interested in long-term memberships, making this an ideal option for visitors to the area.
Here are some suggestions of local boutique gyms that allow drop-ins: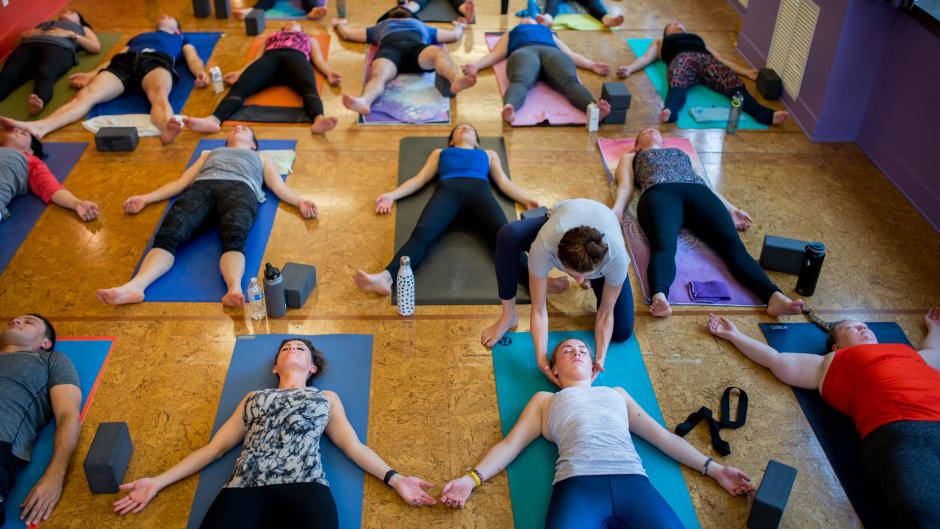 Yoga participants at Funky Buddha Yoga Hothouse
Photo Credit: Funky Buddha Yoga Hothouse
---
Funky Buddha Yoga Hothouse
If you want to turn up the heat on your yoga routine, the Funky Buddha Yoga Hothouse can help with that. All hot yoga classes are taught in a steamy 95-degree yoga studio, which may be a shock factor, but Funky Buddha believes the added heat can help improve flexibility, protect the body from injury, and burn more calories.
Funky Buddha offers a number of different yoga classes such as Power Flow, Power Flow with Music, Slow Flow, and Absolute Beginner Class. To view a list of classes, visit Funky Buddha's website.
Classes are 45 or 60 minutes long and are led by professionally trained instructors.
Running on a tight schedule? Don't worry, Funky Buddha Yoga Hothouse can accommodate even the busiest of travelers with over 95 different classes a week to choose from, and four West Michigan locations including downtown Grand Rapids, Uptown, Forest Hills, and Holland.
To register for a drop-in class, you can simply show up a few minutes before a scheduled class, or you can pre-register on Funky Buddha's website. You can also search for "Funky Buddha Yoga Hothouse" on the MINDBODY mobile app:
Participants are required to bring their own yoga mat to all classes, but mats are also available for rent and purchase at the studio.
Drop-in Class Rate - $20
30-Day Trial - $39
Allegro Coaching
For those of you looking for a bit of variety, Allegro Coaching located in Grand Rapids' Uptown neighborhood, offers over 40 large group classes per week, small group training, and one-on-one training options for all fitness levels and ages. Classes offered at Allegro Coaching include Body Pump, TRX, Cycling, Boxing, A-Fit, GRIT, and more.
All group classes offered at Allegro Coaching are cross-training style workouts that the gym puts their own unique spin on. To view a summary of each class that Allegro Coaching has to offer, visit its website. 
Each class is 45 to 60 minutes long, except for GRIT, which is 30 minutes, and all classes are led by a certified fitness instructor. To register for a class at Allegro Coaching, search "Allegro Coaching" on the MINDBODY mobile app (direct download information listed above).
Drop-in Class Rate: $20
Friday special: All classes $10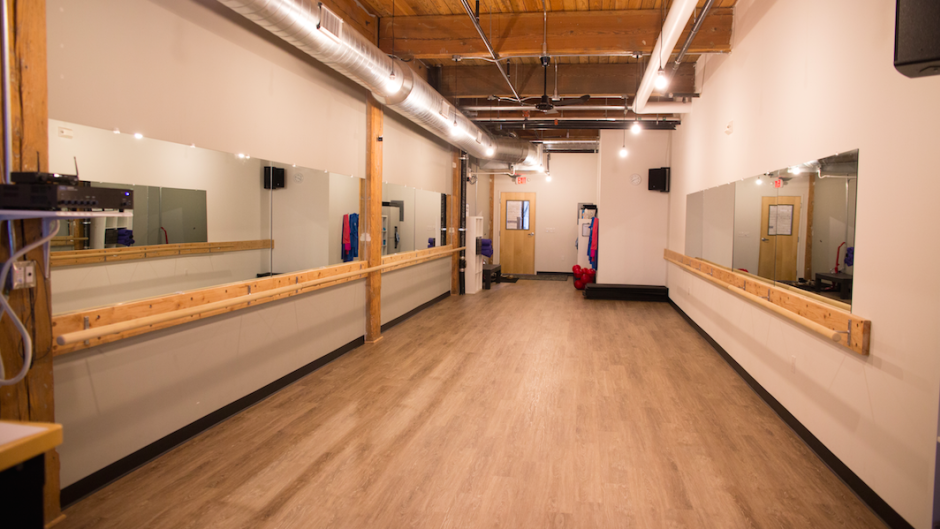 Barre workouts are a mixture of yoga, pilates, and dance.
Photo Credit: Tyler Steimle Photography
---
Beer City Barre
Located downtown is Beer City Barre. If you're not familiar with barre, it is a total body workout that includes exercises borrowed from yoga, pilates, and dance. Classes utilize equipment like mats, weights, balls, loops, and stretch bands, which are all provided by Beer City Barre.
The barre studio currently offers a variety of different classes, all ranging from 45 to 60 minutes. Regardless of the class you choose, each one features upbeat music and is led by a certified Barre22 instructor. Every workout is designed with specific choreography in mind, working every segment of your body.
While drop-ins are encouraged, classes do fill up quickly so it is recommended you arrive at your class early. You can view Beer City Barre's class schedule by visiting their website, or searching "Beer City Barre" on the MINDBODY mobile app (direct download information listed above).
Participants are required to wear yoga socks with "sticky" bottoms to all Beer City Barre classes and sneakers to their Fight Club and Dance Cardio classes. The boutique gym also offers sticky socks for purchase, starting at $12.
Drop-in Class Rate: Attend your first class for $20, and attend a second class for free.
4G Athletics
4G Athletics, located just outside of Grand Rapids in Jenison, offers four different workout classes, all of which focus on different workout groups: Bike, Lift, Move, and Flow.
4G's Bike class is similar to a spin class

4G's Flow class is all about yoga

4G's Lift class is strength training combined with movement training that uses barbells and plates

4G's Move class is a high-intensity-interval-training (HIIT) class that uses TRX, ropes, kettlebells and more
All workouts are 45 minutes in length and are designed to keep your body moving. Visit 4G Athletics' website to purchase a drop-in class and to view the gym's class schedule. ​
Drop-in Class Rate - $20, First class is free
Flirt Fitness Studio
For those of you that want to do an untraditional workout, Flirt Fitness Studio offers pole fitness classes. These are all classes done with a metal pole that is installed perpendicular between the floor and the ceiling. While this may seem like an unusual workout, pole fitness strengthens arms, backs, core muscles, and more.
Flirt Fitness offers different levels of classes, all led by a certified pole fitness instructor. Every class is 90 minutes long and takes place by candlelight for a greater ambiance. No matter your experience level with pole fitness, all workouts are a blend of pole dance, yoga, pilates, and more.
Participants are required to bring their own yoga mat or rent a yoga mat from Flirt Fitness for a small fee. It's recommended that participants wear comfy, tight-fitting clothing.
Drop-in Class Rate - $20
Lunar Cycle Studio
Also located downtown is Lunar Cycle Studio. The indoor cycling studio has 40 Schwinn AC Power bikes and all classes are led by Schwinn-certified trainers.
They use the latest in exercise science to develop a variety of tailored classes, including some for performance riders, HIIT rides, meditative rides, a lite cycling class for new or rehabbing riders, and more. All classes are 30, 45, or 75 minutes.
Classes use interval training and performance-metric feedback systems to help you get the most out of your workouts. Check their website or their iPhone app for more information on class formats and descriptions.
First-Timer Special Rate - $10
Subsequent Drop-in Class Rate - $21
Not a fan of group workouts and want to get your sweat on at a traditional gym? Don't worry, Grand Rapids is home to a lot more than just boutique gyms. Visit Experience Grand Rapids for a list of fitness facilities in the area
What's your favorite boutique gym? Let us know in the comments below.
Never Miss a Post!
Sign up for the Insider Experience blog.