Christopher Gibbons, a 25-year veteran trial attorney by day, and now owner and brewer at Brass Ring Brewing, has upped the ante on what it means to have your neighbors over for a beer.
"We're here to provide an all-inclusive environment where everyone has a place, purpose, and value. Customer service is our absolute priority," said Gibbons.
Located in the Southtown neighborhood, about 10 minutes south of downtown Grand Rapids, Gibbons and business partner Karen Boer want to encourage guests to get to know one another at their brewery.
He says Brass Ring Brewing is guided by the mantra painted on their taproom wall—a quote by author Charles Bukowski: "We are here to drink beer. We are here to kill war. We are here to laugh at the odds and live our lives so well that Death will tremble to take us."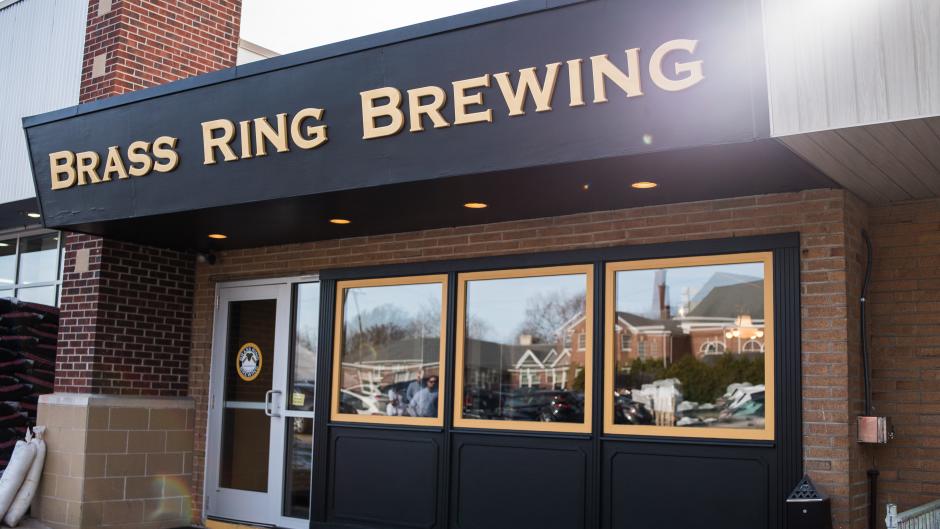 Brass Ring Brewing is known for brewing small batch, style-specific fresh beer.
Photo Credit: Experience Grand Rapids
---
On Draft
Gibbons has been quietly preparing to scale his personal homebrewing recipes over the last 14 years. When asked about what it feels like to see his beers on a printed menu, his response is sincere, "It's pretty surreal. I'm very fortunate."
Brass Ring's mission for their small-batch beer is simple: "Carefully crafted, made from four ingredients: water, malted barley, hops, and yeast. All natural, no chemicals, no preservatives, and unfiltered."
On tap, you'll find style-specific, traditional pub ales, porters, and stouts, all brewed in-house on their modest seven-barrel system. They've got 12 tap handles in rotation, including a golden ale, Irish Red, brown, porter, SMASH pales (made from a single malt and single hop), ESB, Irish dry stout, and IPAs, too.
View Brass Ring Brewing's drink menu to see what's currently on tap.
Mug Club
If you want to show your support of this neighborhood-focuses brewery, join the Brass Ring Society.
A $70 annual investment into Brass Ring Society gets you:
$1 off pints and $2 off growler fills every day

Discounts on weekly food/beer pairing features

A members' only T-shirt

Customized growler

Exclusive Society invite-only events.
Neighbors and friends are invited to join Brass Ring Society by visiting the brewery.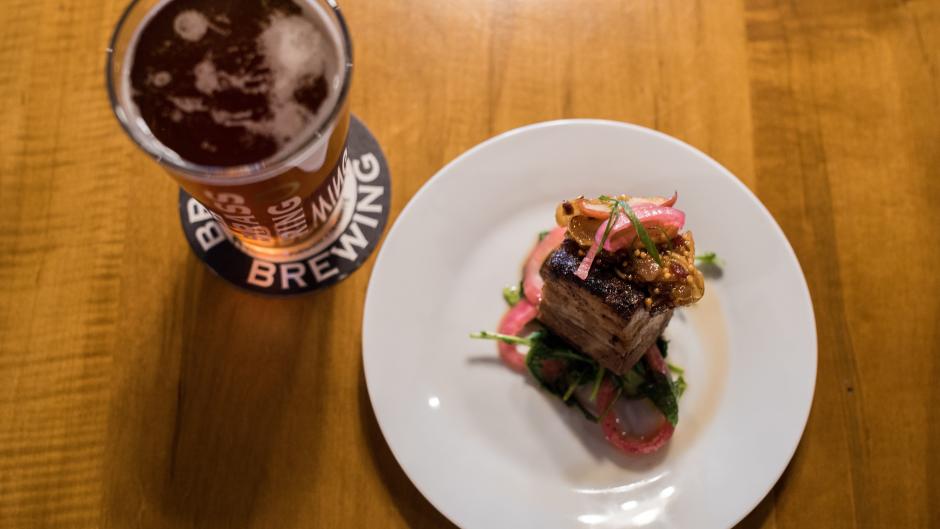 Brass Ring Brewing's food pairings contain locally-produced ingredients.
Photo Credit: Experience Grand Rapids
---
Food
Chef Derek Stek, former kitchen manager at Brewery Vivant, is complementing Gibbons' beer program with delicious pub fare. Chef Stek's approach is "comforting and upscale without being pretentious," says Gibbons.
On the menu you'll find appetizers and a half-dozen entrées, including pork belly tacos, a crawfish roll, and a sausage of the week.
Visit Brass Ring Brewing's website to view its comprehensive food menu.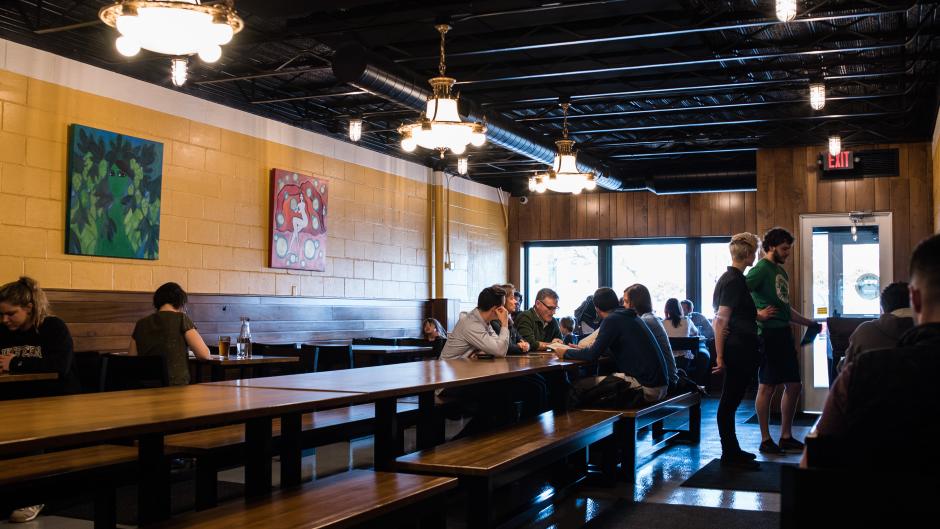 Seating arrangements within Brass Ring Brewing are meant to spark conversation with nearby customers.
Photo Credit: Experience Grand Rapids
---
Camaraderie
Not only does Brass Ring brewing dish up some great food and drinks, but they also offer a variety of fun activities to get locals interacting. Take a look at Brass Ring Brewing's recurring community-based events:
Tuesdays:
Euchre Night: Tournaments start at 7 PM
Wednesdays:
Neighbor Night: If you live in Alger Heights or Garfield Park areas within the Southtown neighborhood, check your mailbox. Gibbons and Boer have been walking every street, knocking on every door, and personally inviting about 60 households per week to enjoy Neighbor Night.

Brass Ring has designated at least one Wednesday night throughout the year to each block across both neighborhoods, where folks can "catch up with old neighbors, meet new neighborhoods, and maybe even bury the hatchet."
Brass Ring will treat neighbors to a brewery tour at 8 PM to, "give them a better understanding about what they're consuming, how it's made, and what we're all about," Gibbons says.

He's also permanently reserved the communal picnic tables in the middle of the taproom for any local neighborhood residents, "so they never lose their brewery."
Golf League:
Singles and doubles are welcome to drop-in every Wednesday throughout the summer for Brass Ring's weekly neighborhood golf league with a 5:30 PM tee time at Indian Trails. For just $20, participants receive nine holes of golf with a cart, and weekly prizes. Visit the brewery for more information or to sign up.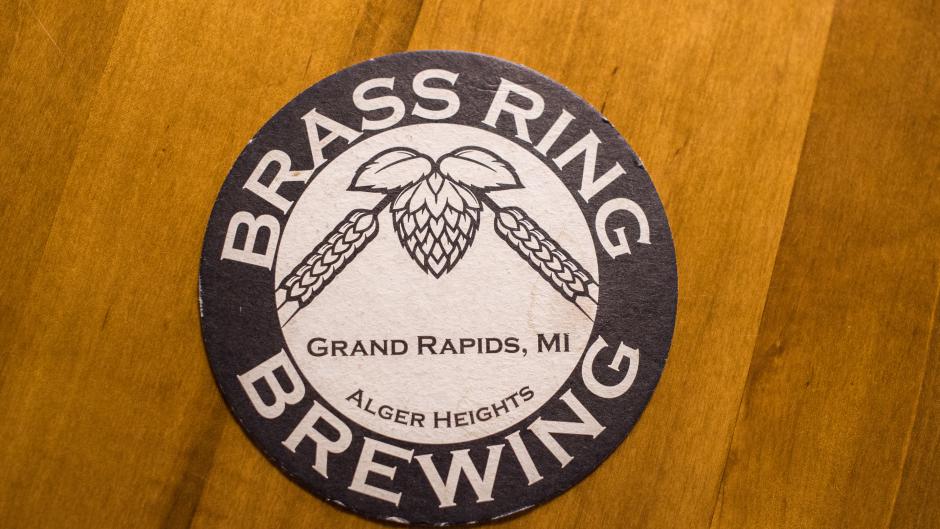 Fact: Brass Ring Brewing's spent grain is fed to the hungry cows in Cedar Springs.
Photo Credit: Experience Grand Rapids
---
Amenities
For the inside scoop on all the details about Brass Ring Brewing, take a look at the amenities the neighborhood brewery offers:
Ambiance:
"A positive, uplifting experience, where love wins," Gibbons warmly offers.
Wi-Fi:
Available, free
Patio seating:
Yes, approximately 30 seats
Kids welcome:
Yes, with a kids-friendly menu including the creative Brass Ring Jr. (charcuterie) Board with turkey, apples, cheddar, crackers, and strawberry yogurt.
Parking:
Abundant, lot and street parking available
TVs:
None, with the intention that guests—neighbors and strangers alike—should have the unobstructed opportunity to bond over authentic conversation.
Visit Brass Ring Brewing during its business hours Tuesday through Sunday:
Tuesday and Wednesday: 4 PM to 10 PM

Thursday: 4 PM to 11 PM

Friday: 4 PM to Midnight

Saturday: Noon to Midnight

Sunday: Noon to 9 PM

Monday: Closed
Don't forget to bring your Beer City Brewsader® Passport or check-in using the Beer City Brewsader Passport app before visiting this or any one of Grand Rapids' many craft breweries.
Don't miss a post!
Sign-up for the Insider Experience blog