Foodies rejoice! With so many new restaurants opening regularly in and around Grand Rapids, there's always a new place to savor innovative, delicious fare.
In a post last month, we talked about several restaurants that opened downtown in 2016, including Social Kitchen and Bar and The Knickerbocker, highlighting our experience at Wheelhouse. This month, we're focusing on restaurants that opened their doors in the north end of town this past year.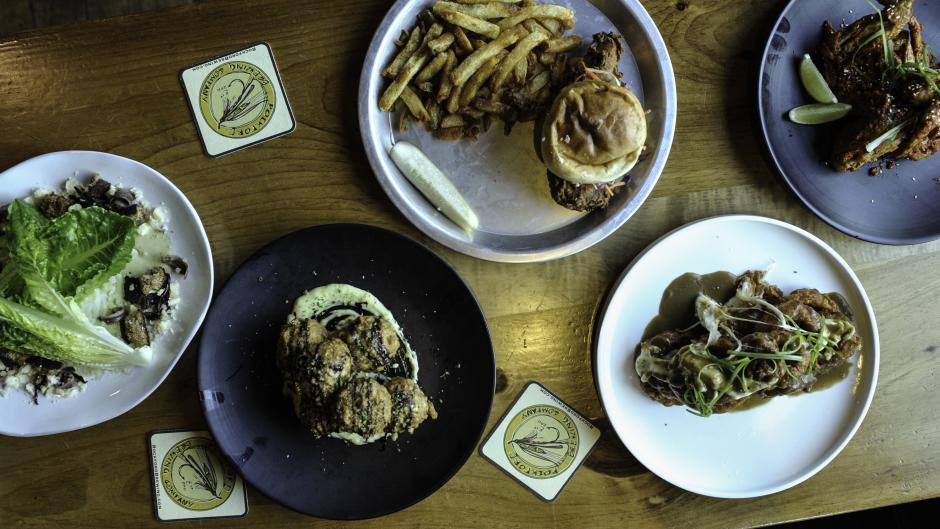 Rockford Brewing
Photo Credit: Rockford Brewing
---
Rockford Brewing Company
When Rockford Brewing Company (RBC), located along the scenic Rogue River, opened a few years ago, they served cider, wine and hand crafted, freshly brewed beers but no food. Hungry patrons could order sandwiches from an adjacent deli but, before long, the deli closed its doors. Customers turned to nearby Vitale's as the go-to place to order food.
But customers no longer need to order out. Last month Rockford Brewing debuted its very own kitchen, cooking up innovative, globally diverse dishes in the space formerly occupied by the deli.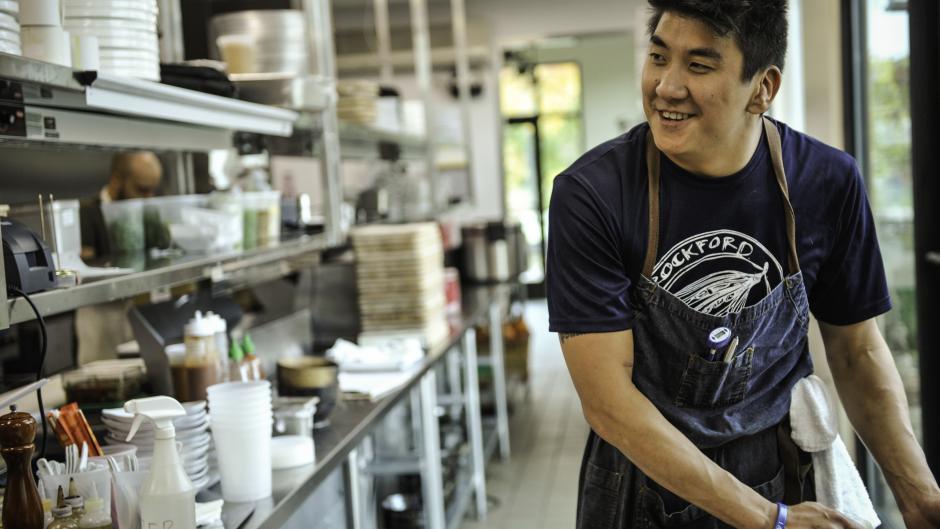 With Executive Chef Ryan Bolhuis at the helm, whose impressive culinary resume includes distinguished restaurants like Nobu 57 in New York, RBC features a menu that uses locally-sourced ingredients as often as possible.
Photo Credit: Rockford Brewing
---
When my husband and I visited Rockford Brewing Co. recently, we were impressed all the way around: the ambiance, food and beer all made us want to return. Both the upstairs and downstairs of the restaurant are casual and have a warm, cozy, lodge-type of feel. And while a lot of breweries serve food, I haven't been to many that serve food of this caliber—it was pleasant (and tasty) surprise.
Both of us chose appetizers off of the specials menu. I went with the Salmon Pokè, a delicious mix that included salmon, cucumber, tomato, red onion, jalapeño, cilantro and more that was absolutely a winner. My husband ordered – and raved about – the Beer-Battered Scotch Egg.
I stuck with the fish motif for dinner and tried their Baja Marinated Swordfish Tacos, which I asked for in lettuce wraps. They were served with a spicy slaw, cilantro, limes and queso fresco, all of which perfectly complimented the swordfish. He ordered the Braised Pork Belly BLT which features gruyere, pickled onion & an over-easy egg with the pork belly served on toasted sourdough. Both meals delivered on taste, as did the RBC Hand-Cut Fries we devoured with them.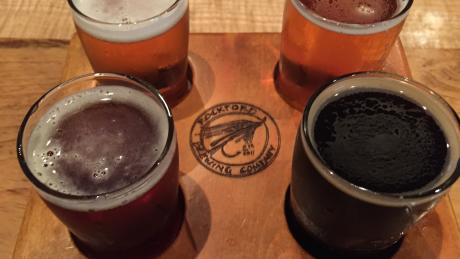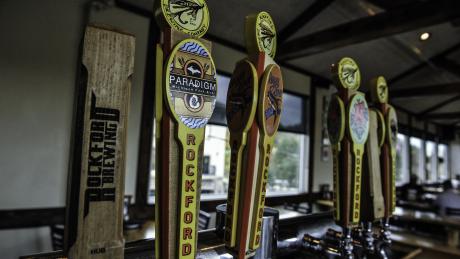 Rockford Brewing
Photo Credit: Kirsetin Morello
---
A visit to a brewery would be incomplete without beer, so I ordered a flight of four: Hoplust, LilGeorge, Paradigm, & Blackfin IPA. I'm a rather choosy beer drinker who favors a hoppy brew, and our waiter was very knowledgeable and helpful with the flight selections. I liked all four beers, particularly Hoplust and Paradigm.
If you're ready to try the food, check the hours. Dinner service typically starts at 4PM, and starting January 3, RBC will offer lunch starting at 11AM. If you're a music fan, check out RBC's event calendar and time your meal to listen to local talent, typically on Thursdays and Fridays.
Also On the North Side
If you're north of downtown, but not quite as far north as Rockford, there are plenty of other new other new restaurants to try.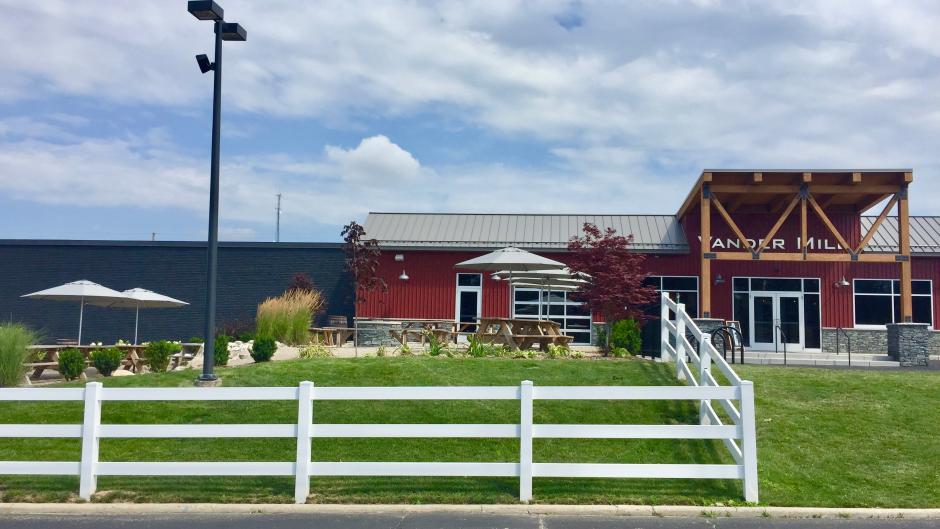 Vander Mill patio
Photo Credit: Nichole Kladder
---
Little Lucy's Café & Bakery in the Creston neighborhood serves breakfast, lunch and baked goods that will knock your socks off.
Vander Mill, Grand Rapids is close to downtown (on Ball Avenue, just north of Michigan Street). Stop by for their sweet or hard cider, made with apples form the local Dietrich family apple farm, but don't miss the food! Vander Mill in GR features a farm-to-table menu, serving bread they make themselves and bacon they smoke and cure.
Elk Brewing thrilled beer aficionados when they announced a second location in Comstock Park, which opened earlier this year. You'll find it near the entrance to Fifth Third Ball Park.
New Restaurants at Knapp's Crossing
If you're visiting Frederick Meijer Gardens or catching a movie at Celebration Cinema North, these new restaurants are right around the corner.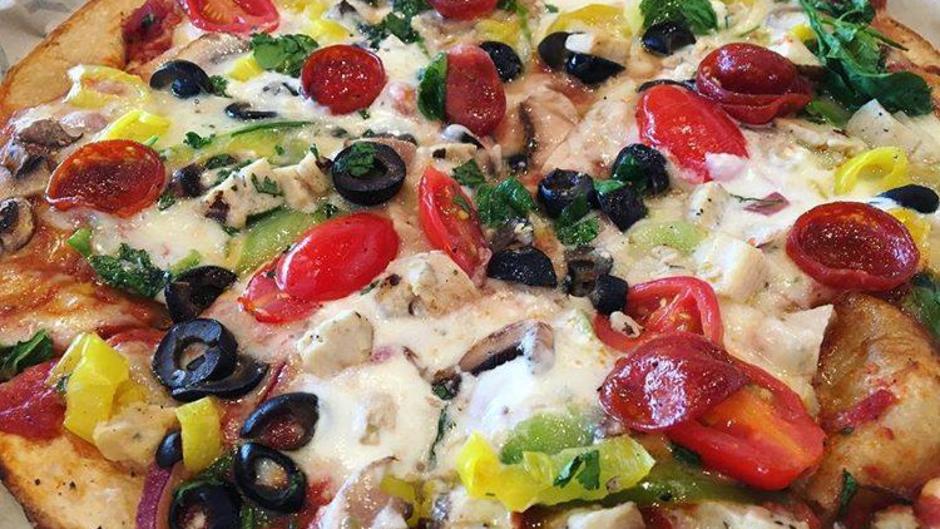 Pieology Pizzeria Grand Rapids
Photo Credit: Pieology Pizzeria Grand Rapids
---
Pieology Pizzeria dishes up artisan-style custom pizzas. The Knapp's Crossing location is the chain's first in West Michigan. You build your own thin crust pizza, they cook it in a stone oven, and you're one happy camper.
Bagger Dave's Burger Tavern is known for their fresh (not frozen) beef hamburgers, hand-cut fries and ice cream floats – my kids never pass them up!
Menchie's Frozen Yogurt is just the place if it's dessert you're after. For a sweet addition to any day, top your favorite flavor of frozen yogurt with the fruit, candy, cookies and/or nuts of your choice.
The Donut Conspiracy isn't in Knapp's Crossings, but this tasty bakery is super close – it's just a little bit south and across the street (near the Knapp's Corner Meijer). The staff bakes up traditional donut deliciousness but also turns out creative sweets like Maple Bacon and Bubble Gum donuts.
Distilleries
We'd be remiss if we didn't mention two new distilleries that opened last year. Although they're not full-service restaurants, both serve small snacks along with cocktails that feature the spirits they make.
Bier Distillery is located on West River Drive in Comstock Park and is named after the owners, Joel & Sara Bierling, who come from a long line of bakers and brewers.
Gray Skies Distillery is just north of downtown on Ottawa Avenue. I love their motto: "good hooch made local."
This list includes lots of great new places but it's just a start. As a hotbed for innovative chefs, restaurants open regularly in and around Grand Rapids, so don't hesitate to try the new place on the corner! Last month we focused on restaurants that opened downtown last year and next month we'll share more about new restaurants in other areas of town. With so many new places to try, it's a great excuse to step out of the kitchen and enjoy a meal prepared, served and cleaned up by someone else!
Don't ever miss a post!
Sign-up for the Insider Experience Blog