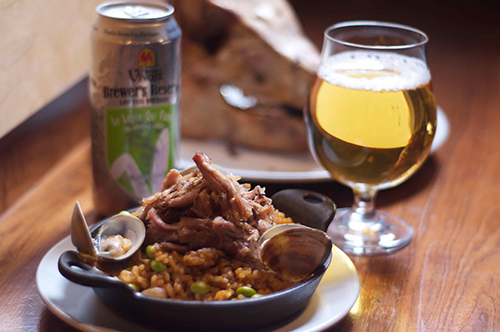 Photo courtesy of Brewery Vivant
Cool Brews. Hot Eats. (CBHE) starts February 16. So where are you heading to experience some of the best beer and food pairings Grand Rapids has to offer? And, just as importantly, where are your friends doing the same?
The third annual CBHE runs Monday, February 16 - Sunday, February 28 and features over 50 restaurants and breweries offering creative fine food and fine beer pairings exclusively for the two-week event. Along with food and beer pairings created specifically for this event, some breweries are hosting special events during these fun and foamy weeks.
Brewery Vivant will serve a Wild Game Stew including venison, elk and wild boar accompanied with a duck liver dumpling exclusively for CBHE.

"Brewery Vivant is all about great beer and great food, and when paired together it elevates the enjoyment of both. It's living that Bon Vivant...the good life," says Kate Avery, marketing director for Brewery Vivant. "Cool Brews. Hot Eats. champions this to the greater Grand Rapids area."
Saturday, February 28, Brewery Vivant will open early at 8 a.m. for their third annual Brewers Big Breakfast.
Since the brewery is not usually open for breakfast, the feast of pork belly biscuits & gravy, chicken & waffles, meat and veggie quiches, parfaits, bacon & egg sandwiches is even more special. Avery describes the atmosphere as "a cross between fueling the staff for the long day out in the cold at the Michigan Brewers Guild Winter Beer Fest and just a fun, tailgate party atmosphere. And of course, beers will be poured all morning."
A special treat for the event is our signature beer-mosa, says Avery. "It's like a mimosa, but with Brewery Vivant's flagship French style farmhouse ale Farm Hand instead of champagne." Talk about starting your day off right!
Another brewery joining in on the CBHE fun is Harmony Brewing Company. They will serve a special pizza featuring Brownson Brown Ale-braised locally sourced beer roast with local rutabagas, onions, and kale topped with mozzarella cheese on a white sauce base.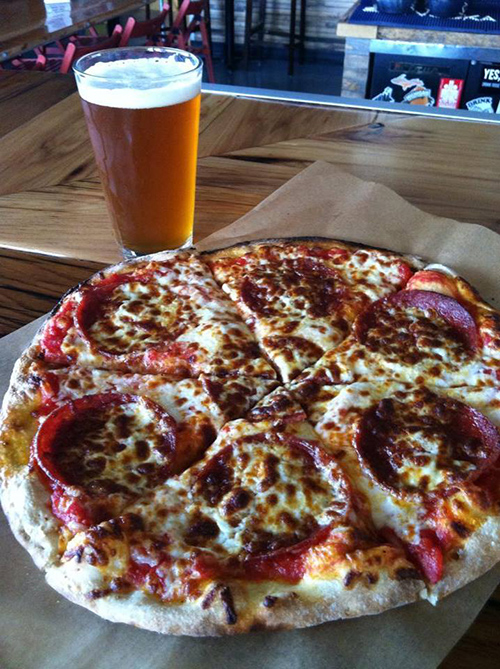 Photo courtesy of Harmony Brewing Company
Kicking off the second week of CBHE, on Monday, February 23, Harmony is hosting a tap takeover by Fermenta, a non-profit initiated by Michigan women, committed to diversity, camaraderie, networking, and education within the craft beverage industry.
"Our collaboration with Fermenta is an amber ale brewed with beets to give it a unique flavor and color and will be one of five beers brewed by the group available on draft," says Jackson Van Dyke co-owner/managing partner for Harmony Brewing Company. "We are proud to support women in the craft beer culture in Michigan, and can't wait to highlight the delicious creations they've brewed."
Harmony will also be releasing their Deep End Imperial Stout during CBHE on Wednesday, February 25.
VanDyke describes Deep End Imperial Stout as a big and rich beer, full of chocolate, coffee, and roast flavors. Offered alongside the original Deep End will be two special casks, one conditioned with chocolate and coconut and another with bourbon oak and espresso. VanDyke notes there will be samplers of the three available so everyone can get the full experience. Speaking of the full experience, be sure to try their dark chocolate brownie frosted with a Deep End and coffee reduction which is only available during the Deep End release.
People may only think of wine when talking about food pairings, but beer offers a huge range of different smells and flavors that go fantastically with a wide array of dishes, says VanDyke. "Through CBHE we are excited to show GR natives and visitors alike the tremendous food and beer choices available in Grand Rapids."
One of the highlights of trying new beer and food combinations is sharing where you've been and hearing about your friends experiences too. But how can you keep track of all your friends in Beer City USA?
Well, theres an app for that!
With the Untappd app, you can check-in at breweries, share what you are drinking, see where your friends are, and know what they are enjoying as well. From February 16 March 16 there will be a special Beer City Badge you can unlock. This badge covers CBHE, the Winter Beer Festival, and Founders Kentucky Breakfast Stout week. Simply check in to two CBHE participating breweries during this time range and the badge is yours!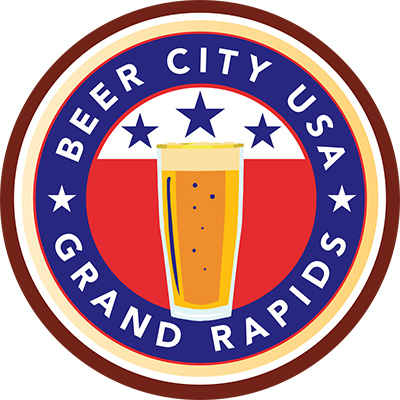 Beer City USA Untappd badge
Be sure to check out all the tasty food and beer pairings in our fair city February 16-28 and dont forget to download the Untappd app! Eat, drink and share!