As if beer wasn't reason enough to visit some of the great breweries of Grand Rapids, many of them offer a superb selection of music. We've asked Grand Rapids area breweries about their live music programs, and the wide variety of good tunes you'll find around town won't disappoint even the most discerning music lover.
Whether its nationally touring acts coming through Founders Brewing Company or the city's best local musicians heating up Creston Brewery, if beer and music are needed to quench a thirst, Grand Rapids has it covered.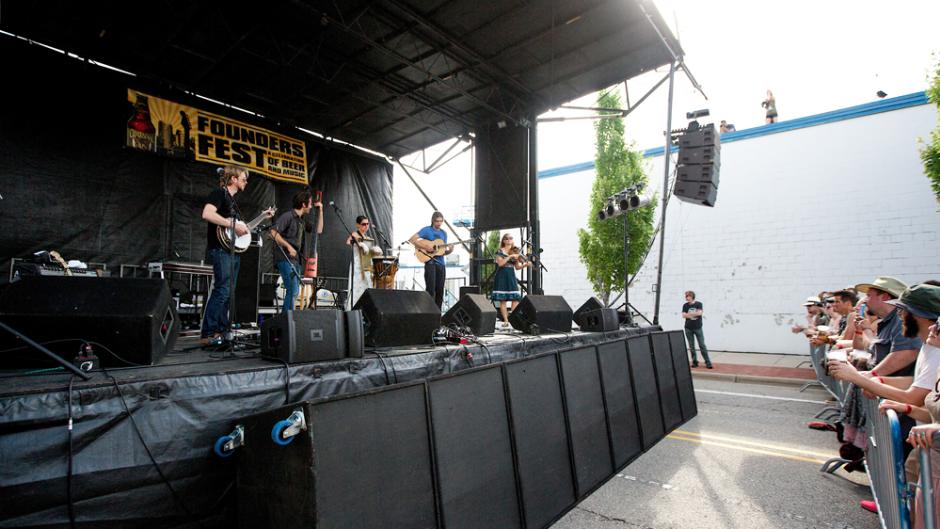 If you can't make it to Founders' biggest show of the year, Founders Fest, no worries! You can catch live music on Thursdays and Saturday nights.
Photo Credit: Terry Johnston
---
Founders Brewing Company
Led by its annual Founders Fest, which brings in big-name acts such as Blues Traveler and Umphrey's McGee, Founders Brewing Co. is one of the best places to catch live music on a weekly basis, accompanied by its world-class beer.
Founders Brewing Co. has music every Thursday and Saturday, as well as other days with special tour stops when a band fitting the taproom's style is swinging through the Mitten. The style isn't very exclusive, however, ranging from bluegrass to rock to funk and even orchestral arrangements.
At 8PM Tuesdays, Founders employee — and touring musician — Nicholas James Thomasma hosts Founders Open Mic Night, allowing for anyone to sign up and play to the audience of Founders faithful. Drink specials usually accompany these events, so keep an eye out for some good deals. 
For Founders' full event schedule, check out its website.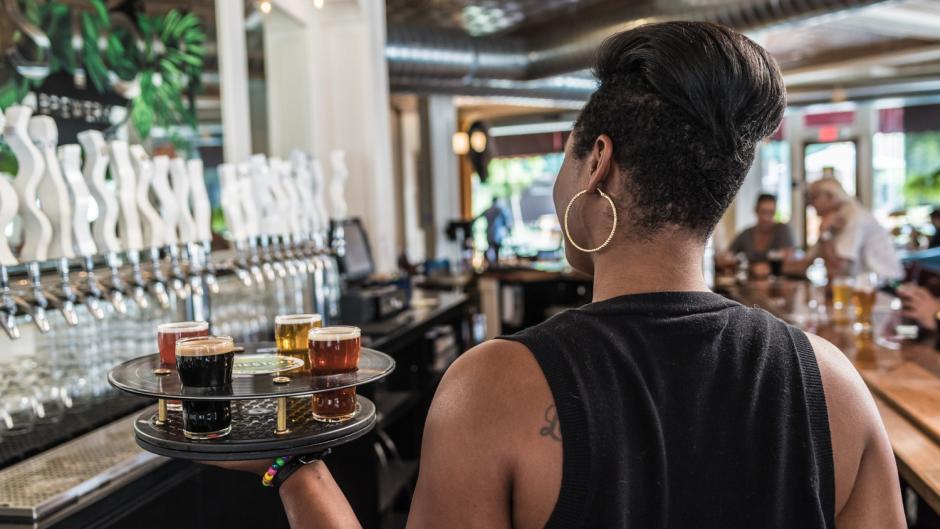 Creston Brewery's commitment to music shows in every part of the brewery, including its vinyl record beer flights!
Photo Credit: Brian Kelly Photography
---
Creston Brewery
With two of its four founders being talented members of the Grand Rapids music scene, Creston Brewery set out to be a hub of cultural activity in the city's northern neighborhood.
Creston Brewery founding partners Molly Bouwsma-Schultz and Scott Schultz, members of the former band Vox Vidorra, are tireless musicians and can often be found performing across the city. Fellow Creston Brewery founders, Vince Lambert and Cailin Kelly, also share a love for beer, community, and music. Their goal in opening Creston was to create a place for people to dance. 
Creston Brewery's event calendar is often filled with local bands and songwriter showcases, as well as benefit concerts.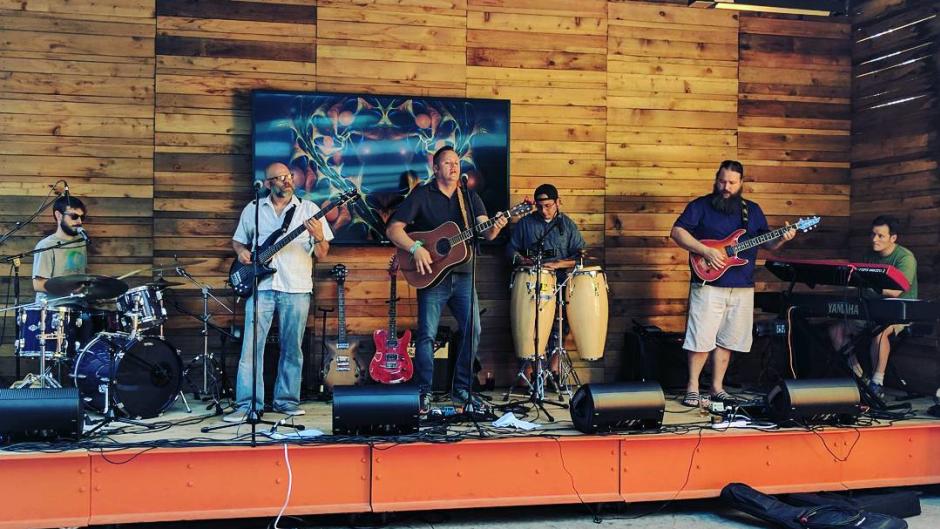 Get your fill of live music at the Knickerbocker's outdoor stage or indoors.
Photo Credit: New Holland Brewing Company
---
New Holland Brewing Company - The Knickerbocker
Offering a big taproom to the West Side of Grand Rapids, The Knickerbocker hosts a variety of music throughout the year. Occasional stops by bands playing the taproom pop up, but in the summer a large stage in the beer garden offers a platform for many shows.
There is music at The Knickerbocker for anyone to enjoy. Check their event calendar for details.
Harmony Hall
Harmony Brewing Company's West Side location, Harmony Hall, offers an eclectic mix of music selections throughout the month.
Whether it's a local band rocking the crowd or a smooth Sunday afternoon of jazz, most music fans will find at least one night a month to get their groove on at the brewery. Jazz is 2PM - 4PM select Sundays, and other events can be found on its website calendar.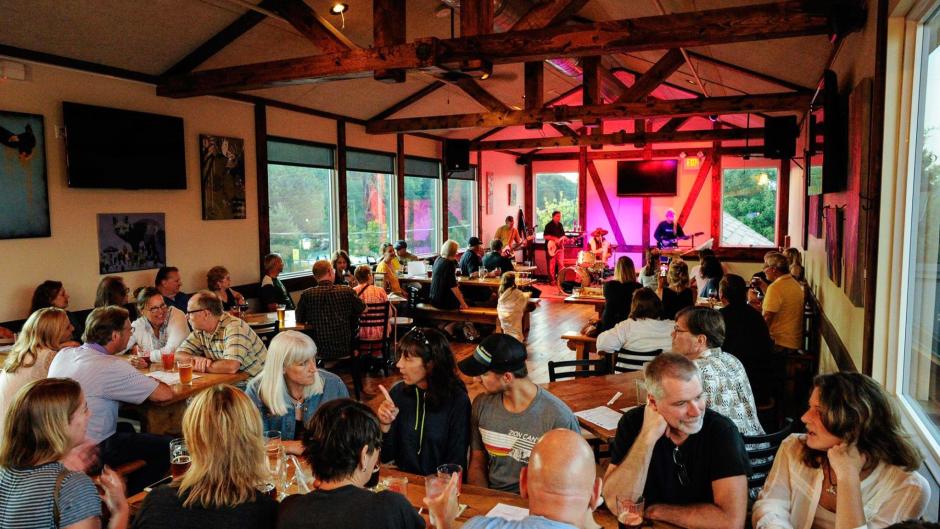 Rockford Brewing Company accommodates both original bands and tributes at its second-floor performance space.
Photo Credit: Rockford Brewing Company
---
Rockford Brewing Company
With a large upstairs event space, Rockford Brewing Company regularly hosts music, both live original bands and tribute shows.
The brewery won the 2017 Best Small Brewpub and Small Brewpub Brewer of the Year awards at the Great American Beer Festival, among many other awards. They are also supportive of local musicians and artists, so be sure to check that out. 
For an up-to-date list of Rockford Brewing Co. music events, visit its website.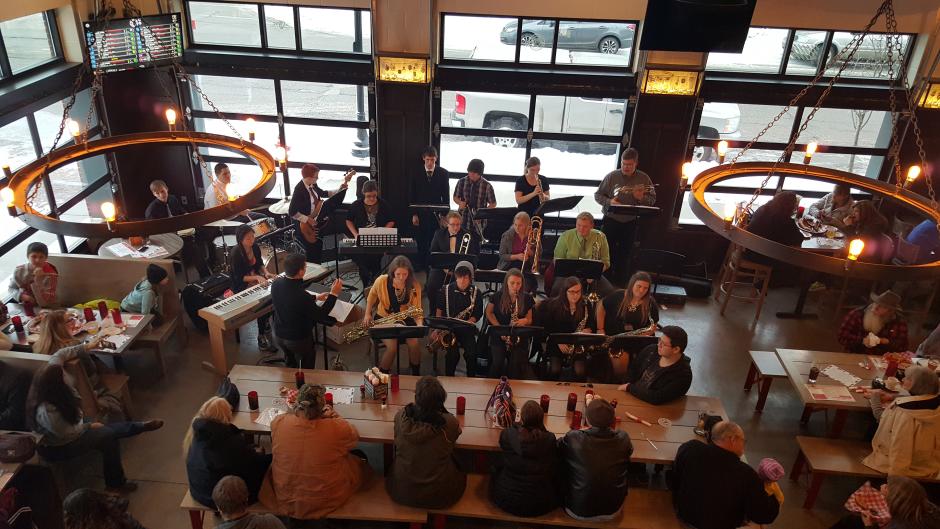 Cedar Springs Brewing Company welcomes all styles of music, including local high school jazz bands!
Photo Credit: Cedar Spring Brewing Company
---
Cedar Springs Brewing Company
With two days a week of free music, Cedar Springs Brewing Co. offers a cozy setting for music in the northern Kent County community.
With its German-style and modern beers, as well as a German-themed menu, Cedar Springs Brewing Co. brings in music at 12PM on Sundays and 7:30PM on Wednesdays.
Sunday's music is to accompany the brewpub's brunch menu, and Wednesday's offer a variety of musical talents for a mid-week break. 
Cedar Springs keeps a current listing of upcoming shows on its Facebook page.
Thornapple Brewing Company
Located 20 minutes to the southeast of downtown in Cascade, Thornapple Brewing Co. is the township's newest craft brewery. In addition to their own craft beer, the brewery offers its own cider, wine, and mead. The brewery has also taken some care in crafting their food menu.
On Saturday nights, Thornapple hosts live regional indie acts starting at 7PM. If you prefer, you can do the singing on Fridays with their karaoke and DJ nights that start at 9PM. Thornapple's Facebook page has the most up-to-date listing music lineup.
Looking for more breweries to add to your Brewsader® Passport or for the best brew in your neighborhood? Start your search at the Beer City, USA page, or find additional music hotspots with the Grand Rapids Live Music Trail.
Don't miss a post!
Sign-up for the Insider Experience blog