Summer, fall, winter, or spring — no matter the time of year in the Mitten State, many West Michigan breweries have outdoor patios to help you enjoy beautiful landscapes while sipping on the craft brews that keep Beer City USA on the map. 
Here are just a few local breweries that boast great outdoor spaces. Note, this is not a complete list. Discover even more breweries with patios on Experience Grand Rapids' Craft Beer page.
And while all of the below breweries are currently open, your experience may be slightly different due to the impacts of COVID-19. As you plan your brewery patio tour, be sure to check Experience Grand Rapids' travel updates for visitor tips and safety guidelines.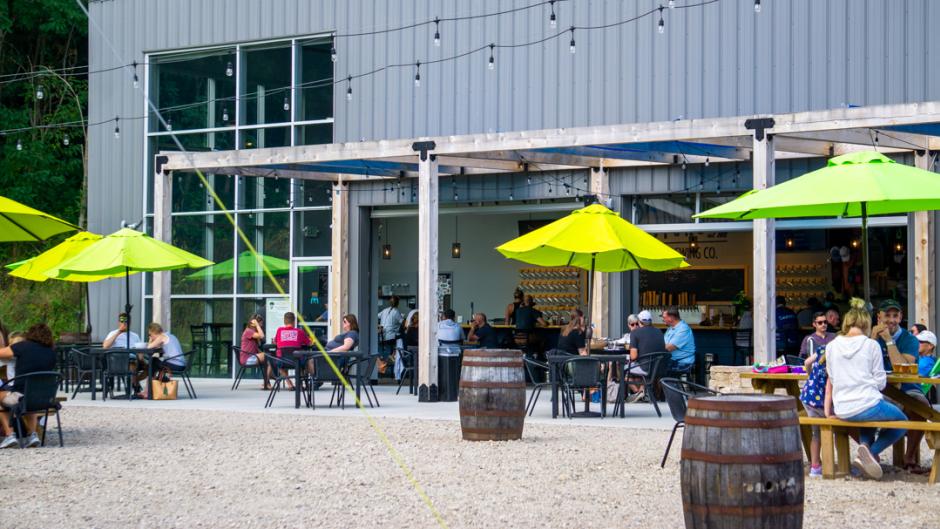 Third Nature's outdoor space includes a customized trail that leads to White Pine Trail.
Photo Credit: Experience Grand Rapids
---
Third Nature Brewing
Craft beer meets nature at Third Nature Brewing Company, which is nestled within more than seven acres of land between the Rogue River and the White Pine Trail just west of downtown Rockford. 
Third Nature, which won "Best New Brewery" in Revue Magazine's 2020 Best of the West Revue Readers Poll, has an expansive biergarten embedded in nature that's filled with picnic tables, cozy fire pits, and calming patio lights. 
Your leashed pups can join you as well outside as you take some refreshing sips of Third Nature's Leo the Legacy (American IPA), El Hefe (Hefeweizen), Gose the Goserian, or, if you're feeling adventurous, the Mystery Tap. 
Unique to Third Nature, the outdoor space includes a customized trail that leads from the brewery the White Pine Trail and nearby House Street.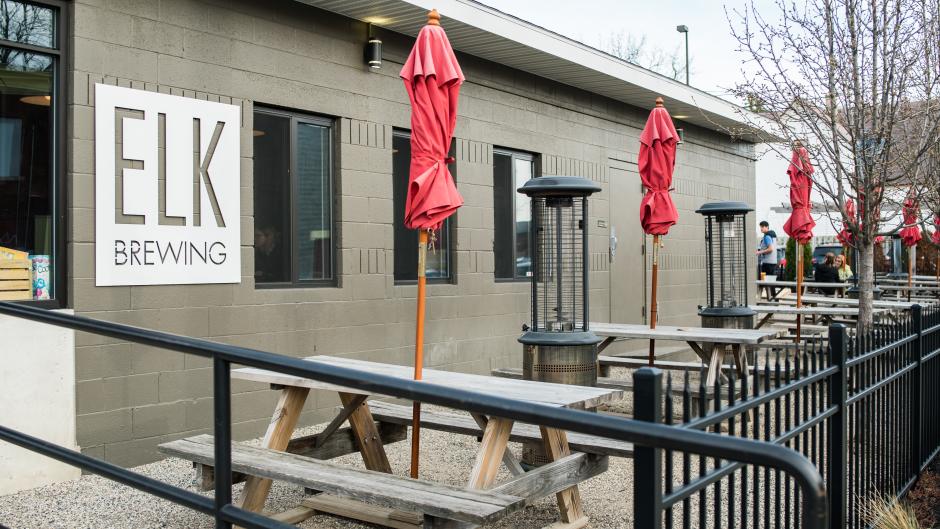 Elk Brewing's Outdoor Patio in the Uptown Neighborhood
Photo Credit: Experience Grand Rapids
---
Elk Brewing
With locations in Grand Rapids' Wealthy Street area in the Uptown neighborhood and Comstock Park, Elk Brewing offers two patios to hang out on while sipping on one of the brewery's 20 refreshing brews, like the  Pineapple Deserted Isle P.A., Mango Summer Wheat, PG & J'ale'y Amber Ale, Sunshine IPA, or Oktoberfest.
Elk's GR patio is dog-friendly and includes a fireplace and picnic tables. You're also allowed to bring your own outside food and you'll find plenty of options on Grand Rapids' vibrant Wealthy Street, as this stretch is a hotbed of year-round activity and great food with nearby Donkey Taqueria, Jonny B'z, and The Winchester (all of which have rocking patios too).
The Comstock Park patio includes three garage doors to create an indoor-outdoor feel. This space makes for a great pre-game beverage before watching a West Michigan Whitecaps game across the street at Fifth Third Ballpark during the summer and fall months.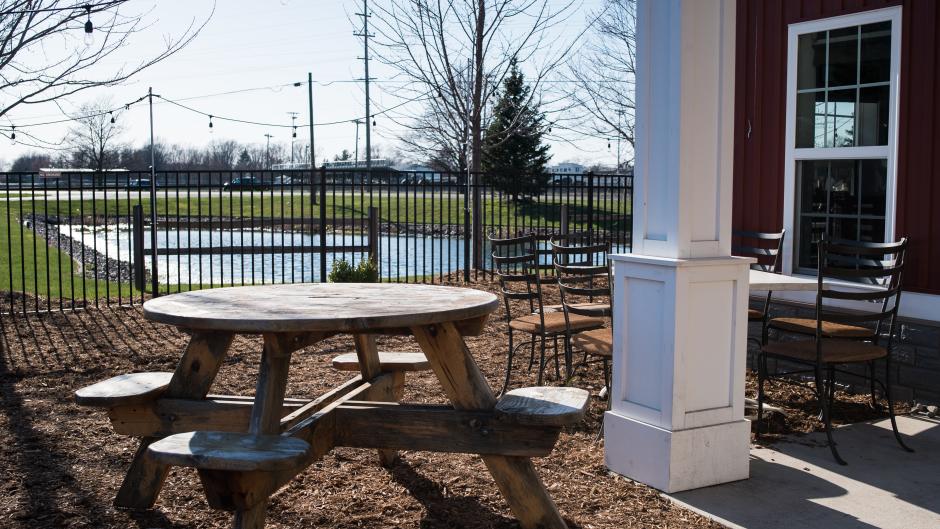 Pike 51 Brewing Co. boasts 10-15 beers on tap at any given time.
Photo Credit: Experience Grand Rapids
---
Pike 51
Pike 51 Brewing in nearby Hudsonville offers a great small-town setting to enjoy beer, wine, and food.
Sharing its space with Hudsonville Winery, guests have their choice of beverage, but the wood chipped outdoor space is perfect for sipping on craft brews.
You can also take advantage of additional seating under the brewery's large, outdoor tent area while enjoying a Tea Pants Cream Ale or The Kush IPA, as both make for impeccable thirst quenchers no matter the day or season.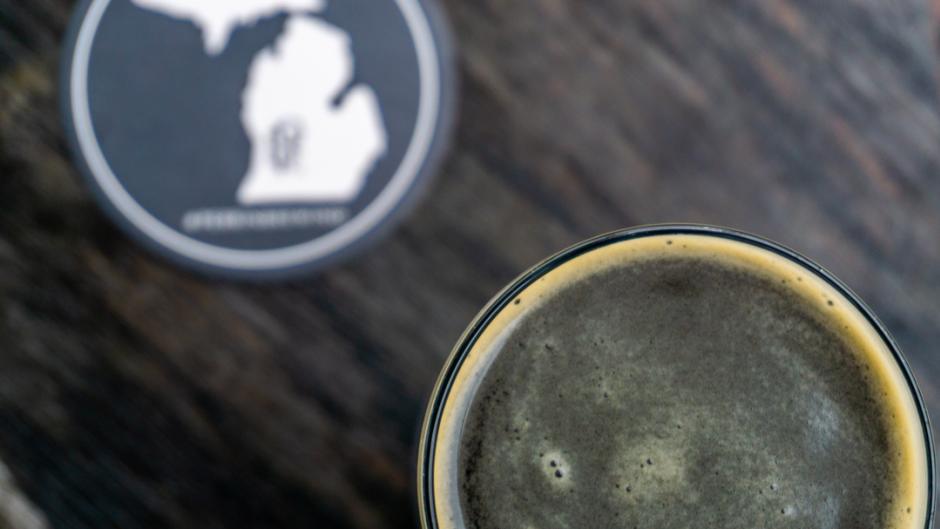 Perrin offers a spacious covered patio, as well as a completely outdoor deck.
Photo Credit: Experience Grand Rapids
---
Perrin Brewing
Essentially an extension of its taproom, Perrin Brewing's patio also opens to the outdoors with garage doors. In addition to the spacious patio, the Perrin Pub has a complete outdoor deck to relax under the sun. 
Both the patio and outdoor deck are full-service and the food menu is available to enjoy with some artfully crafted beers. The Perrin Pub tap list features a variety of styles including flagships beers like the Perrin Black Ale and 98 Problems IPA as well as seasonal favorites like the Blackberry IPA and Passion Fruit Gose. 
The entire dining space is social distancing ready with tables 6 feet apart, a maximum of 6 guests seated at each table, and all menus and tables are cleaned and sanitized after each guest leaves.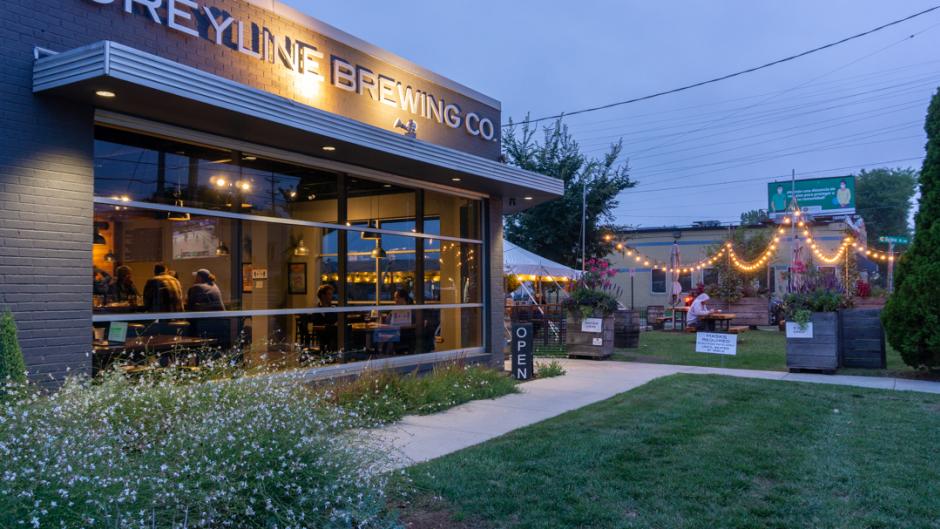 You can bring your own food to Greyline Brewing Co.'s recently expanded outdoor patio space.
Photo Credit: Experience Grand Rapids
---
Greyline Brewing
Greyline Brewing is home to a recently expanded outdoor patio space complete with a large tent and whiskey barrels, large tables, and picnic tables to accommodate groups of up to 10 people. You're currently able to bring your own food, but Greyline does have snack items available. 
For refreshing hot weather beers, check out Prime, 'Merican Ale; Humblebee, Honey Oat; Mosacca IPA; Fruitopia, Fruit Beer; and Solshine, American wheat.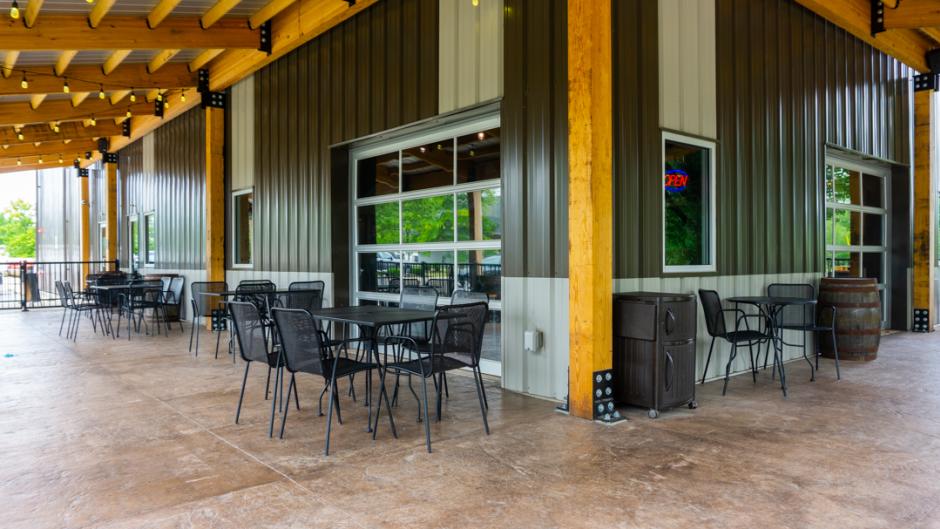 Railtown Brewing's large patio space surrounds nearly two sides of the brewpub.
Photo Credit: Experience Grand Rapids
---
Railtown Brewing
Railtown Brewing, located in Gaines Township, offers a large patio space that surrounds nearly two sides of the industrial exterior of the brewpub. 
Railtown pours an array of beers well worth the eight-mile trip southeast of Grand Rapids. Some favorites include Railtown's Citra Warrior Imperial India Pale Ale and the award-winning Good Mooed Milk Stout.
Gravel Bottom Craft Brewery & Supply Store
Located in Ada and established in 2013, Gravel Bottom Craft Brewery & Supply Store offers ample socially-distanced seating outdoors for a safe sipping experience. 
Gravel Bottom's tap list of 20 brews includes everything from IPAs and light Pilsners to ciders. There's no shortage of delicious menu items to pair with your beer as well. Gravel Bottom's food menu offers elevated pub food focusing on flatbreads and wings with a variety of homemade sauces.
New Union Brewery
Located just 15 miles outside of Grand Rapids, New Union Brewery offers a relaxed outdoor patio equipped with picnic tables for beer, wine, and cider lovers.
New Union Brewery beverage list includes wines, four crisp hard ciders, like the Buzzin Blackberry and Blueberry Bliss, in addition to offering typically 10-15 craft beers on-tap. 
The brewery also encourages customers to support local restaurants by bringing food into the brewery, as it does not offer food dishes on its menu.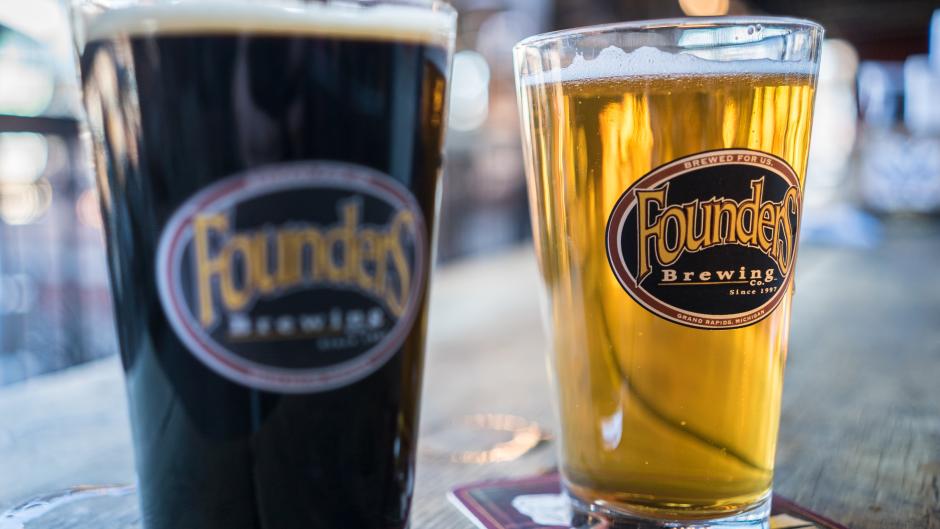 Fact: Founders Brewing Co., home to "Hills and Stairs," is one of the largest craft breweries in the nation.
Photo Credit: Experience Grand Rapids
---
This list wouldn't be complete without mentioning the patios at some of Grand Rapids' largest and most frequented breweries:
Founders Brewing has a patio that will give almost any brewery in the country a run for its money, but with its fire pits and heaters, it's open nearly year-round.
Brewery Vivant is currently operating with an "Open Air Service Model" due to COVID-19, which includes an extended patio, a beer garden, and the brewery's Walloon Room. 
New Holland Brewing Co.'s The Knickerbocker offers a beautiful and cozy outdoor patio space with firepits and plenty of seating available for enjoying their well-crafted beers in a tucked-away setting.
The Mitten Brewing Company recently created an expanded outdoor seating area, dubbed "The Outfield." The massive outdoor social zone with a name inspired by the brewery's vintage baseball theme lets you enjoy Mitten's popular craft brews and pizza flights in the open air.
For more information on the award-winning Grand Rapids beer scene, check out our list of craft breweries, guided and/or self-guided beer tours, and our Beer City Brewsader® Passport program!
Don't miss a post!
Sign-up for the Insider Experience blog