Summer is arguably Michigan's most beautiful season, and luckily many West Michigan breweries have outdoor patios to enjoy the pristine temperatures and landscape. What better way to spend an afternoon, or summer night, than enjoying West Michigan's gorgeous weather and award-winning brews?
Here are just a few local breweries that boast great outdoor spaces. Note, this is not a complete list. Discover even more breweries with patios on Experience Grand Rapids' Craft Beer page: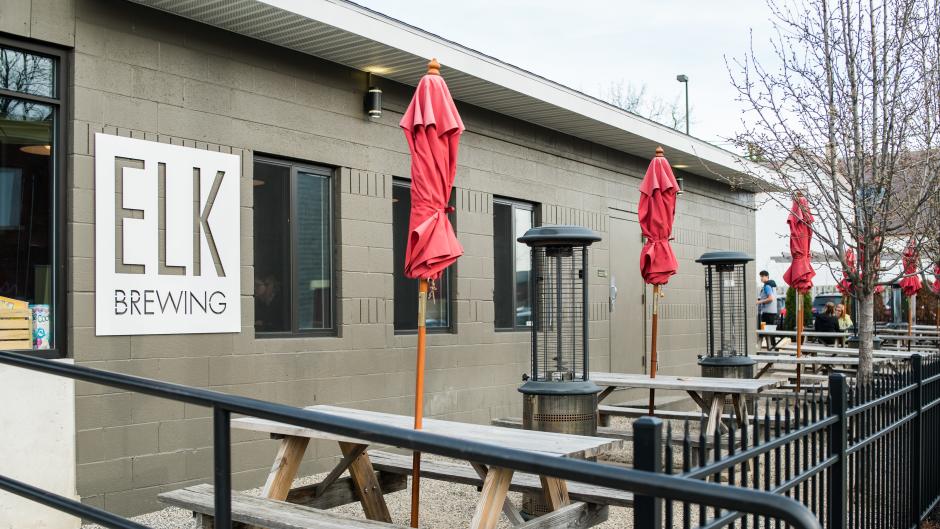 Elk Brewing's Outdoor Patio in the Uptown Neighborhood
Photo Credit: Experience Grand Rapids
---
Elk Brewing
With locations in Grand Rapids' Wealthy Street area in the Uptown neighborhood and Comstock Park, Elk Brewing offers two patios to hangout, sip on a refreshing Hefeweizen, and enjoy the lengthy days.
The Heritage Hill patio is complete with a fireplace and picnic tables, plus plenty of space to play outdoor games. You'll also have plenty to see on Grand Rapids' vibrant Wealthy Street, as this stretch is a hotbed of summer activity with nearby Donkey Taqueria, Jonny B'z, and The Winchester (all of which have rocking patios too).
The Comstock Park patio includes three garage doors to create an indoor-outdoor feel. This space makes for a great pre-game beverage before watching a West Michigan Whitecaps game across the street at Fifth Third Ballpark. This patio can also be rented for up to 50 people.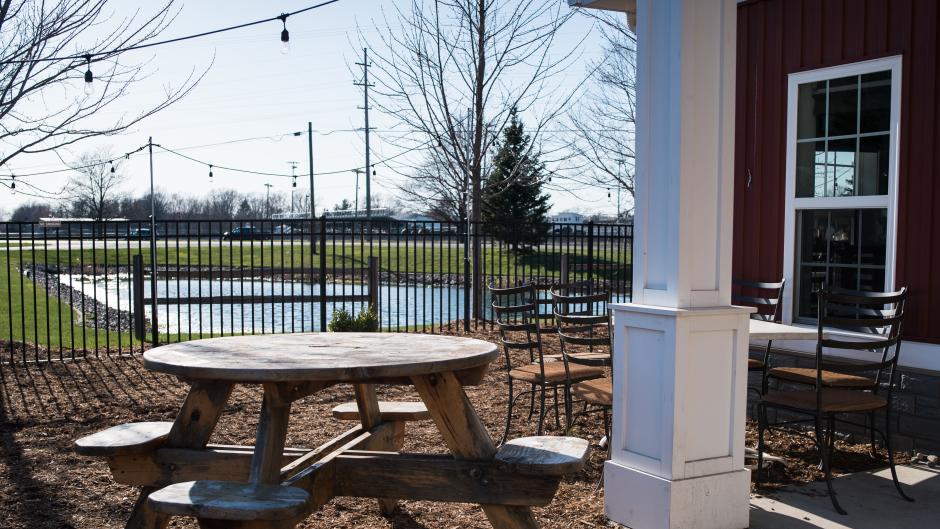 Pike 51 Brewing Co. boasts 10-15 beers on tap at any given time.
Photo Credit: Experience Grand Rapids
---
Pike 51
Pike 51 Brewing in nearby Hudsonville offers a great small-town setting to enjoy beer, wine, and food while the sun shines.
Sharing its space with Hudsonville Winery, guests have their choice of beverage, but the wood chipped outdoor space is perfect for sipping on craft brews.
Enjoy a Pants Cream Ale or The Kush IPA, as both make for impeccable thirst quenchers on a warm summer day.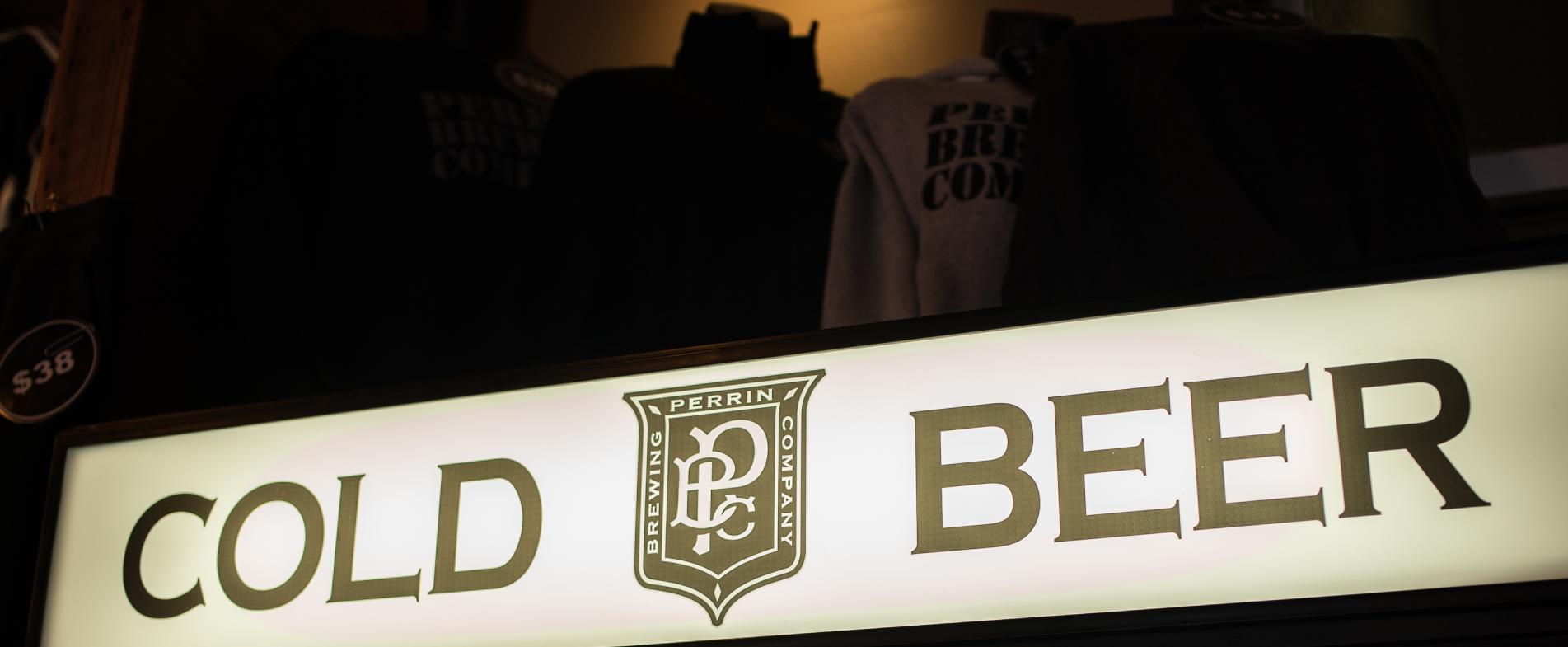 What better way to enjoy the beautiful West Michigan weather than with a cold beer on Perrin's outdoor patio?
Photo Credit: Experience Grand Rapids
Perrin Brewing
Essentially an extension of its taproom, Perrin Brewing's patio also opens to the outdoors with garage doors.
The patio is full-service and the whole food menu is available to enjoy with some great summertime beers. All of Perrin's flagship beers are perfect for warm weather, and the brewery's Grapefruit IPA has turned into a seasonal staple for many in West Michigan. 
Greyline Brewing
Greyline Brewing is home to a small, intimate patio, much like its main taproom.
Hops lace up the outer border of the patio to make for a unique ambiance. Greyline's outdoor tables are a hot commodity, but certainly worth the wait!
For refreshing hot weather beers, check out Prime, 'Merican Ale; Irie, session RyePA; Mosacca IPA; and Solshine, American wheat.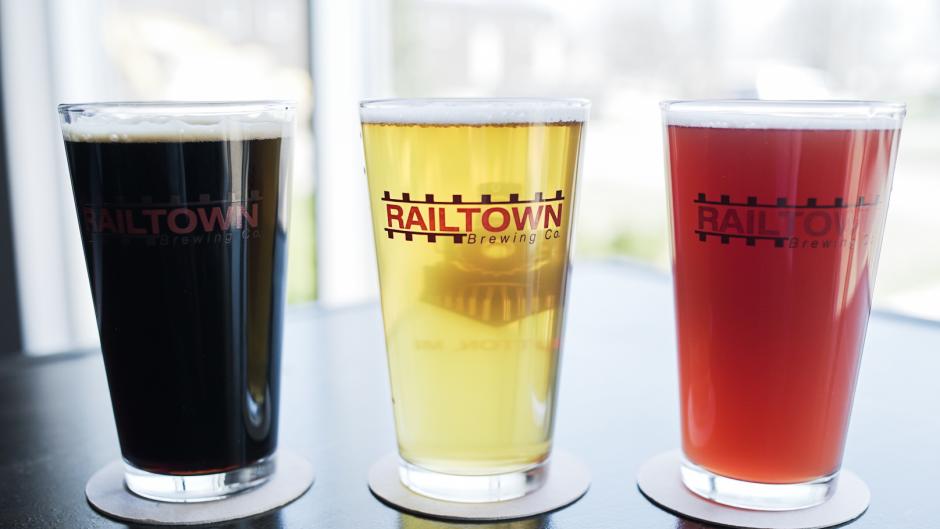 Railtown Brewing Co. is located just outside of Grand Rapids, in Dutton, Michigan.
Photo Credit: Experience Grand Rapids
---
Railtown Brewing
Opening just in time for the bulk of the summer season, Railtown Brewing opens its new brewpub in Gaines Township this summer! In 2017, the brewery announced its plans for expansion, which included a 40-person partly-covered patio.
Railtown pours an array of beers well worth the eight-mile trip southeast of Grand Rapids. Some favorites include Railtown's Citra Warrior Double IPA, Shadyside IPA, and the award-winning Good Mooed Milk Stout.
Gravel Bottom Craft Brewery & Supply Store
Located in Ada, Gravel Bottom Craft Brewery & Supply Store celebrated its grand re-opening at its new location on May 11, 2018. The new location at 452 Ada. Dr. SE, Suite #100, offers ample seating for outdoor parties. The airy space can entertain over 40 customers.
Established in 2013, the half brewery and half supply store offers supplies for customers interested in at-home brewing. The expansive supply store currently offers 75 malts, 90 hops, and 60 yeast strains for customers to choose from.
Gravel Bottom's tap list includes pale ales, IPAs, red ales, and brown ales. 
New Union Brewery
Located just 15 miles outside of Grand Rapids, New Union Brewery offers a relaxed outdoor patio equipped with picnic tables for beer, wine, and cider lovers.
New Union Brewery recently expanded its beverage list to include four unique wines and four crisp hard ciders, in addition to offering 10-15 craft beers on-tap. 
The brewery also encourages customers to support local restaurants by bringing food into the brewery, as it does not offer food dishes on its menu.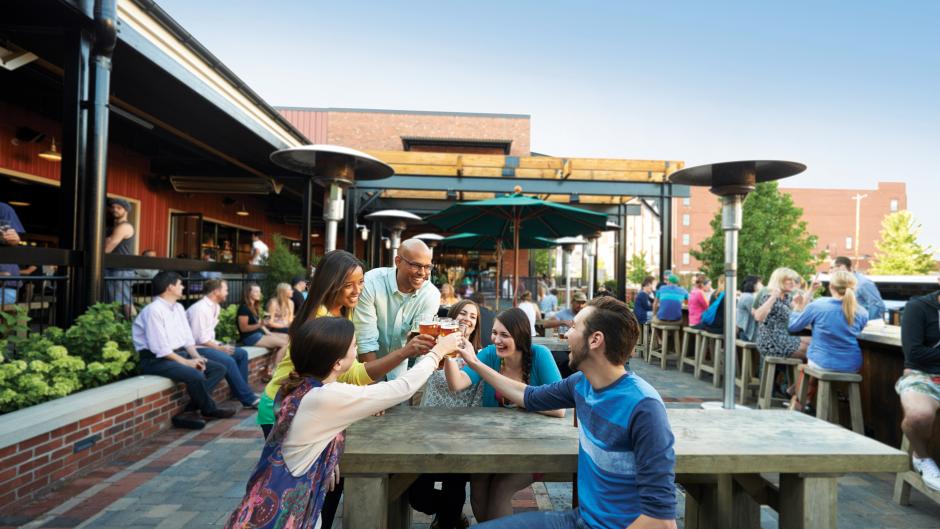 Founder's patio is open nearly year-round.
Photo Credit: Experience Grand Rapids
---
This list wouldn't be complete without mentioning the patios at some of Grand Rapids' largest and most frequented breweries:
Founders Brewing  has a patio that will give almost any brewery in the country a run for its money, but with its fire pits and heaters, it's open nearly year-round.
Brewery Vivant  and New Holland Brewing Co.'s The Knickerbocker  both have beautiful patio spaces available for enjoying their well-crafted beers in tucked away settings.
For more information on the award-winning Grand Rapids beer scene, check out our list of craft breweries, guided and/or self-guided beer tours, and our Beer City Brewsader Passport program (now in an app)!
Don't miss a post!
Sign-up for the Insider Experience blog